Bike Art
Cycle sculptures by Morgan Ashurian (CGS'17, CAS'18) touch the Florida sky
From a distance, Morgan Ashurian's debut public sculpture looks like an autumnal sugar maple, incongruous in the Florida sun. Edge closer and it reveals rugged, fabricated roots: the flame red ball of leaves is a tangle of welded bike parts, the trunk a sturdy steel pole.
Ashurian (CGS'17, CAS'18) planted Human Intersection on a plaza in Jacksonville in 2015. She calls the 600-pound sculpture—a brightly painted cluster of training wheels, pedals, cranks, gears, and saddles perched atop a 16-foot pole—a tribute to her hometown's growing cycling community.
Ashurian had turned out small sculptures for years—transforming bottles into a dress, starter gun bullet shells into a hand—but since unveiling Human Intersection, she's been working on a grander scale. She completed a second monumental sculpture in 2017 and has started construction on a third—all while laying the foundation for a career in law.
From idea to installation
Ashurian came up with the idea of a bike sculpture during the renovation of the historic San Marco train station in Jacksonville. Her family's retail development and management firm was transforming the building and thought a piece of public art could help showcase the community's vibe.
"There's a lot of new biking lanes in the community I lived in; I was inspired by that," says Ashurian, a philosophy and political science major. She loved seeing people pedaling by, not just glimpses of faces "sitting in a boxed-in car."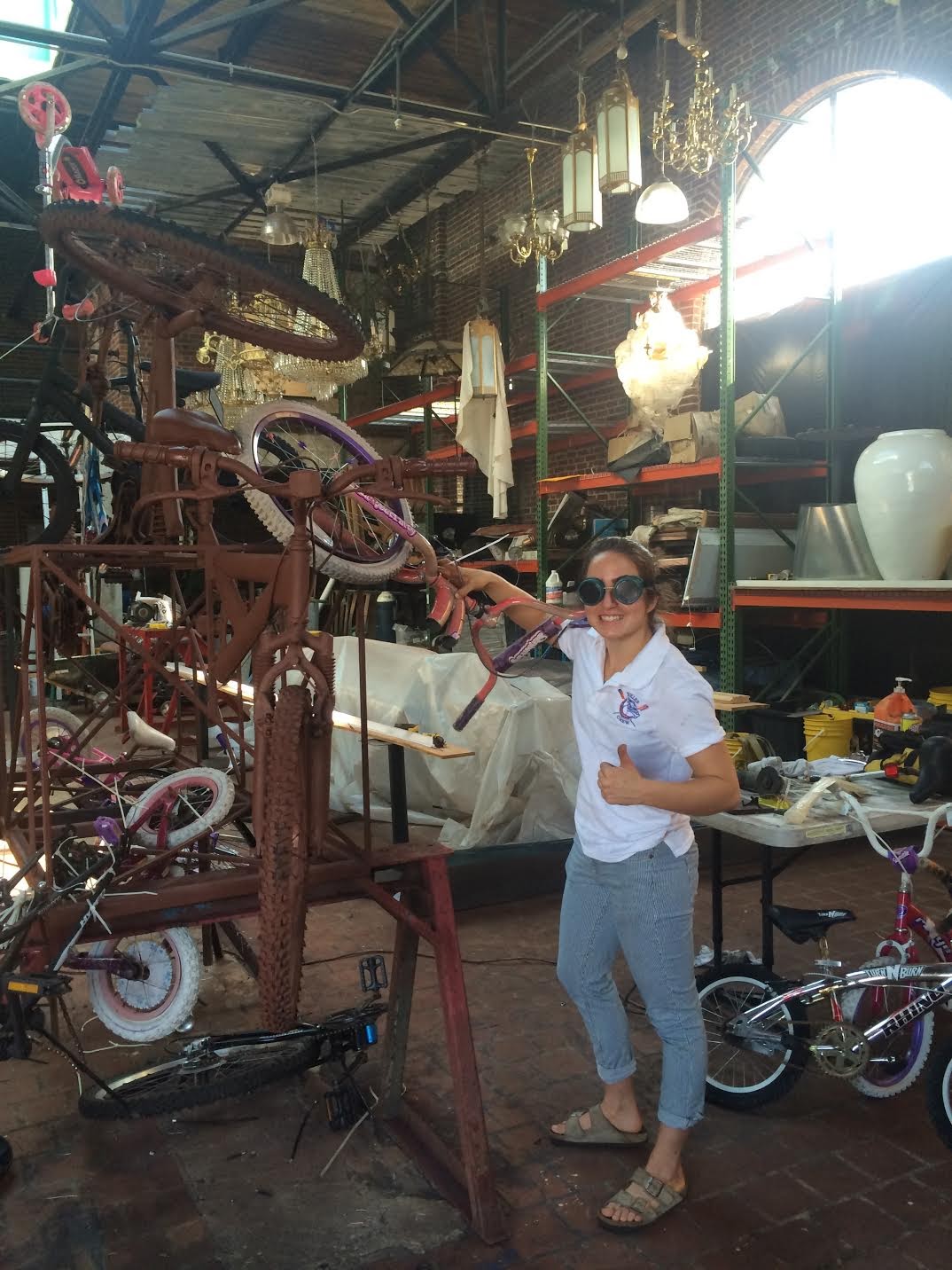 She assembled the sculpture in an empty building in the redeveloped property. From her temporary studio, she tested different approaches, using zip ties to position—then reposition—bikes until she landed on the right look. Sometimes she'd lock a few bikes in place for a day or two and put down her tools "to just really think about how this piece was going to look from below or to people walking beside it." It took eight months to go from idea to installation.
In Ashurian's initial digital sketches and models, the bikes—some donated, others picked up at Salvation Army auctions—were packed tightly together.
"I thought it would be better if I had more bikes to fill up the space and make it look very full," she says. "But then, as I was going through the process, I realized there's something about empty space in sculpture that's really appealing to the eyes, so I decided to cut the bikes in half.
"Also, I knew that I wanted the sculpture to revolve, so I did some research and came up with the idea of using a truck wheel axle that I ended up getting from a junkyard. It's at the top of the pole."
The final piece uses 18 bikes cut and welded together. Although the decision to chop the bikes was an artistic one, other changes were more practical; the towering sculpture needed to pass strict engineering codes—and be able to withstand a hurricane.
"The metal used for the supporting pole and bolts in the floor had to be changed to a higher gauge of steel," says Ashurian, who'd learned basic welding skills in high school art classes, but asked her dad's construction colleagues for tips and quick lessons as the piece began to take shape. "The sculpture went from being planted in a thin slab of concrete to a block of concrete."
When Hurricane Irma whipped through Jacksonville in September 2017 with winds of 80 to 90 mph, Human Intersection remained standing.
Bikes and boats
In December 2015, Ashurian was commissioned to build a second version of the sculpture. Artist Dustin Harewood, a Florida State College at Jacksonville professor of art, saw Human Intersection and asked Ashurian to re-create the piece on the school's Kent campus.
"I was driving by and the sculpture actually startled me," Harewood told Jacksonville-based magazine Folio Weekly. "The color was bold. The form was fresh and dynamic…. The moment I saw Morgan's piece, I immediately became obsessed with the idea of having it at Kent."
Ashurian made a few changes for bike sculpture number two, Unifying Diversity. She switched the red to lime green at Harewood's suggestion—he wanted it to "bring a sense of vibrancy, youth, and creative energy to campus," she says. With a larger site area, she decided to kick the size up a few notches, too, adding another nine bikes and an additional 135 pounds. She completed the piece during BU vacations.
"The most important thing for creating a sculpture like that is really being flexible," says Ashurian of producing art for a client, "but not so flexible that you lose the essence of what the sculpture means."
Her next sculpture will be on a similar scale, although it replaces one human-powered form of transport with another. "It's a boat sculpture with rowing shells. Rowing was one of my hobbies; San Marco is right by the St. Johns River," says Ashurian. "I've actually collected a couple of boats from different areas of the United States. It's a work in progress."
The piecemeal fabrication is a consequence of Ashurian's busy life since arriving at BU. She's studied abroad twice—the United Kingdom and Denmark, with help from the Karbank Philosophy Summer Fellowship and a BU merit grant—and completed two research projects, including one on the politics surrounding climate change. She also plays clarinet and is a member of the BU triathlon team. After graduating, Ashurian plans to take a year off for an internship or a volunteer project before applying to law school.
"I don't like being just one thing," she says. "I know that I want to be a lawyer, and I know that I really enjoy art, and I think that it's entirely possible for me to be able to do both at the same time. A human being has multiple interests; to just say one thing is the right thing, it doesn't work for me."
Andrew Thurston can be reached at thurston@bu.edu.