Knitting Socks One Algorithm at a Time
BU alum's start-up offers distinctive footwear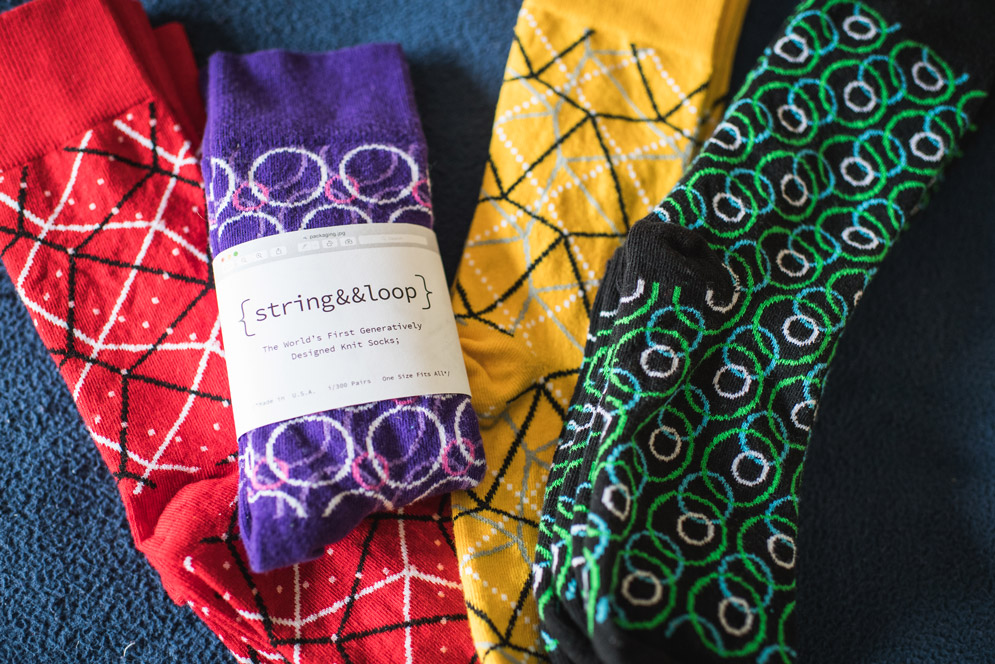 As a college student, Cody Ben Lewis admits, he never paid much attention to footwear fashion. Typically he wore black sneakers and generic black socks.
But that changed senior year when Lewis (CFA'16) learned how to write computer algorithms that could randomly generate new patterns. For his senior thesis in graphic design, he used his coding skills to reinvent an argyle sock pattern. He subsequently found a manufacturer who could produce 300 pairs and funded the project on Kickstarter.
Lewis named the business string&&loop, and now, nearly two years later, he sells his limited-edition socks to buyers around the world for $10 a pair.
"I have fun with it," says the 24-year-old. "It's a company, but I also see it as an artistic platform to make and explore new ideas." One look at his creations tells you the patterns are not your typical retail fare. One of the polka dot patterns is an eye-catching array of interlocking purple, white, and pink circles on a blue background. And an argyle sock's diamonds, in Lewis' interpretation, becomes a network of continuously intersecting lines. Because the coding means they can be knit precisely, the patterns connect perfectly at the seam.
Watch how String&&loop, brainchild of BU alum Cody Lewis, uses computer programming to reimagine traditionally inspired patterns into limited edition series of wearable art.

Posted by Boston University on Tuesday, October 17, 2017
It's an original strategy, says Lewis' senior thesis advisor Nicholas Rock, a College of Fine Arts assistant professor. The patterns and the process are inventive, he says, and the socks are comfortable (he owns a pair).
"What makes his work as a designer really interesting is he's coming up with his own projects," Rock says. "He has ideas and he goes out into the world and makes them."
Socks, as it turns out, are not Lewis' first foray into clothing.
Two years ago, after seeing the popularity of expensive Canada Goose jackets explode in Boston and the jacket's distinctive shoulder patch suddenly transformed into a status symbol, Lewis designed and sold a nearly identical jacket patch that he called the America Duck Jacket Enhancing Patch. He marketed the $8 patch on Kickstarter with the claim that owning one was a surefire path to "Instant popularity, Coolness & Friends."
Sales came to an abrupt halt less than two months later when Canada Goose lawyers sent him legal notice to "cease and desist" production. Lewis complied, donating the proceeds from the 200 patches he had already sold to charity. He says his goal wasn't to attack the brand, but to offer a cultural commentary and raise the question: "It's 40 degrees here. Why are people wearing arctic gear?'"
Sock designer is a moonlighting job for Lewis. By day, he works at Boston advertising firm MullenLowe as a creative technologist. Outside work, he spends a lot of time thinking about coding, art, and ways to generate new sock patterns. His latest inspiration comes from an open source database of millions of hand-drawn images collected by Google as part of a project to improve digital image recognition and made public.
He says he likes the idea of making socks in "patterns that are filled with other people's drawings," and he's just developed a tool that can compile those images and potentially be used to create new sock patterns.
Lewis estimates that he's sold about 750 pairs of his initial designs and has about 1,000 more pairs in boxes sitting in his Kenmore Square apartment. Customers range from computer science types to moms and daughters, who order his socks online or pick up a pair at fairs where he occasionally brings them to sell.
"I make stuff that I like," Lewis says. "I know there will be people like me out there who will like it too."
Megan Woolhouse can be reached at megwj@bu.edu.