He Rode for Charity. He Got a Lot More.
Questrom's Mark Williams pedals across America for Bikes Not Bombs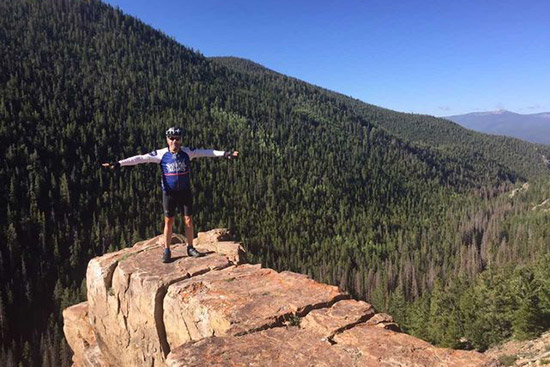 There's a saying, "Be the change you want to see in the world." Mark Williams has been pedaling his way to that goal all summer.
If all goes as planned, the Questrom School of Business executive-in-residence and master lecturer in finance will ride his Specialized Diverge bicycle into Yorktown, Va., sometime tomorrow, Friday, July 21, finishing a 3,700-plus-mile cross-country charity ride that began in San Francisco on June 4. Williams (Questrom'93) took on the ride to raise money for the Jamaica Plain-based group Bikes Not Bombs, which recycles bicycles and trains underemployed youths in bicycle repair. Williams wound up raising a total of $20,535.
Williams has been accompanied by Mike Hill, an investment manager whose ride has raised more than $20,000 for the Alzheimer's Association. The two friends planned and trained for the trip for two years, expecting to average 80 miles per day while crossing nine states—California, Nevada, Utah, Colorado, Kansas, Missouri, Illinois, Kentucky, and Virginia—primarily on the old U.S. Route 76 and U.S. Route 50, which means back roads and small towns. They rode through snowfall in the Nevada mountains and 120-degree heat in the Utah desert, not to mention a 10-mile-long plague of grasshoppers during a Kansas wheat harvest: "The event felt biblical," Williams says.
The cyclists tried to hit the road by 6 or 6:30 in the morning. One day late last week they were riding from one hollow to another in Kentucky when a thunderstorm erupted and drenched them.
"I had sponges for feet and a sponge for a seat the rest of the days; it was just one of those miserable days," Williams messaged that night. "We could have thrown in [the towel] at mile 40 today, but we said, 'you know what, I just want to take a hot shower.' But we kept going."
On the plus side, he noted in an email earlier this week: "Zero flats from California to Virginia. Knock on wood."
Elijah Evans, executive director of Bikes Not Bombs, says the organization gets only about one rider a year willing to undertake such a marathon trek to spread the word about the Bikes Not Bombs' mission of using the bicycle as a vehicle for social change.
The nonprofit "reclaims" thousands of donated bikes each year, using them to teach underemployed young people here to service bikes, giving them employment opportunities, repairs bikes in its own shops to provide jobs to local youth and raise funds, and sends thousands of unrepaired bikes overseas to seed bike repair businesses and provide reliable transportation to people in Africa, the Caribbean and Latin America. In the last two weeks alone, the group shipped a container containing 500 "raw" bicycles to a partner group in Ghana.
Williams says he first imagined a cross-country bike ride when, growing up in Delaware, he was captivated by a National Geographic article about a group cycling cross-country to celebrate the Bicentennial. It was a neat idea, but he never thought he'd actually do it.
For the last decade, he has been riding the 18-mile round trip from his home in Newton to his office at BU. In 2009, he donated five new bicycles to a program in Uganda that gives them to rural schoolteachers. He has also donated several old bikes to Bikes Not Bombs, where he recently took a class on bike maintenance, and was impressed by the earn-a-bike portion of the nonprofit's program.
"I just love the fact that these kids can have a little more direction, be given something they earned, and feel a sense of responsibility and all of a sudden they feel empowered," he says. "I'm sure you can remember when you were a kid and you jumped on your first bike, the sense of empowerment that gave you. And these are kids who tend not to have that opportunity otherwise."
The ride has changed the way Williams, known for his expertise in financial risk management, thinks about class and poverty in America. The route the two men chose took them through parts of the country that the railroad has abandoned and the highways have bypassed, small towns where Trump signs are common and poverty can be epidemic. There were places where the internet didn't exist, the water was barely drinkable, and the food sold in grocery stores was poor quality, even in the breadbasket of America. "We saw broken-down cars and houses that look like no one lives there," Williams says. "Then you see a light on—oh my gosh! It's a broken system. These people have not been taken care of."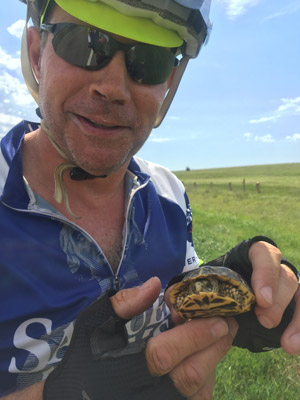 And yet, he adds, "the level of kindness exhibited by perfect strangers has been overwhelming." People along the way got out the hose when the two needed to cool off or took a lasagna out of the freezer when they stopped for the night, led them around a road closure or kept a restaurant open late so they could eat dinner. They had no problem staying in a hotel when one was available, but they also spent nights in homes, churches, and hostels.
"A lot of people really showed an interest in us and our health," Williams says. "One of the first things they'd say was, 'Be safe, it's dangerous out there.' Part of America is [dangerous], but we have this fabric where we just really care about each other, and then we have political campaigns that try to divide us. We found nice people throughout, very respectful, very helpful. And we have a better understanding of their challenges."
Williams has lost more than 10 pounds since embarking on the ride, even while consuming 5,000 calories and drinking a gallon and a half of water per day. He's gained leg strength and arm strength, and he learned that he can push himself physically and mentally.
"Sitting on a bike for nine hours a day, you gain this mental awareness of everything around you," he says. "And every once in a while, you have this stray dog that's going to chase you and try to bite you, so you've got to stay on your toes.
"My hands are on the handlebars. My cell phone is not in my hands. That's quite a luxury these days," he says.
He admits that, with a day to go, he's ready for the trip to end. After the two friends reach Yorktown, Williams says he plans to ride on alone through Maryland, arriving at Rehoboth Beach, Del., by July 23. There he will meet his wife, Kym, and young daughter, Sarah. "The first thing I will do after hugging them," he says, "is jump into the Atlantic Ocean."