Discovering Marsh Chapel
Interactive tour, video, audio, and 360° photography, reveals a captivating history
Marsh Chapel stands at the heart of Boston University. You may have walked by the chapel a thousand times and never stepped in. Maybe you visit weekly or listen to its Sunday service broadcast live on WBUR, BU's National Public Radio station. Even if you're a frequent visitor, you may not know the chapel's curious history. Start in Vermont, add a fire, a swamp, and a ghost tower, and you've got some of the elements of this captivating tale.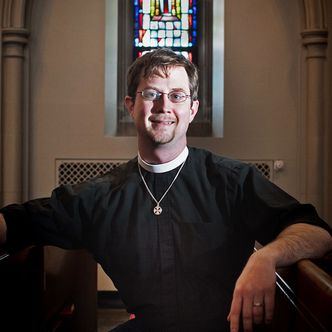 The story of the chapel is the story of Boston University's progressive principles. Honored in stained glass are religious figures, but also educational reformers and social justice warriors, with one especially unconventional pair in the eighth window. Did you know that one of the chapel's first deans had a significant influence on leaders of the Civil Rights Movement? Or that the chapel itself underwent a significant physical turnaround in its early days?
Discover how the bedrock principles of Boston University are literally built in, from the building's cornerstones to the colorful stained glass.
In this virtual tour, featuring video, audio, archival photos, and 360° photography, Brother Larry Whitney (STH'09,'18), University chaplain for community life, explains how Marsh Chapel came to be, and some of the creative challenges, controversial choices, and intriguing twists that happened along the way.
Special thanks to David Bergeron-Keefe, Beth Boucher, Janice Checchio, Andy Costello, Charlie Guerrero, Laura Nooney, Bill Politis, Jackie Ricciardi, Cydney Scott, Brother Larry Whitney, and Alan Wong.
To schedule a live tour of Marsh Chapel, email Brother Larry Whitney at lwhitney@bu.edu.