Climate Task Force Meets Tonight
Community is invited to suggest pathways to sustainability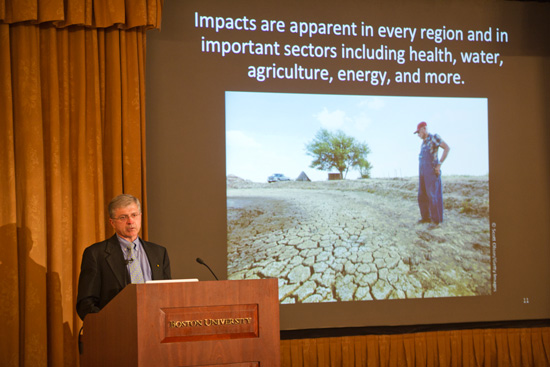 Students, faculty, and staff, would you like the opportunity to suggest measures for BU's Climate Action Plan (CAP)? The task force that's writing the CAP holds its first workshop tonight, offering the chance to have input on the trustees-ordered document.
The hour-and-a-half-long forum will feature brief presentations from the task force's four working groups: energy, transportation, climate preparedness, and supply chain and waste stream. Attendees will then separate into groups to discuss various topics, followed by group presentations of the ideas discussed. The forum is being held at the Metcalf Trustee Center on the ninth floor of One Silber Way, starting at 7 p.m.
Task force members hope to deliver their report to President Robert A. Brown at summer's end, almost a year after the Board of Trustees requested a Climate Action Plan as part of the University's expanding climate change mitigation efforts. The CAP will set goals and timetables for an array of projects, including greater energy efficiency, more clean energy use, more climate research and education, and the effects of climate change on BU's physical plant.
Those attending tonight's workshop will be urged to make recommendations that the working groups can consider as they move forward, says task force chairman Anthony Janetos, a College of Arts & Sciences professor of earth and environment.
Janetos promises a no-guardrails discussion. If some in the public want "to make recommendations that more than one working group should consider, that's fine," he says. "There are also considerations about curriculum and research that are more crosscutting than the working groups' topics, and that's also fair game."
A similar workshop will be held in the Hiebert Lounge at 72 East Concord St., 14th floor, on the Medical Campus, on February 14, from 4 to 5:30 p.m.
The inaugural workshop will give the public the chance "to formulate concrete input that will help shape the thinking of the working groups, and ultimately, the entire task force," says Janetos, adding that the task force website will "keep a running commentary of progress" as it unfolds.
Upcoming task force events can be found here.
Janetos leads the climate preparedness working group, while Dennis Carlberg, BU's sustainability director, chairs the one on energy. The transportation group's chairman is Benjamin Thompson (GRS'20), and Jennifer Luebke, a School of Medicine associate professor of anatomy and neurobiology, leads the supply chain and waste stream group.
The workshop on the Climate Action Plan is tonight, Tuesday, January 31, from 7 to 8:30 p.m. at the Metcalf Trustee Center, One Silber Way, ninth floor.