What If the Green Line Actually Worked?
An urban transit expert on how to fix the MBTA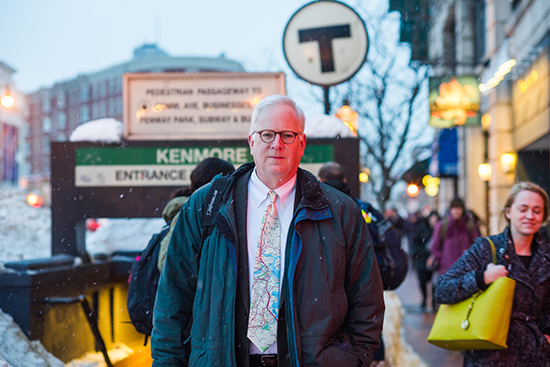 Terrance Regan tries to impress upon students that it's more important to maintain existing infrastructure than to spend millions on major expansions—like, say, the extension of MBTA service to Somerville. And for Regan's Metropolitan College urban transportation policy and planning class, the winter of 2015 is turning into one big teachable moment. Outside his classroom window on Comm Ave is what could be considered Exhibit A in failed transportation policy and planning: the 70-year-old Green Line, which has shut down after each of the recent big snowstorms.
Regan, a MET adjunct professor of city planning and urban affairs and an expert on transportation policy, finance, and intelligent transportation systems, brings to the classroom impressive real-world experience. As the chief researcher for the Massachusetts Transportation Finance Commission, he wrote a report that came out in 2007 analyzing the funding needs of each of the state's transportation agencies and identifying an overall $19 billion structural debt. The report states, "The Transportation Finance Commission has concluded that our system has been neglected for years, and that the system we take for granted will fail if we do not take prompt and decisive action."
Regan is a public transportation geek, and for all its recent failures, he remains a champion of Boston's bus and subway system. He lives in Cambridge and takes the Number 64 bus to his day job in Kendall Square, managing day-to-day operations for the Federal Highway Administration (FHWA) and Federal Transit Administration's Transportation Planning Capacity Building program, as well as FHWA's Office of Innovative Program Delivery, which promotes innovative finance methods for states and cities. Regan coteaches the MET course with Joshua Hassol, an adjunct professor of transportation and environmental planning and a senior manager at the Volpe National Transportation Systems Center.
BU Today talked with Regan about what went wrong with the MBTA this winter, the importance of investing in what is called "state of good repair," why he worries about current plans for the Green Line extension to Somerville, and why he loves the Ashmont-Mattapan High Speed Line.
BU Today: Were you surprised at what happened with the T this winter, or did you anticipate it?
Regan: If you had a 45-year-old vehicle, do you anticipate it would break down? The biggest problem we have is with aging vehicles and infrastructure. The snow is really just showing the problem that has been there. The Red Line has degraded in quality probably each year for the past 10 years because the trains are getting older. They're more likely to break down. The average age of an Orange Line car is 45.
Fundamentally what happened is, we have underinvested in maintenance and existing infrastructure for several decades. On the MBTA, I think we have focused too much on expansion and not enough on what is called "state of good repair," which is shortened to SOGR.
If you asked the guys who actually make the T run on a daily basis, they would probably put every penny they have in state of good repair. But the final choices are up to the policy makers.
Do you think the lack of infrastructure maintenance is the responsibility of any particular agency or administration—or person?
It's a bipartisan issue. I don't think you can blame any of the previous governors any more than the others. They all love new stuff. It's not very sexy to replace a motor on a train or upgrade a signal system.
So what's sexy in terms of the T?
The Green Line expansion to Somerville, if you have a lot of extra money. It's a very worthwhile project, except the Green Line in front of BU doesn't work—on any day. What we're doing is extending a line that doesn't work as opposed to applying money to an existing line. It's the equivalent of putting an expansion on your house when the roof leaks. Think what would happen if we put $400 million into the Green Line above surface. You'd speed things up. What if the Green Line actually worked?
That would be amazing. So what are your ideas for making that happen on the Green Line?
Let's say you coordinate the traffic signals to allow the Green Line to operate more efficiently. What often happens is the Green Line pulls up to the station, it loads and unloads. Then the traffic light turns red. The T waits a minute, then it goes. What if you actually had coordinated lights that give the Green Line priority? It's one of the simple things you could do. What if you came up with a system that actually improved boarding on street?
That sounds great. What other planning problems do you see with the Green Line?
I can't say that the Green Line has ever worked well. If you take just the B line, how many aboveground stops are there? It seems you stop every couple of hundred feet. That's a problem. If you're going to the BU campus, look at how many times the B line stops. They've tried to do some stop consolidation. The city of Boston is redesigning Commonwealth Avenue on the other side of the BU Bridge out to Packard's Corner. So they're looking at stop consolidation along there.
Do you take the Green Line?
I try and avoid taking it.
So how do you get to BU and around campus?
I walk.
How would you rate Boston's public transportation system compared to other cities?
On a good day Boston's transportation system is actually very good. If you were going to rate transit agencies in the United States, first would be New York, then there'd be Chicago, then there might be Philadelphia—it has a great bus system and a very good commuter rail system—and then you'd probably have Boston.
Do you think Boston can recover from this public transportation disaster?
Rahm Emanuel, the mayor of Chicago, had a saying: "Let no good crisis go to waste." I hope that this is the MBTA's crisis that we can use to properly fund the maintenance and ongoing needs of the T. This was going to happen sooner or later. The snow just kind of exacerbated it. I actually think in a perverse way this is a good thing, because it points out all of the problems and truly forces a debate about what we're going to do.
Are we having that debate?
I hope we will. But I haven't heard a single person in power say we should have to raise taxes or fees to provide the system with more money.
What are the main things you think need to be done?
If you halted expansion for a few years and put those funds into SOGR projects, you would be able to allocate a couple of hundred million more a year. This is why I have always been worried about the Green Line extension and Fall River/New Bedford Commuter Rail projects.
What was it like working on that big transportation finance report?
It was really, really hard. One of my theories about government is that it takes at least 10 years to get anything done—especially on transportation, which has such a long lead time in getting projects built. I think there are a number of issues that we raised that the legislature tried to address. There is increased funding. In response to the report, it created MassDOT to restructure how the transportation agencies worked together. In addition, the legislature allocated an additional $160 million a year to help the MBTA cover the debt service for Central Artery–related transit projects [the Big Dig]. But there is still a long way to go to meet the needs of transportation in the state. If I gave you an extra $100 every week, I hope you would use it to pay off your credit card, but you might go out and buy a good meal.
You really seem to love public transportation…
I do. My kids laugh at me. Whenever I would take a vacation with them when they were younger, we always had to get from the airport by public transit—in Paris, London, Chicago, wherever. When we were in Paris, we had to ride every one of the 14 subway lines. They wanted to go to Euro Disney and I wanted to ride the subway. We eventually accomplished both.
What about in Boston—what's your favorite line?
The Mattapan High Speed Line—there is nothing more fun. Oh, God, when my kids were little, we would take it as an amusement ride.
What's so great about it?
The cars are from the 1940s; you start out at Ashmont, you get on this rickety old car, and then you're heading to Mattapan, you're going down this hill, you're swaying right, you're swaying left. It's like you're in 19th-century Boston.
Students in your class have to do a final presentation on how they might do a public transportation analysis and how they would fix things. What would yours for Boston be?
I would allocate several million dollars for the state to give half a million each to Harvard, BU, MIT, and Northeastern. You would say to them, "Wipe the bus system totally clean and come up with a new bus system that works for Boston today." Most people don't realize that the bus system is the workhorse of the MBTA. The top 11 buses in the MBTA bus system carry more passengers per day than the entire commuter rail system.
I didn't know that.
Nobody does.
Sara Rimer can be reached at srimer@bu.edu.