Redstone Gold
35th annual festival celebrates student films
It was a summer job on a farm that gave Bryan Sih the blueprint for his film Winter/Spring, which took the top prize at the 35th annual Redstone Film Festival last night. The drama, about two adults wrestling with their impending parenthood, and at the same time dealing with a mysterious force killing their sheep, had some real-life inspiration from a fight between Sih and a friend while they worked on a farm in Bow, N.H.
"One day my friend got mad at me, and this interesting dynamic formed because he was angry," says Sih (COM'14), who also took home the evening's best screenplay award. "Everything from watering plants to feeding the animals changed. I thought it was cinematic in the way we were showing emotion through silent gestures."
The Redstone Film Festival is an annual competition showcasing the most promising work by students and recent grads of the College of Communication filmmaking and screenwriting programs. The festival is sponsored by media mogul and Viacom chair Sumner Redstone (Hon.'94).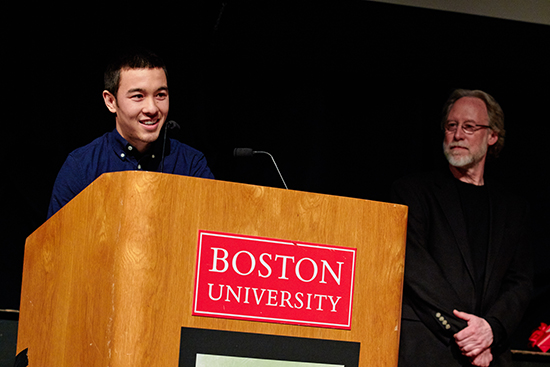 Second prize was awarded to Fannar Thor Arnarsson (COM'14), director of Vows, about an abused mother-to-be who does what she must for the safety of her child. After, by Emily Sheehan (COM'15), took home the third prize for its story about the choices made during an affair. Sheehan also won this year's Adrienne Shelly Production Grant for directing Skipping Stones, a film about an estranged brother and sister and their relationship with their father. The $5,000 grant is awarded to a female filmmaker by the Adrienne Shelly Foundation in honor of producer, writer, and actress Shelly (COM'87), best known for her film The Waitress, who was murdered in her New York City apartment in 2006. The top three winners received Canon DSLR camera equipment.
"Tonight we give the audience a chance to look at talented students who will one day make their mark in the filmmaking profession," said Paul Schneider, chair of the COM film and television department. He announced that the Redstone Foundation has given a gift that will fund "in perpetuity" the Redstone Film Festival. "Even when the COM building is gone," he joked.
Asked about some of the dark, powerful themes explored in this year's festival, ranging from a sexual assault to domestic abuse, Redstone faculty director Jan Egleson, a COM associate professor of the professional practice of film and television, said that COM is open to all voices, and the themes were "what was in the water this year."
Several former Redstone Film Festival winners are successful Hollywood players, among them Gary Fleder (COM'85), director of Runaway Jury, Richard Gladstein (CGS'81, COM'83), producer of Pulp Fiction, The Bourne Identity, and Finding Neverland, and Steve Brill (COM'84), screenwriter of Heavy Weights.
The other finalists in this year's festival were Jack Garrett (COM'14), who made Albert Lively, about the funeral of a young man who had repeatedly faked his own death; Julia Iglesias (COM'14), creator of Ida's 85th, about an octogenarian's raucous birthday party; Jim Dandee (COM'14), director of The Phoenix, about a young woman who finds herself in a compromised position after a long night out and must try to learn what really happened; and Sara Doering (COM'15) (who goes by the screen name Xavery Robin), director of Tianjin Driver, a documentary about a female cab driver in Tianjin, China.
Dandee and Joy Song (COM'15) took the best sound design award for The Phoenix; Dandee also was given the best editing award for the film. They received Avid editing and ProTools software. Cheryn Park (COM'15) won the best cinematography award and Canon DSLR camera equipment for her work on Vows.
The Fleder-Rosenberg short screenplay contest, sponsored by screenwriters Fleder and Scott Rosenberg (COM'85), recognized three students who have shown excellence in screenwriting. A check for $1,250 went to the award's first prize winner, Max Cohen (COM'17), who wrote the script The Strangest Little Day in Tulsa. Ciara Duggan (COM'16) picked up $750 and second place for her script Not Trying. Jon Giardiello (COM'15) received the $500 third prize for A Rose for Fatimah.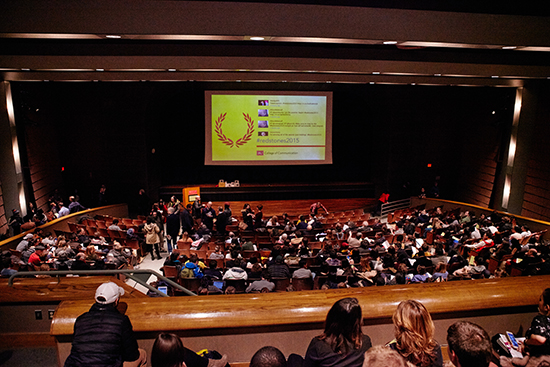 While Duggan doesn't currently have plans to produce her script, the first year graduate student in COM's screenwriting program says she is excited about possibly collaborating with a production student, a trend that she says is happening more frequently.
The films in the competition were originally produced for a COM film, television, or video production class or as a graduate thesis project. The finalists and the winners are selected in a two-step process. A committee of production, screenwriting, and film studies graduates first whittles down the submissions to a list of finalists. Then another panel, comprising film industry professionals, names the winners. This year's winners were chosen by documentary filmmaker and editor Jeanne Jordan, filmmaker and executive director of the LEF Foundation Lyda Kuth, Emmy-winning cinematographer Paul Goldsmith, and Boston-based actor, director, and producer Lewis Wheeler.
The Boston Redstone Film Festival is followed by Redstone festivals in New York (designed primarily as a showcase for alumni) on March 13 and Los Angeles (open to both students and alumni) on April 2. The Redstone Alumni Short Film Competition, with a prize of $500, is part of the Los Angeles festival.