BU's Castle Turns 100
Future Alumni Center home boasts a century of romance, history
The biggest house on the block, the gray sandstone edifice catches the eye with its Gothic arched windows, peaked dormers, and turrets. It's easy to imagine lords and ladies arriving to the fanfare of trumpets.
In fact, the BU Castle has long been a stately gathering place. Its Great Hall and elegant side rooms host weddings, reunions, luncheons, and other functions—at least one event daily. And of course, tucked around back is the BU Pub, where Terriers convene to eat, socialize, and mayhap embark upon a beery Knights' Quest. It's the University community's formal parlor and laid-back den, all in one building at the heart of campus.
That's why BU has selected the 100-year-old Castle as its new Alumni Center. Keeping the exterior and the first floor interior intact, a planned renovation will bring additional meeting spaces and the Alumni Relations offices to the building's second and third floors. The Pub will get an expanded kitchen and a four-season patio. And the HVAC, electrical, and plumbing systems, as well as its handicapped accessibility, will all be brought into the 21st century.
But through the upgrades and the building's new uses in the future, the Castle will retain the magic of its past.
The man behind the Castle
"If ever a house reflected its owner's personality," wrote architectural historian Nancy Salzman in Buildings and Builders: An Architectural History of Boston University in 1985, "it is this picturesque Tudor Revival mansion" at the corner of Bay State Road and Granby Street. That owner was William Lindsey, Jr.
The son of a grocer, Lindsey grew up in the mill town of Fall River, Mass. After high school, he worked as a cotton yarn salesman. In his spare time, he read medieval tales of chivalry and courtly love. In 1884, Lindsey married schoolteacher Annie Sheen, the daughter of an Irishman who toiled as a puddler in the local iron works. At some point, Annie dropped the Sheen and became Anne Hawthorne Lindsey, using her Anglo-Scots maternal grandmother's maiden name.
Scandal rocked Fall River in 1892, when Lizzie Borden—a friend and relative of the Lindseys—was accused of butchering her father and stepmother with a hatchet. William was the defendant's third cousin, once removed, and Annie was her close friend from childhood. She held Borden's hand during the trial and sent candy and flowers to her in jail. A jury acquitted Borden in 1893. The world-famous case was never solved.
Lindsey's big break came in 1898. One of his cotton clients, Anson Mills, had invented a woven-web belt to hold cartridges (in laymen's terms, bullets). Mills' small factory in Worcester was struggling, but Lindsey saw the potential to go global. He used all his savings to buy into the company, became a director, and traveled to London in 1899, hoping to convince the hidebound British Army to purchase the new-style belts for its soldiers battling the Boers in South Africa.
Lindsey "possessed indomitable energy," Mills wrote, "storming the British War Office, an impregnable fortress to most Americans." At first, he couldn't get a meeting. He roamed the halls and even gave his pitch to a janitor. Finally, during a guard's break, he burst into the office of the Earl of Lansdowne, who oversaw military operations. The Earl liked what he heard and gave Lindsey a contract for 300,000 belts.
The New Englander opened a factory in London and sent for Annie and their three children, Leslie, Dorothy, and Kenneth. Living in England, Lindsey acquired a passion for the country's Gothic and Tudor castles, such as Athelhampton House in Dorsetshire, built in 1485, today a popular tourist destination.
A rank-smelling tidal flat until it was filled in, the Back Bay was the new neighborhood of choice for the wealthy sons and daughters of Beacon Hill.
The British defeated the Boers, France and Germany wanted the belts, too, and Lindsey got rich. He retired in 1904 at age 46. The family returned to Boston with a retinue of servants, and Lindsey bought a large empty lot at the end of fashionable Bay State Road. For the next decade, he would devote himself to two pursuits: writing and building his dream castle.
A rank-smelling tidal flat until it was filled in, the Back Bay was the new neighborhood of choice for the wealthy sons and daughters of Beacon Hill. Even by their affluent (but somewhat reserved) standards, Lindsey's mansion would stand out. Set back from the street, and originally freestanding, the house would rise 3 tall stories and hold 26 rooms. Most of Bay State Road's attractive townhouses were 25 feet wide; Lindsey's lot, at 76 feet and covering 6,267 square feet overall, was triple that. Undeveloped tracts lay to the west, while the Charles River lapped the shore, completing the pastoral feel.
Lindsey spent $500,000 to build the mansion, according to unofficial Castle historian Michael Ciarlante (COM'79, MET'83), director of Events & Conferences. That's equivalent to $11.6 million today. "Almost every piece of the building was shipped over from England," Ciarlante says. Top-tier architectural firm Chapman and Frazer of Boston designed the house, modeling it on Athelhampton. The sculptor for Copley Square's Trinity Church, completed in 1877, carved the exterior's elaborate stonework. Inside, English craftsmen built and richly decorated a large hooded fireplace, a sweeping split-run staircase, and dark mahogany walls.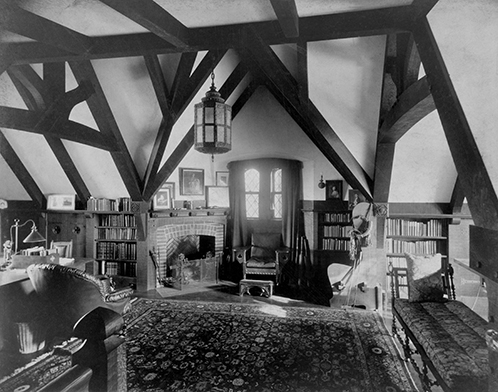 The Lindseys filled the hall, dining room, music room, and library with medieval European art and artifacts. The hall's stained-glass lantern chandelier once hung in Arundel Castle in England. The elaborate bronze door depicting the Temptation of Eve came from a church in Italy and dates to 1580.
Construction was completed in 1915. "There is a plausibility about this building," architecture critic Bainbridge Bunting later wrote in Houses of Boston's Back Bay. "This Tudor mansion creates the most convincing Medieval effect in the whole area."
Secret passages
When Ciarlante's department moved into the offices upstairs in 2009, he was convinced the mansion hid secret passageways. "You'd often find me walking around twisting on fixtures and tugging on every newel post," he says, hoping a panel would slide open. No such luck.
But the building really does have one hidden door. It opens from the master bedroom to a steep stairway that Lindsey climbed to a third-floor study. There he wrote novels, poems, and plays during his second career. Best known for The Red Wine of Roussillion and The Severed Mantle: A Romance of Medieval Provence, Lindsey set most of his stories in the courts and palaces of France in the Middle Ages. Here is a taste, from The Severed Mantle:
She rose to her feet, no longer the pale white lily of Easter day, for her face was suffused with blushes. Raimbaut drew her to his breast, whispering words of love and adoration. He kissed her forehead and her cheeks. Lured by their fragrance, he sought her lips, but she repulsed him gently. "At this moment, my beloved, I would deny you nothing. Yet I must save my lips for the man I wed."
Lindsey financed the productions of his own plays and hired theatrical workers from Europe, among them Oliver Bernard, a set designer from London. Bernard privately called Red Wine "a deplorable play."
Not long after they moved into the mansion, the Lindseys decorated the Great Hall for their daughter Leslie's wedding reception. It was April 21, 1915, and the dramatic stairway was entwined with roses and vines for the new Mr. and Mrs. Stewart Southam Mason.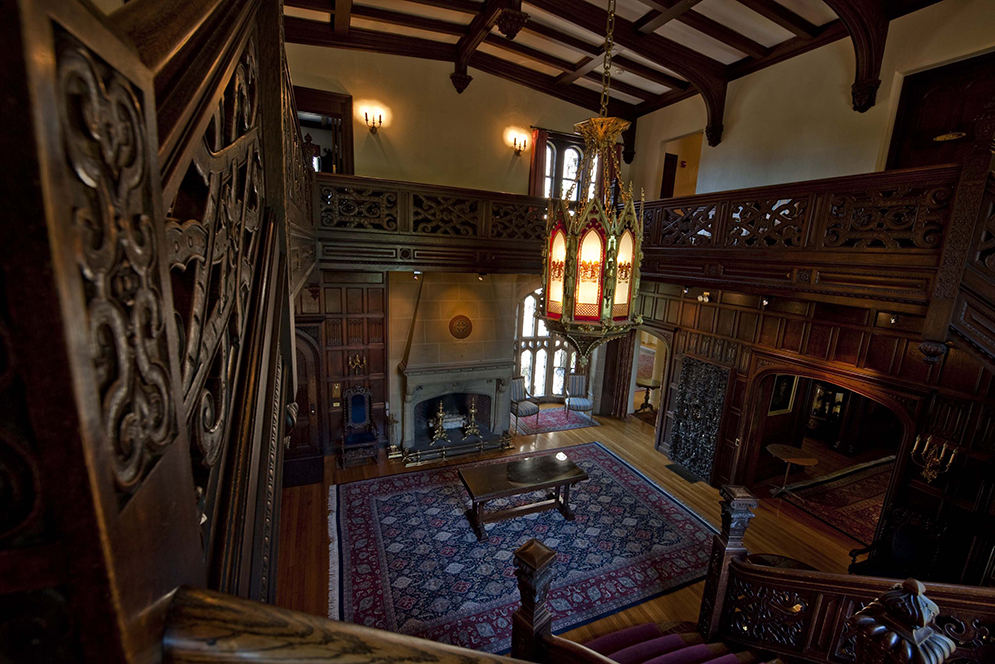 Planning to live in Mason's native England, the newlyweds boarded the British steamship Lusitania on May 1 bound for Great Britain, despite wartime warnings that the Germans might attack any vessel flying the Union Jack. Lindsey asked a favor of set designer Bernard, who was returning to London on the same ship: "Keep an eye on my little girl, please."
On May 7, as the ship neared the British Isles, a torpedo from a German submarine punched a hole in the Lusitania's hull, setting off two explosions. The ship started sinking. Bernard found Leslie Mason hysterical on the veranda. He ordered her to stay put while he searched for her husband and life belts. When he returned, she was gone.
Nobody knows if the newlyweds reunited before they drowned. They were among the 1,201 passengers lost as the ship sunk in just 18 minutes.
As the Lindseys grieved, perhaps at times they drew some strength from the motto inscribed on the lantern in their Great Hall: Nil desperandam. "Never despair."
Lindsey continued to write, and he lived in the mansion until his death in 1922.
Boom, bust, and BU
The widowed Mrs. Lindsey sold the house to Oakes Ames, a botanist and son of the 35th governor of Massachusetts, Oliver Ames. He and his wife, Blanche, lived there throughout the 1920s and 1930s. One of their grandchildren was journalist and author George Plimpton, who helped found The Paris Review and acted in the occasional movie (he's the psychologist in Good Will Hunting who sputters, "Putting from the rough?").
The Ameses and their old-money neighbors increasingly shared the street with renting MIT students. They fought off the tendrils of the booming automotive industry along Commonwealth Avenue. (One oil company proposed installing "crankcase pits" a block west of the Ames mansion.) And they lost their Charles River shoreline to eminent domain. Because of that, the public can enjoy what's a stretch of the Esplanade today, despite the fact that it's marred by Storrow Drive.
Residents fought off the tendrils of the booming automotive industry along Commonwealth Avenue. They lost their Charles River shoreline to eminent domain.
In 1928, the Yankee Ameses joined forces with their putative foe Cardinal William O'Connell, the influential Catholic archbishop of Boston, who lived directly across the street from them. The unifying threat came from Boston University, which had purchased most of the vacant land west of the Ames mansion in 1920, hoping to consolidate its various schools spread around town onto one campus. O'Connell and Mrs. Ames led a group of residents in a campaign against the new height limit sought by BU. "Mrs. Ames protested a 155-foot building such as petitioned for, claiming it would leave her Bay State Road home sunless, albeit she was sympathetic to Boston University aspirations," noted the Boston Globe in January 1928.
The University won its petition. The cardinal moved out of the neighborhood in January 1929, settling in a mansion that is now part of the Boston College campus. His former house on Bay State Road burned down in 1970, and on that site today sits BU's Florence and Chafetz Hillel House.
The October 1929 stock market crash did not deter BU from planning its campus, but did delay its construction. Meanwhile, the Ameses fell on hard times. In January 1939, they sold their mansion, along with most of its furnishings, to BU trustee William Chenery (Hon.'38), for the back taxes owed. Chenery then donated the house to BU.
BU President Daniel Marsh and his family lived in the mansion from 1939 to 1951. Ciarlante points out that it was one of the first two BU buildings on the Charles River Campus: as Marsh (STH'08, Hon.'53) moved in, construction was under way on the Charles Hayden Memorial Building at 685 Commonwealth Ave., then home of the College of Business Administration (today the Questrom School of Business). The first classes on campus met there in fall 1939.
"The Castle has watched the growth of this campus," Ciarlante says. "It's been here the whole time."
That growth took off after World War II. Thousands of students commuted to BU from across greater Boston in the 1950s. "Most of them came off the trolley, went to class, and went home," recalls Harriet Lane (DGE'55, CAS'57, GRS'61). "It was to counteract that lack of community that the Cases started the University at Home program."
Harold Case (STH'27, Hon.'67) was Marsh's successor as president and as resident of the Castle. He and his wife, Phyllis, would invite 30 to 100 students to their home every Wednesday afternoon. Selected at random, students met the Cases and their classmates from other schools. They toured the mansion, noshed on refreshments, and discussed current events by the fireside.
Later students took to the streets to debate. In March 1967, about 300 students joined in "a subdued rally and march on Pres. Harold Case's home," reported the Globe, "only to find he wasn't home." They taped a petition, protesting strict dormitory rules, on the Castle's heavy oak door, then "dispersed in the balmy afternoon."
Arland Christ-Janer, who took over as president in July 1967, chose to live off campus, saying the Castle seemed too large for just himself, his wife, and their poodle. Possibly he wanted to avoid appearing elitist to that era's students, to whom "the Castle represented the establishment, authority," recalls Ed Boesel (ENG'70). "Indeed, when, 40 years later, we had graduation for the Class of 1970, several of the people present suggested that we occupy the Castle, just for old times' sake."
Home away from home again
Today, Boesel says, the Castle is "a very friendly, welcoming place." It has hosted gatherings Case could never have imagined, such as an LGBT alumni reunion. Now at the century mark, it is one of Boston's iconic buildings. Cinematic, too. Directors looking for old-world charm have shot scenes there for films such as The Proposition (1996), 21 (2007), The Social Network (2010), and the new, unreleased Ghostbusters (2016).
That classy visual appeal won't change when BU makes the Castle the home of its Alumni Center. If anything, the building's original glory will be restored when its exterior sandstone gets a thorough cleaning, removing the discoloration from decades of acid rain and auto exhaust. The Great Hall and the side rooms will remain elegant settings for wedding receptions and other functions and the expanded kitchen downstairs will be able to support those large events. (Currently, food and dishes must be trucked in from off site.)
The most dramatic changes will occur on the second floor. A second entrance there will allow access from the adjacent Alan and Sherry Leventhal Center, where BU Admissions hosts prospective students. The new link is more than appropriate, says Steve Hall, vice president for alumni relations.
"Alumni are the only lifetime constituency of an institution, and to have a physical representation of that on campus is exceedingly important," Hall says, especially when sited where potential Terriers can get a glimpse of their future. And not just a glimpse: prospective students and their parents will be welcome to stop in and tour the Castle.
In fact, any and all visitors to campus should consider this block of Bay State Road their go-to spot, he says. He envisions the building as a place where reunion committees meet, alumni mentor students, parents visit sons and daughters, and alums stop in to get coffee upstairs or lunch in the Pub, all at the heart of campus. A fundraising campaign is currently under way, with a goal of raising $5 million before the renovation begins this coming summer; it's expected to be completed by winter 2017. (Learn more about contributing here.)
Another advantage to the new entrance, says Ciarlante, is that staff leaving their offices upstairs will no longer have to traipse down the grand staircase and slink unobtrusively through events being held in the Great Hall.
As familiar as anyone with the quirks and the grandeur of this old house, he will miss it once his office moves out to make way for Alumni Relations, but he approves of the message being sent. "The Castle to me represents a permanence," Ciarlante says. "The building is 100 years old, and putting the Alumni Center there is a symbolic nod to the permanence of Boston University. It is our past, it is our present, and it will be our future."
Additional reporting was contributed by Austyn Ellese Mayfield.
Patrick Kennedy can be reached at plk@bu.edu.