Frozen Producer Heads to the Oscars
Peter Del Vecho (CFA'80) nominated for Best Animated Film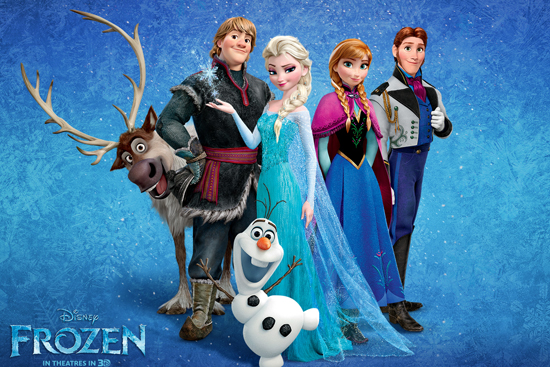 Frozen stands out from Disney films of yore in that the storyline doesn't focus on a princess needing to be rescued by a handsome but blandly boring prince. If the film wins the Oscar Sunday night for Best Animated Film, as anticipated—it won the Golden Globe in the same category last month—accepting the award will be the film's producer, Peter Del Vecho (CFA'80), who led its transformation from a traditional princess tale to a quirky, touching story based on the relationship between two sisters.
Del Vecho's career in theater and animation spans three decades, and during that time he has worked on such Disney films as 2009's The Princess and the Frog and 2011's Winnie the Pooh. But it is his latest work—which has now surpassed the studio's blockbuster The Lion King in sales—that has brought Del Vecho his biggest success. Not only did he earn his first Oscar nomination for Frozen, he was named Outstanding Producer of Animated Theatrical Motion Pictures at the Producers' Guild Awards ceremony in January. Despite its success (grossing nearly $1 billion so far), Frozen also was one of the most challenging films of his career.
Based on Hans Christian Andersen's The Snow Queen, the story sees Anna (Kristen Bell) going on an epic quest to save her estranged sister, Elsa (Idina Menzel), whose icy powers have trapped their kingdom in eternal winter. Anna is aided in her efforts by a thrill-seeking mountain man (Jonathan Groff), his reindeer, and a kooky snowman (Josh Gad).
"In the beginning Anna and Elsa weren't sisters, but as the story developed we realized that we got more power out of the story if they were sisters," Del Vecho says from his office at Walt Disney Animation Studios in Burbank, Calif. "From the very beginning, the director had the bold idea to tell the story about a different kind of love, not necessarily romantic love. Was there a way to tell a classic story in a new, fresh way? It was something that resonated with us as filmmakers, and we hoped it would resonate with audiences as well."
It certainly has. Since its November release,  Frozen has grossed $980 million worldwide at the box office; the soundtrack has been perched in one of the top two positions on the Billboard 200 chart for the last seven weeks; the film's song "Let It Go," sung by Tony-winner Menzel, was nominated for an Oscar for Best Original Song; and there are even plans to turn it into Frozen, the Broadway Musical, à la The Lion King. "The response to this film is overwhelming and quite humbling to us," says the 55-year-old Del Vecho.
A Quincy, Mass., native, Del Vecho studied theater production at BU and went on to work in theater for 15 years, most of that at Minneapolis' famed Guthrie Theater. It was there, he says, that he learned the importance of story development and visual storytelling. Both of those skills made him attractive to Disney Animation, which at the time was turning out hits such as The Lion King and Beauty and the Beast. The studio approached him in 1995 with a job offer he couldn't refuse.
"I think it was because they found great success in the past with directors and producers who had come from a theater background," Del Vecho says. "At the time, the studio was being run by two theater veterans—Thomas Schumacher and Peter Schneider—and so they valued that sort of work."
He started with the studio in production management, developing films such as 2002's Treasure Planet and 2005's Chicken Little, before switching to producing.
As a producer, Del Vecho says, he first has to understand the film the director is trying to make, and then help get that film made. He is involved from the very beginning, hiring writers and artists, overseeing scripts and storyboards, and dealing with schedules and budgets. His job, he says, is to "protect the creative from the business side of what we're doing, so they can do what they do best and get their artistic vision up on the screen."
The idea for turning Andersen's story into an animated film had been kicking around the studio for decades. Walt Disney himself had expressed interest in it, but it died when he did. The project came back several times, but languished, largely because of the difficulties writers faced with the wicked Snow Queen (Elsa) character.
It wasn't until the success of another animated film about an atypical princess, 2010's Tangled, that the studio decided to again try developing The Snow Queen, opting this time for a 3-D treatment. Chris Buck (Tarzan), joined later by Jennifer Lee (Wreck-It Ralph), came on to direct and Del Vecho was brought in to produce. As were producers and writers before them, the team was soon stumped over the Snow Queen character, but help with the problem came from Pixar and Disney Animation Studios chief creative officer John Lasseter, an executive producer on the film.
"Originally we portrayed Elsa, the Snow Queen, as a true villain," Del Vecho says. "But that evolved over time, because we weren't connecting with her in a way that we could understand what she was doing. We found making her a sister and making her driven through fear made her relatable. So the theme of our movie is 'love versus fear.'"
As with many Disney animated movies, music was critical, so Del Vecho looked to Broadway. He hired Avenue Q and Tony-winning Book of Mormon songwriter Bobby Lopez and his wife, Kristen Anderson-Lopez, for their fresh, quirky ideas, he says. (The trio had worked together on Winnie the Pooh.)
Research was another important piece of the puzzle. To make an authentic Norwegian kingdom, animators traveled to the Scandinavian country to observe the culture, art, and architecture. They also went to Cheyenne, Wyo., to wade through waist-deep snow. The lighting team was sent to an ice hotel in Quebec to see how light reflects and refracts. Reindeer were brought into the studio so animators could observe their expressions, but, as Del Vecho says, "reindeer aren't that expressive in daily life. In typical Disney fashion, we have caricatured and brought in dog-like behavior just to give them a little more personality."
But by late February 2013, he says, the film just "wasn't working," despite some great ideas and a talented team. Over the next four months they reworked and rewrote scenes and songs, scheduling a public preview in June. Even though the animation was only half-finished, the creators could see the film was going to be a success. "We did two screenings, one for families and one for adults," Del Vecho recalls. "It was exhilarating to be in the theater and watch their reactions. Everyone could relate to the characters or relate to the movie. That's what you hope for, whether it's film or theater. You want the audience to relate to the story."
Del Vecho continues to be busy with awards season and worldwide premieres (the film opens in Japan on March 14). Afterward, he plans to take time off and reconnect with family. He says that Disney has several films in production he would be thrilled to produce.
He still remembers the first Disney movie he ever saw—Bambi—and how upset he was when (spoiler alert!) Bambi's mother is killed. "As I went into filmmaking, I knew that to make a great, classic film, it has to go through a range of emotions," he says. "And so I always look for that as we develop a story."
Amy Laskowski can be reached at amlaskow@bu.edu.