An Esteemed Name for BU's Center for Student Services
Yawkey Foundations' $10 million gift endows nonprofit internship program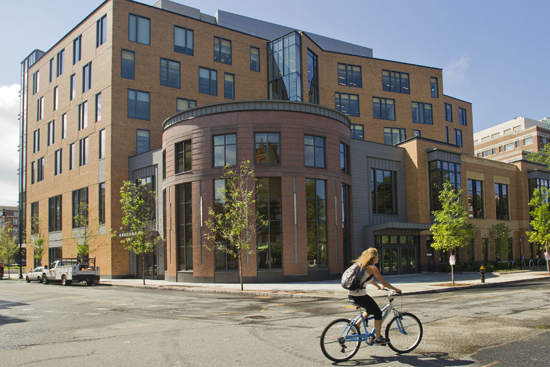 University President Robert A. Brown has announced that BU's Center for Student Services, which opened two years ago at 100 Bay State Road, will bear the name Yawkey Center, for the former Red Sox owners and Boston philanthropists whose foundation has given $10 million to launch a nonprofit internship program at the University. The new program will pair students with local nonprofits for paid internships beginning in 2016, expanding opportunities for students and raising BU's profile in the community.
"The building is an acknowledgment of the Yawkey Foundations' wonderful support of our students and their careers through these important internships," says Brown. "And how appropriate it is to have the Yawkey name in Kenmore Square; it is the right place for that name."
The "Yawkey Interns," 80 to 100 sophomores and juniors, will be paid through the Yawkey endowment, to be administered by the University's Center for Career Development, which is housed in the Bay State Road building along with undergraduate academic advising services and a student dining hall.
The agreement between the Yawkey Foundations and BU cites the University's "long and proud tradition of encouraging its students to engage in service-based learning in the community," and notes that the internship program will support students seeking meaningful opportunities to work for nonprofit organizations that might not otherwise be able to afford to pay for their services. The agreement also notes that the building, which has become the hub of BU's East Campus, will serve the program well as its base. The internships will be funded through an annual distribution from the Yawkey Non-Profit Internship Fund, with the number of internships to increase as the endowment grows.
The idea of funding an internship program came about after discussions with Brown and Yawkey trustees, says Jim Healey, president of the Yawkey Foundations. "The Yawkeys were big believers in education, which is one of the Foundations' top priorities," he says, noting that the Yawkeys had a long-term relationship with BU that dates to the early 1950s, when BU played all its football games at Fenway Park and Terrier quarterback and baseball standout Harry Agganis (SED'54), "the Golden Greek," signed with the Red Sox as a first baseman.
"To our knowledge, very few colleges in the country offer such a comprehensive paid nonprofit internship program, so the idea rang a bell with us. Nonprofits are a big part of our economy and there are many career paths in the nonprofit world," Healey says. He believes the program could prove to be groundbreaking for Boston-area nonprofits as well as for students.
"It's unusual for anyone to fund an endowment for an internship," says Laurie Pohl, BU vice president for enrollment and student affairs. "The Yawkey partnership distinguishes the BU program, and it will benefit our student base. This is the generation that wants to save the world, and we're going to help them by making these nonprofit internships available.
Denise C. Mooney, associate vice president for enrollment and student affairs, says the Yawkey Program is like having a name-based academic scholarship. "The fact that you are a Yawkey intern will carry a certain cachet," says Mooney. "It will be a reflection of a student's community commitment and professionalism."
She stressed that in addition to giving students work experience, the internships will focus on students' applying what they're learning in the classroom. "It's a critical component of their education," she says, one that will better prepare students not just to pursue careers with nonprofits if they choose, but also to start their own.
Longtime owners of the Boston Red Sox, Tom Yawkey, who bought the team in 1933 and died in 1976, and his wife, Jean Yawkey, who owned it until her death in 1992, created a legacy of giving that includes supporting improvements to health care, human services, and education. The Yawkey name is found on hospital buildings, community centers, and one of the city's best traveled streets—Yawkey Way, which borders Fenway Park.
"The Yawkey name is so iconic in Boston," says Scott Nichols, BU senior vice president for development and alumni relations, "and considering the incredibly high regard people have for the Yawkey family, it's truly an honor to have such magnificent support from them for such a high purpose—one that directly helps so many students."