The Best in Printmaking at 808 Gallery
2013 North American Print Biennial blends traditional, innovative methods
When people think of printmaking, they often conjure images of Rembrandt's self-portrait etchings from the early 17th century or German artist Albrecht Dürer's famous engravings depicting Saint Christopher carrying the Christ Child.
But a new exhibition on view at the 808 Gallery challenges those preconceived notions. The 2013 North American Print Biennial features 150 works by some of the finest printmakers in North America. Yes, there are wonderful examples of traditional etchings, such as Eric Goldberg's Winter Sonata, a stark rendering of white birches against a dark sky, their branches stripped of leaves, and superbly detailed lithographs, like Alex Gerasev's Rain, which brings to mind the work of illustrator Edward Gorey.
But the strength of this show is its appreciation of the impact that new technologies are having on printmaking and the growing prevalence of the use of multimedia by contemporary artists.
"I think it's increasingly important for printmakers to engage in a broader dialogue with contemporary art as a whole," says show juror Dennis Michael Jon, associate curator in the department of prints and drawings at the Minneapolis Institute of Art. "If the goal is to stay relevant, printmakers must move beyond the accepted conventions of traditional techniques and presentation and expand their thinking to explore new avenues of expression."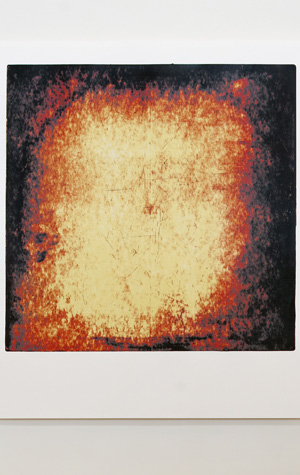 No piece better exemplifies that expansion than Mark Taylor's B-52s, a color screen print that captures the wear pattern of a record album cover from the artist's collection. "The original image was scanned, enlarged, and digitally manipulated to remove the original graphics," Jon says. "Only the abstract pattern of wear left over from personal use was visible."
The North American Print Biennial is a juried show, sponsored by the College of Fine Arts and the Boston Printmakers, an international association based in Boston, but representing artists from all parts of the United States, England, and Canada. It is the oldest and most respected print exhibition in the country. This year, a record 2,400 entries were submitted. Jon winnowed the final selection to 135.
"The work is large-scale and challenging—it is monumental and vibrant art," says Deborah Cornell, a CFA School of Visual Arts associate professor and chair of the printmaking department. "Contemporary printmaking is burgeoning. New processes ignited by digital capabilities are fusing with respected traditional processes to create a new hybrid that we've not seen before." Cornell points to fine art digital prints, laser-cutting, 3-D printing, and digitally dependent processes as examples of how the definition of printmaking is expanding. She notes that printing is no longer being done exclusively on paper, but on film, cloth, slate, and all kinds of other materials. "This actually raises the bar for what is imaginable to be achieved in the working, generating new ideas and energy," she says.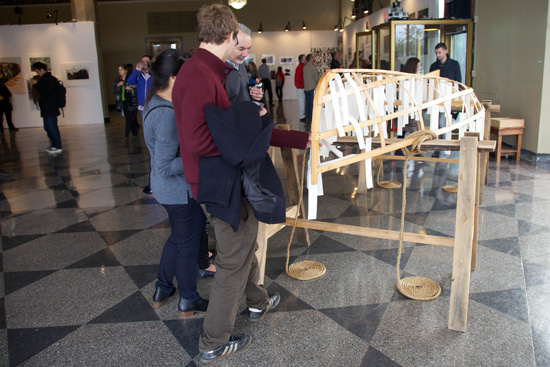 The show is full of surprises. There's Heddi Siebel's Far, and Further, a multimedia installation that uses several techniques, including monoprint, video, boat-photoetching, and chine-collé. The installation is part of the artist's ongoing project about a failed 1903 polar expedition that her grandfather was part of. Noting that for centuries explorers traveled to "blank spaces on the map" and chronicled their "interaction with the unknown," Siebel invites visitors to share their own aspirations. The skeleton of an overturned boat rests on two sawhorses, and a box containing strips of paper attached to string sits next to the boat. Visitors are encouraged to take one and list their dreams, ambitions, and goals and then affix the paper to the boat. The installation becomes deeply personal—almost voyeuristic—with the anonymously posted notes that visitors have left.
Paula Frisch's Striations I-VIII is eight linocuts printed on Mylar and then mounted on a folding Plexiglass screen. "It's a fairly simple idea, but a very effective way of infusing her mountain landscape with energy and dimensionality," says Jon. And Philip Laber's three-dimensional House of Cards—Sequester Assemblage combines traditional and new printing techniques, including intaglio and digital prints, wood, and elements put together using a 3-D printer and then hand-painted.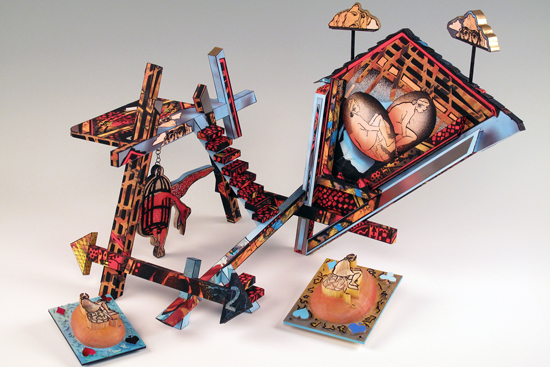 As well, there are wonderful pop-up books, binding books, and artist's books on display that marry traditional printmaking techniques with new technology and materials.
"This is an unmatched opportunity for students to be exposed to a huge number of approaches by accomplished artists," says Cornell. "Students can see for themselves the scope of invention and expression the print media encompass, distilled into a single experience. Seeing is believing."
The 808 Gallery also is hosting a student print exhibition, with work by students from BU, the Art Institute of Boston at Lesley College, Smith College, Franklin Pierce University, and other New England schools. Most of the prints on display in both shows are for sale.
The 2013 North American Print Biennial, presented by the CFA School of Visual Arts and the Boston Printmakers, is on view through December 20 at the 808 Gallery, 808 Commonwealth Ave.; phone: 617-353-3371; gallery hours: Tuesday and Wednesday, 11 a.m. to 5 p.m; Thursday, 11 a.m. to 7 p.m.; Friday to Sunday, 11 a.m. to 5 p.m.; closed Mondays. The exhibition is free and open to the public.