Let's Talk about Bikes
BSA exhibition probes bicycles' impact on city life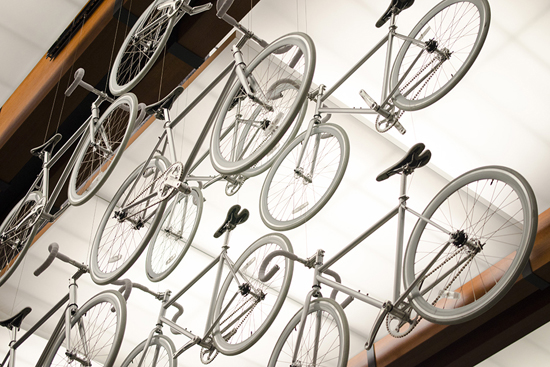 Like it or not, they are everywhere these days. From their impact on lifestyle to public safety, bicycles are an ever-expanding part of the fabric of city life. In Boston alone, ridership has more than doubled since 2007, when Mayor Thomas Menino (Hon.'01) launched the city's Boston Bikes initiative. Now, the Boston Society of Architects (BSA) is shedding light on bicycle culture with its new exhibition, Let's Talk about Bikes, which "investigates themes of production, use, and impact."
The free exhibition at BSA Space, which opens this evening with a wine and hors d'oeuvres reception, showcases bicycle design and innovation with models by Firefly, Parlee Cycles, and Royal H. Cycles, along with MIT Media Lab's GreenWheel Electric Bicycle. Displays will also explore the many urban cultures spawned by the bicycle: alternative societies such as Subversive Choppers Urban Legion (SCUL) and leisure riders and community educational groups such as Cycle Kids. Sponsored mainly by the design firm Cambridge Seven Associates, the exhibition will also look at noncyclists' concerns about roadway use in Boston and examine the Boston Complete Streets movement, an initiative launched by Menino in 2009 to make the city's streets equally accessible and safe for cyclists and pedestrians as well as drivers.
Let's Talk about Bikes seeks to raise awareness about the role of bicycles in cities today. BSA is asking Bostonians to share their views about bikes in the city on the exhibition website; respondents will be entered to win a Montecore bike by State Bicycle.
Home to the Boston Society of Architects since 2011, BSA Space hosts exhibitions on design and architecture, architectural boat and walking tours, and other programs and events that foster exchange between design and construction and the profession and the public and encourage collaboration across the city and the world.
BSA Space is in the Atlantic Wharf Building, 290 Congress St., Boston. The Let's Talk about Bikes opening reception, today, Tuesday, June 12, at 6 p.m., is free and open to the public. The exhibition runs through August 31. For more information, email bsa@architects.org or call 617-391-4039.