Full Professorships Go to 12 Faculty Members
Teacher-researchers span schools and disciplines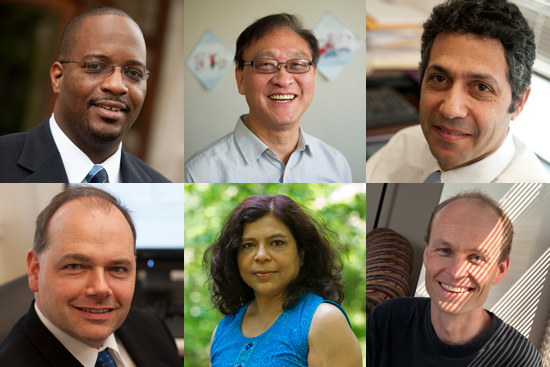 Tian Yu Cao's obsession is multidisciplinary: the ramifications of scientific breakthroughs on humanity's responsibilities and their place in the world. "I am fascinated with exploring philosophical implications of a few frontiers of science: quantum gravity, strings and cosmological models in physics, genes and evolution in biology, and information in cognitive sciences," says the College of Arts & Sciences philosopher.
Make that Professor Cao. His research on this interplay helped make him one of a dozen BU faculty across three schools who have been promoted to full professor, effective September 1.
"These extraordinary faculty members demonstrate the breadth, diversity, and depth of knowledge that have, over the years, defined Boston University's talented academic community," says Jean Morrison, University provost. "From the humanities and social sciences to engineering and business, these professors are all leaders in their respective fields."
Referring to the criteria for promotion, Morrison says, "They are all producing substantive research and scholarship each day in their classrooms and laboratories, and we are proud to count them as members of our faculty."
Indeed, the idea that full professorship confers freedom from the mundane concerns of publishing is "an urban myth," says Susan Fournier, now a School of Management full professor of marketing. "Any professor at a major institution remains a researcher." (She invented a subfield of marketing on brand relationships, and she researches how companies create value through their branding.) But the promotion likely opens the door to invitations for scholarly articles and keynote speeches at conferences within one's field, she says. And "there is a significant change in daily life with rank as a full professor. Full professors are typically called upon to play a more active role in institutional leadership," allowing "a maturation and broadening of one's professor role."
Gene Jarrett, chairman of the CAS English department and one of the dozen faculty promoted, says the honor designates a scholar as "more qualified to review the research, teaching, and service of anyone across the country applying for admission or promotion to any rank of professor." It also "affirms the productivity and the promise of future excellence one has already demonstrated."
Besides Tian Yu Cao (who earned a PhD from the University of Cambridge), Gene Jarrett (PhD, Brown University), and Susan Fournier (PhD, University of Florida), the other new professors are:
Nazli Kibria, College of Arts & Sciences, Sociology: Kibria teaches international migration, families, childhood, and modern South Asia. She is the author most recently of Muslims in Motion: Islam and National Identity in the Bangladeshi Diaspora. Her doctorate is from the University of Pennsylvania.
Ibrahim Matta, CAS, Computer Science: A researcher into both Internet and wireless communication, Matta is known for his scholarship on online traffic routing, congestion control, and tools for evaluating computer networks. He is the author of numerous papers. He received his PhD from the University of Maryland at College Park.
Tibor Palfai, CAS, Psychology: Palfai researches cognition and addiction, emphasizing conscious and nonconscious influences on cravings and treating problem drinking with behavioral therapies. His PhD was earned at Yale.
Martin Schmaltz, CAS, Physics: A theoretical particle physicist, Schmaltz is interested in the Higgs boson, a hypothetical particle whose existence he accepts. He also studies what he calls the questions of physics that will remain even if the Higgs boson is confirmed. He earned his doctorate at the University of California, San Diego.
Jerome Mertz, College of Engineering, Biomedical Engineering: With doctorates from Université Paris and the University of California, Santa Barbara, Mertz researches biological imaging, specifically the development of optical microscopy techniques.
David Starobinski, ENG, Electrical and Computer Engineering: Starobinski researches cybersecurity, wireless computer networking, the economics of networks, and analyzing communications networks' performance. He received his PhD from Technion Israel Institute of Technology.
Chrysanthos Dellarocas, School of Management, Information Systems: An expert on social media with a PhD from MIT, Dellarocas researches online advertising and reputation and media economics, among other fields. He is an editor or coauthor of three books and has received nine U.S. and Canadian patents for computer systems and computerized handbooks.
Robert Marquez, SMG, Finance: Researching and teaching corporate finance, Marquez has written numerous papers, including, during the recent Great Recession, treatises on banking risk, credit market regulation, and regulating analysts of financial securities. He holds a doctorate from MIT.
Erol Pekoz, SMG, Operations and Technology Management: Pekoz's research interests include congestion in production systems, risk management, and statistical modes for health care information. He was awarded a PhD from the University of California, Berkeley.