Baseball, the Way It Used to Be
Park rangers show how it was played during the Civil War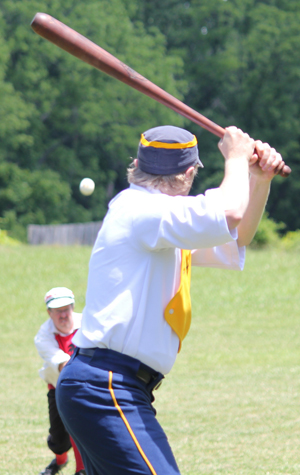 Bostonians have a rare chance this Sunday to see how baseball was played during the Civil War, when America's favorite pastime was in its infancy. One of New England's most important Civil War sites, Fort Warren, on Boston Harbor's Georges Island, which was a training camp for Union troops and a depot for Confederate prisoners, is marking the 150th anniversary of the Civil War with all kinds of special programming.
On July 8 National Park Service rangers will don vintage uniforms and play a baseball game at the fort following the original Civil War Era rules. The historic 28-acre pentagonal fort, dedicated in 1847, is a national historic landmark. The game begins at 11:30 a.m. and runs about three and a half hours.
After the game, stick around to explore the rest of the island's 39 acres. Take a ranger-guided tour to learn more about Fort Warren's history or visit the island's new museum. Then wind down with a scenic walk along the grassy parade ground and finish the day with a picnic or barbecue. Picnic shelters and cooking grills are available for those who bring food, or you can buy seafood and other treats at the island's Snack Shack. At 2 p.m., gather at the parade ground to learn more about the Civil War and games that children and adults played then. Children are invited to dress up in period clothing for the event. If you're lucky, you may encounter Fort Warren's reputed ghost, the Lady in Black.
Georges Island has programming scheduled throughout the summer, much of it related to the Civil War. A full schedule of island activities can be found here.
To get to Georges Island, take the MBTA Green Line to Government Center. Walk down Court Street, which becomes State Street, until you reach the harbor. A ferry runs from Long Wharf to Georges Island; the trip is about half an hour. Round-trip tickets cost $15. Find information about purchasing tickets here. Visitors are encouraged to get to the dock at least 30 minutes prior to departure. The baseball game is this Sunday, July 8, at 11:30 a.m. and ends about 3 p.m.
Andreia DeVries can be reached at adevries@bu.edu.