Class of 2015: Record Number of International Students
Special orientation event helps newcomers get their bearings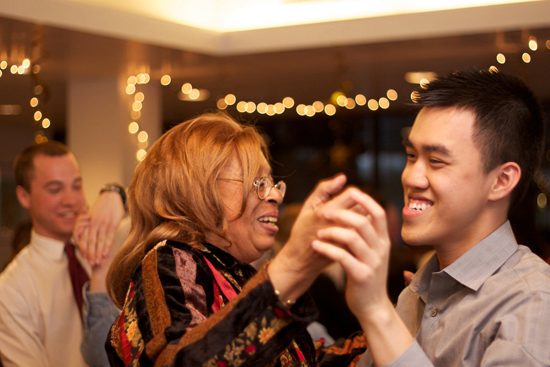 The Class of 2015 has already set a record: the largest percentage of international students in Boston University history—16.1 percent. This year's more than 600 students hail from 62 countries, with China, Korea, and India leading the way. Last year's class entering class had 503 international members.
Those numbers reflect a nationwide trend, says Anne Corriveau, senior associate director of international admissions. "We're seeing a record number of international students coming to the United States, and that is the result of a change in economies overseas, in growing markets and accessibility," Corriveau says, adding that BU has become a valued and recognized destination in the global education market. "It's a name synonymous with a quality education," she says. "It's a name that has become respected abroad."
Boston University ranks ninth in the nation in the number international students, with more than 5,200.
The majority of incoming international undergraduates arrived this week, in time for the final freshman orientation program. That involves more than just learning how to navigate around campus: many students have to learn to decipher American slang, adjust to a new culture, get information on how to find a doctor, and master the intricacies of American currency.
To help them with this adjustment and with a new language, the International Students & Scholars Office is hosting a special orientation tomorrow, Friday, September 2, from 3 to 5 p.m. at Morse Auditorium. The mandatory session explores questions unique to international students: visa and immigration responsibilities, advice on how to familiarize themselves with American culture, information on how to get health insurance, and how to navigate the U.S. classroom.
"We discuss the differences in the style of teaching and classroom culture between their own countries and here," says Jeanne Kelley, ISSO director. "Many international students aren't used to having a syllabus presented on the first day of class, where the expectations for the semester are clearly set out, so we tell them it's important to pay strict attention that first day. International students are often surprised by the casual way American students conduct themselves in the classroom. They're not used to classroom participation: many have come from backgrounds where the classroom culture is much more formal." The ISSO event addresses teaching styles and emphasizes the importance of raising your hand and taking part in class discussions.
The special session also advises international students about such things as how to maintain their lawful immigration status and covers such topics as full-time enrollment, employment, and the documents needed prior to traveling overseas.
Du Vo (SMG'14), who grew up in Vietnam, says he found last year's special session invaluable. "I was having some problems with my visa papers and needed to get a social security number so that I could apply for a job, and they helped me with all of that."
Vo says he learned an even more valuable lesson from the ISSO event. "They stressed the need to get involved in your free time in campus activities, that it's the best way to meet people who share your interests." Vo joined the BU Quidditch Team and the Community Service Center, where he participated in several outreach programs. Kelley hopes more international students will follow Vo's example. "I urge them to get involved—there are so many activities to take part in," she says. "So many students express regret at the end of their program that they didn't take more advantage of everything the University has to offer."
ISSO will host a similar orientation for new international graduate students on Monday, September 5, also at Morse Auditorium.
Kelley also encourages all new international students—whether they are freshmen or pursuing an advanced degree—to keep a sense of humor as they adjust to their new lives. "We discuss the exciting parts and the frustrating parts they'll face," she says. "We tell them that after a while, they may be missing home a little—their families, favorite foods, even TV shows. We let them know that this is a very normal experience and that they're in good company."
Looking back on his freshman year, Vo has some advice of his own for students arriving from abroad: "Be yourself. You need to adapt to a new culture, but you also need to hold onto your values."
The International Student Orientation for Undergraduates will be held tomorrow, Friday, September 2, from 3 to 5 p.m. at Morse Auditorium, 602 Commonwealth Ave. A separate International Student Orientation for Graduate Students will be held on Monday, September 5, from 2 to 4 p.m. at the same location.
In addition, an International Student Welcome Reception will take place Monday, September 5, from 5 to 7 p.m. in the Trustee Ballroom, Metcalf Trustee Center, One Silber Way, ninth floor.