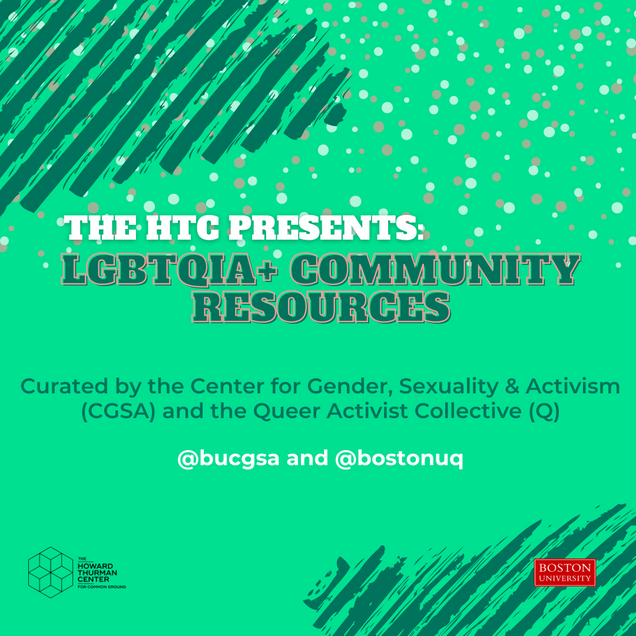 For more than 20 years, the Howard Thurman Center for Common Ground has proudly hosted an LGBTQIA+ community reception each September for new and returning students. This year, we are adding on to that tradition with the introduction of our LGBTQIA+ Community Resource Guide.
We worked closely with the Center for Gender, Sexuality & Activism (CGSA) and the Queer Activist Collective (Q) to curate the most essential resources both on campus and beyond for the LGBTQIA+ student community here at Boston University. Check out the full guide here and links to additional resources mentioned in the guide below.
---
Additional Links (presented in the order they appear in the guide)
Black LGBTQIA+ Support Survey (by Q)
Change Your Name in BU Systems
International Student Campus Survival Guide
Resources for Queer and Trans People of Color
Overview of Boston / BU LGBTQ+ Resources for Incoming Students
Boston / BU LGBTQ+ Mental Health Resources
Boston / BU LGBTQ+ Sexual Health Resources
Q on Spotify
Future Nostalgia, Dua Lipa (album)
Chromatica, Lady Gaga (album)
Q's Guide to Queer BU Professors
"The Drop" by Minority Connection Initiative, a list of minority faculty members
---
Additionally, AccreditedSchoolsOnline.org developed this guide for scholarships available to LGBTQIA+ students pursuing higher education.