BU Sydney Library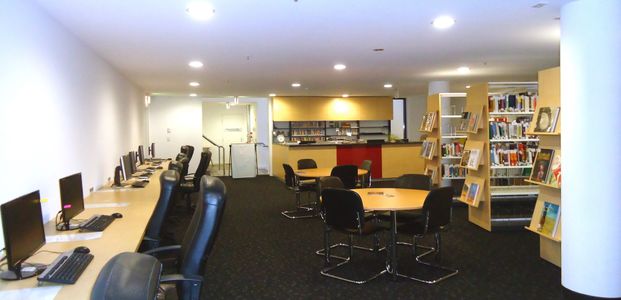 Overview
The Boston University Sydney Academic Centre Library offers a variety of library resources, including DVDs and books, to support your studies in Australia. Our materials, in general, focus specifically on the Australian context of individual topics, but we will endeavour to assist you in finding relevant information according to your study and/or internship needs.
Through the Boston University Sydney library website you will be able to access a number of Australian online resources, and whilst living in Sydney, you will be eligible to use the local public libraries network. Students will also be able to use the resources of the libraries of the University of Sydney and the State Library of New South Wales for reference and research purposes, but do not have borrowing privileges. Information regarding other libraries in Sydney can be found at the library desk.
Computer facilities are also located in the library, and there will always be a staff member available to assist with any enquiries you have. Remember to ensure that you have your home university library password details, so that you can still access the library's online resources remotely while you are abroad in Sydney.
Borrowing Policies
The general collection is available to borrow for up to five days per item with a limit of up to three items per student. Overdue materials will freeze a student's access to the library collection. Additionally, if a student has outstanding items on loan, they will not be able to receive their graded assignments during the semester. Failure to return items by the end of the semester will result in charges being forwarded to a student's account back at the Boston University home campus.
Individual Learning Centre
We offer a writing assistance program in the Library each morning, Monday to Thursday, to help students with the expression of their ideas in written assignments.
Students will need to book a session ahead of time, and realise that we are not offering an editing/proofreading service. Scrutiny of final drafts of essays is not the purpose of this program. Rather the emphasis is on ideas into planning, language, structure and organisation. Whilst these sessions are not strictly limited to students from a non-English speaking background, such students will no doubt benefit greatly from this service.
Half-hourly session times are scheduled by arrangement, except on paper submission days.