Innovate@BU Holiday Traditions: New, Old, and Adapted
Even in the face of immense challenges and physical distance this year, students, staff, faculty, alumni and community partners helped us further our mission to prepare BU Terriers to be drivers of innovation and to create meaningful impact in the world. This year especially, we are reminded of the importance of this mission and work.
As we all continue to adapt to the many changes and challenges of this year, our staff and community shared holiday traditions that they are continuing, altering, or adopting this year! Check out a few new, old, and adapted traditions from the Innovate@BU community.
Lisa Lavina, Assistant Director of Operations
"Every year, my daughter Claire and I make pierogi for Christmas eve dinner and as snacks for our Christmas holiday with my sister and her family. Last year we made 70! This year, we'll be staying home but we'll still make them. We agreed to freeze some of our traditional Christmas foods and have them when our families can get together, hopefully in the spring."
---
Siobhan O'Mahony, Academic Director–Research & Curriculum
"I grew up in the '70s, and my brother and sister and I could not wait for the claymation Christmas specials to be on TV. You could not stream them back then. We would look in the paper to see when they were on TV and rush to watch them.
Now my kids can listen to these at the press of a button. It is hard to explain what makes these shows so endearing. With large eyes and stilted movements, these characters made us care about the problems on the Island of Misfit Toys. These Christmas specials are my childhood. When I had twin boys, I discovered the Burl Ives CD with all of the songs from these shows and we play it every year while driving to visit family. We sing along as loud as we can. And our favorite song is, "We are Santa's elves", which must be sung in a very high pitched voice: "We work hard all day. But our work is play, and we bet you, we won't forget you, we are Santa's elves". So this is our little tradition, our family singing to music recorded by Burl Ives over 50 years ago, creating new memories, revisiting old memories."
---
Blake Sims St. Louis, Program Director of Social Innovation
"This year, as the Sims St. Louis family prepares to welcome a new (and tiny) member to our family in January, we're starting the time-honored tradition of matching holiday pajamas! Matching pjs feels like a special way for our family to bond, as well as share our love and joy with others this season. Our new, expandable, loungewear will also get plenty of use in the Covid-19, virtual world where people can rarely see what pants you're wearing!"
---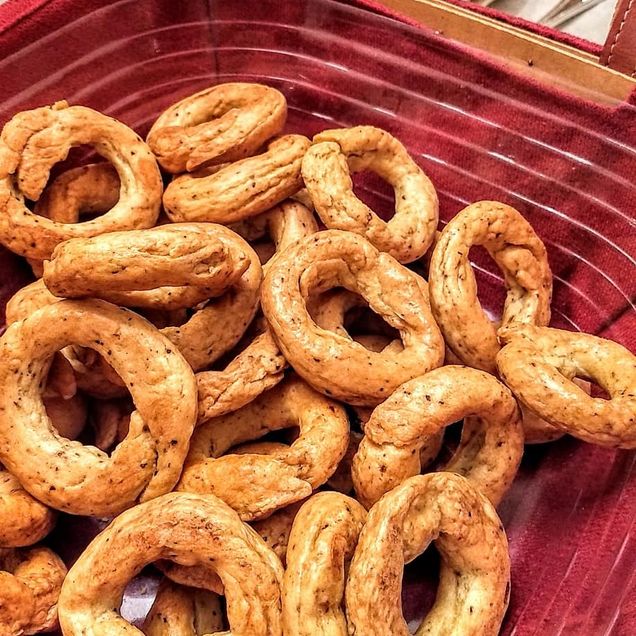 Ahlea Isabella-Cochran, Marketing & Communications Manager

"For my family, it's all about the food on Christmas day! Every Christmas since I was a little kid, we've always had Eggs Benedict for breakfast and dinner always starts with Italian wedding soup (my grandma Delphia's recipe). We always have the soup with soft homemade croutons and we dip Italian bagels (pictured), sometimes known as taralli, to soak up every last bit!
This will be the first year that I won't be traveling home to Pennsylvania for Christmas but I still plan to make both recipes on Christmas day. This will be the first time I make my grandma's soup recipe on my own, fingers crossed it comes out okay–there are so many steps!"
---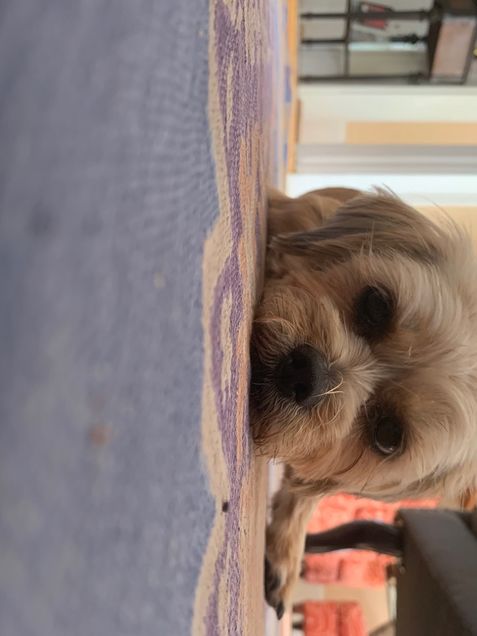 Rana K. Gupta, Director of Faculty Entrepreneurship

A continued tradition:
"Since Gupta is a well-known Russian Jewish name, we of course make latkes (potato pancakes, in English) for Chanukah. 😉  This is a tradition we'll continue. My wife puts a fan on the counter next to the stove facing out of an open window to take as much of the greasy air out of the kitchen. Before Times when people would come over for latke parties, they said they could smell the latkes down the block! That always reminded me of Mrs. Field's cookies storefronts–that was a marketing trick they used with their stores–pumped onto the street the smell of freshly baked cookies. My wife has perfected the recipe which is no small feat because she has to make them gluten free and had to figure out which flour (rice? potato? chick pea? other?) would meet the harsh frying requirements. Of course we serve both applesauce and sour cream with the latkes (not to mention whatever meat dish is the main course). So, no guests this year, just the four of us. I'm confident we'll still consume a few dozen."
New this year: 
"We procured a dog in June, Luna. Actually she's not a "Covid dog" in the way the phrase intends. She just happened to be procured during this bizarre time – a conversation started many years ago with our daughters. None of us can believe our good fortune. She is truly the most delightful distraction we can imagine. Our house is turned upside down with her personality and our continued fawning over her. But it so happens that this little girl loves to chase a ball. So our "get out of the house, what are we going to do about cabin fever" new tradition this winter will be taking her across the street to a large field on the Tufts University campus and playing soccer with her. This daily routine will, I'm sure, help us with pending cabin fever as we head into a Covid winter."
---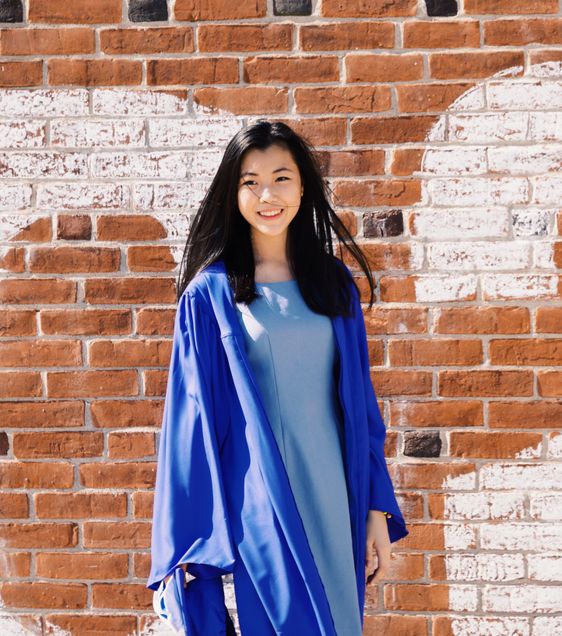 Rachel Koh (CAS & Questrom'24), First-Year Innovation Fellowship
"Every Christmas, my family breaks out our vast collection of board games and challenges each other to an extremely intense day-long board game tournament. After rounds of classics—Uno, Risk, Settlers of Catan; and not so classics like Bananagrams, Exploding Kittens, and Codenames, we tally up the points and crown the year's board game champion.
Pre-covid, this would mean inviting all our friends and family over, prideful "I won"'s and "your turn"'s overlapping each other as we filled our bellies with everything from Christmas turkey to beef rendang. Deeper than the ego-boost winning a game gave me, or the fun I had laughing at the light-hearted trash talk, I always loved how these board game duels allowed everyone to create lasting memories and grow their relationships with each other, even if they weren't close before.
Although we won't be hosting our annual board game championships in person this year, I hope that I'll continue to build and deepen my relationships with friends and family, even if it's over Zoom. And, an online games tournament is in the works! (DM me on Instagram @rachelekoh if you want to join!)."
More Innovation, More Inspiration