How To Launch a Successful Kickstarter Campaign
–and is a Kickstarter the right choice for your venture?
A Kickstarter for MagiMask, a portable cinema experience, is a little more than 20 days into its campaign and already passed its initial $23,000 goal. Before launching the successful fundraising campaign, Ludenso, the company behind MagiMask, spent their summer participating in BU's Norway Program, a 10-week program made up of graduate students from all over Norway. In addition to taking entrepreneurship courses at Questrom School of Business, many of the students called the BUild Lab home while working on their own startup ideas.
Since participating in the Norway Program in 2016 and 2017, the Ludenso team has been busy preparing and launching its most recent Kickstarter campaign. Innovate@BU caught up with the team to find out how they prepped and what strategies BU Terriers can use to launch their own fundraising campaigns.
INNOVATE: Let's start with your product. What is MagiMask?
Ludenso: We wish to help bridge the gap between the physical and digital world, by providing tools for thousands of developers
through our open source platform for mobile AR. With the MagiMask and the optimized trackers we have created, developers can create magical content for millions of customers. This lets people worldwide experience a new digital reality.
Our first product, the MovieMask – your portable cinema, aimed to change the way people consume their media content. It has sold over 10,000 units across 70 countries and can be found in over 500 retail locations. 
Our team consists of passionate and visionary doers, coupled with experienced investors who have committed their time, resources and capital towards making Ludenso a global brand. Our shared vision is to change how people engage and interact with technology – for the better. 
INNOVATE: Can you briefly tell us how did it all started and where you are now?
Ludenso: We got the idea for MovieMask after watching "The Hateful Eight" by Quentin Tarantino in San Francisco back in January 2016. After such an amazing cinema experience, it struck us how we in our everyday settle for the portability of our smartphone screen, despite the inferior experience.  That's why we set out to recreate the cinema experience, in a more portable way. During 2016, we made over 30 prototypes that we tested on over 1000 users, and the first MovieMask was born.
Two years into our company journey, we had successfully developed, launched, sold and delivered over 10,000 units to over 70 countries. However, as stated above, MovieMask was never the end goal. It was the stepping stone we needed to have a fighting chance within the booming AR-industry, where we aim to become the leading hardware platform for mobile AR within 2019, a leader within mobile AR by 2020, and a leader in AR generally by 2021.
INNOVATE: What other options of funding did you consider before choosing to do a Kickstarter campaign? What were some of the key factors behind this decision?
Ludenso: To be honest we think it would be foolish to only go for one funding channel when creating a product. There are many uncertainties and costs that are hard to take account for, and that's why most Kickstarters fail to deliver – even super-successful ones like The Coolest Cooler, Zano or most notably, the Lily Drone.
In short, many founders and creators significantly underestimate what it costs to take an idea to market. The pre-production phase, scaling the production, and shipping it out to thousands of backers is a massive job. Sometimes, especially for Fast Moving Consumer Goods (FMCGs), the actual production cost might only be 20% of your total costs for the project (distribution, customs, taxes, molds, and marketing take big bites of your budget). But sometimes it might be the only cost the creators consider. And this is before we consider the support that follows, like the Coolest Cooler who had over 60,000 backers to follow up. If you are solely dependent on one stream of funding – that doesn't get bigger after your initial campaign – the road ahead is going to be hard. 
In our case, we have been working with parallel sources of funding, ranging from experienced investors, partnership deals and soft funding from governmental schemes. This has made us much more rigged towards unforeseen events, and gives us greater chances of succeeding, regardless of whether the Kickstarter becomes super-successful or "just" works as a proof of concept. 
INNOVATE: Once you knew you were going to do a Kickstarter campaign, where did you start?
Ludenso: The first thing we did before deciding to run a Kickstarter was to figure out if this was actually something people needed and wanted to pay for. We did this by testing our prototypes with different customer segments. This way we got feedback on what they liked, suggestions for improvements, and we asked if they would be interested in buying our product – and at what price. 
Since we saw a great need for our project, we decided to do a crowdfunding campaign. Before we started, we knew that there were a few important things we had to do to reach our target audience:
We built a strong community of 

the most interested

 customers, who would back us once we went live

When creating our campaign and story, we optimized our campaign based on feedback from our actual customers

We created an awesome campaign movie that reaches our target groups
In addition, we also
Started building a larger community by getting e-mail signups from interested leads

Decided to use a PR agency to reach our goals

Decided to use a digital marketing agency to reach our goals
INNOVATE: How did you decide on how much you wanted to raise?
Ludenso: There are two primary types of crowdfunding projects. The hobby-projects that aim to be "just funded" for the funding's sake, and the projects that see this more like a market launch for a product or service well on its way – usually with a funding goal beyond the initial funding goal. 
If you fall in the first group, you should be absolutely sure that you can complete your project with the amount funded, as it will be hard to raise more money before you deliver. 
If you're looking at this as a way of launching a new product or service, as we did, it's important to set the funding goal at a level that is realistic and "defendable" for starting a new product line, but you would also want to be more successful than your initial goal. But if you set $5,000 as funding goal for a hardware-project, nobody will believe that funding goal, so it needs to be somewhat realistic in terms of the customers' expectations of what it would take to initiate the project.
INNOVATE: How did you design the campaign and what are the strategic nuances about the timing of your campaign release? 
Ludenso: We designed the campaign based on the feedback from our core user groups. With regards to the timing of our campaign release, there are some articles declaring summer as a bad time, and Tuesday as the best days to launch, but I wouldn't take this too much into account. We think the most important thing is to launch when you feel your project is ready, and your team can manage the workload that follows. Furthermore, choosing your launch date and time based on when your core community can back you, is probably more important than a "universal golden hour" (we did launch on a Tuesday though – hehe).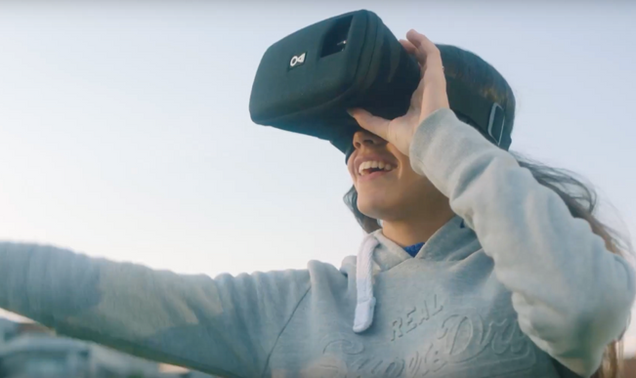 INNOVATE: What were your expectations from the campaign and are you happy with how it is going till now?
Ludenso: Having run two 2 international crowdfunding campaigns earlier, we had pretty high expectations for the campaign, and we were hoping to be funded within 24 hours. We did so in 23 hours and 56 minutes, and we were very happy that we achieved our hairy goal. Now, we are very happy to see that backers all over the world are curious about the opportunities that our product provides for Augmented Reality, and we are well on our way to become a challenger to the big players this year, enabling us to climb to a leadership position for hardware in mobile AR next year.
INNOVATE: What were the challenges & learnings throughout your Kickstarter campaign? 
Ludenso: As three-time creators, this campaign ran quite smoothly, but a normal challenge that we encountered before, is
managing the workload of all the different input you get from different channels. After you launch, you're spammed with messages from producers, marketing advisors, PR agencies, and so forth, while the most important thing is to handle your backers and want-to-be-backers, that is either contacting you through Facebook, Twitter, LinkedIn, Instagram, Youtube, or commenting your ads, articles, on a Reddit Post, or so forth. The complexity of the communication web, keeping the overview, managing it, is probably one of the most challenging things during your campaign -,  especially for first-campaigners. 
In addition, a learning from our first campaign is to not overestimate your sales. We've seen a lot of projects burning themselves on this, and we did too the first time. Because there's a difference between a person who says "I'm going to buy this when I launch" and a person who actually does. Even if you know them. A good way to increase the conversions of these interested people is to actually do a deposit (like Tesla), where you, for example, ask for 10% of the proposed price, in turn for them getting it 20% cheaper on Kickstarter/Indiegogo when you launch. If they then give you 10% as a deposit, they have invested in your project early on, will be more interested in the project's progress, and will have a very high conversion rate (we saw up to 90%) when you launch the project.
INNOVATE: Any advice for our startups who might do a Kickstarter campaign in the future?
Ludenso: Loads. But first, the creators should evaluate whether they should do a Kickstarter or Indiegogo in the first place, or if they should run with a pre-order campaign as ReMarkable did instead. Media, bloggers, and backers, in general, are more negative towards crowdfunding now than earlier, much because so many projects fail to deliver, or deliver after time. To be honest, in retrospect, we would probably do a pre-order instead of a Kickstarter for this project – mainly because  
The backers of a Kickstarter/Indiegogo campaign are "different" from your normal buyers. Meaning that the marketing message you optimize for during your crowdfunding, might not work during your pre-sale

You get  fewer data from running a Kickstarter-project on the Kickstarter site in contrast to your own 

Media and PR are more positive towards pre-orders
Nevertheless, the big plus about running a Kickstarter project is that these backers are usually much more committed to your project and that you get a huge group of people wanting to contribute to your product /service, in a bigger extent than doing a pre-order. Also, if you are successful, you can usually see a 30-50% boost of your campaign from the Kickstarter-ecosystem itself, that you probably wouldn't have gotten if you were doing a pre-order. So, if you decide to do a Kickstarter campaign, we have the following advice:
Figure out if there is a market need for your idea/project. Share your idea with others. Work on it. Get feedback

Once you have a Minimum Viable Product (MVP) – test it with your target market. Get to know them. Understand them. 

Convert the most interested testers into a core-community for your product. Prone them into your change agents, and ask them to pre-purchase your product through a deposit early on

Do the things mentioned above in question 4

Back 5-10 successful projects with $1-$5 USD (most campaigns have an option for this). You'll learn A LOT from how these campaigns communicate to their backers during and after they're successfully funded.
More Innovation, More Inspiration