Newly Funded BU Campus Climate Lab Projects Announced for Spring 2023
The BU Institute for Global Sustainability, in partnership with BU Sustainability and the Office of Research, is excited to announce this spring's newly funded Campus Climate Lab projects, part of the BU community's ever-growing commitment to using our campus as a testbed for researching innovative and equitable climate solutions.
Since launching in 2020, Campus Climate Lab has funded 28 projects to support the goals of BU's Climate Action Plan and advance the equity and justice aspects of sustainability.
Congratulations to this spring's awardees representing faculty, students, and staff from across the university, including Mechanical Engineering, Electrical and Computer Engineering, and Biomedical Engineering (ENG); School of Theology; Earth & Environment, Pardee School of Global Studies, Psychological and Brain Sciences (CAS); School of Theatre (CFA); Natural Sciences and Mathematics (CGS); Campus Planning and Operations; BU Arts Initiative; BU Community Service Center; BU Spark!; and BU Sustainability.
Campus Climate Lab At-A-Glance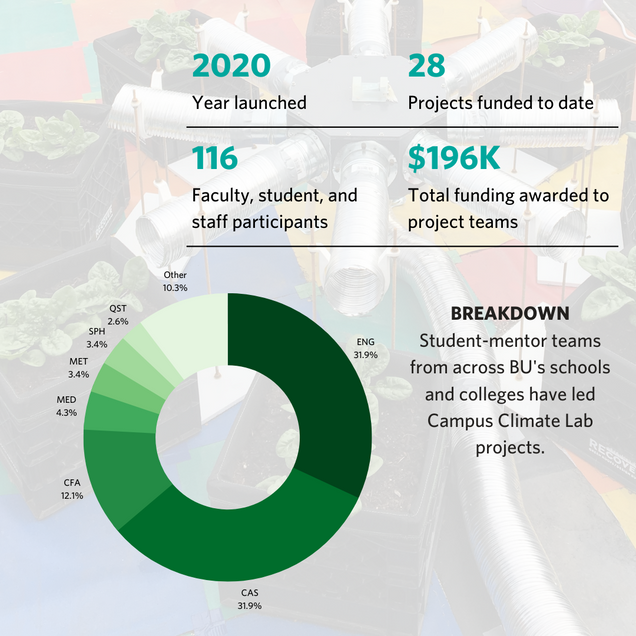 Campus Climate Lab Project Goals | Spring 2023
Buildings and Operations
Evaluate the electrical peak demand of the new BU Center for Computing & Data Sciences building, as well as the possible impact of using different energy storage methods to reduce electric peak demand, both through batteries and thermal storage
Create a more sustainable and climate-friendly campus through a feasibility study that could impact BU's Cummington Mall by making it more communal, walkable, and climate-friendly
Reduce waste contamination and develop prediction models for the BU Center for Computing & Data Sciences building through a range of experimentation strategies to be tested in future research
Research
Measure local pollution levels with the goal of developing an inexpensive sensor pack that will be accurate enough to determine pollution levels throughout the City of Boston
Explore a novel source of off-grid renewable energy
Curriculum Development
Analyze data from the wind farm leased by BU in South Dakota and develop a curriculum to teach the BU community about the wind farm and the university's efforts to address climate change
Provide BU with a curriculum-based intervention based on the analysis of whether learning about biological evolution can alter people's beliefs about their relationship with nature and promote climate mitigation actions among the BU community
Advocacy and Activism
Extract data from the potential of algae growth and reuse research materials for an art exhibit to inform the community scientifically about aquaponics and its potential to impact the struggles of the indigenous community through the affirmation of indigenous sovereignty and food sovereignty
Bring diverse faith groups across campus together for inter-faith climate change driven dialogue and community building, and develop faith-based responses to climate change
Learn more about BU's Campus Climate Lab projects, both recently funded and ongoing projects, and find out how to apply for project funding.