A Path to Public Service Paved by Academic Experiences in D.C.
Augustine Jimenez stands out as an award-winning student, study abroad participant, and budding public servant
Augustine Jimenez (CAS '20) has always been interested in law, government, and politics. Coming from a humble background where he grew up in Mexico until the age of 6 and then having moved to Atlanta, Jimenez developed a keen understanding of how the government's policy decisions shape people's lives. Growing up, Jimenez, who was a Posse Scholar, saw the challenges and ramifications of economic inequality play out firsthand in his school and in his neighborhood.
"Pretty early on I thought I wanted to work for the State Department," he says. "But being in D.C. and working with a local policy think tank gave me a new perspective on what cities and municipal governments do – and how you can connect with and help people on a different level."
Jimenez worked in D.C. during spring 2018 through the BU Initiative on Cities National League of Cities Menino Fellowship that he won his sophomore year. This prestigious award is given to one BU student each year.
"The Menino Fellowship program was incorporated into my D.C. Study Abroad program," he says. "I interned in Washington D.C. at the National League of Cities."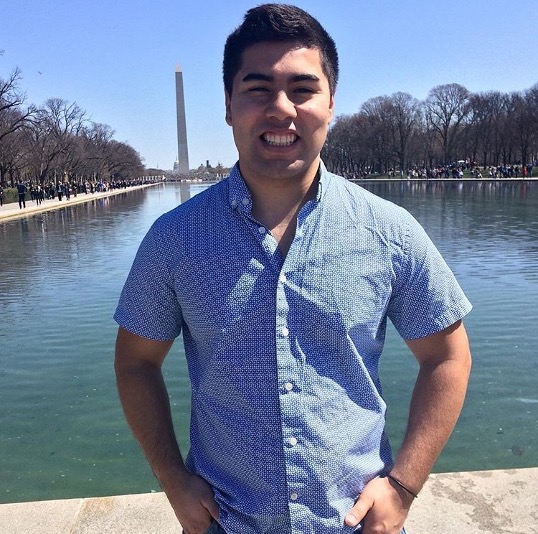 The National League of Cities serves the interests of 19,000 cities, towns, and, villages in the United States as well as professionals working in municipal government, according to its website. Jimenez' internship at the National League of Cities propelled his interest in policy making and the role that cities play in addressing issues from poverty to health and climate change.
During his academic internship, Jimenez researched nonprofits that were offering services to both parents and children in need, among other things. In addition to interning at the National League of Cities, he took several courses in D.C. through the Study Abroad program.
"I took classes that were political science-focused and that looked at democracy, policy-making, and electoral systems," he says.
As a Study Abroad student, Jimenez selected three courses from a range of options that span topics including the Modern U.S. Senate, American Policy-Making in the Global Era, Conflict and Peacebuilding, Democratization, Congressional Policy, Public Relations, Foreign Affairs, and a BU Hub course, the BU Cross College Challenge.
While he didn't enter D.C. familiar with the networking and socializing that often infuses, and partly shapes, the city's culture and work environment, he quickly learned the important role that it plays.
"Before I got to D.C. I didn't really believe in networking, and I was skeptical of it," he says. "But being in D.C. and being able to go to events pretty much every night where you can connect with people who have the same work interests…it helped me understand how you can get different opportunities. D.C. is full of self-advocacy, and you shouldn't be afraid to be scrappy and know what you're looking for in terms of your career. Walter Montaño [the Washington D.C. Study Abroad Site Director] is an incredible director, and the D.C. staff are so supportive. They helped me upgrade my professional skills to a new level."
Jimenez was also selected for a U.S. Department of State Critical Language Scholarship to Oman, where he spent two months studying Arabic intensively, living with a local family on some weekends, and traveling to different areas of the Sultanate of Oman.
"That was the biggest culture shock I had experienced," he says. "I had studied Arabic but just had basic language skills, so I had never felt so foreign and not able to communicate with people. It was intimidating at first, but little by little I learned how to be polite, how to make a joke, and it pushed me beyond what I was able to learn and be comfortable with in terms of cultural exchange."
Jimenez applied much of what he learned in D.C. to his application for the Truman Scholarship that he won in April 2019. Given by the Harry S. Truman Scholarship Foundation, The Truman Scholarship is a $30,000 award given to a small number of college juniors across the nation based on their leadership, academic achievement, and commitment to public service. The Fellowship was designed to be a living memorial to the 33rd President of the United States, who sought to support those who dedicate themselves to public service.
Jimenez will use his scholarship for law school and ultimately plans to pursue a career in public service. Of his experiences in Washington D.C. and Oman, he reflects on how he was encouraged to not only develop his intellect but also his deeper humanity through his academic pursuits.
"It takes stepping outside of your comfort zone, but it pays dividends in the end," he says. "It can take a lot to get over the fear of being new, but that's how I learned the most and became so much more aware of what's out there in the world. There's nothing like being in a place where people think differently and are focused on different things compared to most people in your life."