Elizabeth Loizeaux
Professor Emeritus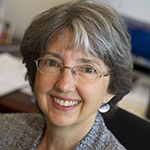 Title

Professor Emeritus

Email

ebloiz@bu.edu

Education

BA Mount Holyoke College,
MA University of Michigan,
PhD University of Michigan
I have taught and continue to write about 20th century poetry. Pursuing a particular interest in the relations between literature and the visual arts, I have been most concerned with how individual poets have used the visual arts to expand the expressive capacities of language and to address questions of form and content that have compelled them individually and collectively. Yeats and the Visual Arts (Rutgers 1986; Syracuse 2003), follows the varied engagements with the visual arts across the career of a single author. Twentieth-Century Poetry and the Visual Arts (Cambridge 2008) explores the prevalence of ekphrasis—the poetic representation of a work of art—across the 20th-century among poets in England, Ireland and the US. I've been interested particularly in how ekphrasis opens the lyric into a social space, making it interactive, polyvocal and often public. Pursuing my interest in the material presentation of texts, I co-edited with Neil Fraistat Reimagining Textuality: Textual Studies in the Late Age of Print (Wisconsin, 2002).
From 2012-2019, I served as Associate Provost for Undergraduate Affairs, working closely with BU's 17 schools and colleges to promote collaboration and strengthen the undergraduate experience. With Bruce Schulman (History), I led the development of BU's first university-wide general education program, the BU Hub. I also established the Advising Network, oversaw the evolution of Kilachand Honors College, and helped initiate BU's educational technology strategy and develop the Center for Teaching & Learning, among other efforts. Central to all my work was opening and supporting student access to all aspects of BU's offerings across schools and colleges.
Currently, I serve as Special Assistant to the Provost. I am continuing my work on behalf of undergraduate education as originator and member of the national "Boyer 2040 Commission," convened by the Association for Undergraduate Education at Research Universities (UERU), on whose board I serve as Past President. The Commission is charged, in this moment of converging crises, with designing A Blueprint for Excellence & Equity in Undergraduate Education at US Research Universities that will serve for the next 20 years. Co-chaired by Barbara Snyder (President, Association of American Universities, of which BU is a member) and Peter McPherson (President of the Association of Public and Land-grant Universities), the Commission expects to issue its report in early 2022.
Selected Publications
Twentieth-Century Poetry and the Visual Arts. Cambridge: Cambridge University Press, 2008.
Co-editor, with Neil Fraistat, Reimagining Textuality: Textual Studies in the Late Age of Print. Madison: University of Wisconsin Press, 2002.
Yeats and the Visual Arts. New Brunswick, NJ: Rutgers University Press, 1986. Paperback edition (with new preface). Syracuse, NY: Syracuse University Press, 2003. Ch. 5 repr. in W.B. Yeats: Critical Assessments, ed. David Pierce. Mountfield: Helm, 1999.