Adriana Craciun
Professor, Emma MacLachlan Metcalf Chair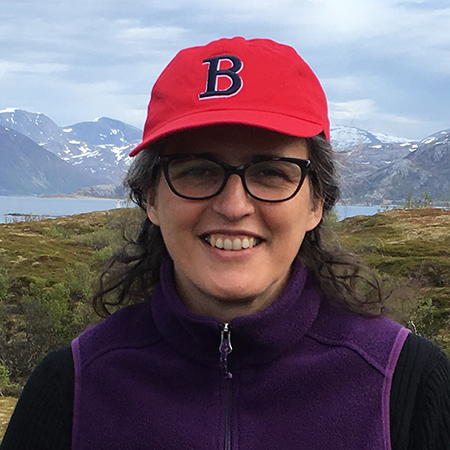 Title

Professor,
Emma MacLachlan Metcalf Chair

Email

acraciun@bu.edu

Education

BA, University of Puget Sound
MA, PhD, University of California, Davis
Adriana Craciun specializes in eighteenth and nineteenth-century British literature and culture, with current research in Arctic humanities, exploration studies, science studies, historical geography, history of collecting, Enlightenment, history of the book and of authorship. Her most recent book, Writing Arctic Disaster: Authorship and Exploration (Cambridge UP, 2016), was shortlisted for the 2016 Kendrick Book Prize by the Society for Literature, Science & the Arts, and uncovers a rich textual and material archive of Arctic exploration culture from the 17th century through to our own era of renewed interest in exploration's contentious legacies. She is also the author of Fatal Women of Romanticism (Cambridge UP, 2003) and British Women Writers and the French Revolution: Citizens of the World (Palgrave, 2005), which focused on women writers' significant contributions to Romantic-era thinking on the body, gender, revolutionary politics, and cosmopolitanism. She is the editor of several essay collections, most recently the volumes Curious Encounters: Voyaging, Collecting and Making Knowledge in the Long 18th Century (2019), and  The Material Cultures of Enlightenment Arts and Sciences, co-edited with Simon Schaffer (2016), and the special issue of Eighteenth-Century Studies on The Disorder of Things (2011).
She has published numerous essays in journals such as PMLA, New Literary History, Eighteenth-Century Studies, Nineteenth-Century Literature, European Romantic Review, Atlantic Studies, Victorian Literature and Culture, and Interventions: International Journal of Postcolonial Studies. Before coming to BU, Craciun taught at the University of California-Riverside, the University of London, and the University of Nottingham, and has received fellowships from the National Endowment for the Humanities, the Arts and Humanities Research Council (UK), the Fulbright Program, and the National Maritime Museum (UK). She is the editor of Studies in Romanticism, the flagship journal of Romantic literary studies founded at BU in 1961.
Current book-length projects include: Arctic Enlightenments, a study of botanical vitality, temporality, and collecting from the Enlightenment to the Svalbard Global Seed Vault;  Arctic Mobilities (co-authored with Michael Bravo); The Star Gazers: Astronomy, Poetry and Sexuality in 19th-Century Ireland. She also runs the Cultures of Science interdisciplinary research seminar at BU, and serves on the Executive Board of the Center for the Study of Europe, and as Associated Faculty at the Pardee Center for the Study of the Longer-Range Future.