CISE awarded $8.8M to develop the next-generation robotics and autonomous systems workforce
The Boston University Center for Information and Systems Engineering (CISE) received an $8.8 million award to fund a new center called the BU Robotics and Autonomous Systems Teaching and Innovation Center (BU-RASTIC).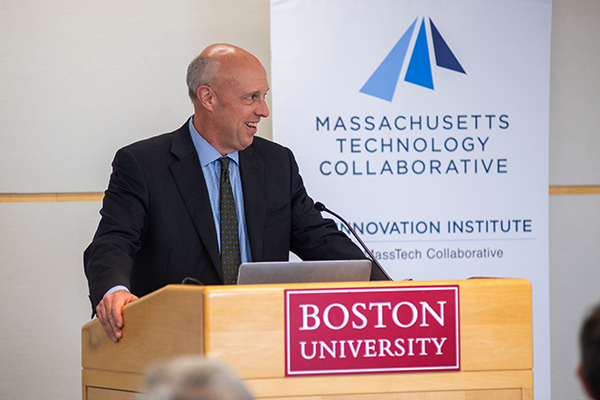 The award, including $4.4M from the Innovation Institute at the Massachusetts Technology Collaborative (MassTech) and $4.4M matching funds from Boston University, will serve to support the educational, research, and workforce development needs of the Massachusetts Robotics industry.
BU-RASTIC funds will be used to construct a state-of-the-art laboratory and deliver industry-aligned, hands-on interdisciplinary training and education to develop a next-generation competitive robotics and autonomous systems workforce.
"RASTIC's design is informed by our deep partnership with industry," said Boston University College of Engineering Dean Kenneth R. Lutchen. "We have heard from industry that Massachusetts needs a workforce trained in the latest developments in robotics – including the integration of AI and machine learning — to keep it at the leading edge of this rapidly advancing field. This center is designed to do that."
Robotics and autonomous systems are rapidly evolving technologies that are poised to make significant contributions to society through applications in medicine, transportation, supply chains, and more. However, these complex systems require synthesizing knowledge from a wide range of fields, including machine learning and artificial intelligence (AI), mechanotronics, sensors, control and optimization, and modeling.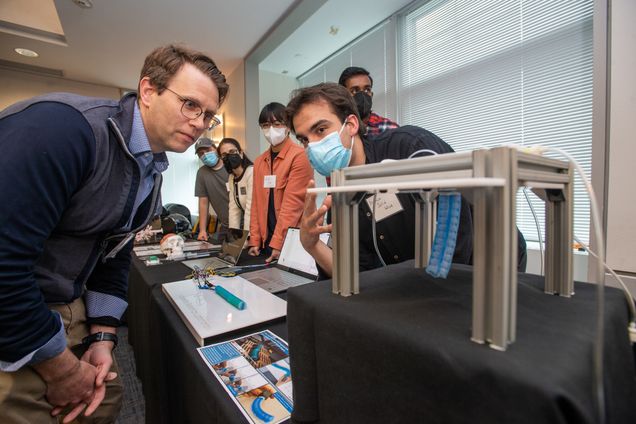 "Robotics is inherently interdisciplinary, bridging diverse engineering disciplines, computer science, cognitive science," says Yannis Paschalidis, Principal Investigator (PI) of BU RASTIC, CISE Director, and BU Professor of Engineering and Computing & Data Sciences. "The Center's goal is to develop highly specialized engineers and scientists with the core competencies required to contribute to and eventually lead the development of forward-thinking innovations."
BU-RASTIC will become integral to Boston University's Masters in Robotics and Autonomous Systems program and to other robotic educational experiences at the undergraduate level. Professor Sean Andersson (Mechanical & Systems Engineering) is the Director of this M.S. program and a co-PI of the new grant. The Center will train students throughhands-on projects, providing a space for students to explore and innovate in the robotics domain, and opportunities to engage with the local robotics industry.
Among the experimental areas of the facility are a scaled Miniature City for autonomous transportation research, a soft robotics design and build space for applications such as medicine, prosthetics, and human-robot interaction, and an AI-enabled planning and control room to act as the brain center of the deployed robots.
A consortium of robotics companies with a strong Massachusetts presence will serve as a steering committee and as a source for projects, helping test ideas and recruit students for careers in the robotics and autonomous systems industry.
"BU-RASTIC projects will benefit students and could lead to interesting ideas on solutions for start-ups as they work to address new challenges and bring to market innovative new products," says Thomas Ryden, Executive Director, MassRobotics. "We look forward to leveraging BU-RASTIC to help our resident robotics companies find qualified, well-trained people to join their teams full-time."
The award was announced by Mike Kennealy, Massachusetts Secretary of Housing and Economic Development, at a news conference held May 4th at Boston University.  Event speakers included BU President Robert A. Brown, MassTech Chief Investment Strategist Ben Linville-Engler, Amazon Robotics Chief Technologist Tye Brady,  BU Dean of Engineering Kenneth Lutchen, State Representative Tommy Vitolo, and Chief of Economic Opportunity and Inclusion Segun Idowu.
Principal Investigator Yannis Paschalidis also spoke about the impact of the grant, while Co-Principal Investigator Sean Andersson made closing remarks and announced student-led demonstrations that were held during the press conference.
Globally, the robotics market was valued at $39.72 billion in 2019 and is projected to register a compound annual growth rate of 25.38% from 2020 to 2025, reports ResearchandMarket.com. While COVID has accelerated interest and growth of automation as a tool to reduce contact between humans, robots and automation will not replace humans.  The World Economic Forum's Future of Jobs Report 2020 estimates that 85 million jobs could be displaced by automation by 2025 while 97 million new roles may emerge. "The future of work is changing," says Paschalidis. "Initiatives like BU-RASTIC are essential to not only prepare the workforce for these changes, but to enable them to lead and shape them."
Official press announcement here
BU Today story here
 About CISE
The Center for Information and Systems Engineering (CISE) is a BU research center within the College of Engineering, whose mission is to deepen and broaden interdisciplinary research in the study and design of intelligent systems with broad societal applications. CISE activities are designed to catalyze and support cross-disciplinary faculty research collaborations, advance scientific understanding and discovery, facilitate engagement with industry, and support a diverse community of faculty and students. The Center was established in 2001 and its affiliates include faculty and students from College of Engineering (Electrical & Computer Engineering, Mechanical Engineering, Biomedical Engineering, the Division of Systems Engineering, and the Division of Material Science and Engineering); College of Arts and Sciences (Departments of Computer Science, Earth and Environment, Mathematics and Statistics); Questrom School of Business (Departments of Finance, Information Systems, and Operations Management); and the newly established Faculty of Computing & Data Sciences.