Renaissance Women
They command armies, slay enemies, and lead nations. Playing the bard's most famous men makes the actresses of Femina Shakes more confident women.
By Julie Butters | Photo by Cydney Scott
Mackenzie Devlin was trying to be ugly. The five-foot-seven, blue-eyed blonde had been told she's the ingénue type, and in a typical production of Henry IV, Part I, she'd play a noble lady.
But in the 2014 CFA production, she was Falstaff—a corpulent, uncouth knight with a penchant for booze and bawdy humor. Her hair was mussed. She wore a fake belly. She loved every minute of it. "I allowed myself to be completely uninhibited and just as grotesque as I could possibly be."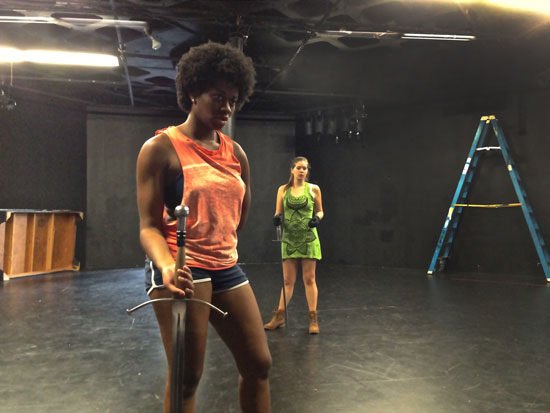 Devlin ('15) was a performer in Femina Shakes, a CFA initiative that presents one all-female Shakespeare play a year. The productions enable junior and senior performance majors to stretch themselves in roles they might rarely have the opportunity to tackle in traditional casting. Freed from stereotypical gender constraints to explore themes of power and authority in new ways, they emerge more confident—and with greater ambitions for meatier roles.
"I don't want to be this actor who's always pretty onstage," says Devlin. "I want to play deeper and more troubled and layered people, and I really felt like playing Falstaff was a way in."
Giving actresses juicier parts, and a chance to explore untapped sides of themselves, was one of Christine Hamel's goals in launching Femina Shakes. In spring 2011, she says, Jim Petosa, director of CFA's School of Theatre, asked the assistant professor of voice & speech and acting to direct a Shakespeare play featuring actresses who were not otherwise performing major roles that season. The project would help compensate for the overabundance of women in the program and fulfill the School's promise of guaranteed casting.
"I'm hungry to see more female characters that are at the philosophical, intellectual, or emotional epicenter of something really big."—Christine Hamel
An actress and self-described feminist with training in Shakespeare performance, Hamel ('05) took the charge a step further. Searching through Shakespeare's canon, she asked herself, "What would help women feel like they could advocate for themselves, where they were using some of their skills, where they were dealing with issues of power and hegemony and advocacy and politics?"
Julius Caesar was a perfect fit. The inaugural Femina Shakes production in 2011 had a homegrown feel, with the actresses "owning" every aspect, says Hamel. They painted the studio with graffiti written in Latin to create an "incendiary" Roman atmosphere in which the characters were "speaking truth to power." She and Petosa felt the project was such a positive experience for the actresses that CFA should continue to offer it. Four productions followed—Titus Andronicus, Henry V, Romeo and Juliet, and Henry IV, Part I—directed, respectively, by Hamel, Lillian King ('14), Adrienne Boris ('15), and guest director Meg Taintor. Hamel is considering Twelfth Night for this fall.
"Very few plays," Shakespeare or otherwise, "have passed the test of having two women speaking to each other for any sustained amount of time about something other than a man," says Hamel. Playing nontraditional roles gives women the chance to explore larger themes and questions—like "to be or not to be." "I'm hungry to see more female characters that are at the philosophical, intellectual, or emotional epicenter of something really big," says Hamel. "I think that is probably why women are really attracted to the role of Hamlet."
Henry V wore lipstick
Though the women of Femina Shakes take on male roles, they don't strive to become men. No fake mustaches, no embarrassing codpieces. Nor do they aim to imitate men with their physical behaviors. "We're playing characters as opposed to playing gender," says Hamel. For the sake of clarity, the actresses do decide their characters' sex—playing key male roles like Romeo as men is common but not a rule—and they give the audience costume-related clues, like pants and pulled-back hair. They might even redefine how gender is visually portrayed. For example, Hamel says that in Henry V, which Femina Shakes set in post–World War II London, male characters were played as men whose appearance was that of sturdy Rosie the Riveters, in pants and lipstick. But however gender is portrayed, it's not the focus of the actresses' preparation.
"In Julius Caesar," says Hamel, "it is more interesting to me to have an actress take on Mark Antony as a character who happens to be a man, as opposed to figuring out how to be a man and then playing Mark Antony." Thinking more about temperament and status "helps the actors to find the parts of themselves that have to deal with what it's like to have power . . . and do a lot of things that aren't about being somebody's wife or sister or daughter," says Hamel.
"I think at a certain point in rehearsal, [everyone stops] seeing women and starts seeing characters, which is really exciting."
—Christine Hamel
An example: Jade' Davis ('16), who played the impetuous warrior Hotspur in Henry IV, Part I, and Ivy Elwell ('15), who played Hotspur's wife. Elwell says her onstage interaction with Davis was about a marital relationship formed by their words and goals as opposed to sexual chemistry. Hamel says, "I think at a certain point in rehearsal, the ensemble and myself and whoever is in the room stop seeing women and start seeing characters, which is really exciting."
What the audience may notice more in an all-female cast is the gender bias inherent in the play. Lines like Hotspur's "[C]onstant you are, / But yet a woman" can jar the ear even more than usual. Violence can also become more disturbing for audiences. In the scene in Titus Andronicus preceding the offstage rape and mutilation of Titus' daughter Lavinia, the actresses playing aggressors removed Lavinia's nude nylons and gagged her with them. For Eliza Rose Fichter ('13), who played Lavinia, the scene "didn't feel scary to do at all" because of the trust she shared with her fellow actresses. But she believes that for the audience, the unfamiliar experience of "watching female bodies do this to another female body was scarier and more dangerous, I think," than watching a man—the expected aggressor—perform the same actions.
No apologies
Titus Andronicus is a Roman general who bakes his enemy's sons into a pie and breaks his own daughter's neck. To take on the lead of Shakespeare's dark and violent play by that name, Caroline Rose Markham ('13) had to reevaluate nearly everything about herself.
"I think there is an apology in everything that I say and do," she says. "There is always this tinge of, 'I am so sorry to say this so directly, but I need you to…'" In the role of Titus, "there was none of what I associate with the female apology. I will literally stab you if you are in my way."

As Titus, Markham also became conscious of ways she conveyed gender through body language. It was challenging "to find a neutral way of doing everything," from walking and sitting to drinking a bottle of water. Walking to and from rehearsal, she'd practice "trying to eliminate all the gendered physical behaviors that I learned my entire life."
Now, the assurance she found playing a bad-ass general in combat boots and "a giant Mohawk that looked like a Roman military helmet and made me feel like I was six feet tall" goes with her everywhere—from studying abroad at the London Academy of Music & Dramatic Art ("I played Hamlet and I felt ready to go. There was no, 'How do I be a man?' or 'How do I do this?'"), to auditioning for Boston-area productions ("It helps me walk into a room and do whatever piece I want."), to the restaurant where she trains fellow servers to walk and act with confidence.
"I felt much bigger, bolder. I felt so unstoppable playing Hotspur."
—Jade' Davis
Davis had a similar experience playing Hotspur. "I felt much bigger, bolder. I felt so unstoppable playing Hotspur." Now, she says, "I will never be timid to audition for big roles."
Women cast as women in Femina Shakes productions are empowered in other ways. Their characters may be confined to the domestic sphere or even victimized, but that doesn't mean they're weak or powerless. "Lady Percy doesn't necessarily have physical power over Hotspur," says Elwell, but she does have power in her words—in the rich language Shakespeare offers her "to really assert herself" in demanding answers from her husband and more of a share in his life.
Bigger ambitions
Hamel hopes the heightened ambitions Femina Shakes actresses tap into won't just influence the classical roles women are offered, but the roles created for them.
"If you have a generation of really strong actors who are hungry for the kinds of roles they got to play when they performed as Mark Antony and Titus Andronicus and Henry the Fifth—assertive and strong and really thinking globally about how to change the world, not, 'How do I change my husband?'—you might have playwrights writing roles for those actresses."
If that comes to pass, someday an actress may actually have to check her calendar when offered the chance to play one of Shakespeare's men: she may be too busy portraying extraordinary women.