BU Dual Master's Program Aims to Produce Graduates Versed in Environmental Science—and the Economics of Climate Change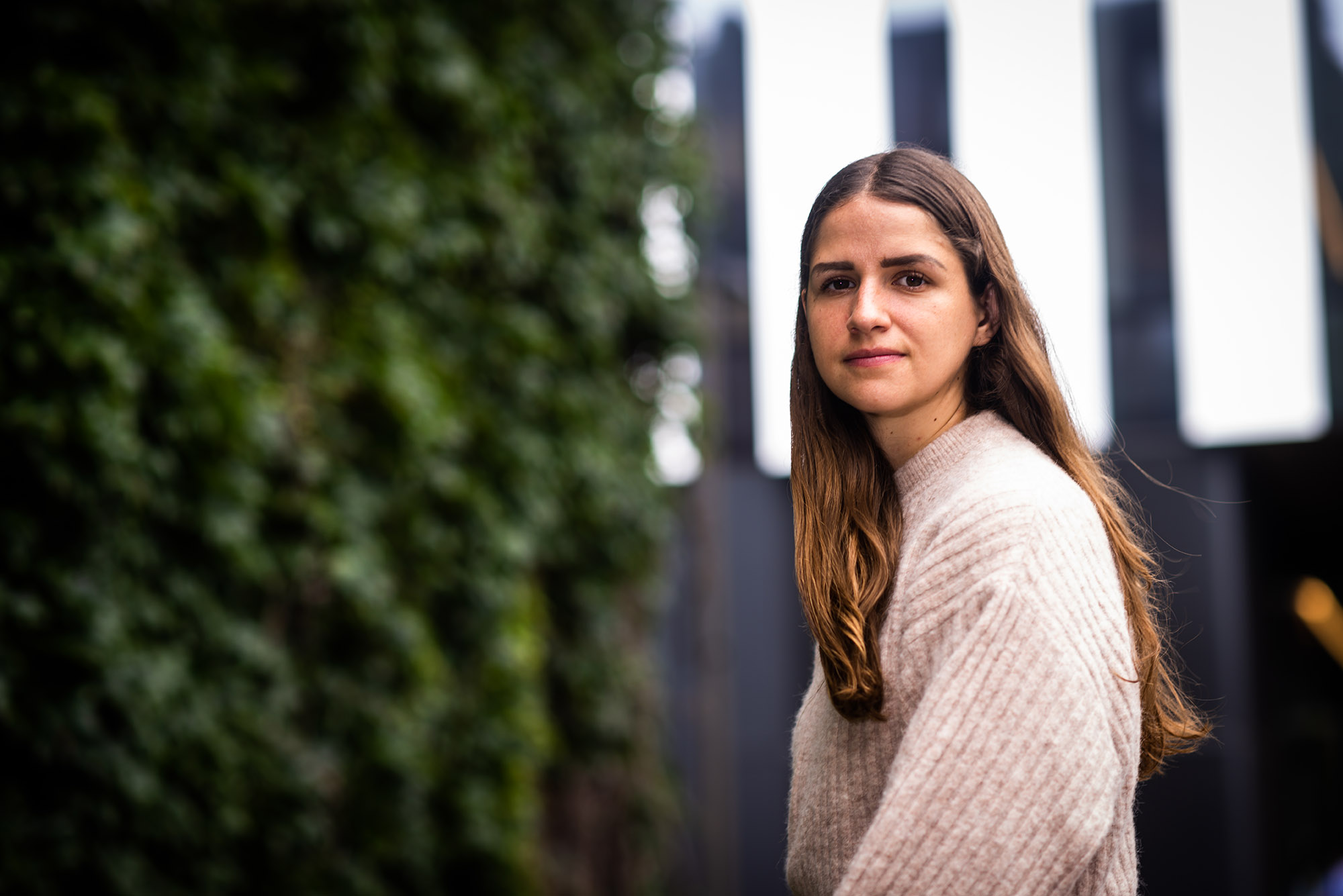 QUESTROM
BU Dual Master's Program Aims to Produce Graduates Versed in Environmental Science—and the Economics of Climate Change
Connects GRS energy and environment master's degree with Questrom's social impact MBA
Trace her interest in renewable energy all the way back to the source and you'll find that Paulina Carregha Garcia joined the new dual degree program at Boston University because of…Al Gore.
"It sounds like a joke, but in the fourth grade, the teacher made us watch An Inconvenient Truth," says Carregha (Questrom'24, GRS'24), who attended elementary school in her native Mexico. "I was basically traumatized" by the movie's depiction of the climate change crisis."
Former Vice President Gore's 2006 documentary set Carregha on a career path in the energy field that led to a job analyzing renewable-energy contracts for a Dallas-based consulting firm out of its Mexico City office.
"I started realizing that although I did know about energy and sustainability, I was missing a little bit more of the business side," she says. "I really wanted to understand finance more thoroughly."
That led her to Boston and the new Social Impact MBA+MS in Energy and Environment dual degree program run jointly by the Questrom School of Business and the Graduate School of Arts & Sciences. In two years, students get their MBA through Questrom's Social Impact MBA program and a master of science degree in energy and environment from the GRS Energy & Environment program.
The aim of the program is to prepare a new generation of leaders to help the energy industry navigate the massive transformations required to confront climate change, including moving away from fossil fuels.
"There's hardly any sector that needs more talent, new talent, committed talent than the energy sector," says Richard Stuebi, a Questrom lecturer in strategy and innovation and industry relations manager, Energy & Sustainability. "We hope that with this program we can educate business leaders who can make a big difference."
He says the energy sector is not only one of the largest sectors in the global economy, it's also one of the most important. "And it's profoundly changing," says Stuebi, who worked in the industry for 35 years before joining Questrom 4 years ago.
"We are trying to solve two problems at the same time," he says. "We get the decarbonization issue of how do we address climate change and move to a zero carbon economy in roughly the next two decades, maybe three decades, which is very challenging. And at the same time, do that in a way that doesn't impede economic growth, and in particular, facilitates economic growth in parts of the world that don't have modern energy access."
It's a head-spinning and critical set of challenges that require a deep understanding of both the energy sector and the economy.
Climate crisis is also an opportunity
"Everyone wants to turn the lights on and plug their computer in and have heat and have air conditioning, so energy is this ubiquitously important thing in our society, in our lives," says James Baldwin (GRS'09), a senior lecturer and director of master's programs in the College of Arts & Sciences earth and environment department.
Earth and environment programming has been skills-oriented, training people to work in government and consulting jobs, and program alumni get hired quickly, he says.
"A lot of folks who work in the renewable energy sector are either engineers or economists or like, you know, environmental scientists," Baldwin says. "I think the missing piece is, we need more people who know the type of stuff that I know, but also have business knowledge and business skills to figure out how to make a lot of these solutions both appealing and attractive, and also profitable, so that there's an economic incentive for firms to invest more in renewables."
It's not precisely a new offering. BU's dual degree program dates back several years, but its promotion got delayed by the pandemic and other factors. Carregha is one of several students who eventually found their way to it anyway. Baldwin credits Stuebi for moving it forward.
---

I think it's one of the missing puzzle pieces towards a more sustainable energy future.

---
"I think it's one of the puzzle pieces towards a more sustainable energy future," Baldwin says.
The core requirements of both degrees remain in the new program—with the first year mainly MBA, and the second leaning toward the MS—and a variety of electives.
The oil and gas sector has long been a Texas, and especially Houston, sector, Stuebi says. While BU students are less likely to head there for jobs, that may not matter as much as society continues to move away from fossil fuels.
There are electric utilities everywhere, regional or local, that would be attractive employers for program grads, he says, including half a dozen in New England. Solar and wind energy companies need employees with these skill sets, as do investment firms working in the sector. And there are a host of innovative companies in technological spheres that aren't that widely recognized yet, but could become major players, he adds.
"We're talking a longtime horizon, mind you, and a chance of failure," but the upside could be huge, Stuebi says, and many of those industries are hiring. As an example, he points across the Charles River to Cambridge-based Commonwealth Fusion Systems. Its first round of venture capital funding fetched almost $2 billion, one of the biggest venture capital rounds in history.
"Because they've attracted so much capital, they're looking for accountants, they're looking for financial planners, they're looking for operations managers," Stuebi says. "Now, this is for a product that probably isn't going to exist for another 10 or 20 years, if it exists at all. But around here you've got all sorts of energy storage technologies and electric vehicle charging companies, geothermal companies, all sorts of very promising start-ups."
Putting her dual degrees to work
Melissa Mittelman (Questrom'22, GRS'22) is another who found her way to the program, and she says it led her to a position as manager of energy and climate mitigation policy at the Massachusetts Executive Office of Energy and Environmental Affairs.
"That's a long title, but in practice it means I do a lot of work on the state's decarbonization planning and clean energy and climate planning," Mittelman says. "This is not what I was doing prior to grad school." She held jobs in financial services and financial journalism, and her work sometimes delved into sustainable energy financing.
"I decided I wanted to go back and do a very focused dual degree program that kind of marries both my background and interest in finance and economics with my other very strong interest in energy and environmental sustainability," she says. "And so I started thinking about the grad school landscape with that dual focus."
The Questrom and GRS dual degree program helped her use her financial and business grounding as a lens through which to look at a lot of energy and environmental issues. At the same time, she could gain the content knowledge to know what businesses are involved, what the markets are, and what the challenges are.
"I think the reality of climate change affects every single aspect of our life," Mittelman says. "And I think that being able to approach it from an interdisciplinary lens is going to be an increasingly valuable skill set."
The question is whether society will answer the challenge of climate change in time. "Every other problem on this planet pales in comparison to something that threatens our ability to survive as a species," Baldwin says. "The technological pieces I think are there. It's cheaper to make electricity from renewables than from fossil fuels. Last year the world added more renewable capacity than fossil fuel capacity. So these things are happening. I don't know if they're happening fast enough."
The missing piece, he says, is for more people not just to understand environmental science, but to also grasp the business complexities of finding a solution.
"The people who are going to actually make these things happen are going to be in the business community. They're the ones who are going to have to figure out how to make the business cases for adopting these technologies, for making this transition, for integrating it into business practices," Baldwin says. "That's why I think this is such an important program that BU offers."