Getting to Know Your Neighborhood: Roxbury
A place rich in history, diversity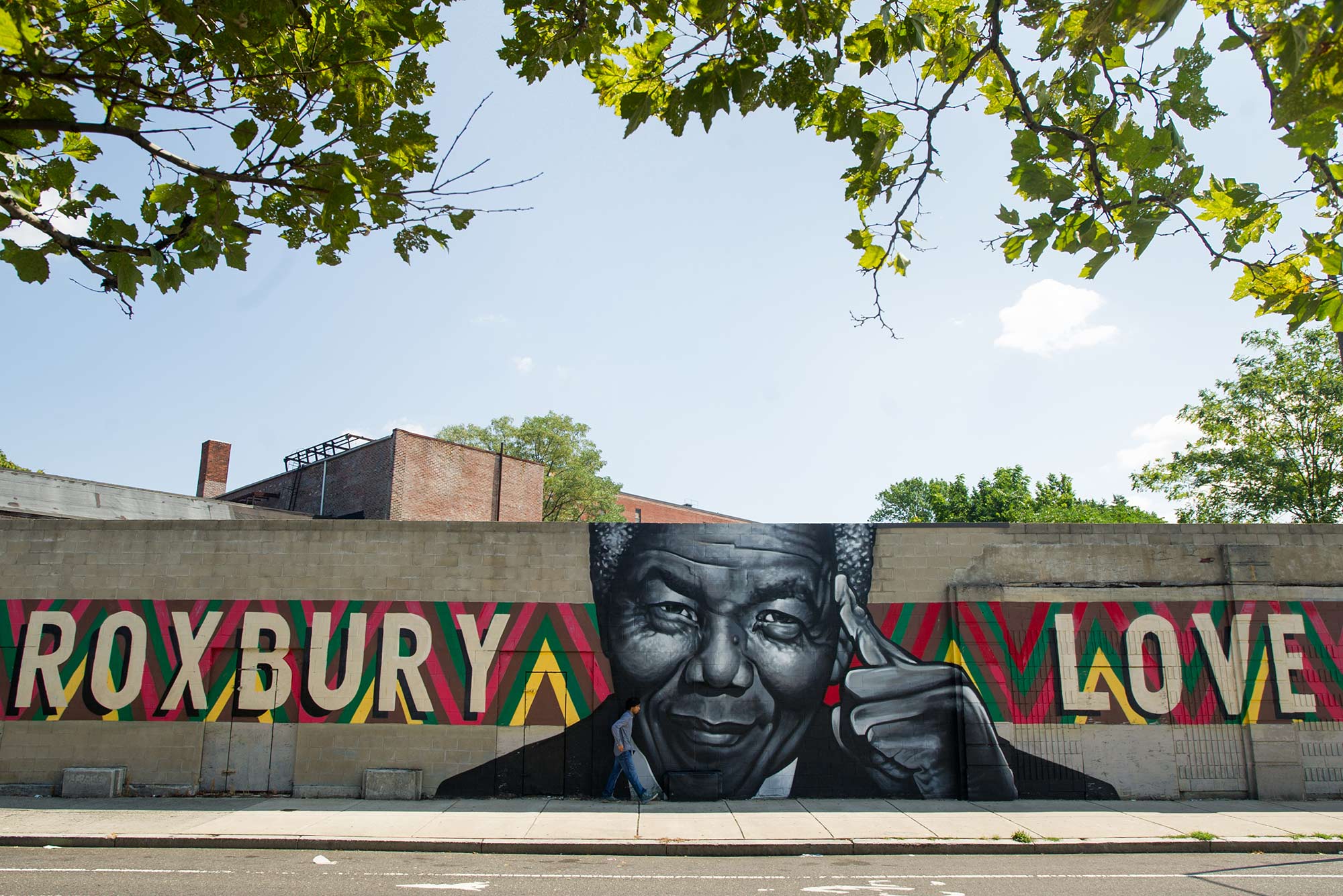 In the City
Getting to Know Your Neighborhood: Roxbury
A place rich in history, diversity
Roxbury is one of Boston's oldest communities. Incorporated nearly 400 years ago, in 1630, the Puritans of the Massachusetts Bay Colony were its first European settlers. It became a city in 1846 and was annexed to the city of Boston in 1868.
Originally a farming community, Roxbury was home to a number of prominent colonial figures. Roxbury Neck connected the town to Boston, which at the time was three miles to the north on a peninsula, meaning that all land traffic to the city had to pass through Roxbury. As marshland surrounding the causeway was filled in, factories and warehouses were built there.
Since the mid-19th century, when Irish immigrants escaping the potato famine began arriving in Boston in large numbers, Roxbury has been home to many diverse communities. In the early 20th century, Irish dance halls could be found throughout Nubian Square (formerly Dudley Square). The Irish were followed closely by German immigrants, who helped establish the breweries that sprung up along the Stony Brook, a major city watercourse, in the years before Prohibition. A large Jewish community developed around Grove Hall, along Blue Hill Avenue, and into neighboring Dorchester. Starting in the 1940s, the Second Great Migration of African Americans from the Jim Crow South to northern cities made Roxbury home to a growing number of African Americans, and by 1960 predominantly white Roxbury had become a predominantly Black community. It continues as the heart of Boston's African American community and is also home to Hispanic, Caribbean, and Asian families.
Roxbury comprises several districts, including the areas around Nubian Square, Fort Hill, Crosstown, Grove Hall, Egleston Square, and Blue Hill Avenue. Many Blue Hill Avenue businesses and shops were destroyed in the riots after the assassination of Martin Luther King, Jr. (GRS'55, Hon.'59) in 1968. Mounting poverty, unemployment, and a wave of arsons in the 1960s and 1970s contributed to further decline, but in recent years, city, state, and local grassroots efforts have done much to transform the neighborhood. Several projects are underway, including a major overhaul of the Boston Public Library Dudley branch and development of the 1.2-million-square-foot Tremont Crossing, a multibuilding development that will include more than 700 apartments, office and retail space, and a new Museum of the National Center of Afro-American Artists.
You'll find wonderful restaurants, museums, and cultural sites that reflect the neighborhood's rich diversity and history. Below are some highlights.

This unassuming counter serve–style restaurant is popular with locals—one visit and you'll see why. Known for its authentic West Indian–Trinidadian cuisine, it serves roti (flat bread, similar to naan) wrapped around pumpkin, beef, chutney, and chicken—all of it delicious and at great prices. It's close to Northeastern, making it a go-to destination for students looking for affordable dining. The interior is decidedly no-frills, but there's no missing the place: the exterior is painted a vibrant orange. Open Wednesday through Saturday only.
Named for Thailand's capital and the traditional Thai pinto (lunch box) containers used to carry home-cooked meals, Bangkok Pinto serves up tasty and inexpensive Thai cuisine. The bright green exterior and quirky interior give this tiny eatery a unique charm and flair. The large menu offers classic dishes like crispy scallion pancakes with ginger sauce, duck choo chee (boneless roasted duck and vegetables in choo chee curry sauce), tofu soup in a clear broth, and drunken noodles (stir-fried flat noodles with egg, mixed vegetables, and a choice of meat or tofu). Thai iced tea and desserts like sweet sticky rice with mango are also served. Known best for delivery and takeout, it has limited seating. Open Tuesday through Sunday.
This simple neighborhood pizzeria offers yummy riffs on everyone's favorite Italian dish. Try the crispy honey pizza (breaded honey mustard chicken with caramelized onions, banana peppers, and honey mustard sauce). Customize your pizzas with a variety of toppings and sauces, and the place will turn any of its signature pizzas into a calzone upon request. Customers rave about the BBQ chicken pizza; the chicken ziti broccoli alfredo pasta is also a must-try. You'll find plenty of wraps, subs, and salads, too.
This is New England's largest mosque, home to one of the most multifaceted US Islamic centers. The 70,000-square-foot structure is also a dynamic cultural center designed to serve the entire community. It offers numerous programs, among them a weekly group for Muslim mothers and their children, bimonthly community social events, and a free, five-week Islam 101 program introducing non-Muslims to Islam. It also houses a school, a café, and a gift shop that sells perfumes, body oils, traditional clothing, Islamic books, artwork, and natural organic products. The center's large multipurpose space is used by interfaith, nonprofit, cultural, and educational organizations for various functions and events.

This fast-casual version of its sister Fasika Ethiopian restaurant in Somerville opened in Roxbury in 2018. Inspired by the Ethiopian tradition of breaking injera (bread), owner Befekadu Defar has created an environment where guests experience bonds of loyalty and friendship while sharing plates. Enjoy sandwiches, wraps, salads, and a wide variety of Ethiopian vegetarian options, including curry made with eggplant, zucchini, tomatoes, and onions, and tikil gomen (carrots, cabbage, and potatoes in turmeric). Authentic Ethiopian specials include the Fasika Fish (tilapia seasoned in jerk spices) and yebeg tibs (cubes of lamb cooked in mild sauce). The coffee plant originated in Ethiopia, so don't forget to try the coffee. It's delicious.
Built in 1750 as the parsonage for First Church in Roxbury, the Dillaway-Thomas House was the headquarters for General John Thomas and the Continental Army during the Siege of Boston in 1775. The two-story house is one of Boston's few remaining examples of 18th-century domestic architecture. The house is maintained and operated by the commonwealth's Department of Conservation and Recreation and has been restored to show how its use has changed over the centuries. Visitors can find exhibits showcasing the history of Roxbury, its people, and their cultures. The adjacent Roxbury Heritage State Park underwent a major face-lift in 2018 and offers picnic benches and panoramic views of downtown Boston. Across the street is the current First Church in Roxbury (the fifth on the site), an outstanding example of a Federal-style meetinghouse, built in 1804.
Ashur Restaurant
291 Roxbury St.
Open since 2008, this casual, bustling Middle Eastern and African halal eatery has something for every taste. It offers traditional dishes like lamb shank, chicken kebab, and cubed goat meat, made on the premises and served with a choice of rice or spaghetti. It's best known for its generous portions and delicately spiced lamb dishes, including lamb biryani and boneless lamb. Finish your meal with one of the desserts, such as the Ashur cake, baklava, and sambusa. Behind the Islamic Society of Boston Cultural Center and close to Roxbury Community College and the Roxbury Crossing T station, Ashur has ample seating and is a popular meeting spot for locals and college students. Takeout and delivery are available.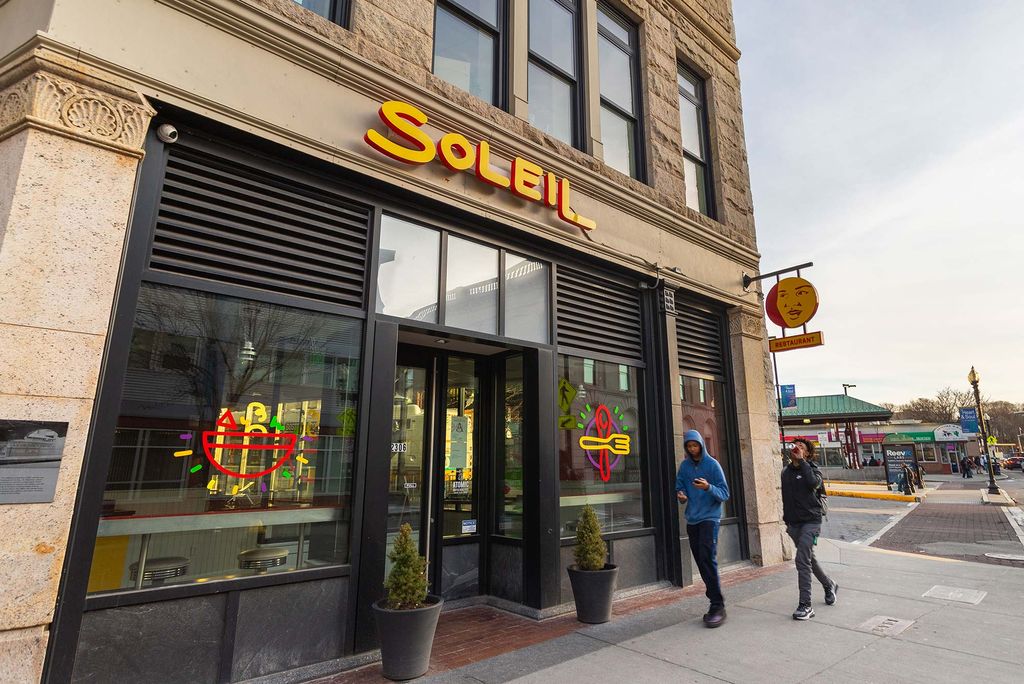 Soleil
2306 Washington St.
Drawing inspiration from Southern-style cuisine, this over-the-counter restaurant offers a large breakfast and lunch menu. Among the standouts are the Donelle breakfast sandwich, with turkey bacon, lettuce, tomato, and mayonnaise (for only $5), and the grilled salmon sandwich, featuring a pesto spread. It's open weekdays only from 7:30 am to 3 pm, but the restaurant plans to expand hours to 5 pm and begin offering a dinner menu in late April.
Silver Slipper Restaurant
2387 Washington St.
This homey diner serves up a Southern-style breakfast menu, with some of the best grits you'll find in Boston. Other highlights: a western omelet, spicy sausage, and Texas-style French toast. Wash it all down with a glass of refreshing sweet tea. Everything on the menu is less than $10, making it ideal for budget-conscious students. Note: the restaurant is cash only.
This modern neighborhood café has been a popular gathering spot for locals since it opened in 2015. It offers a large outdoor seating section when the weather is warmer, and its interior is a blend of sleek industrial-style and classic comfort, with a brick accent wall, leather couches, exposed metal beams, a wooden counter area, and a colorful Roxbury-inspired mural. The work of local photographers fills the walls. Some favorites on a menu full of breakfast and lunch items: the Roxbury Deluxe, an English muffin with egg, sautéed spinach, bacon, cheddar cheese, and house-made seasonal jam; the New Edition sandwich, with roasted sweet potato, avocado, pesto, farm cheese spread, crispy shallots, and arugula on sourdough bread; and Ayanna's Bowl, with quinoa, sautéed spinach, Asian slaw, broccoli, and a hard-boiled egg, served with a homemade Peruvian sauce, named in honor of Ayanna Pressley, the first Massachusetts African American US congresswoman. For extra flavor, add sweet potato or avocado for 75 cents. The café also hosts trivia nights, fundraisers for local charities, and live musical events, and is open Monday through Saturday.
The motto for this Black-owned community bookstore is "Changing Minds One Book at a Time," which is appropriate given Frugal's commitment to promoting literacy among children, YA readers, and adults. The shop has a warm and welcoming atmosphere and the knowledgeable staff are great at recommending books to match any reader's tastes. The store boasts outstanding nonfiction and music sections, as well as a wonderful children's corner. What sets Frugal apart from many of the city's other independent bookstores is its focus on stocking and selling books by authors of color.
This family-owned sub shop is open daily from 8 am to 11 pm and offers a wide range of breakfast, lunch, and dinner options. Their classic breakfast sandwich (eggs and bacon or sausage) never disappoints. You'll also find pancakes, French toast, and a long list of hot subs (we recommend their famous steak and cheese), along with salads, burgers, pizzas, and entrées like fried clams.
Although the BPL's Dudley Square (Nubian Square) Branch has been closed for the past year for major renovations, the overhaul will be worth the wait when the building reopens this spring. The aim of the $14.7 million project—a collaboration between the BPL and the city of Boston's public works and arts and culture departments—is to give the library a more open feel, with transparent glass walls, and reorient the entrance to face the Nubian Square MBTA station and redesigned plaza. The focal point of the 27,000-square-foot renovation will be an innovative new community room with state-of-the-art audiovisual technology and new lighting. Plans also call for new programs and services, including a technology teaching lab, a nutrition lab with a full kitchen, and a refresh of its extensive collection of books chronicling the African American experience, which will now be placed prominently just inside the new entrance.
Peking House serves up some of the best Chinese food in Boston. The ample menu includes a delicious chicken teriyaki and an outstanding wonton soup. The portions can be small, though, so you may want to order several appetizers. The appetizer combo, three appetizers for $17.25, is an excellent value. Be sure to bring cash: the restaurant doesn't take credit cards. Note: Peking House is takeout only.
Originally built as a social club for Irish immigrants in 1913, Hibernian Hall was a magnet for the Irish community in Nubian Square for decades and a popular Irish dance destination. After Irish residents began moving out of Roxbury in the early 1960s, the building changed ownership several times and was vacant for more than a decade. Purchased in 2000 by the nonprofit Madison Park Development Corporation, it was restored and reopened in 2005. Today it's a destination for arts, culture, and theater in the heart of the square. With its high ceilings and proscenium stage, the building is home to both the Roxbury Center for the Arts and programs and initiatives of the cultural and economic development program Arts, Culture, and Trade Roxbury (ACT Roxbury).
This elegant restaurant, bar, and lounge, owned and operated by Nigerian chef Cecelia Lizotte, specializes in West African cuisine, particularly Nigerian dishes. It started as a small catering business—an avenue for Lizotte to express her passion for food and cooking. It can seat up to 80 customers. The entire menu is gluten-free and dairy-free, and many dishes can be made to order as vegetarian. Highlights include spicy suya kebabs made of seasoned, thinly sliced beef or chicken; Nigerian stews featuring fish, goat, beef, or chicken, and a choice of fufu, a dumpling made from whole wheat, cassava, yam, or corn. African art adorns the cozy interior, and there is live music and social dancing in the bar and lounge on Friday and Saturday nights. The restaurant recently launched a food truck as well.
Just past Nubian Square, Nos Casa specializes in a fusion of Cape Verdean, Portugese, and Spanish cuisine. Highlights on the menu include Entrecoso Grelhado, pork spare ribs with french fries and rice, and the Peito de Galinha a Casa, chicken breast cooked with wine, sauce, and vegetables. Nos Casa also offers some fine seafood dishes. Be sure to try the Arroz de Marisco, a savory entrée of lobster, shrimp, scallops, clams, and mussels, served with rice. The restaurant is closed on Sunday.
Backlash began making its beers in other company's breweries back in 2011, but as it grew the owners needed their own brewery and taproom. Now the place is in a former 1800s piano factory. Beers of note: Allston, a New England–style IPA featuring Citra hops and Mosaic lupulin powder, along with loads of oats for a soft, creamy feel. There's also the Great Molasses Disaster, which takes its name from the Great Molasses Flood of 1919, when a storage tank with two million gallons of molasses burst, wreaking havoc in the North End. It's an imperial stout brewed with molasses, with notes of roasted barley and chocolate and hints of smoke. Backlash has partnered with local vendors to provide prepackaged snacks at the bar. Guests can also buy food from the rotating roster of food trucks in the parking lot.
Part of the Roxbury community since 1949, Victoria's, at the intersection of Dorchester, Roxbury, and the South End, serves breakfast (all day, every day), lunch, and dinner. Plus, it's open 23 hours a day Friday and Saturday (6 am to 5 am) for those night owls in search of food. The menu offers up classic diner fare, including home fries, breakfast sandwiches, pancakes, potato skins, burgers, sandwiches, meatloaf, milkshakes, and smoothies. There's a selection of wine, beer, cocktails, and specialty alcoholic coffees. Takeout is available.
William Shirley's Georgian mansion is the only remaining country house in America built by a British Royal colonial governor. The well-preserved mansion, on an acre of grounds, was built between 1747 and 1751, and became a National Historic Landmark in 1960. This spring, it's undergoing a restoration, including a newly repainted exterior. Public tours run Thursday through Sunday, from June through August, and by appointment September through May. The house was the home of two governors—one Royal (Shirley) and one Federal (William Eustis). Among other occupants: when it was a Revolutionary War barracks during the Siege of Boston in 1775, it housed the Massachusetts Sixth Regiment of Foot; Jean-Baptiste du Buc, the Haitian counselor to Louis XVI of France; and Captain James Magee, a prosperous Irish American who made his fortune in the China trade.
The City of Boston Archaeology Program recently completed an archaeological dig near the house, which uncovered 18th- and 19th-century finds such as clothespins, ceramics, uranium glass, and well-preserved bones, along with a trench believed to have been a privy. The house offers a handful of events, including history and gardening seminars. Admission is $8 for adults, $5 for students and seniors, and free to members of the Shirley-Eustis House Association, which runs the site and was instrumental in keeping the mansion in Roxbury when a move to Fenway was proposed in the late 1960s. Be sure to visit the adjacent Ingersoll-Gardner Carriage House, acquired by the Shirley-Eustis House Association in 1999, which houses the 19th-century carriage belonging to William Eustis.
This restaurant's website says it draws inspiration from the passion and boldness of merengue as music and art, and translates it to the essence of Dominican cuisine. Among the offerings are appetizers like cassava turnovers with cheese and dishes like roasted eggplant with green plantains, red snapper fillet, and lobster and shrimp gumbo. It seats 90 and has two spacious dining rooms whose vibrant colors and tropical accents make you feel you've been transported to the Dominican Republic.
This multipurpose Massachusetts Department of Conservation and Recreation complex, named for local civil rights activist Melnea A. Cass, opened in 2011, with a 24,000-square-foot indoor climate-controlled recreational arena, classroom space, and an event area. The complex has a running track and floor space lined for multiple sports, like soccer, roller derby, and tennis. On-site showers and lockers are available, and a large outdoor pool, also named after Cass, is connected to the complex. It is adjacent to Malcolm X Park and the city of Boston's Shelburne Youth Center. A Bluebikes bicycle stop is right outside the main entrance.
Cofounded by brothers Dave and Will Willis, this distillery has launched six award-winning spirits offered in their tasting room, along with several other unique cocktails. Try the New Deal, a concoction of American straight whiskey, lemon almond orgeat, maple syrup, and black walnut, or one of the classics like the Espresso Martini, which includes coffee, vodka, vanilla, and chocolate milk. You can even have food delivered to the bar to enjoy with your drink. (Bully Boy doesn't sell food.) The distillery also offers tours of its facilities for $10 (for those 21+ only) in addition to cocktail classes, where you can learn the basics of bartending from Bully Boy's lead bartenders.
This café, an extension of the nonprofit Haley House, offers a menu of wholesome dishes and a mission of benefiting the well-being of its community. In addition to serving coffee and fresh food, the café holds cooking classes for locals and volunteer gardening opportunities. The café had humble beginnings. In 1996, Haley House launched a bakery training program to help individuals learn practical employment skills and stop cycling in and out of prison. The program was a success. In a little over a decade, it outgrew its space, which led to the opening of the Haley House Bakery Café in 2005. Now, 18 years later, it continues to serve the community by providing employment opportunities for those who face difficulties finding traditional employment, a youth cooking program, and a gardening space where volunteers can help care for and harvest the fresh produce for the café.
The city's largest park, spread over parts of Jamaica Plain, Roxbury, and Dorchester, Franklin Park is considered the crown jewel of the Emerald Necklace, a series of nine connected parks, six of them designed by noted 19th-century landscape architect Frederick Law Olmsted ( best known for his work creating New York City's Central Park). Established in 1885, Franklin Park was designated a Boston Landmark in 1980. The park comprises 485 acres and includes Franklin Park Zoo, the William J. Devine Golf Course, an 18-hole public golf course (the second oldest in the country), athletic courts and fields, an open-air public performance space, a woodland reserve, old stone ruins, ponds, picnic areas, and playgrounds. The community-based group Franklin Park Coalition works to engage all park users and community members through advocacy, programs, and restoration. Find directions here.
Although the address of the 72-acre Franklin Park Zoo, nestled inside Franklin Park, is officially Dorchester, it's included here because the park encompasses parts of Roxbury and Jamaica Plain. The zoo is home to more than 220 species of animals in a variety of habitats, including an Outback Trail with kangaroos, kookaburras, emus, and cockatoos, a savannah with Masai giraffe, and Serengeti Crossing, four acres of grassland and wooded hills where a number of Grant's zebras, ostriches, and wildebeests roam. There's also a Children's Zoo (ducks, prairie dogs, red pandas), a seasonal Butterfly Landing, a carousel, train rides, and snack bars. Opened in 1912, Franklin Park Zoo today is operated by Zoo New England, a private nonprofit committed to conservation. This popular, family-friendly destination attracts approximately 400,000 visitors a year.
Getting there: Take a Green Line trolley inbound to Park Street/Downtown Crossing, then an Orange Line train to either Ruggles or Roxbury Crossing. Or take the Silver Line SL5 from Downtown Crossing to Nubian Station.

Click on the points in the map above for more information on the places listed in our guide to Roxbury.
This Series
Also in
March 1, 2023

February 15, 2023

December 1, 2022