Getting to Know Your Neighborhood: Inman Square
In the City
Getting to Know Your Neighborhood: Inman Square
Eating, shopping, hanging out in an often-overlooked Cambridge square
Off the T's beaten track, Cambridge's Inman Square is something of a hidden gem. Unlike the city's more famous squares—Harvard, Central, and Kendall—you can't get there directly by subway, but several MBTA buses pass through. At the junction of Cambridge and Hampshire Streets, the culturally diverse East Cambridge neighborhood is a treasure trove of multicolored storefronts and restaurants. Likely named for Ralph Inman, a wealthy 18th-century Boston merchant, the square today is home to professionals, working-class folks, and students from nearby MIT and Harvard. With strong Brazilian and Portuguese influences, the neighborhood has a vibrant flair.
Muqueca
1008 Cambridge St. 
This neighborhood Brazilian seafood restaurant is renowned for its traditional cuisine, which incorporates the region's Indian, African, and Portuguese influences. Be sure to order the famed Brazilian seafood stew, which is served in traditional clay pots. We recommend the shrimp and mussel moqueca, fish moqueca house, or the fish with shrimp. Other fan favorites include the heart of palm salad and the mariscada, a Portuguese seafood rice dish featuring shrimp, crab meat, mussels, and squid with a coconut milk broth served alongside rice, farofa (toasted yuca or cassava flour), and plantain moqueca. And if you're looking for something different, try the lasagna de banana—lasagna made with plantains and served in a three-cheese sauce. It's delicious and something you won't find anywhere else. Bring a large group or family to this inviting, vibrant first-come, first-served eatery.
This casual Japanese-Hawaiian izakaya is popular for its extensive Japanese beverage menu—especially its sake and shōchū offerings—and for its tapas-like snacks. Standouts include the wagyu beef dumplings and the onigiri, which rotates daily. They also offer reservations for their special multicourse omakase menu, which can include dishes such as Hokkaido crab, Hokkaido uni, Hokkaido scallop, and A5 wagyu. The restaurant's private omakase experience is lauded as authentically Japanese. The unpretentious restaurant serves brunch, dinner, and late-night snacks.
The oldest Portuguese restaurant in the Boston area, Casa Portugal has been serving authentic dishes since 1976. Specializing in meat and seafood, it has fresh clams, fried steak, and grilled squid. The portions are large, and the traditional Portuguese fries served with most entrées are crispy and delicious. An extensive wine list complements the menu.
Christina's Homemade Ice Cream

1255 Cambridge St.
For a sweet treat, swing by Christina's, where you can choose from dozens of varieties, all made from scratch. While the chocolate and vanilla are popular, the real draws are the uncommon flavors, like burnt sugar, adzuki bean, ginger molasses, and Mexican chocolate. Seasonal offerings, such as fresh rose and fresh mint, help beat the summer heat, while eggnog and peppermint stick are wintertime favorites. The shop also offers a rotating list of seasonal sorbets and vegan options.
A Brazilian-fusion, fast-casual restaurant and bakery, Bom Dough restaurant and coffee bar is the perfect nook for studying and work, just minutes away from Harvard and MIT. Fit in a quick work session while snacking on their fresh house-baked goods, like the signature gluten-free cheese bread (pão de queijo) in flavors such as garlic or bacon. Locally roasted coffee and matcha, juices, and kombucha are available in store or for takeout. Bom Dough is open through late afternoon.
Located just down the block from Christina's Homemade Ice Cream—and run by the same owner, Ray Ford—the shop carries exotic flavors from around the world. A whiff of the more than 250 spices and seasonings will bring out the inner chef in even the most reluctant cook. Walls are lined with exotic seasonings, including grains of paradise, black cardamom, and rare Galangal spices. Check out the dried chilies, including the ají amarillo from Peru and the Indian ghost chili—reputedly the hottest chili in the world. The prices are reasonable and the staff extremely knowledgeable.
This women-owned vintage apparel and accessories boutique is perfect for those looking to add an old-fashioned flare to their wardrobe. Shift your way through time as you peruse the store's numerous clothing racks, with pieces ranging from the 1950s to the present. We Thieves also offers jewelry (contemporary and vintage and estate), accessories, bath products, candles, cards, and clothing designed by independent Boston artists. In addition, the store publishes a fashion journal featuring articles and consumer guides.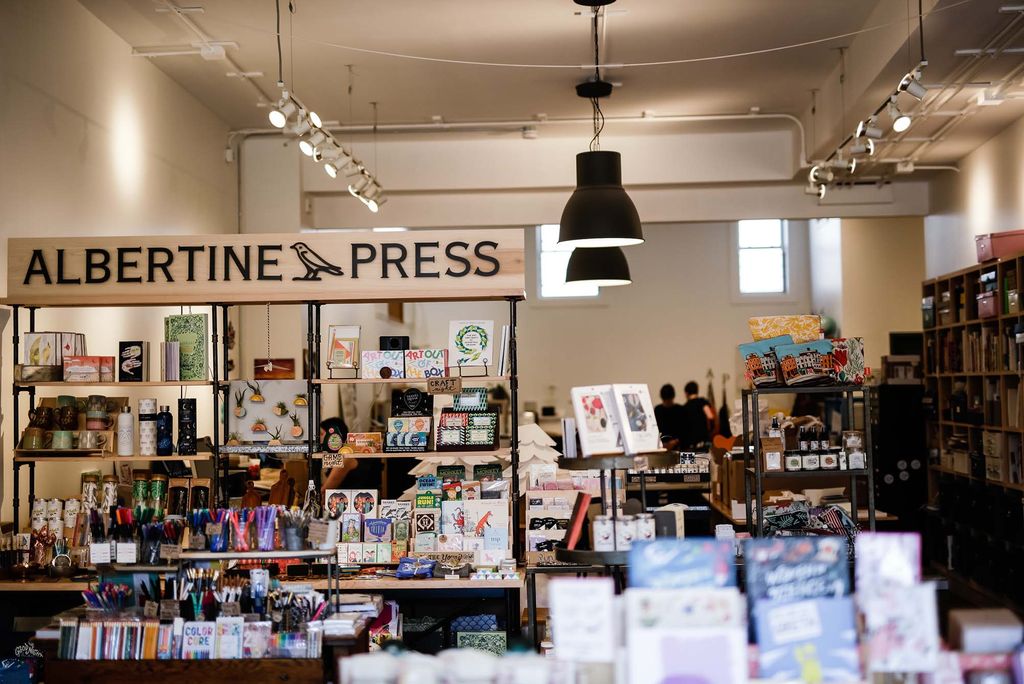 Opened in 2005, Albertine Press acknowledges the joy in sending—and receiving—a handmade card. The lovely shop offers a variety of greeting cards and stationery designed by the store's founder, Shelley Barandes. Visitors will find cards for any occasion, including birthdays, holidays, weddings and anniversaries, and more. You can also order custom-made wedding invitations. Albertine Press also carries a curated collection of desk essentials, household items—ranging from reusable beeswax wrap for food, candles, and the staff's favorite, goat milk soap—and gardening gifts.
This Inman Square institution is always crowded. Once you taste the food, you'll know why. S&S is the closest thing to a New York–style deli around Boston. In 1919, Ma Edelstein welcomed the first customers to her Cambridge deli by encouraging them to "es and es"—a Yiddish phrase for "eat and eat"—inspiring the name for what became the S&S, now much expanded. Someone from the family still shows up every day to run the bustling eatery. The menu includes traditional dishes, from the house-favorite Reuben, piled with extra-lean corned beef and served on marble rye, to a thick New York–style potato knish and hearty matzo ball soup. Takeout and catering are also available. The weekend brunch menu includes delicious Parisian French toast, filled with brie and fig, and a classic and savory steak and eggs.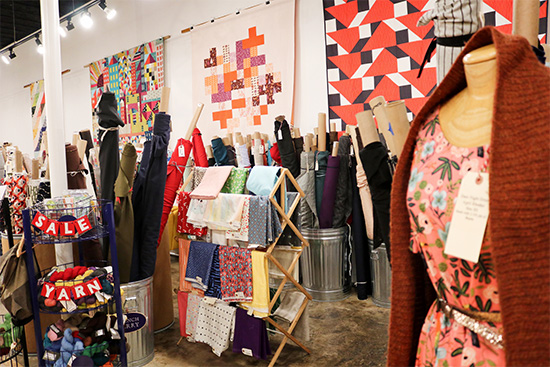 Part sewing studio, part fabric and yarn shop, gather here bills itself as "Cambridge's only stitch lounge." The knowledgeable staff will help even the most inexperienced crafter make something unique. The store offers workshops in DIY crafts, sewing, knitting, and more, and stocks patterns and kits, books and magazines, tools, even sewing machines. Find information about classes here. In-house sewing machine service is also available.
This award-winning, artist-run performance space and music venue is known for its avant-garde music and art. Visitors can take in performances while socializing with other art-lovers and sipping on wine, hard cider, beer, or soft drinks. Concertgoers love it for its quaint, intimate setting and beautiful acoustics. Typically featuring jazz groups, it has also hosted artists like Arcade Fire. Check out the calendar for upcoming events. Also offered are piano lessons and classes in baby music and yoga.
The Druid, in the oldest wooden mercantile building in Cambridge, is a popular neighborhood Irish bar that offers good beer, and by Irish pub standards, even better food. Regional brews, from the likes of Berkshire and Long Trail, taste great with the bar's hearty food—but of course, there's always Guinness. Try the shepherd's pie, the homemade veggie burger with fries, or the fish and chips. Live Irish music, sessions-style (no stage, players gathering in a corner), is performed Wednesday and Saturday nights and Sunday afternoons, and a traditional Irish brunch is served on Sunday.
Inman Square is one of the few major commercial centers in Cambridge that does not have at least one Starbucks. Residents seeking a hot cup o' joe go to 1369 Coffee House, a charming independent shop that was formerly a jazz club where Berklee students aired improvisations. Now baristas brew two dozen varieties of coffee from around the world, as well as dozens of types of fine loose-leaf teas—and often there's a visual design drawn in your latte foam. Lunch consists of homemade soups, salads, sandwiches, and quiche, and the bakery case has a selection of cakes, pies, cookies, and shortbread.
Although it's a bit of a walk from Inman Square, Broadway Bicycle School is worth a trip. Established in 1972, this collectively owned full-service bicycle repair shop sells new and used bikes, parts, and accessories, and offers classes on bicycle repair. While the brand selection isn't huge—the shop sells mostly commuter and hybrid bikes by Brooklyn Bicycle Company—there is an inventory of new and a few reconditioned city-style hybrid and mountain bikes, street bikes, and commuter bikes. They also sell Brompton bikes, a folding bike suited for apartment dwellers. The shop plans to resurrect its bike rental program ($40 daily) this summer, and they'll give you a free estimate before doing any repair work. Repairing a flat takes only 15 minutes and costs about $25.
This bustling Mexican restaurant on a quiet side street is anything but ordinary. The guacamole couldn't be fresher—waiters slice and mash fragrant avocados at your table—and the pitchers of sangria couldn't be fruitier. Try the slow-cooked pork carnitas or pan-seared marinated duck breast with mole Maria. You'll find a small but delicious list of Mexican cocktails, too. The restaurant also offers takeout and delivery. Outdoor dining is available during warm weather months.
Modeled after dhabas—highway truck stops in India that serve inexpensive street food and snacks—the hole-in-the-wall Punjabi Dhaba lives up to its name by offering ridiculously cheap dishes. Try to ignore the blaring Bollywood music and the clanging of steel plates, and focus on the fresh, flavorful food. You'll find everything from chicken tikka masala to tandoori chicken to saag paneer (homemade cheese cooked with spinach puree and light cream, served with rice). Be sure to try one of the restaurant's delicious homemade yogurt lassi drinks.
Moona

243 Hampshire St.
With its sleek, eye-catching design, Moona is one of those restaurants that makes an impression the moment you step in. The classic Eastern Mediterranean menu includes numerous "mezza," (small-plate) options for sharing with friends, as well as entrées like slow-cooked lamb shoulder and grilled whole fish.
Places of note just outside Inman Square:
Not much studying goes on at the Thirsty Scholar, now famous for its appearance in the opening scene of David Fincher's Oscar-winning film The Social Network. The Irish pub's main draw is its extensive craft beer selection, although the food is not to be overlooked. Beer-battered fish and chips is a staple, and the salt and vinegar tater tot appetizer isn't bad either. If you're feeling bookish, you scan peruse its collection of National Geographic magazines while munching on your Scholar Burger (beef patty with bread and butter pickles, pimento spread, American cheese, and shredded lettuce) or the mussels (steamed in a chipotle white wine broth with scallions). The pub has also just resumed their popular weekend brunch service (Saturdays and Sundays, from 11 am to 3 pm). The 11 TVs make the pub a popular destination for sports fans on weeknights and Sundays, and the open windows make it the perfect spot to enjoy a spring afternoon lunch. The restaurant hosts a trivia night on Wednesdays, and live music, featuring local Boston artists, on Thursdays.
This is one of the best wine and cheese shops anywhere, and is just a stone's throw from The Thirsty Scholar, at the intersection of Washington and Beacon Streets. We all know there's more to a bottle of wine than a pretty label and sometimes it's difficult to distinguish the diamonds from the duds. But the knowledgeable staff will steer confused customers to the best chardonnay, cabernet, and merlot. The store also picks four great-value "Wines of the Month," each coming in at under $10. An expansive cheese and meat assortment (the shop sells fabulous charcuterie and cheese plates) and made-to-order sandwiches round out the selection, making the store a one-stop destination when entertaining.
With its burnished copper ceilings, Iberian tiles, and cozy mahogany nooks, Dalí Restaurant & Tapas Bar, just across the street from the Wine & Cheese Cask, is one of the area's most romantic dining destinations. The sangria, sherry, and Rioja all flow freely, and the extensive and delicious tapas offerings—grilled Spanish sausage, beef short ribs in Rioja wine sauce, fresh scallops marinated in citrus and salsa—are ideal for sharing. For a main course, try the signature Mariscos en Crema de Camerones (sautéed scallops, squid, mussels, shrimp, and octopus in rich shellfish cream sauce with Spanish rice). It's memorable. Dalí is the place to impress a first date or rekindle an old flame. This is a true neighborhood haunt—you won't find many tourists here.
Getting there: Whether you take the subway or a bus to Inman Square, you'll have to walk a bit, more so on weekends. Weekdays, the CT2 commuter bus, which stops in South Campus and in front of the BU Academy, goes directly to the area, but runs only during business hours. Other times and days, take the #47 bus to Green St @ Magazine St, and then take the #83 or #91 bus to Cambridge Street or walk about 15 minutes up Prospect Street until you hit Cambridge Street. With the Green Line Extension to Somerville recently opening up, you can now also take a Green Line E trolley to Union Square and walk about five minutes down Prospect Street to Inman Square. Or take the Green Line inbound to Park Street and transfer to the Red Line outbound toward Alewife. Get off at the Central Square stop, turn right onto Prospect Street, and walk about 15 minutes to Cambridge Street.
Click on the points in the map above for more information on the places listed in our guide to the Inman Square area.
This story originally ran November 5, 2009; it has been updated to include new locations and current information.
This Series
Also in
April 27, 2023

April 20, 2023

April 5, 2023