Getting to Know Your Neighborhood: Central Square
A guide to eating, shopping, and hanging out in Cambridge's other square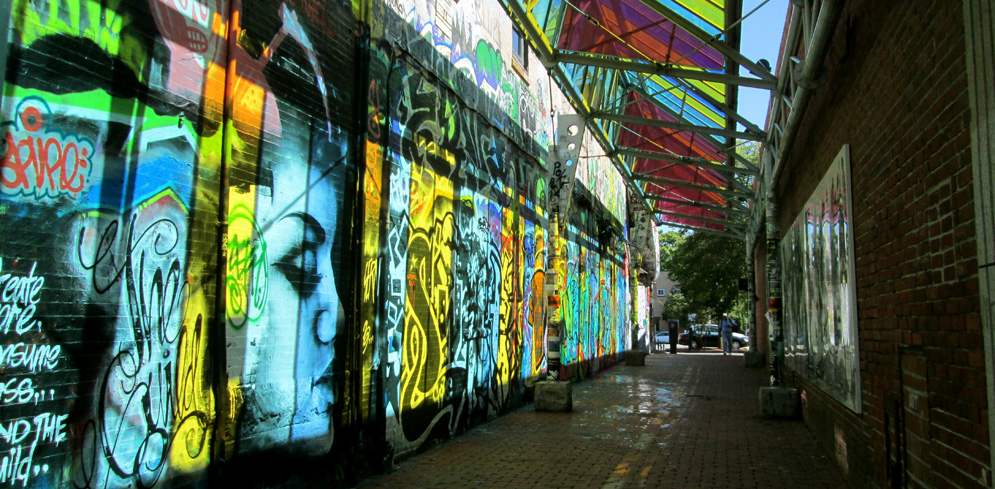 Nightlife
Getting to Know Your Neighborhood: Central Square
A guide to eating, shopping, and hanging out in Cambridge's other square
Long overshadowed by its trendier and more affluent neighbor Harvard Square, Cambridge's Central Square is a diverse neighborhood with an eclectic array of ethnic eateries and retail shops, as well as upscale restaurants and bars. Nearly demolished during the 1950s—officials planned to build an eight-lane highway directly through it—Central Square was spared, only to suffer from increasing crime and general decay through the 1970s and 1980s.
But the neighborhood experienced a renaissance and today boasts a range of trendy cafés and nightclubs, as well as a growing number of technology start-ups. Still, Central Square retains a certain grittiness that lends it an air of unpolished authenticity—precisely what makes it so appealing.
This classic grilled cheese and burger joint began with a food truck and now has brick and mortar locations in Central Square and Allston. The menu is packed with flavorful grilled cheese combos like The Central with roasted cremini mushrooms, sundried tomato, and homemade basil pesto and The Southern with BBQ braised pork shoulder and Grillo's Pickles. Roxy's also offers classic burgers (including veggie), fried chicken, and sides like poutine and a classic tomato soup. And Roxy's signature shakes are worth every calorie. Roxy's is closed on Sundays.
Naco Taco
297 Massachusetts Ave.
Naco's menu is chock full of inventive tacos and tortas (Mexican sandwiches on pressed telera bread). Diners can choose from a variety of taco fillings—from pulled pork with radish and cilantro cremato to fried cod with cabbage slaw, chipotle aioli, cilantro, and onion. Tortas have equally creative fillings, like braised turkey leg with jalapeño jam, avocado, and chipotle aioli, or the vegetarian cambalache with hard-boiled egg, avocado, pickled jalapeño, tomato, cebollitas, and chile de arbol aioli. In warmer months, the large outdoor patio draws a lively crowd.
This geek-chic bar's claim to fame rests on its periodic table chalkboard menu hanging on the wall behind the bar, giving this watering hole a quirky charm. Menu items are color coded into five groups—sandwiches, quesadillas, appetizers, desserts, and skewers—and organized as if on a true periodic table. The rotating beer list features local favorites and smaller community brews. The place draws a crowd of computer wonks, scientists, and artists.
At Mariposa, everything's homemade: soups, baked goods, and breads. Besides the wide selection of homemade products—be sure to try one of the signature pretzel rolls—you can also sip fair-trade and organic coffee and teas. The Avocado Banh Mi is a creative take on the classic Vietnamese sandwich made with greens, tomato, cucumber, pickled daikon, and carrot and lime garlic cilantro vinaigrette, with your choice of bread. And the scones, which range from a classic orange and currant, to more adventurous combinations like kale and parmesan or blackberry lime, are not to be missed.
Si Cara
425 Massachusetts Ave.
At Mariposa, everything's homemade: soups, baked goods, and breads. Besides the wide selection of homemade products—be sure to try one of the signature pretzel rolls—you can also sip fair-trade and organic coffee and teas. The Avocado Banh Mi is a creative take on the classic Vietnamese sandwich made with greens, tomato, cucumber, pickled daikon, and carrot and lime garlic cilantro vinaigrette, with your choice of bread. And the scones, which range from a classic orange and currant, to more adventurous combinations like kale and parmesan or blackberry lime, are not to be missed.
450 Massachusetts Ave.
La Fabrica Central boasts an impressive range of Spanish Caribbean cuisine. You'll find familiar Caribbean appetizers, like empanadas, tostones, and chicharrón. The Latin Sushi rolls are made using Japanese techniques and with Latin ingredients to create unique fusion dishes, like the Platano Roll, featuring wrapped sweet plantain, shrimp, salmon, cream cheese, and crab salad on top. Every dish is special, but the Mofongo—which uses fried plantains as the main ingredient—is a real standout. There's also a new SuViche bar, a nod to Peruvian cuisine, where you'll find an extensive rum bar, along with wine, beer, and Caribbean cocktails. Live music adds energy to the fun atmosphere and, on Friday and Saturday nights, La Fabrica Central hosts a nightclub in the basement where customers can dance the night away.
Established in 2008, Central Square Theater (CST) hosts two distinctive and award-winning professional companies under one roof: the Nora Theatre Company, specializing in contemporary plays, and Underground Railway Theater (URT), dedicated to creating performances rich in social content. Both companies date back decades (Nora to 1987, URT to 1988), but growing audiences and high production space costs prodded the move to this joint home. Besides performances, URT runs acting classes for children ages 7 to 13 and youth ages 13 to 25, artist-in-residence programs, and workshops for schools, museums, and cultural groups. CST has also paired with MIT on Catalyst Collaborative@MIT, one of the only nationwide partnerships between a world-class research institute and a theater. Find ticket options and special student pricing here.
With booths, counters, and stools, Veggie Galaxy has the feel of a classic diner. It also has a classic diner menu—omelets, pancakes, fries, burgers, sandwiches, and pies galore—but with a twist. As its name suggests, you won't find a traditional club sandwich with bacon, a tuna melt, or a beef hamburger here. What you will find is baked mac and cheese with diced seitan, a portobello patty melt, a sweet potato black bean burger, and a club sandwich made with grilled tempeh bacon, smoked tofu, fresh tomato, romaine, red onion, basil pesto, and roasted garlic mayo. The restaurant also offers oodles of vegan options (vegan cheese can be substituted) and a separate gluten-free menu. And, in the spirit of all great American diners, breakfast is served all day.
Opened in 1970 as a Lebanese restaurant, the Middle East and Zuzu Restaurant and Nightclub offers first-rate Middle Eastern cuisine and is a fixture of Boston's rock music scene. With four venues, the Middle East showcases local and national acts. Downstairs houses the larger shows, the Upstairs hosts local bands and smaller touring acts, and the Corner contains the larger restaurant and a stage. Zuzu has a separate kitchen; its Soulelujah dance night on Saturdays, when DJs spin soul, funk, and R&B, is wildly popular. With at least one performance every night of the week, there's always something happening at the Middle East.
This addition to Boston's hot pot scene has had rave reviews since it opened in 2016. Diners first select a broth—the house original, house spicy, or half and half—to simmer their choice of proteins, vegetables, and noodles, among seemingly endless options: lamb shoulder, beef ribeye, shrimp balls, Chinese yam, and udon noodles. For first-timers, Happy Lamb's menu has detailed instructions on how to order. Be sure to check out Happy Lamb Hot Pot's new location on Brighton Avenue in Allston, which offers even more dining options.
Vialé
502 Massachusetts Ave.
This upscale eatery serves up a variety of entrees ranging from fresh seafood to handmade pastas to grilled meats to weekend brunch. The dinner menu features signature appetizers such as lamb croquettes and calamari fritti. Large plates such as the seared salmon and the lumache with clams, mussels, shrimp, garlic white wine brodo di mare, and spicy breadcrumbs are delicious. The weekend brunch menu offers traditional brunch items, but with a twist. Try Vialé's take on a classic breakfast sandwich: a homemade English muffin with cheese, fried mortadella, and homies, or the nduja pizza—tomato, whipped ricotta, roasted shallot, calabrian hot honey.
James Beard Award–winning chefs Ken Oringer and Jamie Bissonnette (the duo behind popular restaurants Toro and Coppa) teamed up to open this "global tapas" restaurant. The menu has cross-cultural influences: Spanish pupusa can be paired with manti, a Turkish meat ravioli, while the branzino is a combination of grilled Mediterranean sea bass, Singaporean BBQ, and banana leaf. Be sure to try the restaurant's Parker House rolls, which are served with whipped mortadella, fried garlic, and chives. And don't forget the sweet stuff: the tasty and whimsical chocolate chip cookie dough dessert, using pasteurized eggs, is served right on the beater, with a side of milk foam, and has been popping up on Instagram feeds since the restaurant opened.
Part sports pub, part dance club, this hybrid eatery offers modern Irish pub grub, DJs and a weekly trivia night on Wednesdays. Named one of America's best soccer bars, all soccer fans are welcome, with major games in all leagues and competitions televised on the pub's numerous HD screens. Patrons can enjoy traditional Irish fare, such as a classic Cork breakfast, and fish and chips. (The pub pizza is also very good.) At night, the pub turns into a club and offers live music, including underground electronic music and what the pub calls the longest-running bass and drums show outside the United Kingdom.
This sushi spot has a massive menu to please even the pickiest of eaters. Choose from a wide variety of items, like vegetable and seafood rolls (salmon, tuna, grilled eel); seafood, beef, and pork entrees; and salads, noodle dishes, and more. The fairy-tale rolls are a standout: the Sleeping Beauty Roll ($18.95/10 pieces) is white tuna, crushed pineapple, and tempura flakes, wrapped in yellow soy paper and sushi rice, and draped with salmon, sliced ripe mango, and drizzled with a refreshing pineapple-lime mayo. The restaurant features live jazz music Friday through Sunday.
Follow the beat of the drums to the Dance Complex. Established in 1991, the artist-run, volunteer-based center has been heralded as one of the forces that began Central Square's renaissance. It has seven studios and offers in-person dance classes in African, West African, ballet, hip-hop, flamenco, jazz, tap, and more. Virtual classes are also available. Also, there are more than 100 performances a year by local dance companies, children's dance classes, and resident and guest artists. Find a schedule of classes here.
One of the few businesses to survive the neighborhood's tumultuous history, Cheapo Records has been in Central Square since 1954. Employees estimate the store carries more than 100,000 vinyl LPs and about the same number of 45s, with hundreds of thousands more in storage. Many, both new and used, are collectibles. While it specializes in R&B, soul, and oldies, its inventory contains records from all artists and genres, and the dedicated and knowledgeable staff will help you track down what you're looking for. The prices can be a bit steep, so be prepared to open your wallet. CDs, DVDs, and cassette tapes are also for sale.
Founded and run by artist Nicoletta Lyons, this boutique features chic and edgy fashion pieces from reconstructed vintage clothing and accessories. You'll find cutting-edge fashion as well as one-of-a-kind accessories, handmade jewelry, and more.
5 Spices
546 Massachusetts Ave. 
This eatery serves authentic Sichuan cuisine for dine-in or take-out. The extensive menu features everything from soups and appetizers to chicken, pork, beef, seafood, rice and noodle, and vegetable dishes. Try the restaurant's classic pork with black bean sauce or beef with kungpao.
Boomerangs
563 Massachusetts Ave.
Boomerangs is an award-winning family of thrift stores owned and operated by AIDS Action, New England's leading provider of HIV prevention and wellness services. Serving the Greater Boston area, Boomerangs features a variety of high-quality new, vintage, and gently used furniture, clothing, jewelry, housewares, books, CDs, and more. Take advantage of the chain's student and teacher discount to get 20 percent off all merchandise. All proceeds from Boomerangs directly help fund work to prevent new HIV infections and improve the lives of thousands of people already living with HIV/AIDS in Massachusetts.
Graffiti Alley
Richard B. "Rico" Modica Way, 565-567 Massachusetts Ave.
No trip to Central Square would be complete without a visit to Graffiti Alley, the 80-foot-long walkway covered in graffiti produced by local artists. It's one of only two places in the Greater Boston area where artists can legally post graffiti art. You'll see everything from novice spray painted tags featuring names and smiley faces to more complex graffiti masterpieces that cover large sections of the paint-splattered brick walls. The public walkway often reflects visual interpretations of pressing social issues and the latest headlines, including Black Lives Matter. The alley sports a fresh look every few days as artists post new work, so be sure to stop back frequently.
Employee-owned Artist & Craftsman Supply is an artist's dream. From the paint-splattered steps to the colorful geometric floor to the multicolored ceilings, the store is like a rainbow. You'll find a wide selection of art products, like canvas, paints, inks, brushes, pastels, charcoals, paper, and markers, as well as a few specialty items, such as exotic papers.
H Mart
581 Massachusetts Ave.
This Asian-inspired supermarket chain has an extensive selection of fresh goods and groceries. The 18,000-square-foot space is just steps from the Red Line Central T stop and has a vast range of items, including kimchee, Japanese sodas, seafood, Korean banchan, sauces and spices, dried food, and of course ramen. The store even carries health and beauty products, small appliances like pressure cookers and electric skillets, and baby products. H Mart shares a food court with Sapporo Ramen, Go! Go! Curry, and Paris Baguette.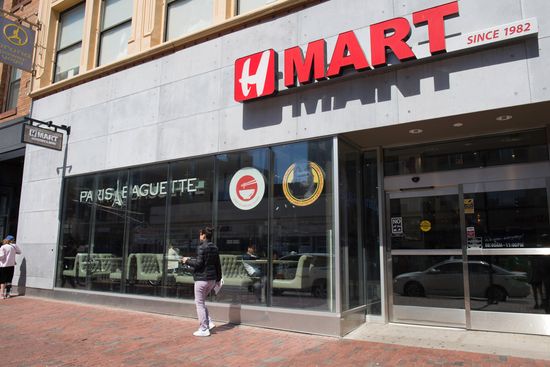 This locally owned and operated bookstore and crystal shop specializes in the metaphysical. You'll find a wide selection of new and used books focused on religion and spirituality, but the store also features the latest bestsellers. The shop, as its name implies, also sells mineral specimens, crystal balls, pocket stones, and crystals, as well as jewelry.
In 1957, Little Joe Cook recorded a minor R&B novelty called "Peanuts." The song was a one-hit wonder, but Cook went on to become a Cambridge legend, jamming every weekend at the Cantab. Cook passed away in 2014, but the unpretentious bar continues to thrive, hosting live entertainment nightly. The lounge shut down during COVID, but reopened in October 2021 under new ownership, with a freshly painted interior, new floors, and new bathrooms. Come for the cheap beer and stay for the fabulous music—which includes jazz jams on Mondays, bluegrass jams on Tuesdays, and R&B jams on Sundays and Wednesdays. Club Bohemia, the lounge's downstairs venue, features performances by local bands.
This is a relatively new addition to the square's Asian food scene. In the trendy, dark-walled dining room, you can dig into authentic regional dishes, like lion's head meatballs, made with pork and served with baby greens, or the Shanghai steamed pork buns—chewy, salty, and satisfying soup dumplings. The wonton noodle soup is steaming hot and the perfect dish on a cold winter day. If you're craving General Gao's chicken or sesame beef, there are tasty takes on staple American Chinese dishes available.
Opened in 1986, Asmara is Boston's oldest Eritrean restaurant. Named after the capital of the northeastern African nation Eritrea, Asmara specializes in a spicy cuisine similar to Ethiopian cuisine. Be sure to wash your hands before you come; there's no silverware here. Diners scoop the food with pieces of injera—a spongy, slightly sour, fermented flatbread made from either rice flour or a grain called teff. Served at traditional mesobs, large table-like baskets, the meals are hearty and authentic. For a unique experience, try the gored gored: cubes of raw or very tender tenderloin beef tips lightly fermented in pepper paste and served with spiced butter.
Across the street from the main post office and Cambridge City Hall, 1369 Coffee House was serving the square's caffeine addicts long before Starbucks opened down the street. This charming coffee shop prides itself on its specialty recipes, including a homemade chai tea blend and a frozen mocha slide—a blended drink made with cold-brewed coffee, milk, cream, and chocolate. There are numerous varieties of coffee and fine loose-leaf teas from around the world and several varieties of coffee beans for brewing at home. It recently added a local delivery service for 64 oz. "growlers" of cold-brewed coffee, tea, and more on Tuesdays and Fridays. Homemade muffins and cookies are baked fresh each morning, and local bakers provide scones, croissants, and cakes. Lunch fare consists of homemade soups, salads, sandwiches, and quiche.
Life Alive
765 Massachusetts Ave.
This tranquil café is committed to serving delicious vegan and vegetarian fare. From grain bowls to wraps to salads, Life Alive's dishes are tasty enough to appeal to omnivores. Try the Fool II, a hot dish comprising udon noodles, shiitake mushrooms, sweet onions, carrots, tofu, and kale marinated in a house-made sesame ginger sauce and topped with sesame seeds. Sample one of the many latte options, like the hot or iced Ocean Blue, a yummy latte with blue-green algae, maca, vanilla, maple, and sea salt.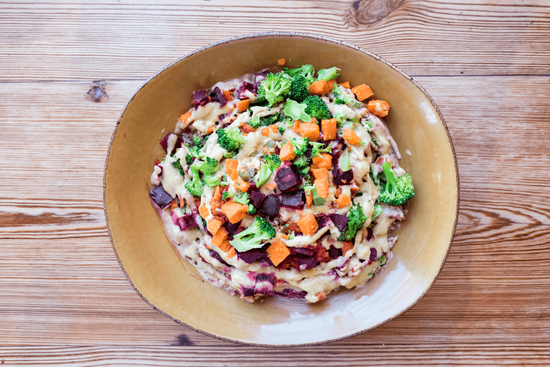 Andala ("nightingale" in Arabic) is a cozy place to curl up with a book or chat with friends. The staff is friendly, and the gleaming hardwood floors, marble-top tables, and Persian rugs offer an old-world elegance. The coffeehouse has all sorts of teas, Arabic coffees, and a limited—but delicious—breakfast and lunch menu. Try zeit u zaatar and labneh, a traditional Arabic breakfast of strained yogurt, olives, olive oil, and spices, served with warm bread.
A haven for sci-fi fans and gamers alike, Pandemonium has been a Cambridge landmark for over 30 years. The first floor has a broad collection of new and used science fiction, fantasy, and horror books, and the basement is dedicated to the gaming section. The store hosts numerous events, like war games and hobby nights and Magic: The Gathering and Yu-Gi-Oh! weekly tournaments, and is always seeking imaginative ways to connect and play with the community.
In 1971, a group of women seized an abandoned Harvard-owned building to protest racism, sexism, and domestic violence. This led to the establishment of the Cambridge Women's Center, a community center that fights all forms of oppression. Open to all who identify as a woman, it provides crisis intervention and counseling for women of all ethnic and socioeconomic backgrounds, many of whom are uninsured. Monthly workshops focus on topics such as diversity, health issues, personal empowerment, and economic literacy. Volunteer opportunities and internships are available. The center provides a community kitchen, computer labs, a crisis helpline, and childcare for all mothers attending activities there.
Rangzen is the ideal eatery for vegetarians. Nearly half of the menu is meatless (there are vegan options, too) and the food is flavorful and filling. Tibetan food is best described as light, savory fare with influences of Indian and Chinese cuisine. The atmosphere is tranquil, the waitstaff friendly, the prices reasonable, and the food delicious. Try any of the varieties of momo (traditional steamed Tibetan dumplings) or any of the excellent shrimp dishes.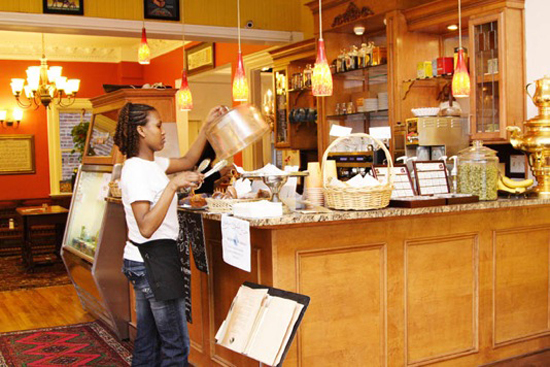 If you're on the prowl for a prom dress, circa 1980, or a 1970s-inspired distressed leather jacket, look no further. Just a few blocks from the Red Line, this charming shop has a comprehensive collection of vintage clothing and costumes for men, women, and those who identify as nonbinary or queer. You'll find funky jewelry, sunglasses, wigs, hats, Venetian masks, Japanese silk kimonos, Hawaiian shirts, 1920s flapper dresses, feather boas, and cowboy duds. It's also the perfect place to find an ugly Christmas sweater. Owned by a former professional belly dancer, the store also boasts a colorful selection of belly dancing costumes.
Getting there: By subway: take a Green Line trolley inbound to Park Street, then a Red Line train outbound toward Alewife, and get off at Central station. By bus: pick up the #47 bus at the BU Bridge and take it to the end (Green St @ Magazine St). By foot: walk across the BU Bridge heading into Cambridge, continue one mile up Brookline Street to Massachusetts Avenue.
Click on the points in the map above for more information on the places listed in our guide to Central Square.
This story originally ran April 3, 2008; it has been updated to include new locations and current information.
This Series
Also in
April 27, 2023

March 30, 2023

March 23, 2023