BU Men's Hockey Falls to Minnesota in Frozen Four Semifinal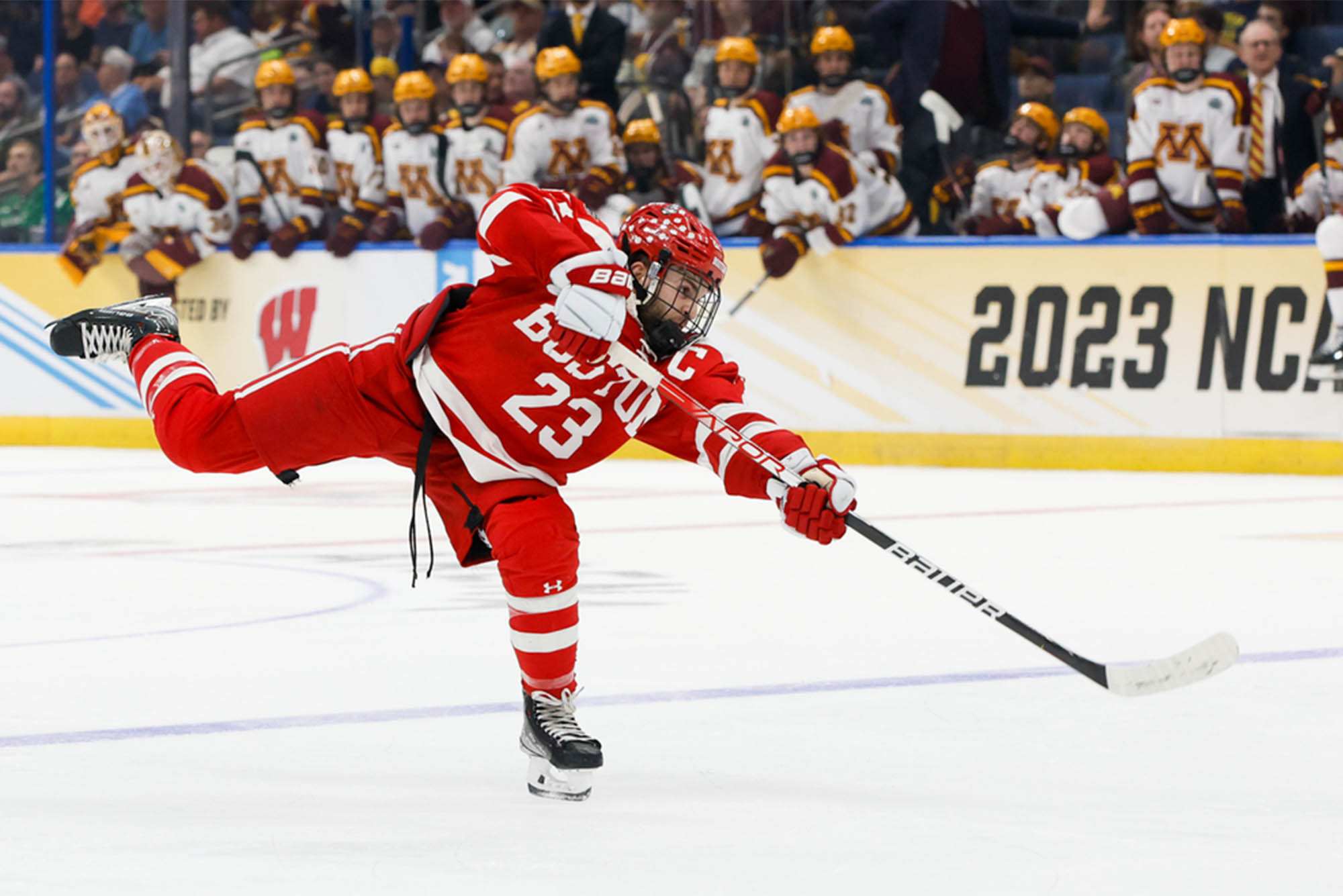 Frozen Four
BU Men's Hockey Falls to Minnesota in Frozen Four Semifinal
Penalties cost Terriers en route to 6-2 loss
The 2023 season has ended for the hottest team in the NCAA hockey tournament. Boston University fell to Minnesota 6-2 in the Frozen Four semifinal at Tampa's Amalie Arena Thursday night.
The No. 5 Boston University Terriers met the No. 1 Minnesota Golden Gophers in the first semifinal match of the 2023 championship tournament. The game marked BU's first return to the NCAA semifinal since 2015.
"Obviously, it wasn't the result we were looking for," BU head coach Jay Pandolfo (CAS'96) said in a press conference after the game. "You can't give Minnesota seven power plays, that's just not winning hockey for us and we have to learn from it. I want to give these guys credit. I'm so proud of them, and they made my job really easy this year. It's been a pleasure working with them."
Right from the opening draw, the game was all Gophers. Minnesota seemed to dominate BU's offensive zone, laying four shots on net before BU could muster one. The onslaught reached fever pitch when Gophers forward Jimmy Snuggerud intercepted a Terriers pass and lobbied a puck hazardously past Terriers goaltender Drew Commesso (CAS'24), but not the pipes.
An emphatic no-goal signal from the referee quieted the Minnesota faithful, made anxious after watching Gophers scoring chances repeatedly thwarted by the BU goaltender.
Perhaps the Gophers best chance came in the Frozen Four's first power play, where Terriers forward and alternate captain Luke Tuch (COM'24) was penalized for a cross-check. However, the man-advantage was not enough to beat Commesso.
By the game's halfway mark, with a penalty kill under their belt, BU seemed to be finding their groove in front of Commesso. Still down 8-3 in shots, an offensive zone face-off led Terriers captain Domenick Fensore (CAS'23) to lay a shot off of Gophers goaltender Justen Close. Ricocheting off Close's pads, forward Sam Stevens (Questrom'23) corralled the puck and buried it home, making it 1-0 Terriers.
The first lead of the tournament was short-lived, however. The errant elbow of Jay O'Brien (COM'23) earned the Terrier alternate captain two minutes in the penalty box. Commesso could not bail BU out this time, as Gophers defenseman Mike Koster threaded a puck through the crease to equalize the score.
Less than a minute later, another foolish Tuch penalty put the Gophers on the power play once again. Where it took 80 seconds to score their first man-up goal, the second took only eight. A slick cross-crease, no-look feed from Gophers forward Aaron Huglen to linemate Rhett Pitlick allowed the Gophers to seize their first lead of the semifinal, 2-1.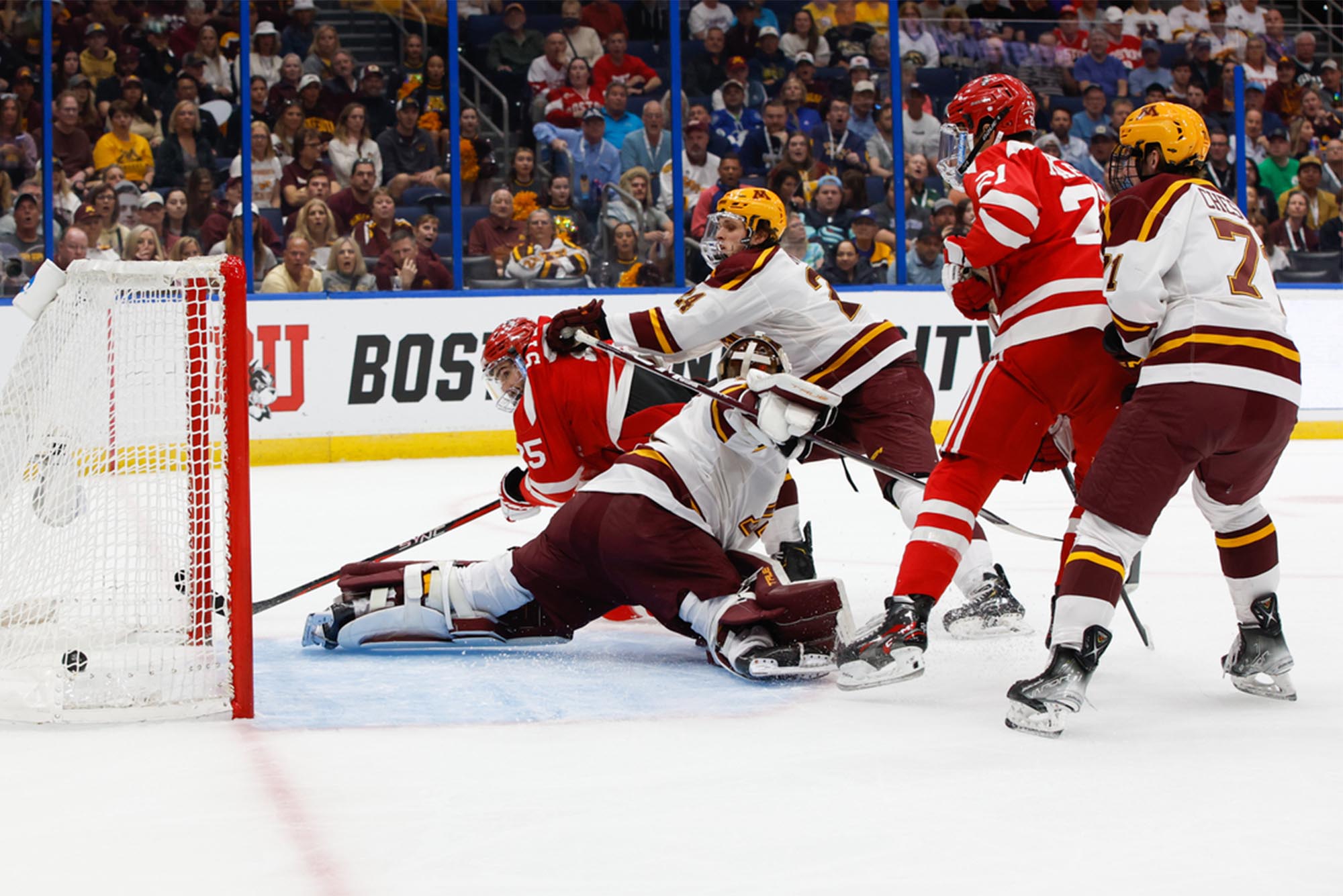 Things went from bad to worse for BU when Gophers Hobey Baker top-three finalist Logan Cooley scored another goal amidst a scrum in Commesso's crease, which was overturned after Pandolfo challenged for goalie interference. The first period concluded 2-1 Minnesota.
The second period started in similar fashion. Minnesota's constant forward attack came in the form of strong opportunities in transition. Yet the opening five minutes spelled considerably more offensive zone time for the Terriers.
By the seventh minute of play, BU had closed the 13-7 shot gap they finished the first period with, tying the shots tally at 14. A slash committed by Gophers defenseman Ryan Johnson put BU back on the man advantage.
The Terriers power play unit made quick work of the 5-on-4. O'Brien caught a feed from Fensore at the top of the zone, which the alternate captain flung past Close to tie things up in Tampa at 2-2.
"I am really proud to be a Terrier," O'Brien said, following the last game of his collegiate career. "I am going to miss throwing on that scarlet and white. Overall, just a great season, obviously not the result we wanted tonight. I'm just really proud of this group and honored to be a Terrier."
The second period drained away quickly, but time seemed to freeze in the last two minutes. Terriers freshman phenom Lane Hutson (CAS'26) committed a tripping penalty, but not before the Gophers' other Hobey Baker finalist, Matthew Knies, laid a shot cleanly off the crossbar.
With the no-goal confirmed, Hutson spent a minute in the penalty box before fellow defenseman Ty Gallagher (CAS'25) committed a trip of his own, sending Minnesota to the 3-on-5. A heroic effort by Commesso to keep a puck from crossing his goal line would spell the Gophers' best chance to take the lead.
BU managed to kill the 3-on-5, and end the second period with a tied score. In the final second, another silly penalty occurred for the Terriers, this time when defenseman Cade Webber (Questrom'23) committed a charge.
The third period began with yet another full minute of 3-on-5 hockey for Minnesota. Good defensive work by the Terriers allowed them to kill the two-man advantage. But with the Terriers still down a body, Gophers defenseman Luke Mittelstadt capitalized with a slap shot to take Minnesota's lead back.
Back-and-forth skating gave BU some scoring opportunities, but at the 4:29 mark Minnesota finally forced Commesso to concede on even strength. Once again, it was Mittelstadt who found the back of the Terriers net, making it 4-2 Gophers.
Down two, BU had to be quick to find dominance in their own offensive zone. Now competing with both the clock and the Gophers, the team was aggressive in pulling Commesso with just over three minutes left. A turnover 20 seconds later allowed Cooley and Minnesota to extend their lead to 5-2. That didn't stop BU from pulling Commesso again. With just over two minutes left, BU drew an offensive zone face-off with the man advantage. Once again, Cooley found the puck off a turn over, scoring his second empty-net goal in consecutive attempts.
As time wound down, Commesso would not take to the bench to close the four-goal deficit. Final score from Tampa: 6-2, Gophers.
"We had 17 upperclassmen this year and I think all of them taught the younger guys what it takes and what we expect every day," Pandolfo said. "I think our younger guys bought into it and I think it's going to propel our program moving forward. I couldn't be more proud of them and how they bought in and how they wanted to be difference makers."
The No. 1 Minnesota Golden Gophers will face Quinnipiac on Saturday, April 8, at Amalie Arena in Tampa, Fla. at 8 pm.