BU's 2022 NSF CAREER Award Winners Are Innovating Data Systems and Single-Molecule Circuits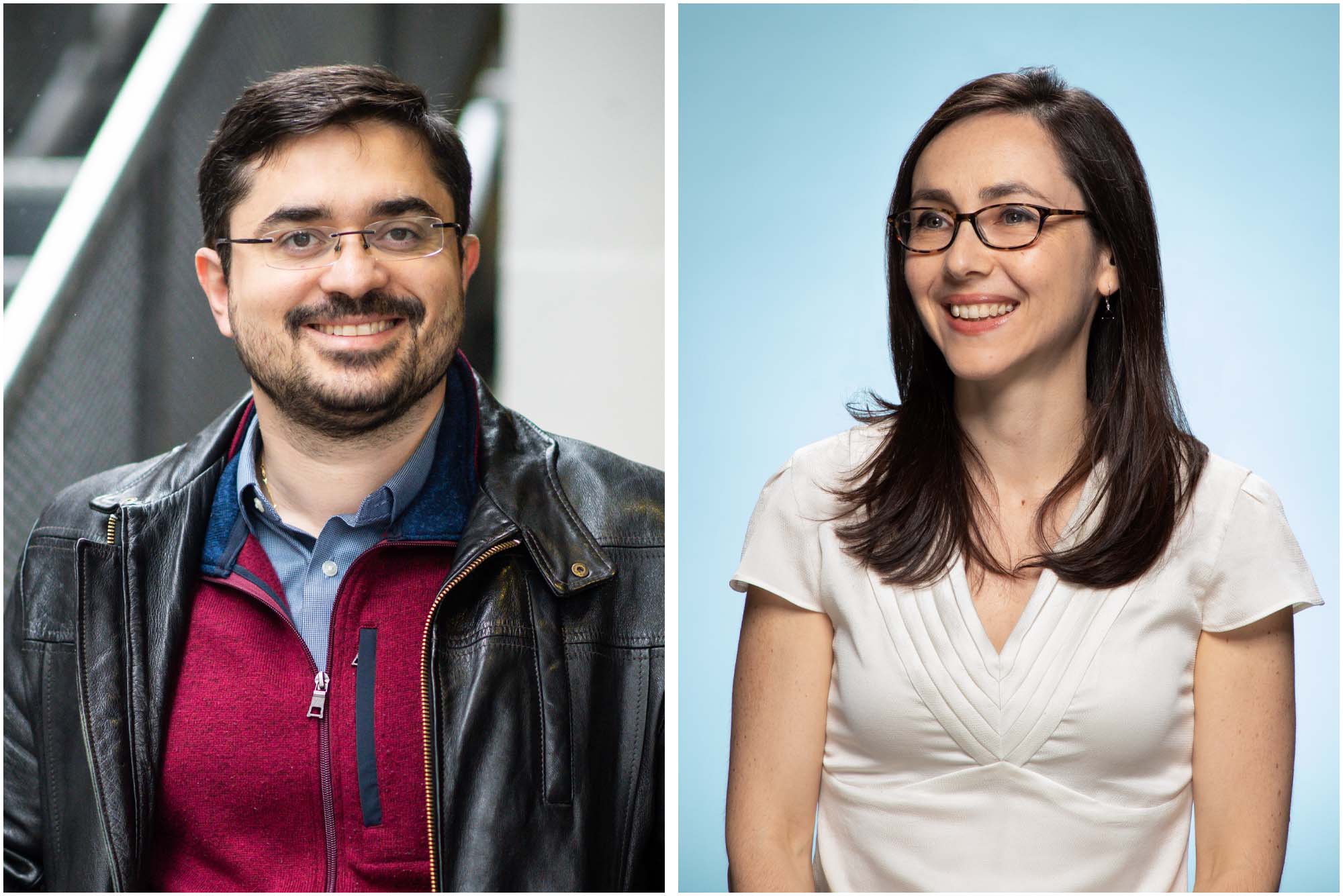 NSF CAREER Awards
BU's 2022 NSF CAREER Award Winners Are Innovating Data Systems and Single-Molecule Circuits
Prestigious five-year award from the National Science Foundation will advance research and expand student opportunities
This year, two Boston University researchers won prestigious National Science Foundation (NSF) early-career awards designed to celebrate future superstars.
Manos Athanassoulis, a College of Arts & Sciences assistant professor of computer science, and Masha Kamenetska, a CAS assistant professor of chemistry and physics, received Faculty Early Career Development (CAREER) Awards, a respected five-year grant that supports junior faculty. Both scientists are at the cutting edge of making the technology powering our modern world smaller, faster, and more reliable.
Kamenetska is studying how to make transistors—the tiny semiconductors in electrical circuits that run in almost all technology—from a single molecule. And Athanassoulis is working to redesign large data systems used in nearly every industry, from social media to online shopping to scientific research. Both researchers are also laying the foundation for the next generation of scientists by using the funding to support students and mentorships. The Brink caught up with BU's latest CAREER Award recipients to learn more about what they're working on.
Masha Kamenetska
Transistors—crucial components of a circuit that turn electrical currents on and off to regulate and amplify electronic signals—are a foundational technology; the computer or smartphone you're reading this on wouldn't work without them. They've come a long way from their beginnings in chunky radios, computers that took up entire rooms, and hefty telephone exchanges. The chip that powers the new iPhone 14 Pro, for example, has 16 billion of them, a number once considered improbable. Over time, scientists have raced to drastically shrink transistors to make electronics portable and more powerful. But just how much smaller can they get?
"Scientists are running into a fundamental limit of how small we can go with current technology," says Kamenetska. "If we shrink current silicon-based transistors much smaller than they are now, they won't work."
This is because of the physical properties of silicon, she says, which is widely used in manufacturing transistors and computer chips. Kamenetska, who founded the Kamenetska Research Group at BU in 2017, is investigating the possibility of replacing current transistor technology with a single molecule. With her NSF CAREER Award, she and her team are studying how a single molecule can work as part of a circuit.
She is particularly interested in studying circuits formed with paramagnetic molecules—which have a property that could help create an internal on-and-off switch, as in a transistor. If you think back to chemistry class in high school, you probably saw a diagram that depicts electrons around the nucleus of an atom in pairs, their spins compensating each other. Having paired electrons is standard for many molecules, but a paramagnetic molecule has an unpaired electron that spins on its own. This creates a "magnetic moment," Kamenetska says, due to its spin on its axis, which can potentially be toggled or controlled by external signals.
Scientists are a long way away from making functional single-molecule circuits, since it's unknown how they can be controlled and replicated, Kamenetska says. But she hopes to discover the fundamental science necessary to open the door to a whole new generation of single-molecule-powered devices.
Manos Athanassoulis
If you're just a casual internet surfer, it can be easy to forget that behind every web page is a system of complex data that stores and manages tons of information. Data systems are an essential part of modern computing and technology—and they are also the bread and butter of Athanassoulis' research at BU's Data-intensive Systems and Computing Lab. Since starting the lab in 2019, one of Athanassoulis' major projects has been transforming a common type of data system, called a log-structured merge (LSM) system, which runs behind the scenes of many types of web applications.
An LSM-based system structures data in a "tree," and helps power programming that supports social media platforms, e-commerce, and other data-heavy applications. Meta, for example, developed an LSM system called RocksDB that is part of Meta and Facebook's infrastructure, and used by other big tech companies like Netflix, Airbnb, Yahoo, Pinterest, and LinkedIn.
But since most computing is done on public and private clouds, applications increasingly face interference from each other, Athanassoulis says, leading to some uncertainty in how the system will respond. With support of the NSF CAREER Award, Athanassoulis and his team are making a new breed of LSM-based data systems that can offer a near-optimal performance.
Making the system more reliable—and less reliant on human intervention—will require an interdisciplinary effort from experts in computer and data systems, algorithmic data mining, machine learning, and hardware understanding.
"This NSF CAREER grant will have a transformative effect on the way we build and tune data systems," says Athanassoulis, who became fascinated with computer science after he wrote his first program in fifth grade. "We want to build technological tools to manage and make sense of data and thus the world around us."
The grant is also supporting a number of graduate students, the development of new computer science classes and educational materials, and targeted internship programs. Athanassoulis says he wants to foster a new generation of data systems experts, at both the PhD and undergraduate levels. The end goal, along with building new systems, is giving students the opportunity to acquire technical and societal skills that can help them tackle significant real-life problems. "This is what I see as the most important metric of success," Athanassoulis says.