BU Men's, Women's Lacrosse Host Patriot League Season Home Openers Saturday
Doubleheader begins at noon on Nickerson Field
Lacrosse
BU Men's, Women's Lacrosse Host Patriot League Season Home Openers Saturday
Doubleheader begins at noon on Nickerson Field
No matter the temperature, the start of lacrosse season is always a welcome sign of spring.
"I think we're just really excited to be together and be back out on the field," Emma Pfaff (Sargent'22) says.
Patriot League action returns to Nickerson Field Saturday, March 12, when the Terriers host a home-opening doubleheader. The women's team will play Army at noon, and the men's team will take on Bucknell at 4 pm.
Men's lacrosse attacker Timmy Ley (COM'22) says his team has been steadily preparing for the launch of conference play: "Our number-one goal is a Patriot League championship, and we work hard every day to get to that."
The road won't be easy. On the women's side, conference foes Loyola Maryland and Navy currently rank among the top 25 teams in the nation, according to the Inside Lacrosse weekly poll. As for the men, Army and BU—currently 16th—both place within the Inside Lacrosse Top 20.
"The conference is as good as ever. If you don't bring your Saturday's best, you go home with a loss," men's team head coach Ryan Polley says. "We're excited to start conference play and start to see how we stack up against some of the country's best."
To prepare for the league stretch of the season, both Terrier squads began their 2022 campaigns with a strong set of nonconference opponents. The men's team went 3-0 in February with wins over Merrimack, Bryant, and UMass, and continued that winning streak with a March 5 conference-opening 18-6 victory at Colgate, for the program's first 4-0 start since 2017.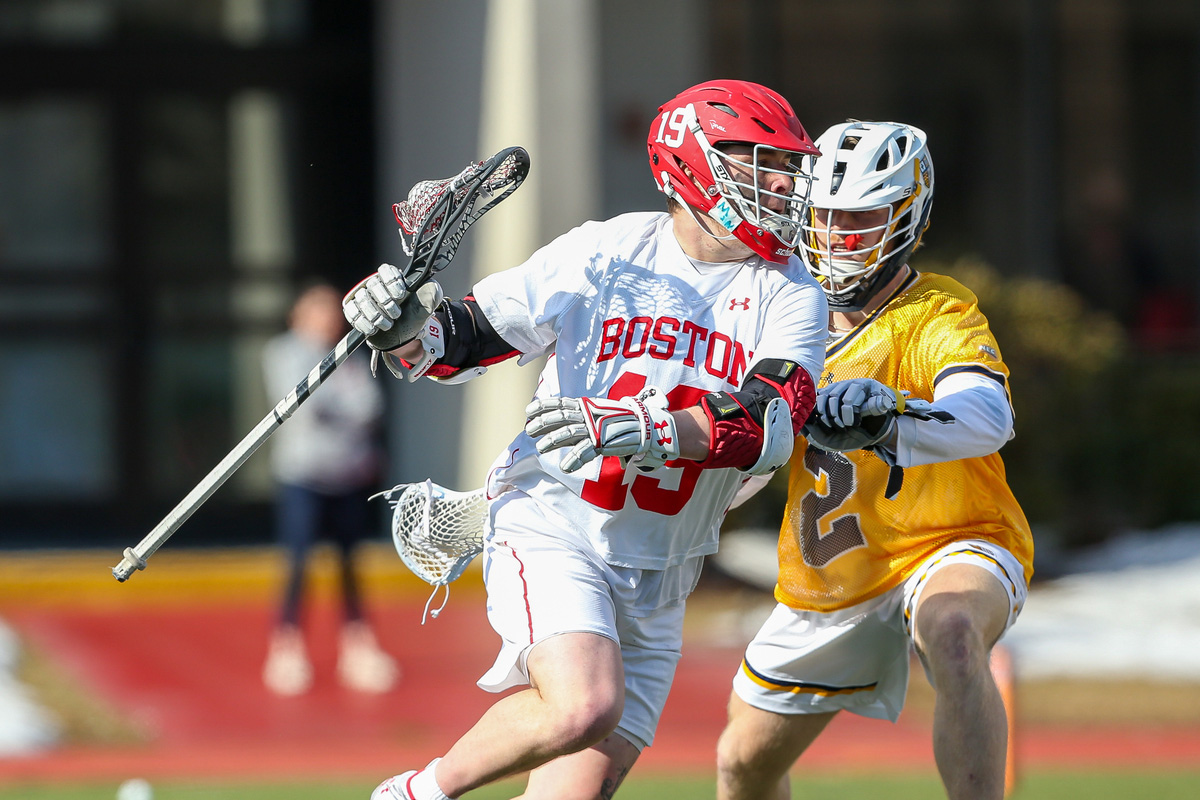 "Our formula has been to get better every week, and I think we've been able to do that consistently over the whole season," Polley says. "It started in the fall with a lot of work on our culture, and then it's definitely rolled over to our spring."
There are 30 upperclassmen on the men's roster this season—a group that saw their 2020 season cut short by COVID-19 and last year's season shortened by the ongoing pandemic. Ley says team chemistry has helped the program adapt to all the challenges.
"I think we have a great group of guys who really care about each other and love each other," Ley says. "We've been together for a while, and we've gone through a lot together."
Four games in, all of the team's statistical leaders are juniors and seniors. Ley and Vince D'Alto (COM'23) are tied for the most goals (12), and D'Alto shares the highest mark in assists (10) with Louis Perfetto (Questrom'23). Off-season transfer and face-off specialist Conor Calderone (CAS'23) has earned a team-high 22 ground balls, and goaltender Matt Garber (Questrom'22) holds the lowest goals-against average in the league, at 7.99.
Garber's success is a particular point of pride for the program. Since the team's launch in 2014, the BU net has been defended by just three consistent starting goaltenders—a rare feat for a lacrosse team of any level. Garber is the most recent Terrier to command the crease on a regular basis.
"We've been very fortunate with our pipeline of goalies," Polley says. "Knowing Matt's back there as the final line of defense is important. He's been unbelievable for us."
Women's head coach Lauren Morton (CAS'08) is equally complimentary of her first-choice goaltender, but for different reasons. In her first season of game action, Reilly Agres (Sargent'24) has demonstrated agility at learning on the job and growing with every game—qualities she shares with other players.
"I want us to keep getting better," Morton says. "I want to be able to play smarter, use our experience, and ultimately just get better. I think that we've seen that thus far."
The team has had to adjust after losing its top three scorers to graduation last year, which has presented a formidable challenge. The team is winless in six games against high-quality nonconference adversaries so far this season. But Morton is optimistic as they prepare for conference play.
"We certainly knew it was going to be a challenging start. We knew we wanted to play some tough competition, and really just get to learn a lot about ourselves," she says. "As much as the results maybe haven't been what we want them to be, we definitely are excited for where we can go from here."
Lauren Kaye (COM'23) leads the Terriers in goals (11) and Jennifer Barry (CAS'23) paces BU in assists (5). Along with Kaye and Barry, Matty Spaeth (CAS'25) is the third Terrier with a double-digit point total (10), and Agres has picked up the most ground balls (17) from her position between the pipes.
For many of BU's younger players, this is their first near-normal season after the disruption the pandemic wrought last season. Pfaff says her teammates turned that barrier into a benefit. "Because of COVID, we had to learn how to become much more adaptable in situations," she says. "I think that's a big positive that came out of a not great situation."
As Patriot League play begins, both teams will play every other conference member once before the playoffs begin in May. 
"Conference is a whole new start," Morton says. "The clock restarts."

The BU women's and men's lacrosse doubleheader is Saturday, March 12, at Nickerson Field. The women will play Army at noon, and the men will host Bucknell at 4 pm. Fans can purchase tickets here, or stream the games online on ESPN+. Follow the teams at @TerrierLacrosse and @TerrierMLAX on Twitter.