Inventor Mark Grinstaff Named an AAAS Fellow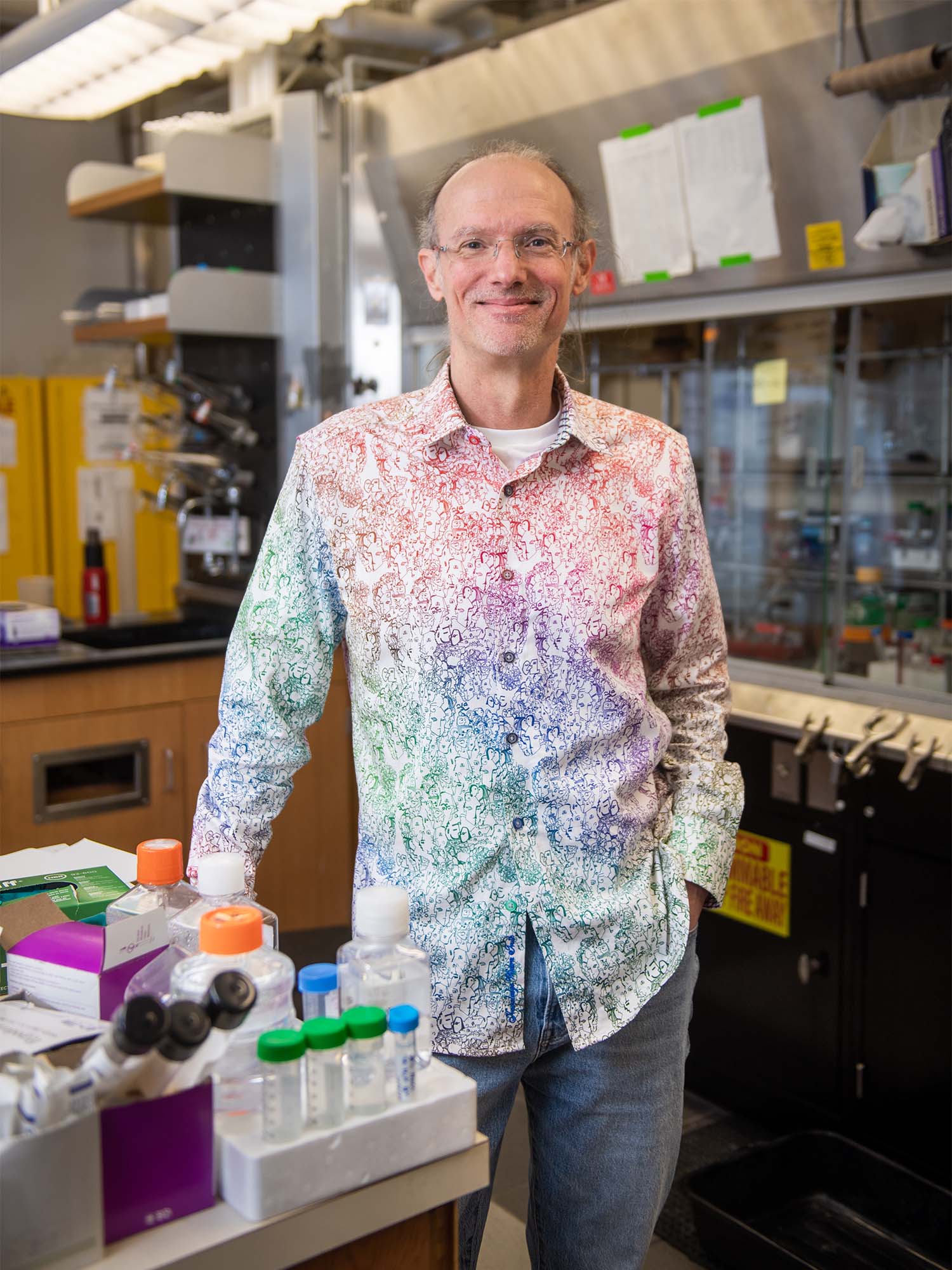 Accolades
Inventor Mark Grinstaff Named an AAAS Fellow
Recognition for chemist and biomedical engineer behind revolutionary cancer treatment and other "distinguished contributions" with "global therapeutic impact"
A pioneering treatment that targets advanced breast cancer, biodegradable sealants to close wounds in cranial surgery, self-lubricating condoms to reduce disease spread—Boston University chemist and biomedical engineer Mark Grinstaff's inventions have taken on a wide swath of medical challenges. Now, the scope of his impact has been recognized with the distinguished American Association for the Advancement of Science (AAAS) naming him a 2021 Fellow.
A prolific inventor, Grinstaff has more than 200 patents or pending applications, and he is the cofounder of several companies. He's also invented or coinvented a series of FDA-approved pharmaceuticals and medical devices. In January, he was named to the latest class of AAAS Fellows, an honor he'll hold for life. Past Fellows have included computer programming pioneer Grace Hopper, inventor Thomas Edison, and civil rights activist and author W.E.B. DuBois.
Grinstaff is a BU Distinguished Professor of Translational Research, as well as a College of Engineering professor of biomedical engineering and materials science and engineering, a College of Arts & Sciences professor of chemistry, and a School of Medicine professor of medicine. He also heads the BU Nanotechnology Innovation Center (BUnano) and the interdisciplinary Grinstaff Group. Abraxane, a chemotherapy drug Grinstaff coinvented, has reportedly revolutionized care for advanced breast cancer and a range of other cancers.
"Mark is an exceptionally talented biomedical engineer, inventor, teacher, and mentor whose discoveries are continuing to make significant and transformative contributions to society," says Karen N. Allen, a College of Arts & Sciences professor and chair of chemistry. "Mark's gift is his ability to recognize important scientific, engineering, and clinical problems and to identify creative solutions."
It "is an honor to be nominated as a AAAS Fellow and join the ranks of those who are working tirelessly to advance science in the United States," says Grinstaff. He was nominated for "distinguished contributions in polymer chemistry and biomacromolecular constructs with global therapeutic impact and establishment of a nationally recognized NIH training program in translational research."
"AAAS is proud to honor these individuals who represent the kind of forward thinking the scientific enterprise needs, while also inspiring hope for what can be achieved in the future," said Sudip S. Parikh, AAAS chief executive officer, in a press release announcing the latest class of Fellows.
To read more about Grinstaff and his work, see some of our past stories on his research and group.