Getting to Know Your Neighborhood: The North End
A guide to eating, shopping, and sightseeing in Boston's "Little Italy"
In the City
Getting to Know Your Neighborhood: The North End
A guide to shopping, eating, and sightseeing in Boston's "Little Italy"
Unofficially known as Boston's "Little Italy," the North End is one of the Hub's smallest neighborhoods—a one-square-mile area jutting into Boston Harbor. But it has played an outsized role in the city's cultural, historical, and culinary history. Within convenient walking distance of Government Center, it's Boston's oldest residential area, with a history of European settlement stretching back to the early 17th-century Puritans.
Over the past 400 years, the area has been home to an early African American community and to waves of Irish, eastern European Jewish, and more recently, Italian immigrants. By 1930, almost all inhabitants were Italian, and it had gained its reputation as Little Italy. Today, it continues to be a popular destination for Bostonians and visitors from across the globe who come for the food, the sites, or the neighborhood's summer street festivals honoring revered saints.
Boston's popular Freedom Trail, which leads to significant American Revolution sites, winds through the North End to historic destinations like the Paul Revere House and the Old North Church. And one of the most popular sections of the city's extensive Harborwalk is here, skirting the water's edge along the wharves, residences, and businesses, the US Coast Guard base, and Puopolo Park.
"While the Italian and Italian-descended population is not the majority, they are still a larger percentage of the population than we find in other so-called Little Italys," says James Pasto, a College of Arts & Sciences Writing Program senior lecturer, who teaches a summer course about the social history of the North End. "This Italian presence is felt in the community groups, businesses, and on the streets, in the bocce games. It helps to promote community integrity and neighborliness."
Despite the changing demographics—less than a third of the population today is of Italian descent—it's still possible to get a feel for the community. The neighborhood boasts more than 100 restaurants, cafés, and bakeries, and the rustic Italian street signs, indicating imaginary routes to real Italian cities, give the area an even more authentic feel.

BU Today has compiled a list of some of the best places to investigate, eat, and shop when you visit.
Established in 2001 by a group of passionate foodies, the Boston Public Market gives shoppers a permanent year-round indoor market for fresh produce, meat and poultry, eggs, milk and cheese, fish, baked goods, and specialty and prepared foods. The market, featuring nearly two dozen vendors who fill a 30,000-square-foot building at Haymarket Station, is open seven days a week. All the wares are locally sourced. Among the food vendors are Crescent Ridge Dairy, from Sharon, Mass., with more than 30 inventive ice cream flavors (try the popular Black Bear: raspberry ice cream with chocolate chips and chocolate-covered raspberry truffles). Another must-try: the fresh, hot cider donuts from Red Apple Farm, from Phillipston, Mass.—their aroma fills the entire market. You'll also find vendors selling handmade cutting boards and bowls, fresh flowers, jewelry, and yarn and other fibers. Note: since the pandemic, many of the market's vendors are keeping reduced hours.
One of Boston's most storied comedy clubs, Improv Asylum has been providing laughs and entertainment since 1998. There are improvised or sketch comedy shows most nights of the week. Many shows sell out, so purchasing tickets online or by phone is recommended. The club also offers professional improv and sketch-writing classes for adults, both online and in person, and hosts several popular weekly performances, including the main stage improv shows and the NXT Cast series on Wednesdays and Sundays.
Parla
230 Hanover St.
Parla's speakeasy décor makes it feel like it's been around since Prohibition (it opened in 2014). The small Italian eatery's menu is a departure from traditional Italian fare, with innovative pastas and appetizers. Its imaginative cocktail menu has more than 50 house-made shrubs, infusions, and tinctures. It's open for dinner and cocktails daily and has a weekend Great Gatsby–themed brunch.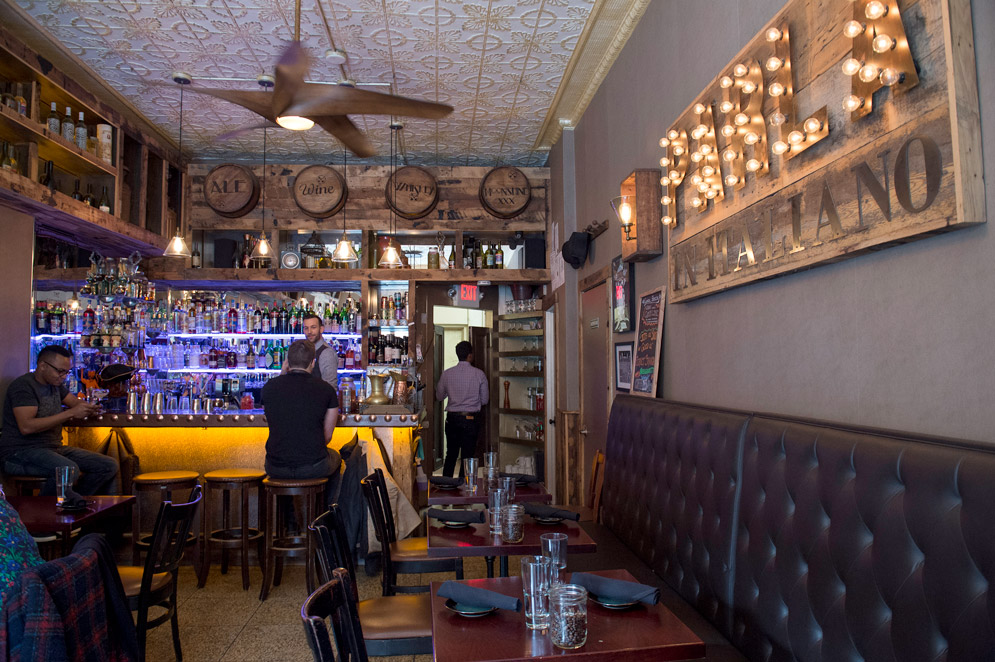 Tresca
233 Hanover St.
Legendary 21-season Boston Bruins defenseman Ray Bourque, inducted into the Hockey Hall of Fame in 2004, opened this traditional Tuscan eatery in 2005. Tresca serves established Italian fare, has a large selection of antipasti (the lobster stuffed mushrooms are a standout), homemade pastas, and hard-to-find Italian wines. The restaurant offers open seating, as well as options for private and semi-private dining rooms for parties ranging from 2 to 75. They also have a reception hall that can host as many as 100 guests.
This boutique carries a selection of bright and colorful women's clothing from hundreds of designers, such as Pisola, Peppermayo, Refine, ASTR, and Black Halo. Prices lean toward the expensive, so if you're on a budget, head to the sale rack at the back of the store. The boutique also has a rewards program you can sign up for to earn additional savings.
Distinguishing among the North End's many Italian restaurants isn't easy, but Bricco is a standout. It's popular for its contemporary cuisine, an award-winning wine list—with vintners from California and Italy—and a late-night menu (brick oven pizzas and innovative cocktails) Fridays and Saturdays from 11:30 pm to 2 am. Bricco bills its cooking style as "sophisticated 'boutique' Italian cuisine," but you'll also find traditional dishes, like meatballs and shrimp scampi, as well as seafood, chops, and artisanal pastas. The desserts are superb—be sure to try the crème brûlée. Down a narrow alley at the rear stands a separate panetteria that sells delicious artisan bread daily.
Arya Trattoria
253 Hanover St., second floor
Arya Trattoria is steeped in history for owner Massimo Tiberi. It's on the site of the former Scalinatella restaurant, where he once worked as a bread boy. And more than 30 years ago, when it was known as Il Sole restaurant, his family held his baptism reception there. The current restaurant—named for Tiberi's daughter—is a blend of old-world Italian and modern sophistication. The menu changes with the seasons, but expect to find entrées like handmade gnocchi with lobster, braised pork shank in tomato sauce, and grilled local sea scallops, as well as classic Italian fare like handmade tagliatelle prepared with veal, beef ragout, pancetta, and tomato sauce and meatballs from a family recipe. Arya also offers a prix fixe three-course meal designed by its culinary team for $60.
A North End staple since 1962, this intimate café is a relaxing place to sit with an espresso and cannoli. Its cocktail list includes a pistachio martini made with vanilla vodka, amaretto, Midori, and a scoop of pistachio gelato. All gelato is made on the premises, and among the flavors are tiramisu, nocciola (hazelnut), and zuppa inglese (a custard-based house creation with chocolate, cinnamon, and pieces of rum-soaked sponge cake). The back of the café has a dazzling pastry case, where you'll find baba rum (a yeast cake soaked in rum), frutta di bosco (a tart filled with sweet custard cream topped with fresh berries), profiteroles, and other treats. Open daily to 2 am, it has a lively late-night scene.
Established in the 1930s, this family-owned Italian bakery has maintained its recipes and traditions for decades. Specializing in custom cakes, handmade cookies, and Italian delicacies, it has a considerable following and has been featured in the New York Times, the Boston Globe, and National Geographic and on a Food Network Christmas special. Try one of the shop's famous cannoli or a piece of the ricotta pie (sweetened ricotta cheese baked in pasta frolla pastry dough). Certain specialties, like the amaretto cake (two layers of Italian sponge cake soaked in rum and amaretto liquors and filled with creamy vanilla custard), have to be ordered in advance.
Modern Pastry also operates Modern Underground Bar & Grill, a subterranean spot serving simple pub fare like burgers, wings, salads, sandwiches, and other quick bites. It's hard to find, so keep an eye out.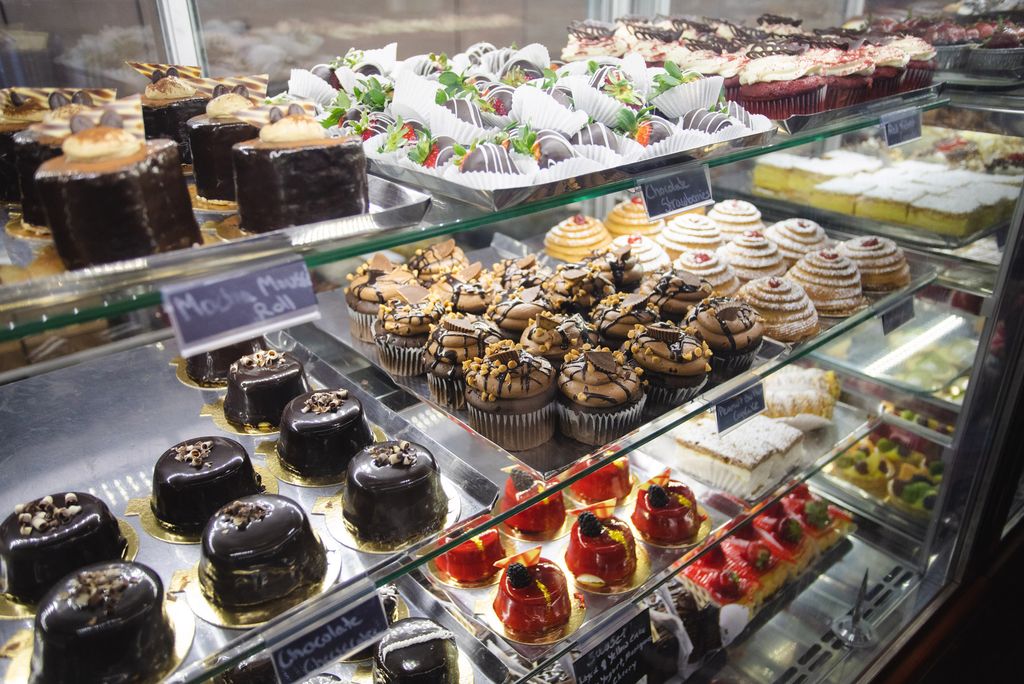 Dolce
272 Hanover St.
This charming café offers Italian-style sandwiches, sheet pizzas, baked goods, espresso, and other traditional café foods and beverages. The shop is owned by DePasquale Ventures, the prominent North End restaurateur family who runs establishments like Bricco and Mare Oyster Bar. The café also serves gelato, cannoli, and Italian doughnuts.
The oldest Italian café in Boston is a must for anyone coming to the North End. Opened in 1929, this landmark has four levels, three liquor bars, and a cigar room lined with old-fashioned Italian espresso and coffee machines and memorabilia, giving it an authentic Italian feel and a delicious aroma of coffee. Stop in for a hot drink, pastries, or gelato, and bring your camera, because this historic family-owned café has an Instagram-worthy decor.
This cash-only, no-frills pizzeria offers Sicilian-style pizza. The huge slices—with their fluffy crust, sweet and tangy tomato sauce, and caramelized cheese—cost less than $2. The restaurant does a brisk lunch business, and it closes after everything is sold, usually about 2 pm. Try the panzarotti (creamy mashed potato balls stuffed with mozzarella cheese, dipped in egg and bread crumbs, and deep fried) or the arancini (fried risotto balls stuffed with ground beef, peas, and mozzarella). The restaurant was honored with the James Beard Foundation's America's Classics Award in 2018.
Any day of the week, you'll find a line out the door at this North End institution, which has been in business since 1946. Best known for its oversized and overstuffed cannoli, Mike's serves the classic Italian dessert in several flavors. They are made on the premises along with the bakery's gelati, cakes, and other pastries. Be prepared to order your sweets to go, because seating inside is limited. The pastry shop has become so popular, it now ships goods nationwide. Note: Mike's accepts only cash.
Scopa
319 Hanover St.
This intimate Italian spot, across the street from Mike's Pastry, features rustic-style specialty pastas, pizzas, and seafood, and cured meat and cheese platters. The food is decidedly less traditional than many of its neighbors, but you'll still find some classics on the menu, including an amazing spaghetti carbonara and an arugula salad with berries, honey roasted walnuts, and goat cheese served with a raspberry vinaigrette.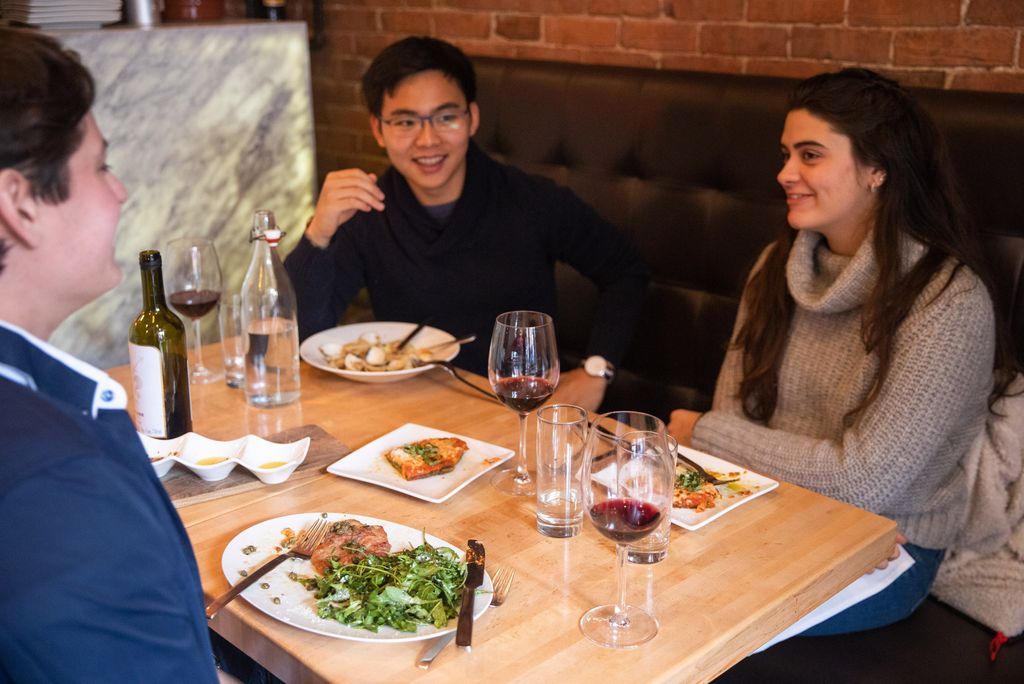 With seating for just 20 and a kitchen in the dining area, the Daily Catch is a cozy place. It also has locations on the waterfront on Atlantic Avenue and in Brookline, but Hanover Street is the site of the original restaurant, a North End mainstay since 1973. Try the Sicilian-style seafood and pasta, calamari salad, or shrimp and scallops off the chalkboard menu. Pasta is served right in the pan. Bring cash, because credit and debit cards are not accepted. If you are driving and park at the Parcel 7 lot, your ticket will be validated by restaurant staff. Be prepared to wait at the door; the place doesn't take reservations.
With only eight tables, you will have a wait at this tiny Italian eatery. But it's worth it. Pomodoro is renowned for its pastas, pizzas, and excellent seafood dishes—a highlight is the seafood fra diavolo, with clams, mussels, and white fish, and the restaurant's famous tomato sauce, served over linguine. Other specialties: a mouthwatering shrimp scallopini and roasted monkfish. The owner and waiters are warm and friendly. There's no coffee or dessert, but if you're lucky, you can sample their delicious complimentary tiramisu. Note: Pomodoro only accepts cash.
Rina's is known for its Neapolitan-style pizza, made fresh in a special oven that was built with traditional bricks from Italy and that can reach as high as 1,000 degrees. Also on the menu are calzones, specialty paninis, and salads. Be sure to try the garlic flatbread. It's delicious. The small storefront does a big takeout business; if you eat in, you can watch classic black-and-white movies on one of the four televisions.
Founded in 1885, the North Bennet Street School gave immigrants the skills necessary to succeed in their new lives by providing vocational training in pottery, sewing, printing, watch repair, sheet metal work, cabinetmaking, jewelry making, and carpentry, helping generations become craftsmen and artisans. Today, the school has a worldwide reputation and continues to train fledgling artisans and craftspeople, with full-time programs in bookbinding, violin making and repair, piano technology, locksmithing, and furniture making. You don't have to be a full-time student to take one of the excellent programs. Due to the pandemic, the school has temporarily suspended classes, but plans to reopen in early 2022. Check their website and sign up for their email lists to get the latest updates on their reopening.

There is also a gallery-store—featuring student, faculty, and alumni work—open to the public Monday through Friday, from 8:30 am to 2 pm. Visitors must wear masks.
The house that famed silversmith, American patriot, and Revolutionary War hero Paul Revere and his family lived in from 1770 to 1800 is the oldest building in downtown Boston. Built around 1680, it has housed many immigrants to the North End since Revere lived there. In 1902, one of his great-grandsons bought the house to ensure its preservation. The Paul Revere Memorial Association was formed, and in 1908 the house was opened as one of the nation's first historic house museums. Today, visitors can see a colonial garden, a 900-pound bell, and a bolt from the USS Constitution. The museum is open year-round and offers a student discount.
One of Boston's most significant landmarks, Copp's Hill Burying Ground is the city's second-oldest cemetery, established in 1659. It is the resting place of many famous early Americans, including the ministers Cotton and Increase Mather, as well as many craftspeople, artisans, and merchants who lived in the North End during the 17th and 18th centuries. The British took advantage of the hill's height to train their cannons on Charlestown during the Battle of Bunker Hill in 1775. Wear comfortable shoes to navigate the slight slope—the top offers a great view of downtown Boston and the Zakim Bridge, and is worth the trek.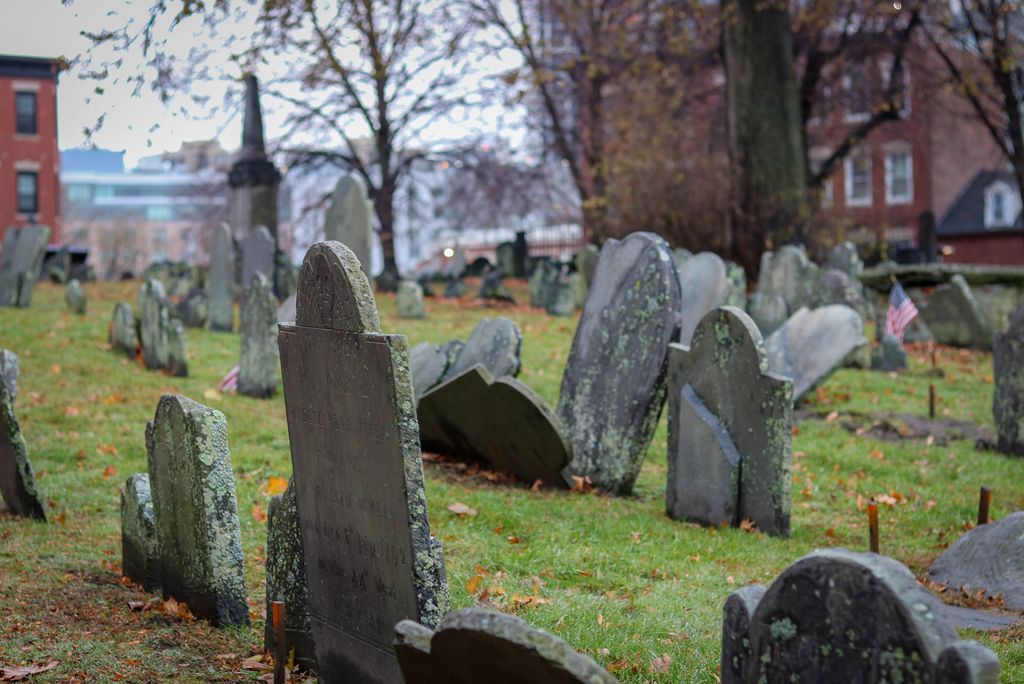 This Boston Public Library branch offers more than just a great selection of books. Check out the online calendar of events to find listings for virtual book discussions. Many in-person events, including toddler and baby storytime hours and live performances and film screenings, have been temporarily suspended due to the pandemic, but the weekly mahjong classes are scheduled to resume in November. Modeled after a Roman villa, with a central courtyard, high ceilings, and oversized windows, the building is a relaxing spot to catch up on reading. Be sure to see the scale model of the Doge's Palace in Venice. The library also has a small Italian-language book collection. The library is currently closed on weekends.
Now with a dozen locations in Massachusetts and Connecticut, this is the popular chain's original pizzeria—a mainstay of the North End since 1926. The secret-recipe pizza has a light and flavorful tomato sauce and all kinds of toppings, like the specially aged whole milk mozzarella. There's a comprehensive wine and beer list and a sit-down bar in addition to the booths and tables. With a cozy and nostalgic atmosphere, it has colorful lighting, sports paraphernalia, and old pictures of staff members on the walls. Check out the full menu, with nearly 30 different pizzas, here.
If you're looking for a new outfit or need to buy a nice gift for a friend, this charming boutique offers an array of fun dresses, sweaters, scarves, and handmade jewelry. It also sells a variety of scented candles, lotions, perfumes, and soaps, as well as decorative dishes, distinctive barware, and a range of cookbooks. There is a section for babies and young children, with plush animals. Pick up one of the store's beautiful printed greeting cards to complete your gift.
There's no such thing as too much pizza, right? Stop by Ernesto's for a quick slice or a whole pie. The pizzas are made with homemade dough and sauce and freshly grated cheese. Portions are large, prices are reasonable, and the walls are decorated with old framed posters and pictures, giving the place a casual, vintage feel. The staff is friendly and welcoming, even during the packed and hectic lunch hour.
Crudo
78 Salem St.
If Italian cuisine isn't your favorite, head over to this sushi and sake joint for lunch or dinner. The eatery has become popular for its Japanese inspired social plates with a blend of Pan Asian cuisine. Check out their "Power Lunch," an all-you-can-"chopstick" option that lets you choose between traditional and signature rolls. The restaurant features two floors of dining and two separate bars.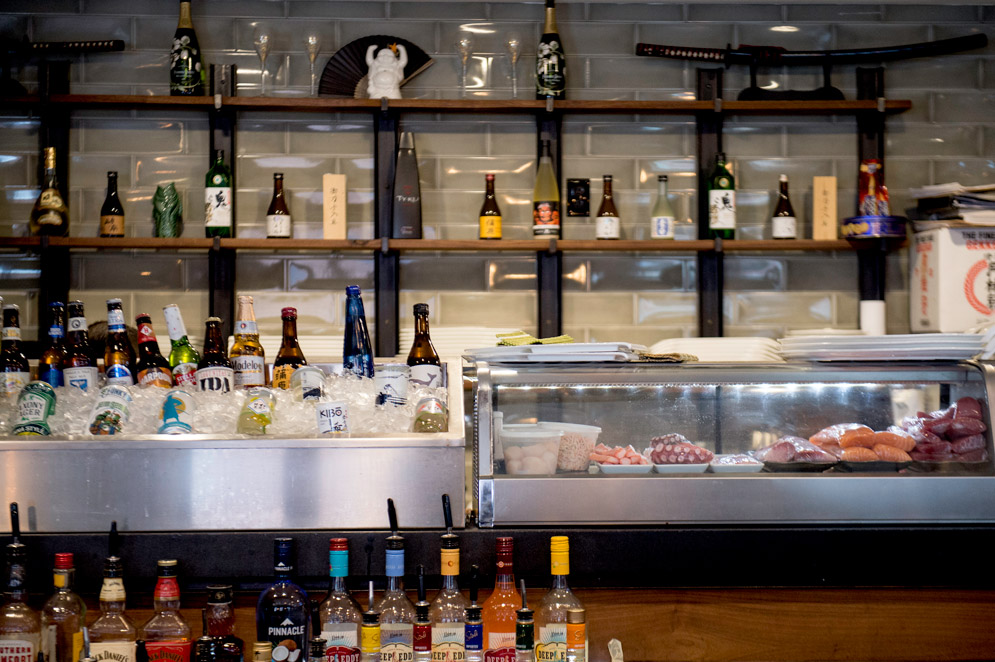 Step into Polcari's Coffee and your senses will be overwhelmed with competing aromas. This small shop sells more than just coffee beans and tea. You'll find more than 150 different spices, as well as fresh-cut cheeses, dried fruits, whole nuts, sauces, beans, Italian candies, and sweets like licorice chips. Try a new spice, indulge in some excellent chocolate, and enjoy the soundtrack of fun tunes. The shop has been a North End mainstay since 1932.
Start your meal with one of the award-winning appetizers, like lobster ravioli or eggplant rollatini. The restaurant prides itself on serving specialty dishes from all regions of Italy, including a wonderful selection of pastas. It's also the place for a romantic evening out: scenic paintings of Italy hang everywhere and soothing Italian music plays in the background. During warm weather months, the restaurant offers outdoor dining, as well.
This cozy restaurant, one of Boston's most romantic dining spots, serves scrumptious Italian food in an intimate setting. The interior is modeled on a Sicilian country house, with brick walls, big windows, and a candlelit downstairs dining room. The menu offerings range of dishes, from traditional pappardelle alla bolognese and pappardelle panna e prosciutto (a handmade pappardelle pasta in a cream sauce topped with prosciutto) to goat cheese–stuffed artichokes and a vast array of daily specials.
Built in 1723, the Old North Church is Boston's oldest standing church. The building's historical significance was sealed on the night of April 18, 1775, when church sexton Robert Newman climbed the steeple and held two lanterns as a signal to Paul Revere that British troops were advancing on nearby Concord and Lexington by sea, not by land. That event was later immortalized in Henry Wadsworth Longfellow's poem "The Midnight Ride of Paul Revere" ("One if by land, two if by sea").
The church attracts more than 500,000 visitors a year, and it's well worth taking the 30-minute guided tour (available Tuesday through Saturday, 10 am to 4 pm). Visitors can walk through the church's crypt and view the 37 tombs, constructed between 1732 and 1860. The church boasts the oldest bells in North America (installed in 1745 and restored in 1975 in preparation for America's Bicentennial), and they're rung each Sunday. Tours are $5 for the church, $10 for the church and crypt.

Also known as the Christ Church in the City of Boston (Episcopal), the Old North Church holds services each Sunday at 11 am. Note: masks are required in the church, crypt, and gift shop.
This bakery can be found on many lists of top North End restaurants and bakeries. Bova's has been baking and serving delicious Italian cookies, breads, and pastries, including ricotta cannoli, tiramisu, and chocolate-covered strawberries, since 1926. Open 24 hours a day, it's an ideal place to grab a late-night—or very early morning—snack. Masks are required.
Getting there: By subway: take the Green Line to Government Center, walk down the City Hall Plaza steps to your left, cross Congress Street and continue down Hanover Street, about a five-minute walk that takes you to the heart of the North End.

Click on the points in the map above for more information on the places listed in our guide to Boston's North End.
This Series
Also in
July 18, 2022

July 15, 2022

July 5, 2022