Getting to Know Your Neighborhood: East Boston
A guide to eating and sightseeing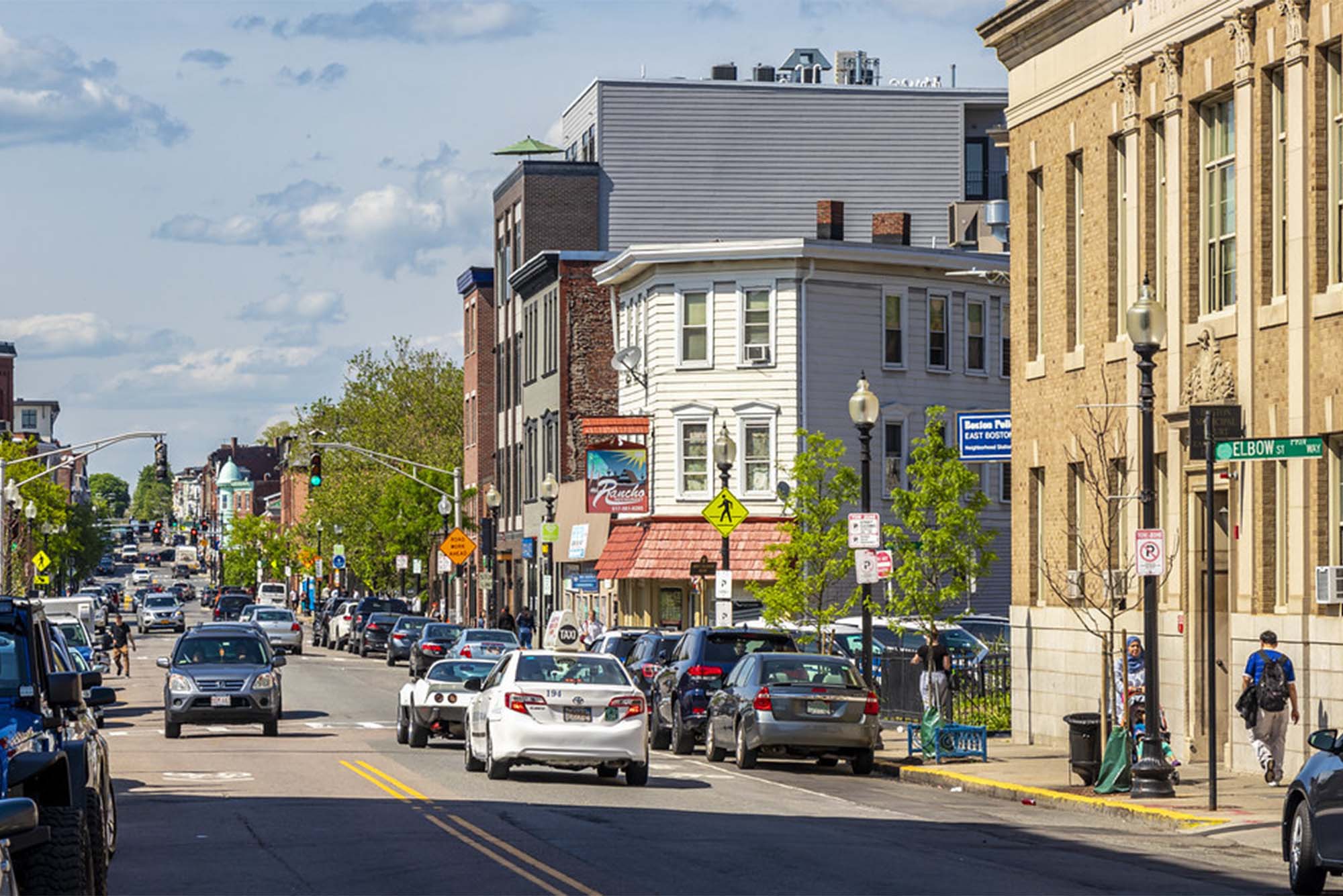 In the City
Getting to Know Your Neighborhood: East Boston
A guide to eating and sightseeing in a community prized for its diversity
For many, East Boston is synonymous with Logan International Airport, New England's largest and the nation's 19th busiest airport, with approximately 33 million passengers annually. But with its prime waterfront property, this working-class enclave has some of the most breathtaking views of Boston Harbor and the city's skyline to be found.
Established in 1836, the neighborhood was created using landfill to connect five Boston Harbor islands. The waterfront location made it a center for shipbuilding and other marine industries—a legacy that continues today.
Long a home to various immigrant groups, East Boston offers a wide range of restaurants and cuisines as well as recreational activities. Canadians settled here in the 1840s, followed by the Irish in the 1850s. Russian and Eastern European Jews were the next to arrive, and Italian immigrants came at the beginning of the 20th century. Today, it's home to a mix of people of Italian and Irish descent and newly arrived Central and South American and Southeast Asian immigrants. The neighborhood's many ethnic stores and restaurants reflect the tastes and traditions of its diverse residents.
East Boston is also a neighborhood in flux. Once primarily working class, today it features several new luxury condominium projects, and the Institute of Contemporary Art just opened a seasonal space in the Boston Harbor Shipyard and Marina.
BU Today has compiled a list of some of the best places to visit in East Boston.
Outdoor Attractions
Piers Park is ideal for spending the day outdoors. You can walk the 600-foot promenade, exercise using the outdoor fitness machines, or embrace your inner child on the playground. Several decorative gazebos and spray fountains provide relief on hot summer days. The park also boasts an amphitheater and provides direct access to the waterfront and an amazing view of downtown Boston across the harbor.
While you're at Piers Park, take advantage of the nonprofit sailing center there, which offers lessons, chiefly for beginners. The Learn to Sail course is 21 hours, structured on two back-to-back weekends or two weeks of weekday evenings. If you want to sail one of the center's 23-foot Sonar sailboats, but didn't take lessons there, you must pass a "check out" test. Early registrants, college students, East Boston residents, veterans, and seniors can get discounted memberships, good for the entire sailing season. The center has outreach programs for underserved youth and one of the country's best programs for disabled sailors. With easy access to the Inner Harbor and Harbor Islands, this is one of East Boston's most popular attractions.
LoPresti Park
Sumner Street
LoPresti Park, along the Maverick Square area waterfront, is another great outdoor recreation spot. Grab a basketball and head to one of the four-acre park's two courts (you can play under the lights at night), put on your helmet and head over to the street hockey rink, or play a game of ping-pong in the picnic grove. It's also home to a state-of-the-art artificial turf soccer field, a children's play lot, and a spray fountain. You can fish along the waterfront, a popular dusk activity here. For a more relaxing activity, stroll along the pier and enjoy the beautiful Boston skyline.
A large salt marsh inside the city limits? Who knew? The reservation, open year-round from 9 am to dusk, preserves 152 acres of the 241-acre Belle Isle Marsh, the last remaining salt marsh in Boston. Its protected waters are a breeding ground for numerous fish and shellfish, as well as for native vegetation, and it offers a view of wildlife rarely seen in a metropolitan area. Visitors can scan the marsh, Logan Airport, and the nearby town of Winthrop from an observation tower.
You don't need to travel to Cape Cod or the North Shore to find a great beach. Just take the MBTA Blue Line to Orient Heights and spend the day at Constitution Beach. Among the park's amenities are a bathhouse, tennis and handball courts, a baseball field, a picnic area, a concession stand, and a playground. It's no wonder it's one of the city's most popular beaches. Lifeguards are on duty from June through Labor Day. When you've had enough of the beach, take the nearby pedestrian overpass across the MBTA tracks and explore the neighborhood's many dining options.
Once a marine industrial site, this area is now one of Boston's 29 urban wilds, or natural landscapes, thanks to the efforts of the Urban Wilds Initiative. In addition to meadow grasses and salt marshes, it has a boardwalk, walking paths, and a viewing platform overlooking Chelsea Creek. In the winter and spring, harbor porpoises can sometimes be seen swimming along the creek.
The most iconic site in East Boston is the 35-foot statue of the Mother of God atop Orient Heights. The Madonna Queen of the Universe Shrine, built in 1954 from copper and bronze, is the national headquarters of the Don Orione Fathers (also known as the Sons of Divine Providence), an order of Catholic priests founded by St. Luigi Orione, who was canonized in 2004. The statue is a replica of one in Rome created by Jewish sculptor Arrigo Minerbi to thank the Don Orione Fathers, who shielded him and his family from the Nazis during World War II. Some of Boston's best views of the waterfront and downtown skyline can be had from the shrine.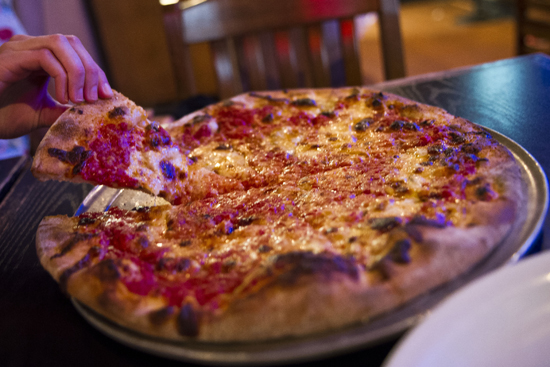 Museum
Several years ago, the Institute of Contemporary Art/Boston (ICA) opened a seasonal exhibition space in a former copper pipe and sheet metal facility in the Boston Harbor Shipyard & Marina, which boasts 15,000 square feet of exhibition space. The ICA Watershed has become a popular summer destination for residents and tourists alike, who flock to its annual exhibition. This year's show, titled Revival: Material & Monumental Forms, features large-scale installations by six prominent international artists, each of whom uses reclaimed and repurposed industrial and everyday materials in their work. Be sure to visit the Harbor Room, a space for gathering and education projects that leads to an outdoor plaza overlooking Boston Harbor and the skyline. Watershed admission is free for all. Purchase an ICA admission ticket, or become an ICA member, for complimentary ferry service to and from the Seaport. Ferry capacity is limited, and tickets, which can be reserved online a month ahead, are available on a first-come, first-served basis for both ICA members and visitors. Advance reservations are recommended. The Watershed is open Tuesday to Sunday through September 5.
Food
Downeast Cider
256 Marginal St., Building 32
Founded by two friends their senior year of college, Downeast Cider is a hard cider brewery in the heart of East Boston, offering rotating lines of hard cider and hard lemonade. The company is committed to using only fresh-pressed juices and natural ingredients. Visit the indoor taproom for a flight (one per person) of four rotating ciders on tap, then head to the outdoor bar for full pours and canned offerings. Summer flavors include black cherry lemonade, strawberry, raspberry iced tea, and extra hard lemonade.
Saigon Hut
305 Meridian St.
Saigon Hut is a testament to the many Southeast Asian immigrants who've made East Boston home for 40 years. The colorful paper lanterns give this small (eight tables) Vietnamese restaurant a whimsical feel and make it a pleasant place for an intimate meal. The menu has a long list of soups, vermicelli bowls, rice plates, and fried noodles, and also has a vegetarian section.
Angela's Café
131 Lexington St., Eagle Hill
1012 Bennington St., Orient Heights
This family-owned restaurant serves traditional regional dishes from Puebla, Mexico, and now has two East Boston spots—the original in Eagle Hill and the more recent in Orient Heights. Serving breakfast, lunch, and dinner, it's known for its superb moles, the richly flavored sauces that are a staple of authentic Poblano cuisine. Unique breakfast items are dulce de leche pancakes, a chicken fajita omelet, and chilaquiles (corn tortillas sautéed with your choice of sauce, shredded chicken, sour cream, queso, onion, and avocado, with a side of eggs and refried beans). For lunch or dinner, try some mini flautas (crispy fried corn tortillas filled with either chicken or potatoes, with lettuce, avocado, sour cream, tomato, and queso fresco) or veggie quesadillas (stuffed with assorted vegetables, guacamole, and sour cream) and end your meal with churros, flan, or fried ice cream. They're all delicious. 
If you are in the mood for Italian food, look no further. This eatery has been featured on the Food Network's Diners, Drive-Ins and Dives, as well as the Fox 25 Morning Show and Phantom Gourmet. Its extensive lunch and dinner menu will satisfy your craving for tomato sauce, thick-cut veal, and ravioli. The shrimp scampi and homemade gnocchi are great dinner choices. Chef Anthony DiCenso, whose parents, Rino and Anna, opened the restaurant over two decades ago, is famous for his maxim: "It won't be sent out until it's done right." And with prices ranging from $9 to $18, Rino's offers one of the best values to be found anywhere in the city. The restaurant features outdoor dining during warm-weather months. 
Arguably East Boston's most famous restaurant, Santarpio's, established in 1903, has won Boston magazine's Best of Boston Award 13 times over the last 30 years. Prized for its pies, the family-owned eatery's friendly staff gives it a welcoming atmosphere. It also serves lamb, steak, chicken, and sausage skewers, cooked fresh over an indoor grill. Check out the pictures of heavyweight champions on the wall and pick a song to play on the electronic jukebox in the back.
Oliveira's is a must for meat lovers. Best known for its Brazilian churrasco (barbecue), it also has a variety of skewered meats, among them pork sausage, sausage, sirloin steak, and chicken, seasoned with traditional Brazilian spices and sea salt and slow roasted or grilled over an open flame. Diners can pay a fixed price for an all-you-can-eat buffet or pay by the pound. The meats and sides are fresh and selections change every day. Oliveira's also makes authentic Brazilian desserts, such as flan, arroz doce (rice pudding), and tres leches cake.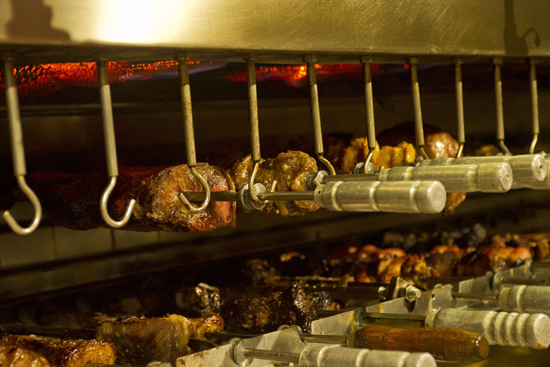 This authentic Peruvian restaurant serves breakfast, tapas, soups, seafood, and many traditional plates. Try the seco de cabrito (Peruvian-style lamb stew), arroz con pollo (rice with chicken), or plato montañero (grilled steak with rice, beans, fried pork, egg, plantains, and salad). It has a warm and cozy atmosphere and an authentic Peruvian décor, with a large painting of Machu Picchu. Rincon Limeño recently opened a second location in Revere.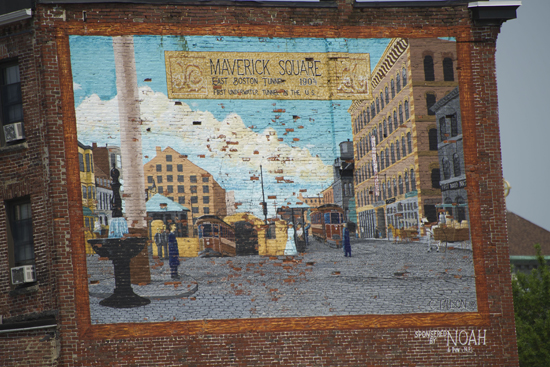 Across from Constitution Beach, Royal Roast Beef and Seafood has been serving the East Boston community since 1979 with a variety of sandwiches and wraps, salads, and seafood dishes. The unpretentious restaurant also offers takeout, delivery, and catering. Although famous for its seafood combination dinners—with clams, scallops, shrimp, haddock, fries, and coleslaw—the roast beef sandwiches are what put Royal on the map.
Taqueria Jalisco serves up classic Mexican staples, including tortas, tacos, burritos, and meat and seafood entrées, in a cheerful and colorful setting. Stop in for breakfast and enjoy a delicious breakfast burrito, chilaquiles (eggs scrambled with red or green sauce and tortilla chips), and other egg dishes like huevos con chorizo. Popular menu items include birria tacos, carne asada, tamales, enchiladas, and quesadillas, which are often served with rice and beans. Be sure to order some chips and sample some of the restaurant's fabulous salsa. The fresh guacamole is also superb. You can order your food to go and wander over to the waterfront for an outdoor meal and a perfect view of Boston Harbor and the city skyline.
As its name implies, this walk-up corner shop serves Italian slush, classic gelato, and premium soft serve ice cream made on site daily with all-natural ingredients. Customers can select from more than 15 slush flavors, including lemon, passion fruit, blue raspberry, orange cream, and mango. Try a gelati (layers of slush and soft serve) or one of Slush King's specialty sundaes: we recommend the s'mores, the fluffer nutter, and the turtle sundaes. Customers can add sprinkles, walnuts, and cookie dough to their soft serve. Gelato flavors include espresso, hazelnut, cookies and cream, and rum raisin. Slush King began in 1965 as a mobile vendor and didn't open its East Boston brick-and-mortar location until 2020. You can still find the company's original pushcart vendors selling slush and freshly squeezed lemonade at summer festivals throughout New England and on the Boston Common.
Tall Ship
One East Pier Drive
There's no more popular place in East Boston than Tall Ship, the 245-foot vessel that's now been turned into a floating oyster bar. The ship offers three custom-built mahogany bars that offer breathtaking views of the harbor and skyline. The place is packed nightly with a mostly young (21-plus) crowd drawn to Tall Ship's atmospheric setting, bespoke cocktails, and fresh oysters, shellfish, and charcuterie boards. Navy Yard Hospitality Group, which runs the restaurant, has built out the pier to include a 40,000-square-foot outdoor space featuring food trucks, live entertainment, lawn games, and more. Parties of 8 to 15 can reserve in advance a private lounge area on the pier that comes with a designated cocktail server. If you go, plan to wait, especially on weekends, when Tall Ship draws big crowds.
Getting there: Take any MBTA Green Line trolley to Government Center, transfer to a Blue Line outbound train toward Wonderland, and get off at Maverick, Airport, Wood Island, Orient Heights, or Suffolk Downs.

Click on the points in the map above for more information on the places listed in our guide to East Boston.
This story originally ran July 19, 2012; it has been updated to include new locations and current information.
This Series
Also in
April 28, 2022

March 28, 2022

March 17, 2022