Getting to Know Your Neighborhood: Coolidge Corner
A guide to eating, shopping, and just hanging out in one of Brookline's hubs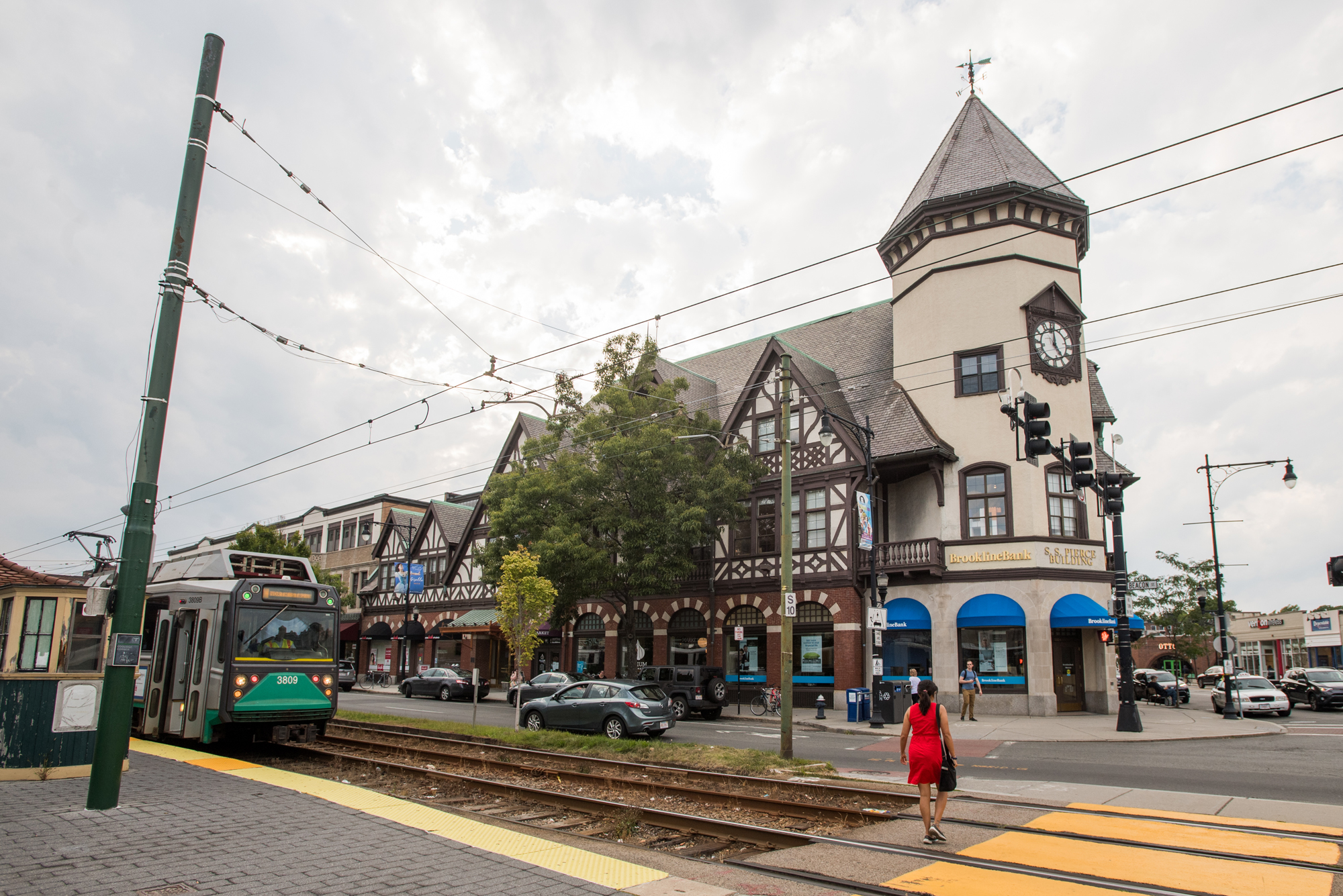 Things-to-do
Getting to Know Your Neighborhood: Coolidge Corner
A guide to eating, shopping, and just hanging out in one of Brookline's hubs
Coolidge Corner, one of Brookline's two major commercial hubs (Brookline Village is the other), has been attracting shoppers and diners for more than 150 years. Its many restaurants, Jewish delis, coffee shops, one-of-a-kind boutiques, and historical sites draw visitors from Boston and beyond.
The bustling neighborhood is an easy walk from campus and a quick trolley ride up Beacon Street. Hop off when you spot the distinctive clock tower on the S.S. Pierce Building, at the corner where Beacon meets Harvard Street. And, no, the area was not named after President Calvin Coolidge, but for 19th-century local businessman David S. Coolidge, whose grocery and general store was on the site of the S.S. Pierce Building. At the time, it was the only commercial business in North Brookline. The advent of the electric streetcar in 1887 and 1888 marked the neighborhood's transition into the shopping district it is today.
During the height of the COVID pandemic, many shops and restaurants closed. Happily, most have now reopened and the neighborhood has returned to its bustling former life.
BU Today has compiled a list of some of the best places to explore when you're in Coolidge Corner.
If you love French pastry—and who doesn't?—you'll want to check out this new patisserie located in the heart of Coolidge Corner. The ever-changing menu includes classic French fare, including croissants, macarons, chocolates, baguettes, homemade quiches, eclairs, and various tartes, as well as coffees and tea. Owner and pastry chef Alexandre Waddell opened the first location in Merrimack, N.H., in 2020.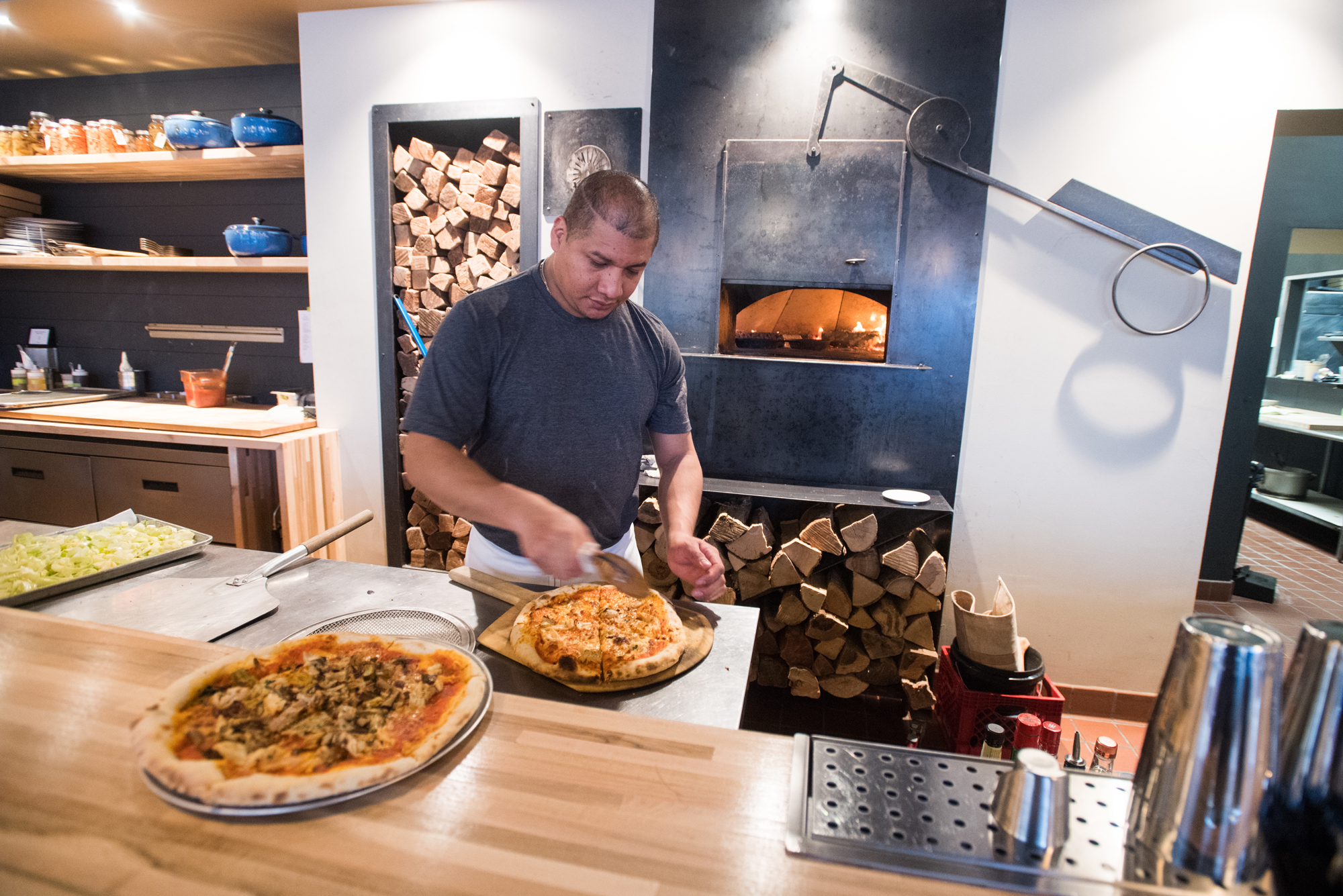 This rustic-chic eatery is run by the creative team behind Steel & Rye in nearby Milton, Mass. Prairie Fire's inventive menu includes several categories: New England seafood, appetizers, pasta, wood-fired pizza and vegetables, mains, and dessert. You'll find a wonderful rotating menu of seasonal dishes, like roasted duck and grilled swordfish, as well as a wonderful craft cocktail menu. Be sure to check out the restaurant's beer garden, too, which serves a limited menu. While the restaurant accepts reservations, the beer garden is first come, first served.
If you stop by Shaking Crab for a meal, be prepared to get messy. You'll want a bib and plenty of napkins in this California crab boil–inspired eatery. The restaurant chain is famous for its signature jumbo boil trays—large trays of seafood with corn and potatoes meant for sharing. Choose between Alaskan king crab legs, crawfish, lobsters, and more. The delicious food and fun and relaxed vibe will have seafood fanatics coming back time after time.
Look out for Michael's small storefront, otherwise you'll miss the delicious food at this New York–style deli—which, in true New York fashion, cooks all its meats on-site daily. A hot spot for sandwiches, Michael's has top ratings from the Phantom Gourmet and Yelp. The corned beef Rachel (with Swiss cheese, Russian dressing, and coleslaw on toasted pumpernickel) is a favorite. With a menu full of pastrami, roast beef, and salami sandwiches, it's a prime lunch spot for deli lovers. It also has "Dirty" sandwiches, which are topped with Dirty brand potato chips and have names like the "Disheveled" Brisket and the "Slovenly" Italian. Don't forget about the most important meal of the day—it also offers breakfast sandwiches and bagels with lox.
The Japanese American retailer Topdrawer offers a selection of high-quality items, including books and paper, bento boxes, pens and pencils, stylish eyewear, travel bags, and slippers. Its products follow minimalist design principles, emphasize environmentally ethical production, and cater to creative professionals. Even if you aren't in the market for a premium notebook, the sleek aesthetic of the store warrants some serious window-shopping.
An escape to Paris is right around the corner—Coolidge Corner, that is. This no-frills café serves up crepes that will transport you to a bench along the Seine. It offers a selection of savory and sweet crepes, as well as coffee, tea, hot chocolate, and smoothies. One of the sweet crepes, the "Ruth Bader Cinnsburg," is a cinnamon bun–inspired crepe with house-made vanilla glaze. The menu also features a selection of Nutella-based drinks, with the Nutella frozen hot chocolate being one of the most popular. Made with Nutella, skim milk, and frozen yogurt, it warrants the menu's accompanying warning: "Paris Creperie is not liable for any addictions created by this smoothie."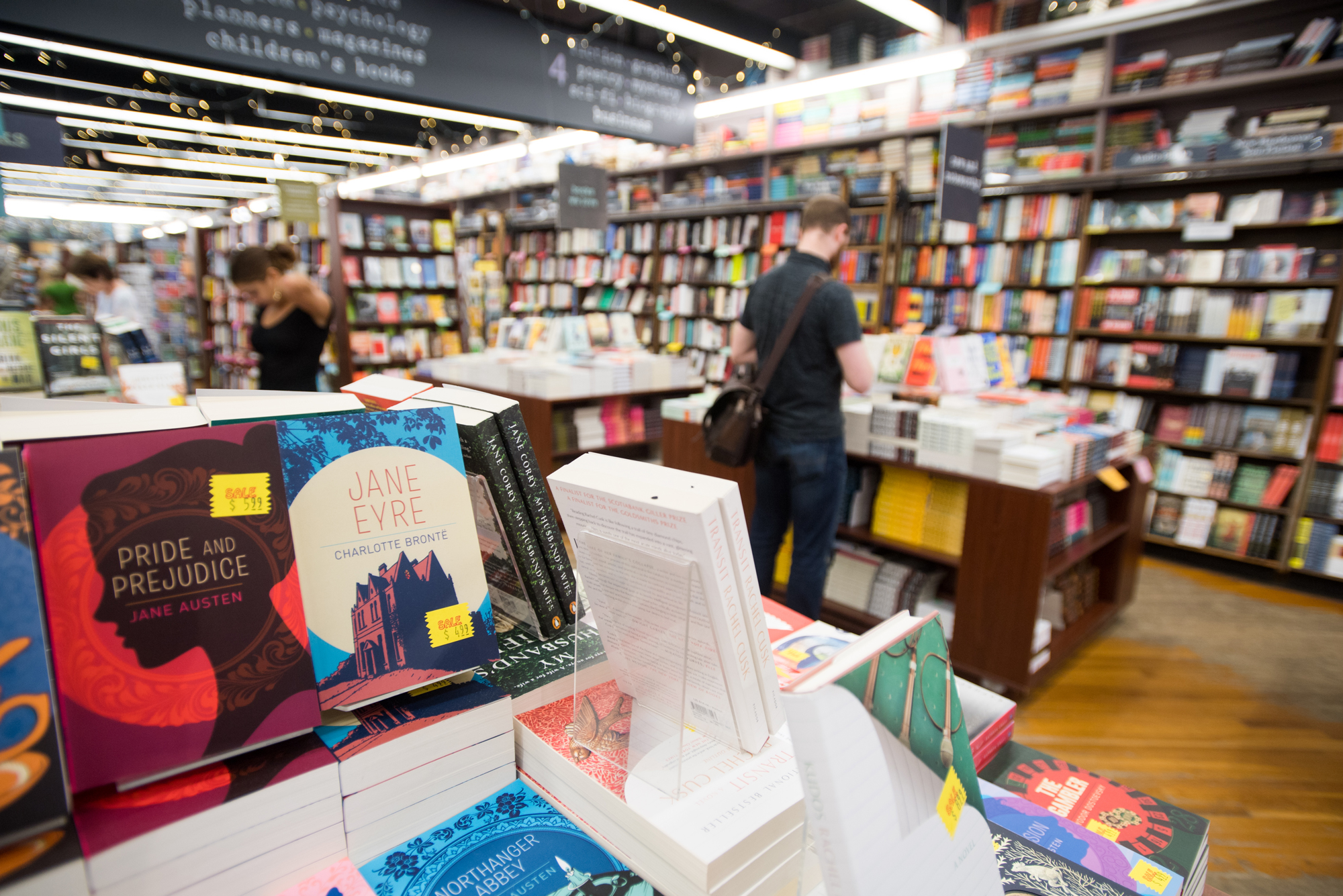 One of the Boston area's best independent bookstores, Brookline Booksmith has been a Coolidge Corner institution since it opened in 1961. The well-stocked shelves, featuring the latest bestsellers alongside graphic novels and literary classics, make it a reader's delight. The staff is incredibly knowledgeable and is happy to provide recommendations for shoppers looking for a great read or the perfect gift. The lower level, the Used Book Cellar, has a generous selection of used, reasonably priced books. The store recently underwent a 4,000-square-foot expansion and now features a café and a much larger selection of gifts, including soaps, puzzles, mugs, coasters, and dish towels. The store frequently hosts readings and book signings featuring popular authors, as well as monthly book clubs and weekly story-time events for children and YA readers.
This Asian comfort kitchen serves fan favorites like phở (Vietnamese rice noodle soup), ramen, and cocktails. Mecha, meaning "mom and pop" in Vietnamese, is a small chain operating in the Northeast and run by owners Tony Pham and Richard Reyes. It's an homage to their Asian American culture and is committed to supporting underserved communities. Each month, the restaurant donates $0.50 of every bowl of ramen sold to local nonprofits.  The menu is delicious. Try the "Pho Sizzle" with grilled flank steak, shoyu paitan ramen with black garlic, nori, scallion, egg, and menma (fermented bamboo shoots). The cocktail menu (21-plus) includes Asian-inspired beverages and sakes, as well as a small selection of wine and beer. Try the "Temple of the Sun" bubble tea made with African nectar tea, pineapple, passion fruit, tequila, and mezcal blend. The restaurant does not take reservations, but tables turn over fairly quickly.
Located across from the Coolidge Corner Theatre, Otto has a reputation for pizzas that combine unorthodox flavors and ingredients, among them spicy pulled pork and scallion; sriracha chicken and avocado; buffalo cauliflower, scallion, and blue cheese; and butternut squash, ricotta, and cranberries. The results are surprisingly delicious pizzas. The Portland, Maine–based chain is best known for its mashed potato, bacon, and scallion pizza, named one of Food Network's 50 best pizzas in the country. There's also a selection of craft beers and wine for dine-in customers. A few sidewalk tables are available for dining outdoors.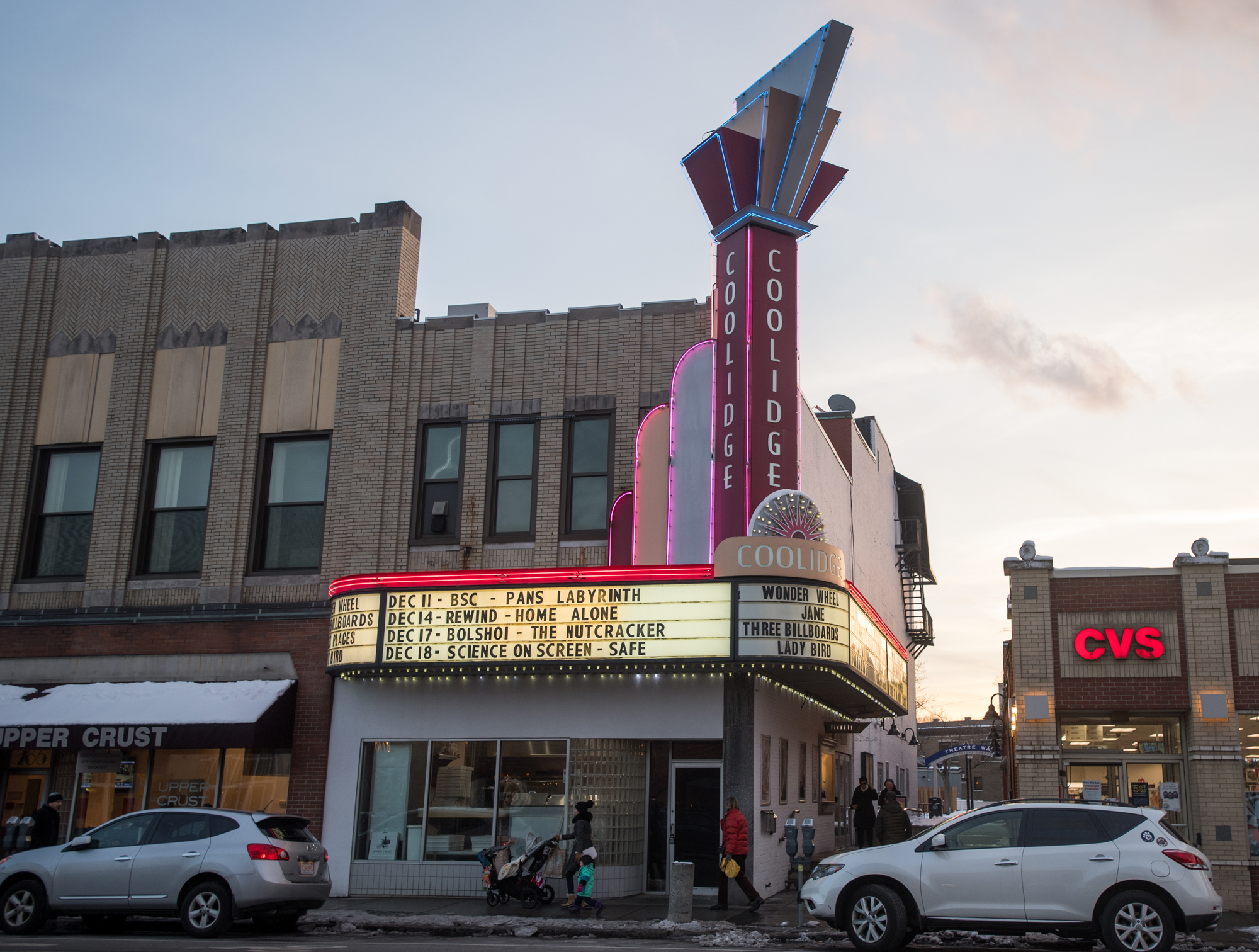 Brookline's popular art deco movie house has been entertaining film lovers since 1933 with first-run and independent productions. Big shots like Meryl Streep, Martin Scorsese, and the late Robert Altman have appeared on panels. You can feel like a star, too, when you sink into one of the plush chairs in the cozy 43-seat screening room. The main hall seats 432, and a smaller auditorium seats 174. There's also a 27-seat screening room called the Gold Screen. And the theater is undergoing a major expansion that, when completed, will add two additional screens and more than 200 seats, a bigger lobby, and a community space with a roof deck and catering kitchen. Coolidge Corner Theatre hosts regular readings and special screenings, including Big Screen Classics and Science on Screen, which features films from various genres tied to science and has notable experts in the subjects introduce each movie. Learn more about this and other programs here.
The art of craftsmanship is on full display in this eclectic store, with a selection that runs the gamut: wool blankets, chef's knives, artisan candles, sustainable cleaning supplies, kitchen necessities, writing utensils and stationery, greeting cards, sachets, and various types of maple syrup. Inside feels like a high-end general store, though many of the products are reasonably priced. It began as an online retailer in 2013, and opened its first brick-and-mortar store in 2016. It now has two Massachusetts locations, the other located in Dedham.
This boutique Japanese supermarket sells a wide range of eats, from organic fruit, fish, and meat to delicacies like sweet potato cake and imported bottled teas. In addition to a large selection of foods imported from Japan, they recently launched their own brand, Maruichi Select, focused on local, sustainable products. You can also find Japanese cosmetics and beautiful wooden chopsticks. Follow the Facebook page for updates and images of tasty-looking treats.
Tired of going to record stores and digging through crates only to find nothing? Or worse, a scratched version of that album you've been looking for everywhere? Village Vinyl should be your next destination. All the records are in good to mint condition and labeled so you know what you're getting. And with an inventory of 10,000 albums, chances are you'll find something to take home. The store prides itself on stocking the music that music lovers want to hear, from Bob Dylan and Roy Orbison to Gravediggaz and David Bowie. There's reasonably priced stereo equipment for sale, too. Hard to visit the store in person? Check out the online store.
One of the few bars and the only sports pub in the neighborhood, the Clubhouse can get crowded, especially when a game is on. It's known for its heaping plates of nachos—aptly named "Mile High Nachos"—sandwiches, salads, burgers, and BBQ ribs, as well as the 30-plus beers on tap and numerous LCD hi-def TVs. There's also a weekend brunch, daily breakfast, and trivia on Tuesdays.
Parlour
308 Harvard St.
This restaurant, known for its small-plate menu, specializes in locally sourced, no-waste food, with most dishes seasonal and vegetable-based. The menu is small, but features inventive dishes like Spanish octopus, poutine, and pork belly bites. Entrées might include spinach and feta ravioli, pan-seared salmon, grilled flat iron steak, or mac 'n' cheese. The inviting atmosphere is perfect for a casual night out with friends or a special celebratory dinner with family.
Love shopping thrift? Cleaning out your closet and want to sell some gently used clothes and accessories? Buffalo Exchange is the place for you. The privately owned, family-operated  resale boutique started in 1974 in a 450-square-foot space in Tucson, Ariz. It now has nearly 50 US stores, and its success is due to its upscale thrift store niche. If you're interested in selling items, you need to make an appointment with a store buyer first (don't just show up with your shopping bags). The store has a great selection of new and recycled fashions for men and women. It's a great way to be both sustainable and fashionable.
This combination restaurant-groceria offers Italian cuisine you can eat on-site or take home, as well as ingredients to make your own Italian dishes. You'll find antipasti, paninis, cannoli—all reasonably priced. Hams and spicy salamis fill the deli case, and Italian pastas and sauces, olive oil, biscuits, and bottles of San Pellegrino line the shelves. Try the arugula and pear salad with walnuts, Parmigiano cheese, and lemon olive oil, or the tacchino panini (turkey and crispy pancetta with fresh tomato, dressed mixed greens, and pesto-mayo). The award-winning Fedora sauce (made with tomatoes, rosemary, garlic, and cream) is outstanding. A daily list of special homemade dishes is available for eating in or takeout. It offers pastas in a mix-and-match format—you can choose the type of pasta and the sauce. Bottega Fiorentina is now offering breakfast starting at 7 am.
Hellboy, Iron Man, and the Dark Knight all began life on the page, not on-screen. You can find their comic books, and much more, here. The Coolidge Corner location of the five-store chain carries its largest inventory of comics featuring your favorite characters—from Archie to Spider-Man and the Avengers to Spider-Gwen—and a big selection of graphic novels. It also sells trading card games like Pokémon and Magic: The Gathering, as well as toys, including a selection imported from Japan, and figurines from popular anime and manga. The staff is friendly and knowledgeable. Keep an eye out for special sales, particularly near the holidays. Note: closed Mondays.
Located inside the Arcade Building, this eatery specializes in Sapporo-style ramen, which, unlike most ramen, is prepared in a wok. Typically, ramen is made by mixing tare (sauce) and the base broth in a bowl, then adding noodles and other ingredients. But in Sapporo ramen soup, the tare is caramelized with vegetables before the broth is added, giving the dish a deep flavor. Diners can select from nine types of ramen, including tan tan, with a spicy sesame broth; shoyu, with a soy sauce broth; and miso, with a broth made from the fermented soybean paste essential to Japanese cuisine. The soy sauce and miso are imported from Japan.
Rami's
324 Harvard St.
Rami's has been the go-to for Middle Eastern and Israeli food in Coolidge Corner for more than 30 years—and its reasonable prices make this a real gem. The kosher menu includes house-made hummus, bourekas, tangy baba ganoush, crispy falafel, and pillowy pita bread. Desserts like baklava (crispy phyllo dough layered with cinnamon and nuts, topped with a honey syrup) and imported fruit nectars are amazing accompaniments to a meal. In observance of the Jewish Sabbath, the restaurant closes Fridays at 2 pm and doesn't reopen until Sunday at 10 am.
This sleek kosher juice and salad bar opened in 2015 and is owned by Haim Cohen, whose father owns Rami's, next door. Designed with local artists in mind, Pure Cold Press dedicates significant space as a gallery. The small eatery is vegetarian, with vegan and gluten-free items, as well. Select from almost a dozen fresh juices and smoothies, with ingredients such as kale, beet, celery, dandelion, apple, ginger, watermelon, pineapple, and cucumber. Salads here aren't your run-of-the-mill lettuce and tomato combination: you'll find more fascinating fare like the Samurai Salad with romaine lettuce, tempeh, scallions, peppers, cabbage, crispy noodles, and a carrot ginger dressing. There's a selection of breakfast fare, including omelets, pancakes, and oatmeal, served until 2 pm. It also closes early on Fridays, at 2:30 pm, and reopens Sundays at 8 am.
Your search for the perfect Reuben may end at Zaftigs ("pleasingly plump" in Yiddish). Lines out the door of this Brookline institution are common, but it's worth the wait. The friendly staff keeps things moving and the water glasses filled. Try one of their loaded latkes or the grilled cheese made with thick slices of challah that comes with bacon. If you're in the mood for breakfast, the banana-stuffed French toast with date butter and berries has been known to rock worlds. Breakfast is served all day. Suggestion: in warm weather, or if lines are particularly long, order your meal to go and plop down with the other Zaftigs exiles in neighboring Florida Ruffin Ridley School playground. The restaurant also has sidewalk tables during warm weather months.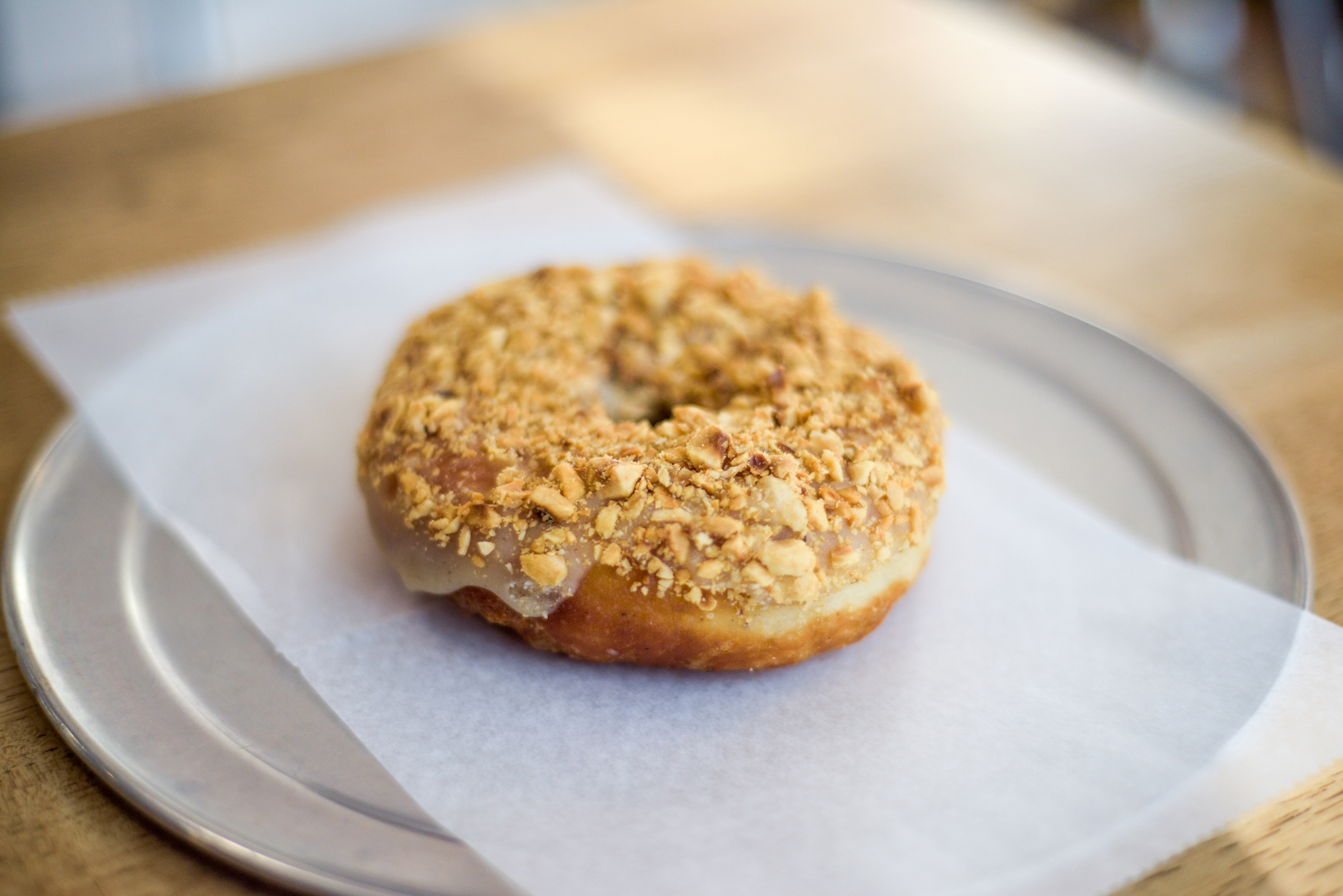 Fresh, handmade donuts are served up every day at Union Square Donuts (you'll also find them in Somerville, at the Boston Public Market near Faneuil Hall, and at Time Out Market in the Fenway). Prices range from $3.50 to $4.75, and current flavors include Vietnamese Coffee, Apple Cider, Sea Salt Whiskey Caramel, and Maple Bacon. You'll also find vegan options, donut holes, and filled donuts. You can wash it all down with a cold brew or a hot chocolate. Online ordering is available.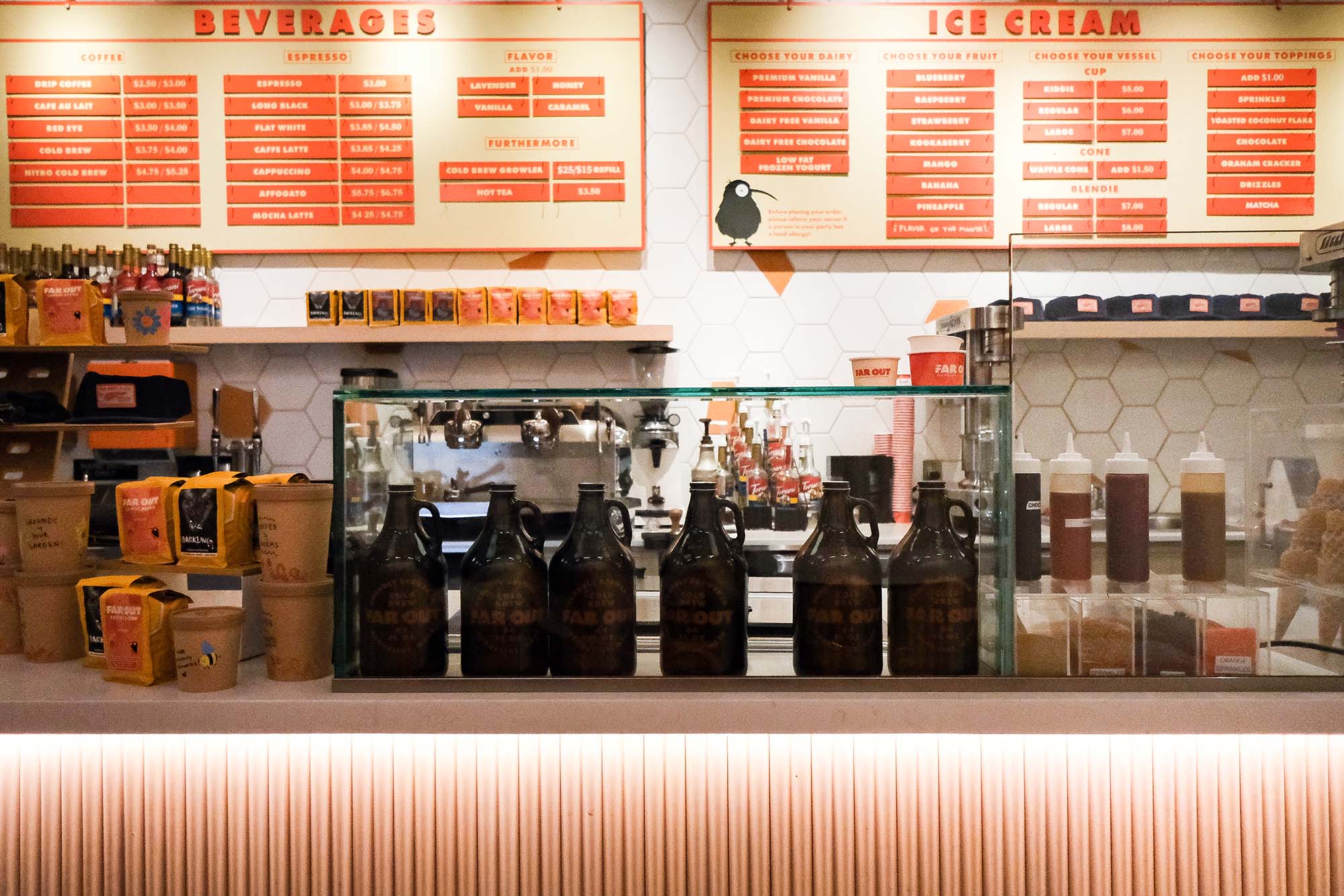 This New Zealand–style ice cream shop began on a beach in Hull, Mass., before opening a flagship store in Brookline. Far Out combines premium, locally sourced, hard-packed ice cream and real frozen fruit to create a blended, creamy, and airy treat. Customers begin by choosing their dairy option: vanilla or chocolate ice cream (and their nondairy, vegan counterparts) or low-fat vanilla frozen yogurt. Then, they select their fruit, such as raspberry, strawberry, banana, blueberry, mango, pineapple, and kookaberry. Toppings include sprinkles, coconut flakes, chocolate flakes, or graham crackers. Seasonal flavors rotate monthly based on availability. There are also numerous drink options, including cafe au lait, nitro cold brew, hot chocolate, and mocha latte. The shop also offers certified kosher and vegan options.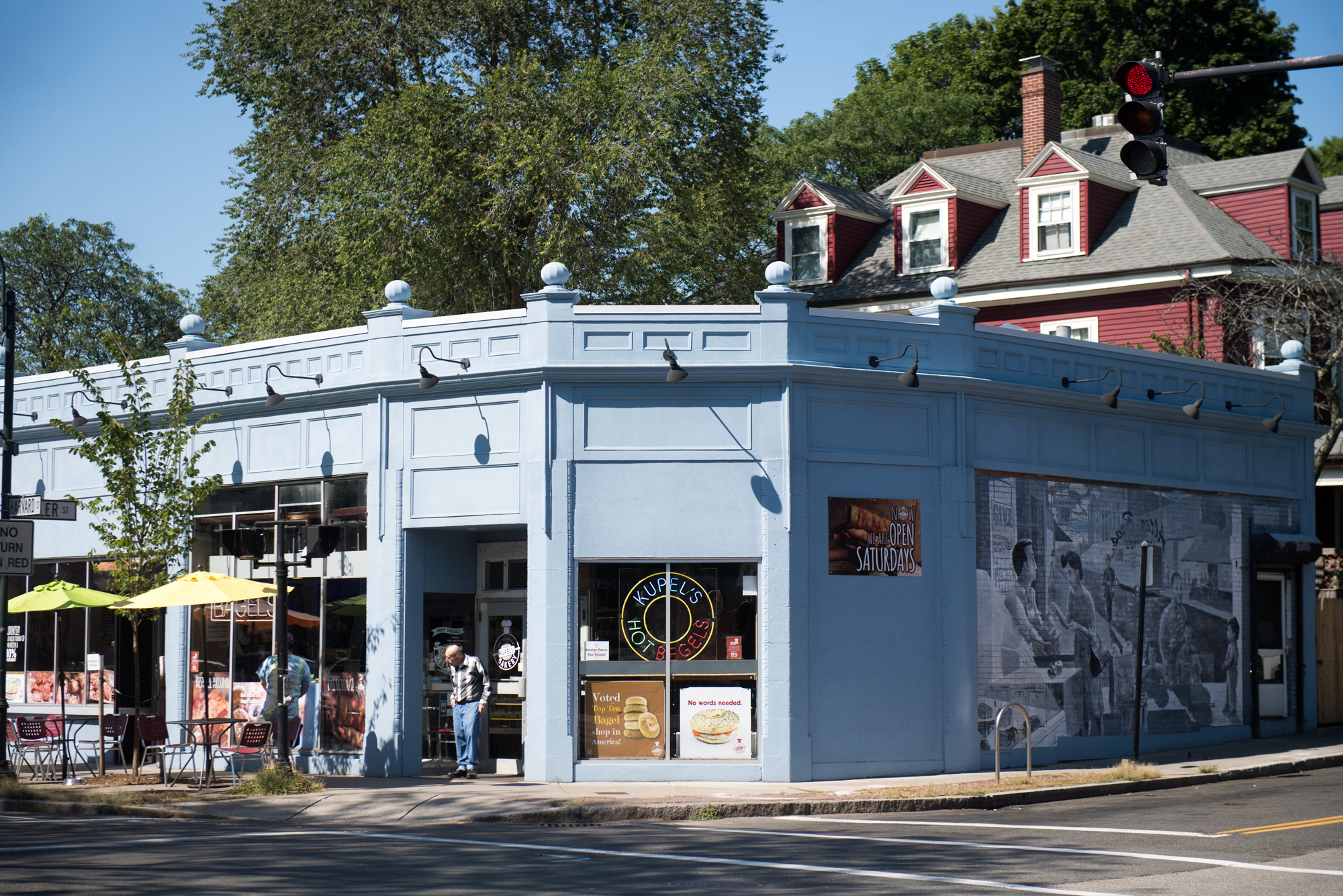 While an intense debate has swirled for years over the pronunciation of the bakery's name (long or short "u" in Kupel's?), many swear the kosher shop offers the most flavorful bagels in Boston. Others rave about the egg salad, pastries, and homemade cream cheese, with flavors ranging from plain and lox to Miami lox (with scallions) and strawberry. Expect long lines during prime chow times. Open daily, it has nearly every type of bagel imaginable, from pumpernickel to plain (they don't carry asiago because it isn't kosher). PS: It's pronounced with a short "u," as in "couples." If you don't believe us, just check out their logo.
The Butcherie is famous for having one of the largest selections of kosher groceries in the Boston area, with a wide variety of deli meats, wines and snack foods imported from Israel, and traditional Jewish delicacies like noodle kugel, beef brisket, and knishes. You'll also find kosher wines, a bakery serving up challah, bourekas, and cookies, beautiful cuts of beef and poultry, and prepared savory foods for takeout. Closed Saturdays.
This fast and casual restaurant serves authentic Mexican cuisine with a contemporary twist. You'll find fish tacos and specialty burritos like surf & turf (with grilled steak, grilled shrimp, Spanish rice, black beans, jack cheese, pico de gallo, and romaine lettuce, drizzled with smoky chipotle crema). You can create your own burritos, quesadillas, bowls, and salads. And there's an excellent vegetarian selection, including a dessert quesadilla—a grilled tortilla filled with Nutella and sweet fried plantains.
Coolidge Yoga offers a wide selection of classes, including core-centric classes, vinyasa flow, yoga classes for new and expectant mothers, family yoga, and even yoga for athletes. Prices vary depending on the plan you sign up for. The studio also offers new members a discounted first month of unlimited yoga for $65 that includes unlimited in-person studio, Yoga in the Park events, and livestream classes. Drop-in classes are $25. Virtual classes are also offered, as well as outdoor yoga sessions during the summer months.
Started by two Vermont friends who now live in Boston, this women's boutique carries a curated array of American and European clothing, jewelry, and accessories lines of all price ranges. Whether you're looking for something to wear to a ball game or a cocktail party, chances are you'll find it here. Designers include Vilagallo, Amanda Uprichard, Citizens of Humanity, and more.
Despite the name, owners Darren Tow and David Ng graduated from playground games to adult beverages—and plenty of them. Hops N Scotch has a wide variety of craft beers, more than 100 different kinds of Scotch, bourbon, and whiskey, and 80 varieties of beer. On the eclectic menu are fish tacos, lemongrass chicken bao, and even samosa croquettes. On weekends, there's a popular weekend brunch with dishes such as chicken and waffles (which can also come in a sweet chili sauce), kimchi crab cake benedict, and caramel cheesecake French toast.
This cozy restaurant serving up Chinese dumplings, buns, and noodles opened for takeout in May 2020, during the height of the pandemic. It's aptly named: the owner is Nadia Liu Spellman, whose parents owned and ran Sally Ling's—one of the nation's first Chinese fine dining restaurants. It was a mainstay of Boston's dining scene for nearly 20 years (1984 to 2003). Spellman competed in the Food Network show Guy's Grocery Games in 2020, and now makes her favorite childhood food—dumplings—available to all. Also on the menu: bao buns, Taiwanese buns, wraps, salads, noodles and soups, rice bowls, snacks (like luxe crab rangoons and fried donuts with condensed milk), and beverages, including bubble tea. Dumplings come in orders of six and cost between $7.50 and $9.50, with rice bowls and noodle dishes costing between $11 and $19. Dumpling Daughter will even ship frozen dumplings to your door.
Open for lunch and dinner, this no-frills eatery serves up classic hamburgers and cheeseburgers, as well as veggie burgers, subs, salads, hot dogs, and sandwiches, all reasonably priced. The "LEE Burger"—two six-ounce beef patties, bacon, fried egg, grilled onions, provolone cheese, jalapeño peppers, spicy aioli, and waffle fries—is $14.60, but most of the other burgers on the menu run between $8 and $13. The french fries, fruit smoothies, and milkshakes are excellent, as are the numerous side dishes, including mozzarella sticks, onion rings, chicken wings, and chicken fingers. If you want to get out of your comfort zone, try the avocado milkshake.
This global chain, with more than 500 locations, promises a unique dining experience. The dishes are prepared with a simmering pot of soup stock at your table, right in front of you. Diners decide which ingredients to add, selecting from sliced meats and vegetables. The ingredients are placed on bamboo skewers in what they call a "novel way to eat meat and vegetables with various soup bases." Reservations are recommended.
This sandwich shop, tucked away off Beacon Street, has been serving up a wide variety of subs, wraps, salads, and hot dogs for nearly two decades. Try one of their house favorites like the "Brookline Club" (a triple-decker sandwich with turkey, roast beef, corned beef, Swiss cheese, coleslaw, and Russian dressing on light rye) or the "Dog Deal" (two hot dogs with a soda for less than $8). The cozy shop doesn't have extensive seating, so expect to order and eat on the way out the door like a true Seven regular.
From early June through mid-November, the Brookline Farmers' Market is open every Thursday from 1:30 to 6:30 pm. A neighborhood mainstay for more than 40 years, it has nearly three dozen vendors selling a huge selection of local produce (much of it organic), eggs, ice cream, baked goods, fresh meats, fish, and more. For news and updates on the market, follow it on Instagram or Facebook.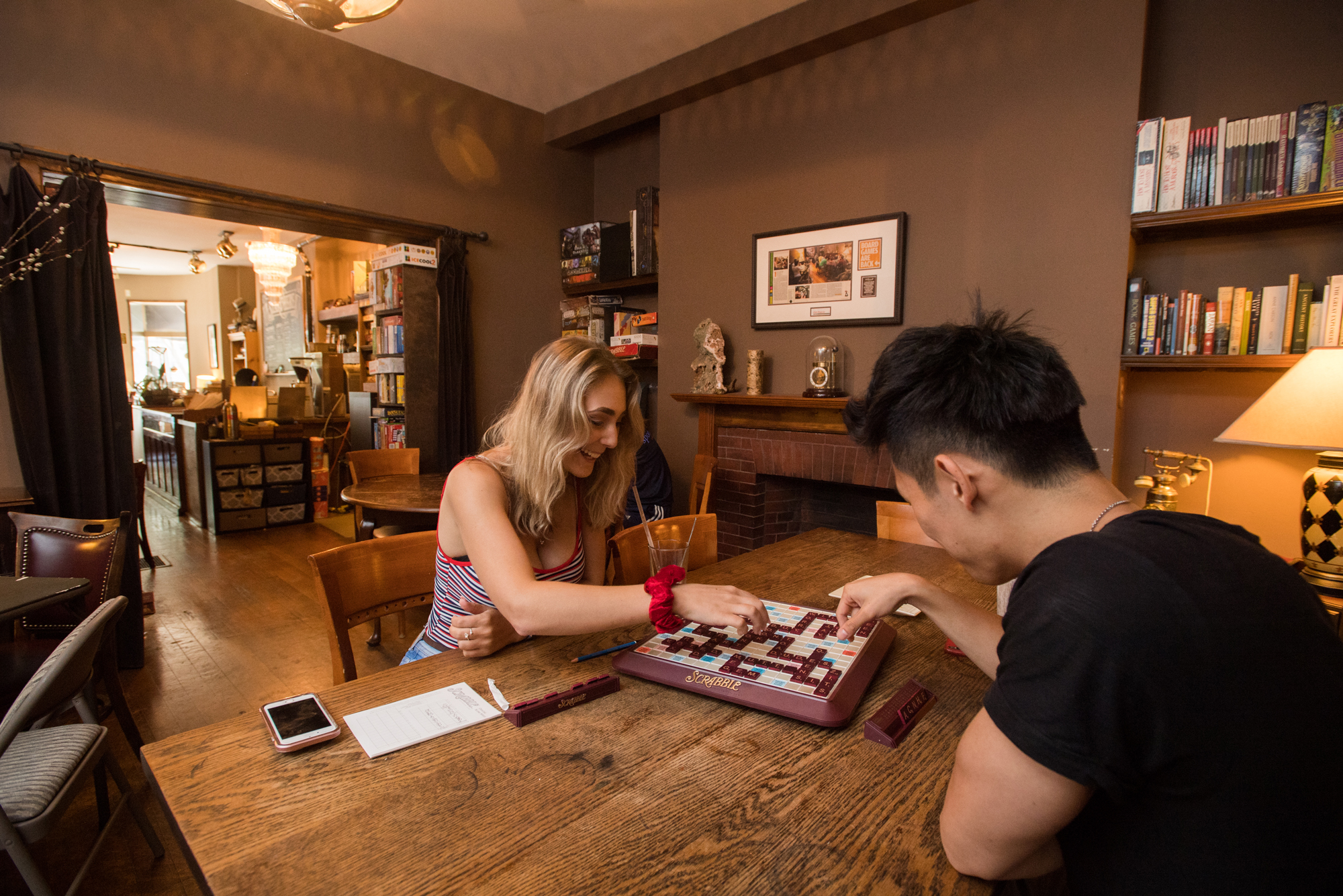 The first board game café to hit New England, Knight Moves has over 600 games, from strategy board games like Settlers of Catan to party games like Cards Against Humanity. The knowledgeable staff will even teach you how to play new games. The café's casual, relaxed setting is a comfortable gathering place for groups. Admission is $10 per person on weekdays, $15 per person on weekends and holidays, and $5 per person for outside food or beverage. And for you night owls, the café is open Fridays and Saturdays until 2 am.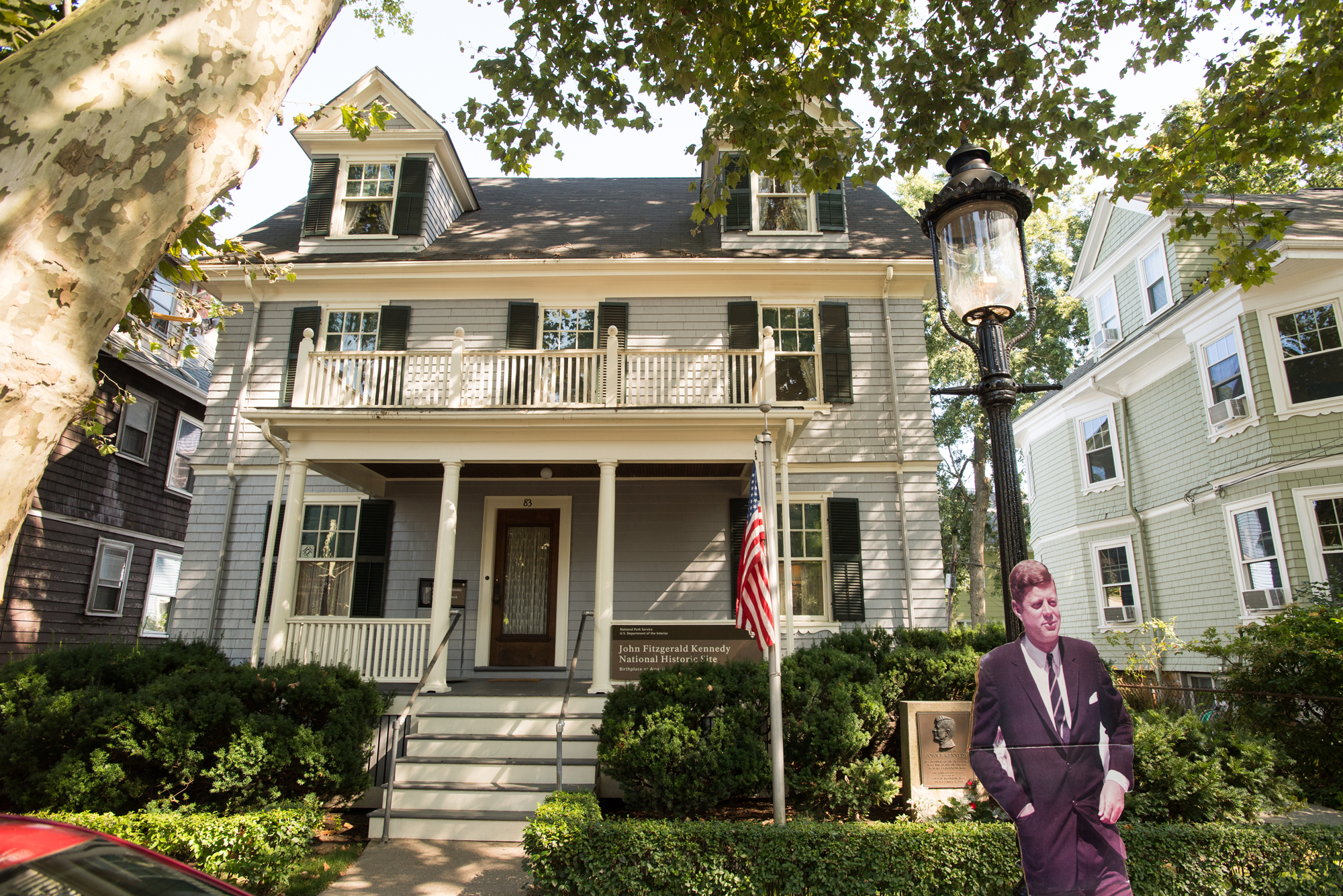 John F. Kennedy was born on tree-lined Beals Street and lived in the three-story home for six years. His mother, Rose Kennedy, later restored the interior to the best of her recollection, donating almost 200 family objects, including the future US president's bassinet and porringer. The site is operated by the National Park Service, and is usually open from mid-May through the end of October, from 9:30 am to 5 pm. (The site is closed this year, because of renovations to the Visitor Center, but is expected to reopen later this fall.) Free tours are offered on the hour and the half hour starting at 10 am. The Park Service also offers more extensive tours of the surrounding neighborhood.
This Brookline Public Library branch is ideal for students looking for a quiet, off-campus spot to study during the day. It offers an array of programs, including story time for toddlers, Dungeons & Dragons games for kids and adults, book groups for readers of all ages, weekly craft programs, and English conversation groups for those learning English.
Getting there: By foot, head down St. Mary's Street or St. Paul's Street from Commonwealth Avenue to Beacon Street, and turn right. The walk takes 15 to 25 minutes. By MBTA, walk to the Saint Mary's Street trolley stop on Beacon Street and take the outbound Green Line C trolley four stops to Coolidge Corner.
Click on the points in the map above for more information on the places listed in our guide to the Coolidge Corner area.
This Series
Also in
April 27, 2023

April 20, 2023

April 5, 2023