Getting to Know Your Neighborhood: Allston
A guide to eating, shopping, and hanging just beyond BU
Things-to-do
Getting to Know Your Neighborhood: Allston
A guide to eating, shopping, and hanging out just beyond BU
Everyone in and around Boston University has their own unique connection to Allston: a Saturday morning brunch at Lulu's, that first apartment on Ashford Street, or that table or chair you rescued from the sidewalk during the September move-in/move-out event known as Allston Christmas, when departing tenants leave household items on the sidewalk for new residents to scavenge. It's safe to say, however, that few recollections involve high-end clothing, artisanal cocktails, and spa treatments. But the new 02134—sometimes called "Rat City"—now mixes local mainstays with some of Boston's freshest shopping and dining venues.
"I've seen a real diversification of the kind of businesses here," says Katie Reed (GRS'06), a BU historic planning and preservation program graduate and former executive director of nonprofit neighborhood improvement association Allston Village Main Streets.
Allston takes its name from the 18th-century American painter-poet Washington Allston, who lived in Cambridge and famously painted the area in the landscape Fields West of Boston. The neighborhood developed around a major railroad yard and nearby stockyards. Stretching from its southernmost point of the Allston Street T stop to its northernmost point of Soldiers Field Stadium, the area serves as the western terminus for the city of Boston along with neighboring Brighton.
The neighborhood's busiest nexus is the triangular intersection known as Packard's Corner, where Harvard Street, Brighton Avenue, and Commonwealth Avenue meet. The area caters to a large student population that calls Allston home. Many immigrants hailing from places like Eastern Europe, South Asia, and South America also make up Allston's diverse fabric.
The historic neighborhood is currently undergoing a period of unprecedented revitalization. Numerous building projects promise to expand and develop the area with modern projects that are certain to add to the allure of Allston.
Allston Yards is being developed on 10.9 acres of land on Everett Street as a mixed-use property consisting of residential, commercial, and public green spaces. The neighborhood is also home to Roadrunner, a brand new 3,500-capacity music venue, the largest general admission indoor music venue in New England.
Harvard University owns over 350 acres in North Allston, including Harvard Business School. And several buildings were razed to make room for Harvard's new 497,000-square-foot science and engineering complex built in 2020. Harvard's American Repertory Theatre (A.R.T.) is also expected to take up residence near the university's stadium.
There are lots of interesting places to check out in this constantly evolving neighborhood.
A collaboration between Allston's Vivant Vintage and Cambridge's Cheapo Records, Vintage Underground just opened in BU's West Campus. Located in the basement, the store is stocked with records, vintage clothing, magazines, pins, patches, costume jewelry, posters, and more. The shop is open daily.
Thai Dish
Babcock Tower, 270 Babcock St.
Thai Dish first opened in 1994 on Newbury Street, and has since made its way to Babcock Street. The restaurant changed its menu after COVID, with a greater emphasis on authentic Thai ingredients while also incorporating food from local farmers. Some featured menu items include Pad Thai (with bean sprout, scallions, and egg, on a bed of sweet and savory noodles) and the Grapow Bowl (with stir-fry minced garlic, and chili and oyster sauce, over rice). Simply put, Thai Dish is "Bangkok street food with a Boston heart."
LimeRed serves up creative craft bubble tea drinks, using freshly brewed tea sweetened with brown sugar and topped with your choice of tapioca pearls, aloe, nata de coco, and more. There are nearly a dozen flavors to choose from, but the classic milk tea is a guaranteed delight. You can also head to their espresso bar for a latte or macchiato if bubble tea isn't your thing. Whatever drink you choose, accompany it with one of the dessert bar's tasty treats. A macaron or matcha cookie pairs perfectly with any drink. There's lots of seating, making it the ideal spot to do some work or hang out with friends.
This comfort-vegan restaurant is sure to become a favorite of even die-hard meat lovers. Rhythm 'N Wraps is one of the few Black-owned businesses operating in Allston and offers a global menu with different cultural influences. Try to conquer their Big Shug Burger & Fries, containing Impossible meat topped with grilled mac 'n' cheese, avocado, lettuce, tomato, pickle, red onion, and chipotle mayo on a pretzel bun. Looking for a lighter bite? Their Jamaican patties are just the right amount of flaky and savory. The house-made Rhythm Punch (made with sorrel, hibiscus, ginger, lime, and agave) or mint lemonade is a sweet way to wash it all down. One visit and you'll discover how impossibly good the food is.
Super 88 Hong Kong Supermarket & Food Connection
1095 Commonwealth Ave.
Half food court, half supermarket, this sprawling complex is a mecca for anyone seeking authentic East Asian, South Asian, and Southeast Asian cuisine. The Food Connection food court offers a dazzling array of cheap eats at 10 stalls, including the recently opened Poké Boys, which serves up a variety of fresh and healthy bowls of fish, chicken, veggies, and other sides. Other stalls sell Korean, Indian, Japanese, Thai, and Chinese cuisine. And you can get a quick bubble tea to go at Kung Fu Tea. The Hong Kong Supermarket has an array of inexpensive spices and teas, exotic seafood, fruits, noodles, condiments, frozen buns and dumplings, and instant noodles—great for those nights when you don't feel like cooking.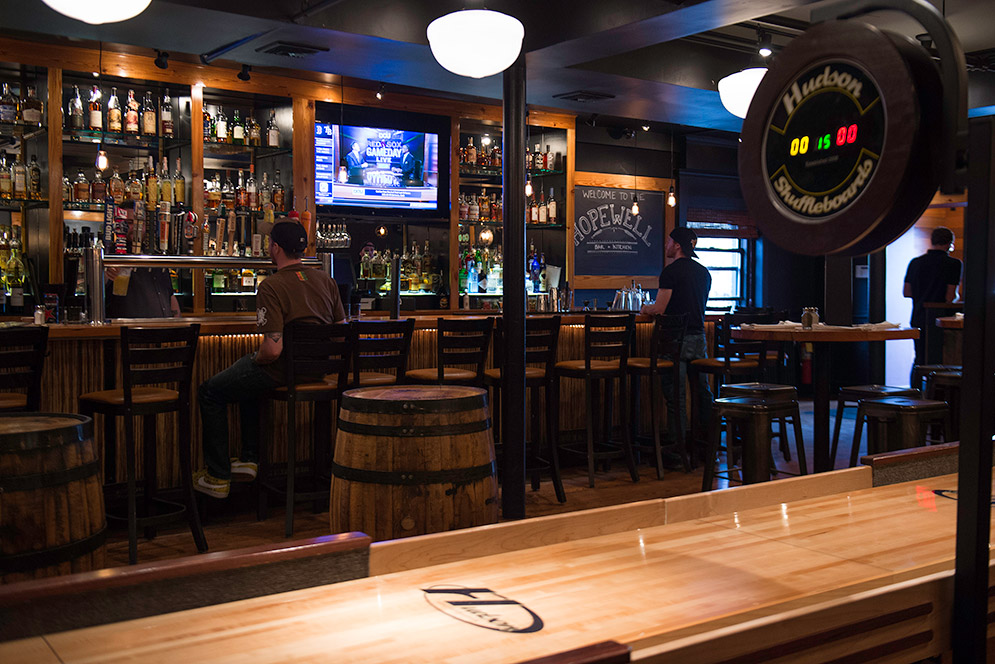 Seoul Soulongtang bills its traditional seolleongtang—a Korean broth soup enriched with ox bones, brisket, marrow, thin noodles, and spices—as "beef soup for the soul." It's flavorful and hearty, making it a great liquid lunch or dinner on a cold day. The menu has other Korean specialties, like bulgogi (thinly sliced rib eye steak in a soy sauce–based marinade) and japchae, stir-fried glass noodles with beef.
The Avenue
1249 Commonwealth Ave.
The Avenue is the spot for burgers and beer. Try their iconic Avenue Burger with lettuce, tomato, and secret sauce in a house butter griddled sesame seed bun. If you're feeling more adventurous, go for the Bird's Nest burger that comes with a fried egg, American cheese, and onion straws. If you're not in the mood for a burger, the menu also includes an array of wings and tacos to choose from. Pair it with one of the restaurant's signature cocktails like the Allston Mollassacre—their take on the classic espresso martini—or the Bubbly Marg, made with Patrón tequila, fresh lime juice, and simple syrup, topped with Prosecco.
Opened in Allston in 2016, this restaurant follows three principles: serve up terrific drinks and food, take pride in your work, and remember your roots. Try dishes like the breakfast sandwich for brunch, one of four grilled pizzas for lunch, or the salmon grain bowl for dinner. The extensive cocktail menu will be changing dramatically this fall with modern takes on traditional drinks. Hopewell also has a big beer and whiskey selection. The bar offers shuffleboard, pool, pinball, and old-fashioned arcade games, too. Delivery and takeout are available.
You don't have to travel as far as the North End to find top-quality Italian cuisine. Carlo's Cucina Italiana has classic dishes at great prices. Their chicken parm is unforgettable, coated with the perfect amount of homemade sauce and warm cheese. The simple decor and cozy atmosphere only add to the ambience. It's no wonder the Boston Globe named Carlo's as one of Boston's 10 most underrated restaurants. The eatery has been a staple in the neighborhood for over 40 years. They also offer takeout options for most dishes. When you don't feel like hiking to Hanover Street, Carlo's Cucina Italiana is the place to go.
Tavern in the Square first opened in 2004 in Cambridge's Central Square as a neighborhood sports bar. The chain now has 12 locations, with more on the way. The Allston location underwent a complete overhaul in summer 2017, with a new interior featuring three full-service bars, bigger TV screens, a new club room and lounge, and an enhanced audiovisual system. There's also a revamped menu with an emphasis on shareable plates and innovative cocktails. The new and improved digs offer brunch with live DJs every Sunday from 10 am to 2 pm. The menu includes small bites like fried pickle chips and guacamole, table shares like the smoked wings or risotto fritters, and burgers, sandwiches, and a range of delicious entrées, including blackened fish tacos. On the drink menu, there are now "fish bowls" designed to be split among two or more people (try the Party Girl Fishbowl, with New Amsterdam red berry vodka, strawberry rum, raspberry liquor, elderflower, lemon, soda water, and fresh berries). Check the restaurant's dress code (make sure to wear belt loops) and hours online before heading over.
This sushi spot isn't the most spacious of restaurants, but what it lacks in size it makes up for in friendly service, reasonable prices, and incredibly fresh, tasty sushi. Try some of the special maki, like the spicy crispy tuna maki with flying fish roe, tempura flakes, cucumber, and spicy mayo, or the spicy crispy salmon with cucumber, cream cheese, spicy mayo, and tempura flakes. The menu includes hand rolls, sashimi, and entrées from both the sushi bar and kitchen, including chicken or beef teriyaki or broiled eel.
Coreanos
172 Brighton Ave.
A Korean restaurant with Mexican fusion options, Coreanos offers quite a range, from Korean fried chicken and kimchi quesadillas to tacos and tteokbokki (soft rice cakes, vegetables, and fish cakes cooked in a sweet red chili sauce), and a drink menu that includes a sweet, refreshing peach limeade and Vietnamese cold brew iced coffee. We recommend the Coreanos bowl—which includes rice, a protein, and veggies topped with flavorful sauces—or the very tasty chicken poppers dressed with so much sauce that you'll need a fork to handle them. Note: the restaurant is closed on Tuesdays.
Replay'd
252 Brighton Ave.
Replay'd, Allston's only retro video game shop, is a gamer's paradise. You'll find used copies of nearly every new game and console for sale, but fans with a taste for nostalgia will love looking through the cases. Rare collectible titles from years past to childhood-favorite consoles like the Nintendo 64 and Sega Genesis are available at reasonable prices. All games come pre-owned, which makes for some great deals. No other shop can offer customers nearly every game from Atari to PS5. Replay'd is a haven for die-hard and casual gamers alike. Schedule plenty of time for browsing—you'll need it.
Lulu's is known for tasty and imaginative comfort food and is open for lunch, dinner, and weekend brunch. Among the brunch items: cinnamon vanilla french toast with maple syrup and strawberry jam, and the guac benedict, with poached eggs and house guacamole, served on a grilled english muffin. Brunch is served seven days a week until 3 pm, so you'll have no excuses to miss it. One of the most popular lunch entrées is the Lulu's O.G. smash burger, two griddled patties, Vermont cheddar, and secret sauce on a sesame seed roll. , The dinner menu has tasty options like short rib mac 'n' cheese and Mama's Fried Chicken, with mashed potatoes and arugula.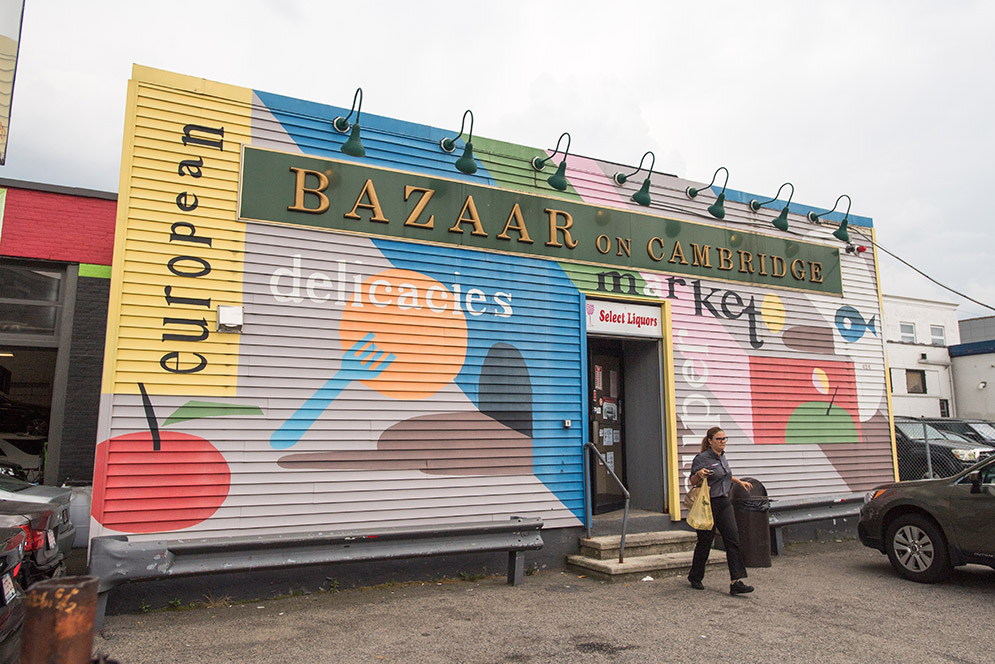 Hankering for a taste of Eastern Europe? Then stop by this well-stocked gourmet supermarket, selling Russian, Georgian, Armenian, and Polish cuisine. Over half of the store is stocked with imported goods, ranging from chocolate, drinks, and candy to liquor and packaged foods. There are myriad options in the bakery section, with lunch sandwiches, bread, and sweets. Try the giant cherry Danish. You'll also find produce, smoked fish, lamb kebabs, pirogues, and much more. Bazaar is famous for its poppy seed rolls.
Roxy's began as a food truck, selling grilled cheese sandwiches and burgers around the city. The cheese-colored food truck is still a city staple, but Roxy's now also has brick-and-mortar storefronts in both Allston and Cambridge's Central Square. Hungry customers can enjoy the same mouthwatering burgers and inventive grilled cheese sandwiches (we recommend the Allston, with herbed goat cheese, fig jam, caramelized onions, and arugula), but in the comfort of a sit-down restaurant. Roxy's carries sides like truffle fries and tomato soup, a stellar house-made lemonade, and for those 21-plus, a rotating beer menu.
Twin Donuts
501 Cambridge St.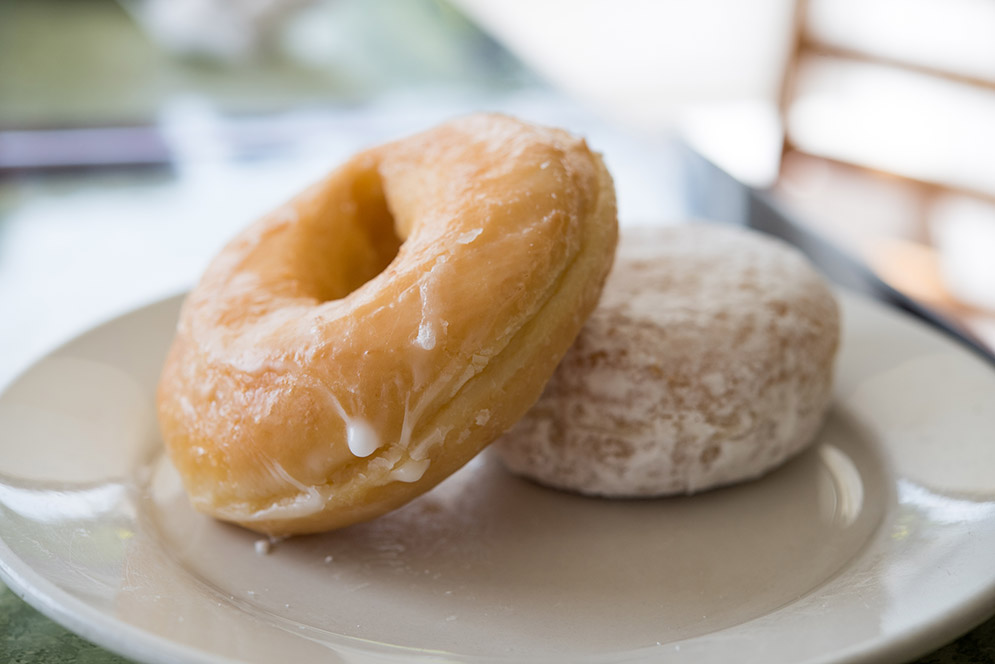 Dunkin' Donuts isn't the only option for coffee and donuts in Allston. This no-frills mom-and-pop donut shop has been a neighborhood mainstay since the 1950s. If you're there when doors open at 6 am, you're likely to see early risers sitting across the table from students who haven't been to bed yet. The glazed donuts are the big draw. Get there early while they're still warm. Other donut flavors include honeydew, lemon, black raspberry, Bavarian, apple spice, and honey dip. You'll also find a full breakfast menu, with breakfast sandwiches, omelets, eggs, and pancakes. On the lunch menu are salads, soups, and sandwiches. And the coffee is a bargain at just $2.50 for a large cup, a lot less than what you'll pay at chains like Starbucks or Caffe Nero.
Candlepin bowling and wood-fired pizza make for a great pairing at American Flatbread. The complex houses nine bowling lanes that are available to reserve for parties of 8 to 24 guests. Walk-ins are also welcome. While you're there, be sure to try one of their flatbreads, like the Medicine Wheel with homemade wood-fired cauldron tomato sauce and whole milk mozzarella, or the Brighton Community Flatbread with caramelized onions and organic mushrooms. Vegan options are also available. Stop by on a Tuesday to attend one of their Benefit Nights where the alley hosts a local nonprofit. A portion of the sales for the night are donated to the organization.
Vegetarians and vegans flock to Grasshopper—and it's no wonder. It may be the only vegan Chinese restaurant in the Boston area. The spicy steak fillet, for example, is actually sliced soft tofu, pan-fried with red bell peppers and onions in a black bean sauce and served over a bed of steamed spinach. The No Name—battered gluten in a sweet-and-sour sauce, with steamed vegetables and sesame seeds—is another popular dish. The restaurant offers house specials for around $13, which include a main dish, soup of the day, salad, and your choice of white or brown rice.
Lone Star is known not only for tacos and other Mexican street food–inspired offerings, but also for brunch, served daily from 11 am to 4 pm, featuring dishes like tres leches french toast and jalapeño corn cakes. There are taco choices for both meat eaters and vegetarians, with fillings such as beef, chorizo, fish, and tofu. Small-plate dishes, like the sweet grilled street corn topped with salty cotija cheese, have gained devoted fans. Lone Star also draws a big nighttime crowd with its inventive cocktails and extensive list of tequilas and mezcals.                     
Dolphin Bay
72 Brighton Ave.
This Taiwanese eatery is popular for its peppery popcorn chicken, wontons, noodle soups, stir-fries, bubble teas, and huge portions of shaved ice. Their expanded drink menu includes delicious options like milk fruit tea, dolphin bay snow, and taormino tapioca. Enjoy the small restaurant's kitschy nautical-themed décor with some cheap and tasty eats.
Shabu-Zen is a magnet for anyone seeking authentic Asian-style hot pot, where you cook your own meats, seafood, and vegetables to the desired temperature in a simmering hot broth in the center of the table. It's an ideal dish for hungry students seeking to share in an interactive dining experience. There are a variety of proteins available—boneless short ribs, pork, scallops, shrimp, chicken, and rib eye beef—and 11 tasty broths to choose from. Try the Korean kimchi broth, a blend of pickled and salty. You can order your hot pot in one of two sizes: regular and jumbo, depending on how hungry you are and the size of your party. Shabu-Zen serves up plenty of sides, appetizers, and sushi for those wanting something other than a hot pot.
The first thing you notice about Punjab Palace, which specializes in Northern Indian cuisine, is the aromatic scent of spices. Inexpensive meets top-quality food in this idyllic dining experience. The dishes are rich, and pack in plenty of flavor. Don't miss out on their chicken tikka masala paired with their homemade naan bread. For a yummy and sweet dessert, try the creamy rice pudding. This restaurant has been rated as one of the best Indian restaurants in Boston for a good reason.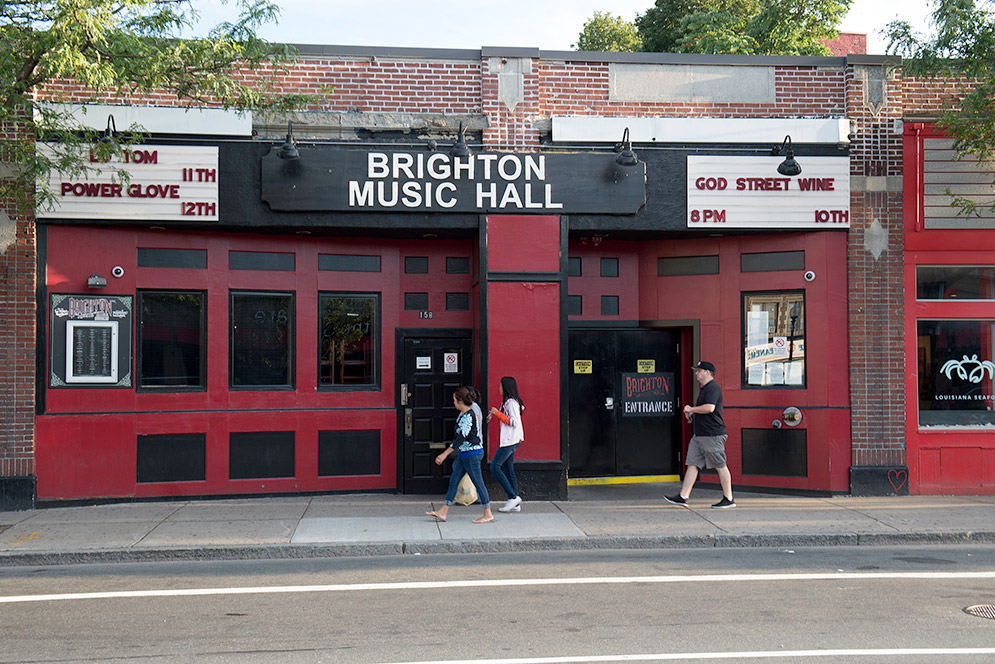 Formerly called Harpers Ferry, this music venue has become a favorite of Allston residents and music lovers from all over Boston. It's known for hosting some of the nation's best touring indie and alternative acts. Tickets are available on Ticketmaster, at the Paradise Rock Club box office (617-562-8800) at 967 Commonwealth Ave., or at the venue one hour before events begin. Check here for upcoming shows. Tickets are not replaceable, so treat them like cash.
This dive bar is an Allston staple. The mostly under-30 crowd gathers here on weekends to take advantage of cheap pitchers of beer (brands include Wormtown, Miller High Life, and Narragansett). If you're looking for a cheap meal, the bar also serves hotdogs for $3.50 (on Wednesdays they're only $1 from 4 to 9 pm). The place is popular with students, who come to enjoy the pool table, jukebox, dartboards, and weird computer games. This is the place to go for a chill night of socializing, as "the Sil" is famous for attracting a wide spectrum of patrons from all of Boston's scenes. 
Café Weekend is a new brunch and dessert café whose motto is "make every day feel like the weekend." Brunch specials include the shakshuka (two eggs, meatballs, feta cheese, house-made sauce, and sourdough) and avocado toast. The fig prosciutto panini, with brie and fontina cheese served on a ciabatta roll, is delicious. Satisfy your sweet tooth with the matcha cheesecake or the caramel cookies tiramisu. The café is also known for its croissant-waffle hybrid treat they call "croffles," offered in flavors ranging from blueberry cheesecake to bacon cheddar. Despite its name, Café Weekend is open seven days a week.
The aromatic smells of coffee and fresh pastries hit your nose as soon as you walk into Café Brazil Bakery. A haven for coffee lovers, the bakery offers a section of fresh-brewed options, including espressos, cappuccinos, Americanos, cold brews, and lattes. There are many delectable pastries and snacks behind the glass, but you'll regret not trying the sweet bread, a traditional staple of Brazilian bakeries. The empadas and croquettes will appeal to the hungry customers looking for something a bit more substantial. The combined price of a coffee and pastry is under $5, a deal you'll be hard-pressed to find at any other cafe. Other traditional options include a sweet and smooth flan and beijinho, a traditional Brazilian birthday candy. For Brazilian students missing home, or anyone wanting to sample a traditional Brazilian café, it's a must.
Offering Mediterranean food at reasonable prices, this mom-and-son-operated restaurant is one of Allston's lesser-known treasures. There is a wide array of menu options to appeal to both carnivores and vegetarians. The shawarma, kebabs, Greek salads, and falafel are fresh and prepared quickly. One taste and you'll feel as though you've gone on a trip to the Mediterranean.
Basics Carpet & Furniture has been helping students settle into apartments for nearly 40 years. The store sells a wide variety of reasonably priced and appealing furniture, rugs, and decor for the living room, kitchen, and bedroom. Desks with built-in outlets, platform beds, and matching night table and dresser sets are all available. And they offer same-day delivery on all furniture, much of which comes preassembled. So, skip the hour-long trip to Ikea and shop local for all your apartment needs.
Tous les Jours
152 Harvard Ave.
Those with a sweet tooth will want to head over to this French-Asian bakery just a short walk from West Campus. The chain, which began in South Korea, opened its second Boston location in Allston in 2017, serving up mouthwatering pastries, cakes, and breads. Try the honey bun cake bread or some of the house-made macarons with a cup of coffee or some bubble tea. Tous les Jours also has a delicious selection of sandwiches and a welcoming environment.                                                      
If you're thinking about a tattoo, this is the place to go. There are currently five artists on staff, and consultations can be scheduled over the phone. Prices are lower than, or comparable to, other tattoo parlors in the area. If you're a tattoo novice, you can flip through the artists' portfolios on Regeneration's website to decide who can best draw what you have in mind. Custom tattoos must be made by appointment via email, but they do offer walk-ins on a case-by-case basis. However, make sure you are over 18 and bring your ID with you, or service will be refused. The shop is cash only. Check out their Instagram @regenerationtattoos. 
@UNION
174 Harvard Ave.
Looking for a casual breakfast, brunch, or a quick coffee fix? You'll find it @UNION. There are plenty of delicious breakfast and lunch items to choose from, along with an extensive coffee menu served up in a cozy, inviting space. Caffeine lovers take note: @Union offers bottomless cups of coffee if you order a meal, and you'll want to—the food is too good to pass up. Try the brioche French toast—add strawberries, bananas, blueberries, or chocolate chips to make it even sweeter. Not in the mood for something sweet? Order the Cajun hash with onion, two eggs any style, and buttered toast. @UNION sells its coffee, made with 100 percent fair-trade Arabica beans, by the pound, so you can take some home for brewing later.
Oppa Sushi
185 Harvard Ave.
If you're looking for a casual sushi destination, this is your place. Try the Tornado Maki (with shrimp tempura, avocado, and cucumber, topped with spicy crab sticks, tobiko, eel sauce, and spicy mayo) or the Maki Combo, which comes with 24 pieces of California, salmon avocado, and tuna avocado maki. If sushi isn't your thing, there are also a lot of other menu options like bibimbap or ramen. The restaurant offers takeout and delivery options.
AWOL
190 Harvard Ave.
Short for "Addictive Way Of Life," AWOL is Allston's best bet for sneakerheads looking for that next pair to add to their collections. The small store is lined not just with sneakers, but also with cutting-edge apparel (brands include LaRopa, Stussy, Ksubi, and more). You'll also find more familiar brands like Jordan and New Balance. Their prices beat what you'll find at many other sneaker boutiques, and the carefully curated selection of footwear, apparel, and accessories make AWOL an essential stop for fashion fiends.
Vivant Vintage has been serving up fashion seven days a week for the last eight years. This eccentric secondhand store has racks and shelves filled with a wide selection of denim, leather, crystals, and jewelry. Their '90s style shirts and accessories serve up plenty of nostalgia. Every item is artfully curated from private collectors rather than the public, meaning every item you buy has a unique backstory. The store hosts in-store live events, including poetry readings, music, and tarot and tea readings one to two times a month. They also have an "opening the vault" event three times a year—on Halloween, Christmas, and Valentine's Day—where they offer a wide range of sterling silver jewelry and present a themed special collection. The vibes are great and the selection is even better. Be sure to stop by on Wednesdays when the store offers a 15 percent discount to students and teachers. Thousands of items are listed on their website and everything on their Instagram is available for purchase.
Zone 3
267 Western Ave.
This hip spot on Western Avenue, formerly a dry cleaner and auto body garage, has been transformed into a space for creative programs and events. Made possible by a Harvard University initiative designed to energize Western Avenue with retail and creative programming, Zone 3 has hosted outdoor movie nights, holiday markets, and art installations in partnership with various community organizations. It's also home to the PRX Podcast Garage, a public podcast studio that offers studio space and radio equipment to local audio producers and those interested in audio storytelling. During the warmer months, Zone 3 hosts Aeronaut Allston, a musical beer garden run by Aeronaut Brewing Company for those 21-plus. For a list of upcoming events, check out Zone 3's calendar.
Getting there: By foot, walk down Comm Ave away from Kenmore Square. You'll know you've reached Allston when the avenue veers left. By MBTA, take the Green Line B trolley to either Harvard Avenue or Packard's Corner. The 66 bus also shuttles back and forth through different sections of the neighborhood.
Click on the points in the map above for more information on the places listed in our guide to the Allston area.
This Series
Also in
April 27, 2023

April 20, 2023

April 5, 2023