Women's Basketball Terriers Two Wins from First Patriot League Title
Will host championship Sunday by besting American Thursday
Women's Basketball
Women's Basketball Terriers Two Wins from First Patriot League Title
Will host championship Sunday by besting American Thursday
"It's March. It's the best time of the year."
Caitlin Weimar (CAS'24) couldn't help but smile during her ESPN+ interview Monday night after the BU women's basketball team held off Army West Point 80-74 in the Patriot League quarterfinals at Case Gym.
Weimar played her best game as a Terrier in her playoff debut Monday, recording season highs in points (21), assists (4), and steals (3), and leading the team with 13 rebounds.
"Starting off strong with such a dominant game, it's just awesome because we worked so hard the whole season to do this," she told ESPN+. "It's just more of a booster for us to make sure that we make it to the [NCAA] tournament."
That's been the team's goal all season long: winning the Patriot League and gaining entry to March Madness for the second time in program history. The first was almost two decades ago, in 2003. The Terriers came close with their first-ever Patriot League championship appearance a year ago, but a heartbreaking 64-54 loss to Lehigh on BU's home court only further stoked the fire under this year's group.
Although three of BU's last four games leading up to the conference tournament were losses, a 12-6 regular-season conference record was good enough for third place in the Patriot League. On Monday, the team turned in its second-best offensive output of the season to beat Army, and assistant coach Ashley Walker told ESPN+ what sparked the change.
"We came back in practice and said, 'Look what beautiful basketball looks like, when everybody touches the ball.' I think they really took that to heart, and I hope we'll be able to continue that the rest of the year," Walker said.
Weimar, Sydney Johnson (CAS'23), Liz Shean (COM'23), and Riley Childs (COM'22) all put up double-digit point totals in the victory, with contributions from Maren Durant (Sargent'23), Maggie Pina (CAS'23), Alex Giannaros (CAS'25), Chiara Tibbitt (CAS'22), and Sophie Beneventine (CAS'24) as well. Although the game was close to the end, BU's team effort prevailed over a stellar performance from Army senior guard Alisa Fallon, who scored a Patriot League playoff record 37 points.
"It's a game of runs: just staying in the game, staying focused, and respecting our opponents," Weimar told ESPN+.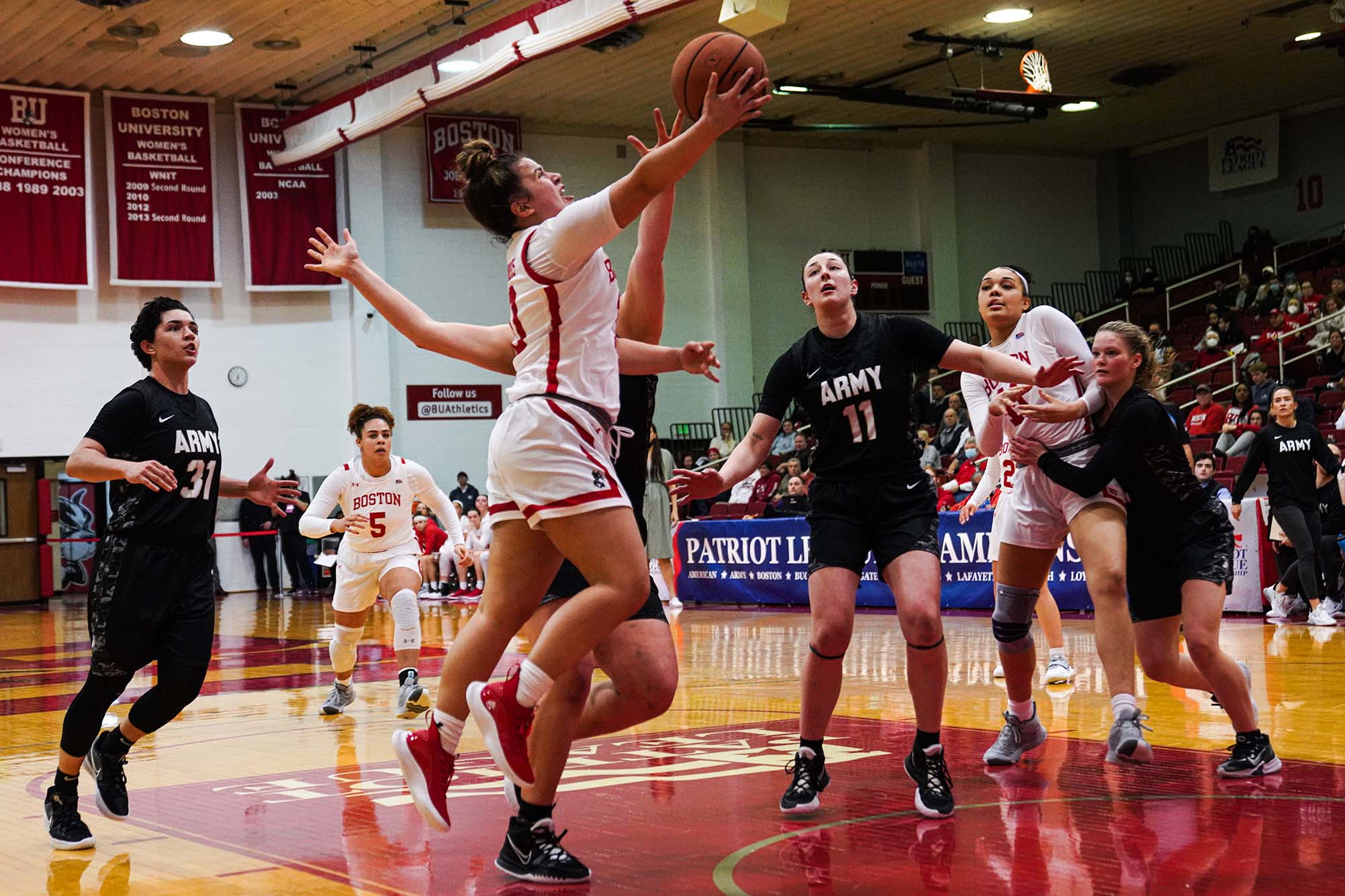 The Terriers will go up against second-seeded American University at 6 pm on Thursday, playing for the opportunity to host Sunday's conference title game after the league's top seed, Holy Cross, was ousted at the buzzer Monday night by eighth-seed Navy. BU split its season series with American, and Walker told ESPN+ the Terriers should be prepared for a battle. "They're very tough. They're physical, they're going to body you, and we've got to be ready for that."
Based on Monday's performance, knocking off the top rebounding team in the Patriot League, Weimar is confident BU's forwards can play a physical game. "Me, Maren, Riley, and Chiara are all really good rebounders. It's a big aspect of the game, which helped us win," she says.
If the Terriers can beat the Eagles, they will host the winner of Thursday's other semifinal featuring fourth-seeded Bucknell and eighth-seeded Navy.
The Terriers know what it's like to come up just short. Walker told ESPN+ that this team's motivation could not be stronger: "We want something, and we're working for something. We didn't get what we wanted in the regular season, so we're going to work for it now."
BU will play at American on Thursday, March 10, at 6 pm, streaming live on ESPN+. With a win, the Terriers host the conference championship on Sunday, March 13, at Case Gym, time to be determined. Follow along with the team's playoff run on Twitter via @TerrierWBB and @BUGameday.