A Narrative about the Filipino Immigrant Experience at the 808 Gallery
In Hidden and Hiding (Tago ng Tago), artist Bhen Alan reimagines a traditional weaving practice using unconventional materials
Arts on Campus
A Narrative about the Filipino Immigrant Experience at the 808 Gallery
In Hidden and Hiding (Tago ng Tago), artist Bhen Alan reimagines a traditional weaving practice using unconventional materials
Bhen Alan has many identities: artist, scholar, queer man, Filipino immigrant. His textile works, which draw on the traditional weaving practices of his homeland, thread each of these various identities together and allow them to amplify and complement one another. They are his badges of honor, sources of endless inspiration. But Alan says that when he first left the Philippines for North America as a teenager, he wanted to leave who he was behind.
"When I moved to Canada, I didn't eat Filipino food for a very long time, I didn't speak the language, and I literally forgot Filipino gestures and movements," he says. "I just wanted to fit in."
Alan's conundrum was not unique. Immigrants across the globe feel pressure to assimilate, but there is a particular Filipino phenomenon of self-erasure, he says, referred to in Tagalog as tago ng tago (TNT), representing the physical, psychological, and spiritual evasions that undocumented overseas Filipino workers (OFWs) must live with to survive. In his new show, Hidden and Hiding (Tago ng Tago), on view at the 808 Gallery through December 3, the artist explores that theme as it relates to him and the Filipino diaspora as a whole.
"Tago ng tago means 'always hiding'—it [refers] to Filipino immigrants working abroad who chose to stay to make more money to support their families in spite of not being authorized," Alan says. "It's about hiding your identity from adversity, but also cementing yourself in a space that you cannot be removed from, in order for you to support your family and yourself."
When he first arrived in North America, Alan was principally a painter. It wasn't until he enrolled as a graduate student at the Rhode Island School of Art and Design that he found his current medium. His large-format woven textiles, he says, incorporate "coconut leaves, bamboo, rattan, any types of leaves, flowers, coins, and reeds. During undergrad, I started to look back on my childhood experiences and my diasporic experiences, and when I went to RISD I was like, why am I painting? I loved doing it, but it wasn't authentic to me."
He began to connect with the traditions he engaged in as a child, like Filipino dance, weaving, and costume-making. "I was trained to dance traditional folk dances, and at the time I thought it was just a mundane thing that everyone does to keep the tradition going," he says. "I was really interested in ornamentation and decoration—like making curtains and weaving bamboo baskets for our chickens—but I really didn't know that those things were art."
Today, he uses his woven art to affirm an identity he spent much of his life subjugating. "I make my work, my materials, really extravagant and flamboyant, because queer culture in the Philippines is about being big and loud and flamboyant," he says.
Much of his inspiration comes from the women in his life, as weaving is traditionally a female practice in the Philippines. The Hidden and Hiding exhibition, he notes, owes a great deal to his mother, Mhimie O'Rourke.
O'Rourke was a documented OFW—not a tago ng tago. When Alan was just seven, she left the Philippines to become a nanny in Taiwan, sending money home for his education and well-being.
"Even though she was not a TNT, she knew people who were, and she helped these people," Alan says. "She brought them food and gave them community. It gave those TNT immigrants the Filipino value of having someone from your hometown that cares for you. Something Filipinos say when they're abroad is, 'We need to help each other, because we are here, and we need our communities intact in order to survive.'"
---

Something Filipinos say when they're abroad is, 'We need to help each other, because we are here, and we need our communities intact in order to survive.'

---
In Hidden and Hiding, Alan uses his struggle to accept his own identity as a parable for the TNT experience of concealing oneself in plain sight. "There's a lot of hiding and showing in my work," he says.
In some pieces, close attention reveals hidden details, like a rosary or the dried husk of an orange. In others, the colors and materials he's selected speak to a hard-won sense of self. "Some of my works are literally just the colors of the Philippines; I'll put it in the middle of a piece to make my Filipino-ness the focal point," he says. "A lot of it is about exposing the things that I have been missing."
The colors Alan uses can also have more intimate, autobiographical connotations. "There's a lot of yellows in my work," he says. "When my mom left me, we sent her to the bus to go to Manila and then Taiwan; it was sunset and I remember so vividly the beautiful yellow and orange color of the sky. When I'm heartbroken, I think of yellow."
One of the woven pieces on view features hand-stitched yellow outlines of maternal figures, their arms tenderly encircling the handiwork in their laps. "I think that there is this maternal care, or feminine energy, that is present in my work," Alan adds.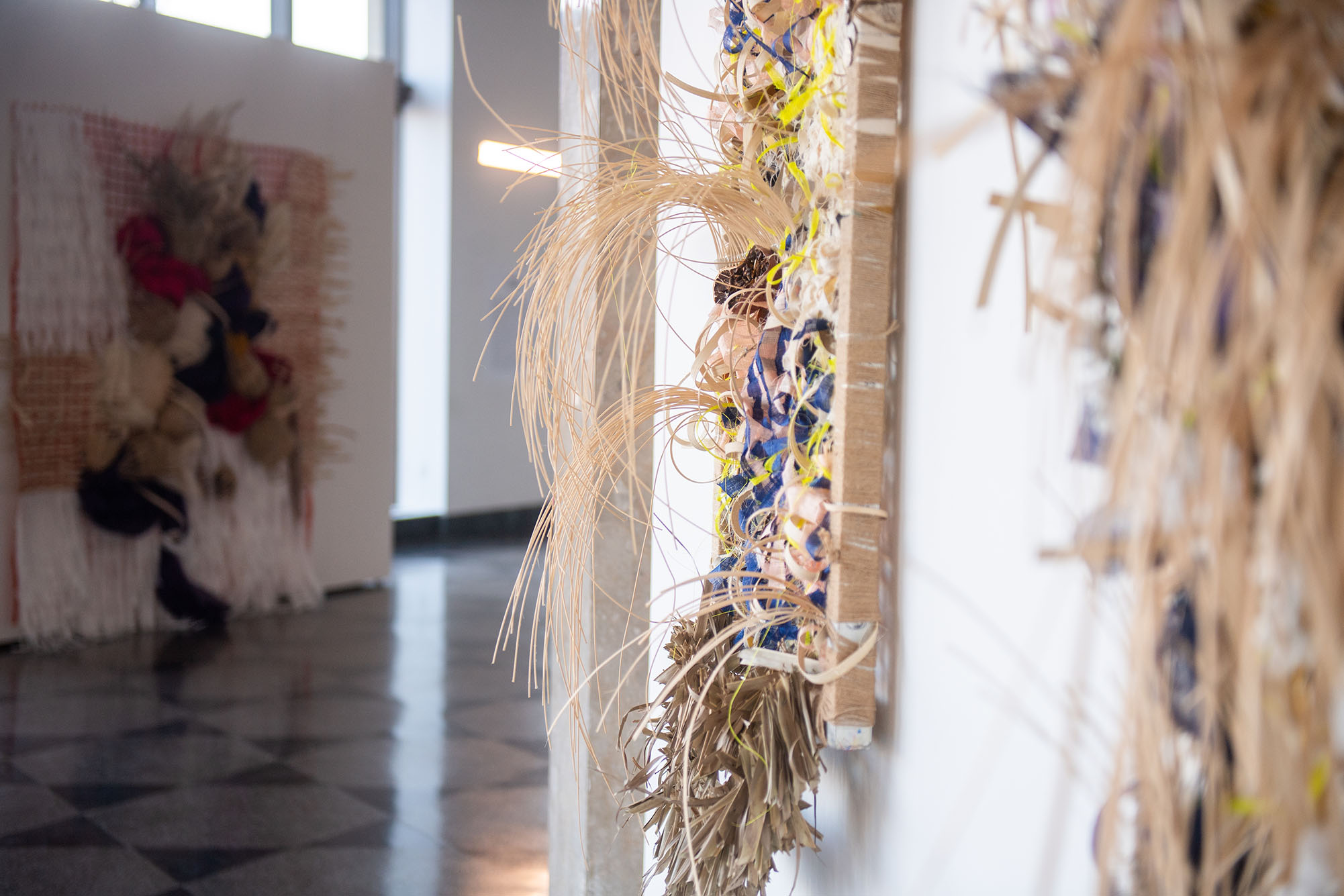 While some of his works incorporate traditional woven-mat patterns, the show's most eye-catching pieces are 3D spectacles that bring together handheld fans, reed baskets, neon plastic tubing, dried leaves, bamboo, and "whatever I can easily grab around me," he says. Some areas look half finished or torn apart in frustration, others biotic, as if staring into a cross section of an amoeba. The closer one looks, the more details reveal themselves.
Curatorial assistant Rosa Jang (GRS'23), who curated Tago ng Tago, says she felt an immediate connection with Alan that helped guide her in shaping the exhibition. "I felt a solidarity with him, both being Asian American, but with very different backgrounds," she says. "We were able to exchange a lot of the frustrations that we felt about being people of color making art in America."
Over numerous Zoom calls, the two devised four principal themes as lenses through which visitors could view Alan's art: camouflage, meditate, protect, shape-shift. These elements are written on the gallery walls in both English and Tagalog to create "a sense of camouflaging, of hiding and showing, in terms of the wording and translation," Alan says.
"When we talked, I told him I really want to get a sense of how he writes and talks about his work, and he used those four words a lot—and interchangeably," Jang recalls. "I found that they all are carried out through the act of weaving."
"Sometimes artists can't express themselves the way they want to," Alan says. "I really just love how Rosa picked up on those four elements. I think all of them are there in equal measure."
Although Jang and Alan insist no one theme takes precedence over another, the idea of camouflage certainly has played an outsize importance in the artist's own life. It's "a way of surviving," he asserts, but things can change.
"I feel like I'm coming back into my authentic, Filipino self," he says. "I'm not hiding anymore."
Hidden and Hiding (Tago ng Tago): Filipino Weaving by Bhen Alan is on view at the 808 Gallery, 808 Commonwealth Ave., Boston, through December 3. The gallery is open Tuesday to Saturday, from 11 am to 5 pm. Admission is free to the public.