Women's Basketball's Katie Nelson on Team's Historic Season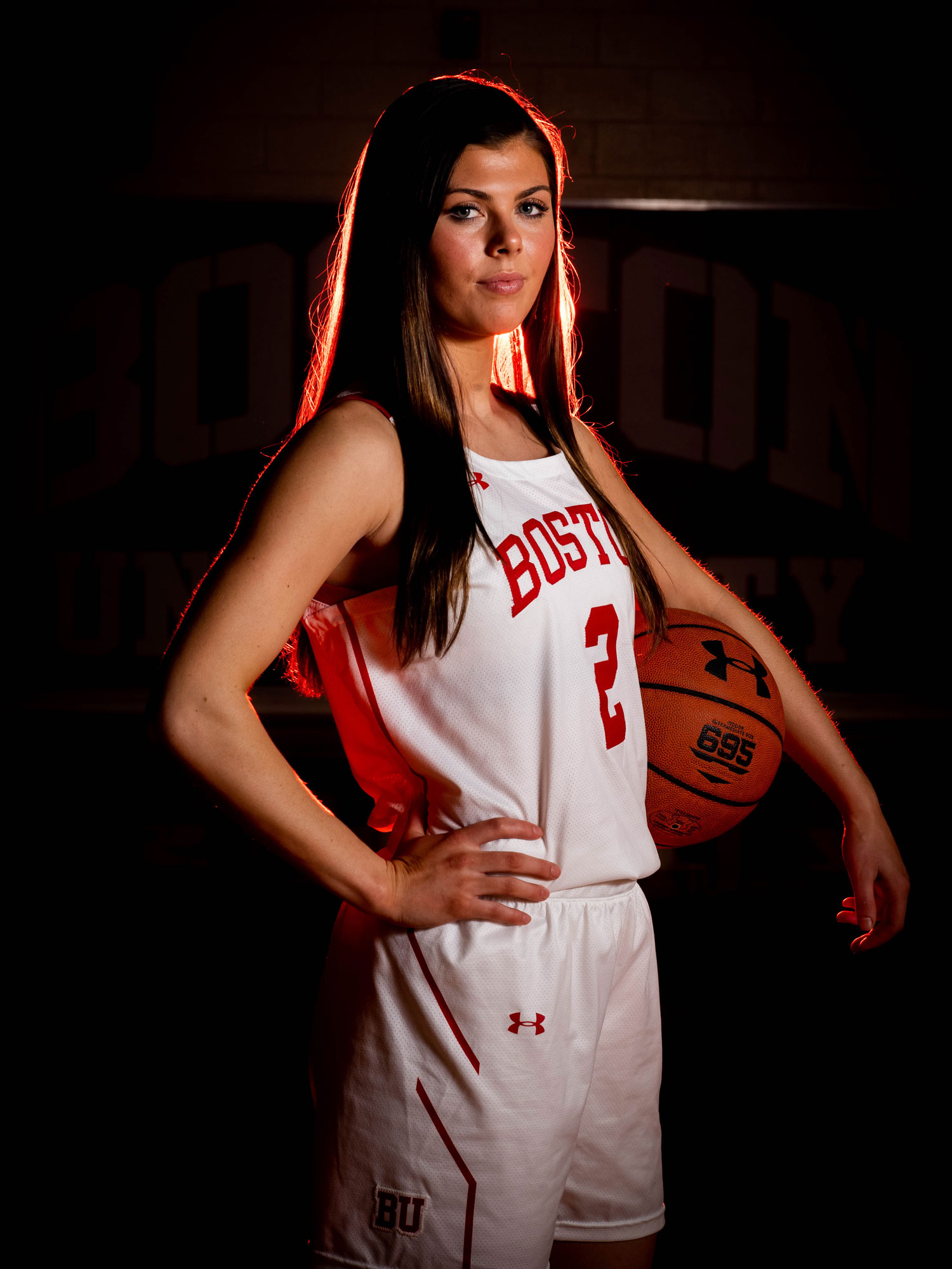 Varsity Sports
Women's Basketball's Katie Nelson on Team's Historic Season
Senior reflects on her collegiate career as playoffs near
The BU women's basketball team is having one of the best seasons in program history, and it's no surprise that Katie Nelson is at the center of it. The senior guard has been a staple of the starting five throughout her Terrier career and has led the postseason-bound Terriers to a 10-2 record so far this season.
During her time at BU, Nelson (CGS'19, Questrom'21) has seen the Terriers go from a second-to-last place finish freshman year to runners-up last year. The Falmouth, Mass., native has been at the core of the rebuild, ranking among BU's top-three scorers through each of her four campaigns. She led the Patriot League in minutes over the last two seasons and is pacing the team again this year, with well above 30 minutes per game.
Last season's promising playoff run came to an abrupt coronavirus-caused end last March, but Nelson and the Terriers have already clinched the Patriot League's North Division this year and are poised for another postseason push.
BU Today spoke with the standout guard about the team's remarkable season, her career as a Terrier, and her ambitions going forward.
BU Today: Why do you think your team has been so successful this season?
Katie Nelson: I think that the work that our team has put in started last March, when as we all know our season got cut short because of COVID. I think that this group is really disciplined, and we've sacrificed a lot this year, so every single person is 110 percent all in.
As a senior, how have you tackled your role on the team this season?
I'm just doing anything I can to help my team succeed. I think that we have so many talented players that can go in at any point in the game and really help us, so making sure that I'm setting every single person up to be successful on the floor is something that I've really been focusing on.
You've now spent three years under head coach Marisa Moseley (CAS'04). What impact has she had on the team and on you?
She's worked really hard to shift the culture of our team positively, and it's been really great to be a part of that change. Looking back from freshman year to now, we've skyrocketed as players and as people. She's really pushing us to grow, not only on the court, but off it. Being able to watch her be such a strong and empowering woman and a coach is incredible to see and be a part of.
You're posting career-highs in points per game (12.8), field goal percentage (.505), three-point percentage (.442), and assists per game (4.2) this season. What do you attribute your continued improvement on the court to?
I think just the last few years have allowed me to have so much growth on the court. Being able to play for Coach Mo and her staff has allowed me to broaden my expertise and just be able to make the smartest decisions in the moment. I think that only comes with experience, and because of the last couple of years, I'm able to be that much better on the floor this year.
Coming to BU as the all-time leading scorer at Bishop Feehan High School, in Attleboro, Mass., has your collegiate career played out the way you thought it would?
I think it's exceeded my expectations. Each year, surrounding myself with my teammates has been awesome because we're best friends on and off the court, which is something I don't think a lot of teams have necessarily all the time.
What has been your favorite moment in your BU career so far?
Scoring my 1,000th point this year was a really special moment that I was able to share with my teammates, as well as with my friends and family virtually. That was really special, and I think I'll always remember that.
What motivates you on the court?
I think that with last year being cut short, just knowing that every single moment matters and playing like it could be my last is something that I've really taken to heart this year. And still wanting to win a championship is something that's always been my goal here at Boston University. I think that with this group of women this year, we're really special and that we have a really good chance of achieving that goal.
What will it take for this year's team to bring home the Patriot League title?
I think it's just one step at a time and definitely not looking too far ahead down the road. We're just focusing on each day and progressively getting better one game at a time.
What are your plans post-Commencement?
The plan is to get my master's degree and play another season. If the opportunity did present itself, I would love to play another year at BU under Coach Mo, but right now I'm just taking it one day at a time and will look deeper into that once the season is over.
Editor's note: All NCAA players nationwide have been granted the option of playing an extra year because of the pandemic.
The BU women's basketball team will begin the Patriot League playoffs on Sunday, March 7.