Green Spaces to Visit on Wellness Day
Things-to-do
Green Spaces to Visit on Wellness Day
Grab a coffee or a picnic lunch and spend some time at one of these nearby parks
Don't get us wrong—we love the Esplanade, the Public Garden, and the Boston Common. But they aren't the only green spaces close to campus. Luckily, there are plenty of parks, ponds, and lawns near Boston University (accessible on foot or via MBTA) perfect for a spring stroll or a picnic lunch.
Today, for the University's second Wellness Day, we've rounded up a list of old favorites and hidden gems for you to explore: all that's left to do is lace up your sneaks, grab something caffeinated (and some sunscreen), and spend the day enjoying the sun on your skin and the earth under your feet.
Allston
Tucked away on Allston Street is Ringer Park, a nearly 13-acre green space featuring woodland trails and walkways if you're in the mood for a hike, as well as tennis and basketball courts. The most popular feature is probably the lawn, however, where you can often find folks sipping coffees from nearby Pavement Coffeehouse. And in warmer months, there's a splash pad for cooling off on muggy days.
Back Bay
The Back Bay Fens is a perennial favorite for Bostonians (and geese). Originally designed by Frederick Law Olmsted, the 19th-century landscape architect behind New York City's Central Park, the Fens is part of the Emerald Necklace, a series of connecting parks stretching over 1,100 acres. The park is full of scenic footbridges, community garden plots—the vestiges of the oldest remaining World War II "Victory Gardens"—and plenty of other spots to get lost in (like the James P. Kelleher Rose Garden). Also, it's an ideal place for birders this time of year. You could easily spend a day exploring the Fens—and we suggest you do just that.
This 4.1-mile greenway, which stretches from Back Bay to Forest Hills, links Boston's South End, Back Bay, Roxbury, and Jamaica Plain neighborhoods. It really livens up in the summer when the corridor's community garden plots and flowering trees burst into bloom and attract local butterflies. But there's still plenty of color to be found in the spring—look for daffodils, tulips, and crocuses as you walk along the path. And even better, a pit stop at the dog park is an adorable scene any time of the year.
Brighton
Chandler Pond

Between Kenrick Street and Lake Shore Road
Covering approximately 10 acres, this neighborhood pond is closer to Boston College than to BU, but it's worth the extra miles. It's the last of what was once nearly two dozen ponds surrounding the Allston-Brighton neighborhoods. (Fun fact: ice was once harvested from Chandler Pond before refrigeration was invented.) Today, trees, reeds, and flowers give the pond a lush border that's inviting and Instagrammable, which is all you can ask of a park in this day and age. Put a blanket down along the perimeter and spend a few hours en plein air, taking in the wildlife (ducks, rabbits, the occasional turkey!) and the scenery.
A popular spot for runners and walkers, the Chestnut Hill Reservoir and Reservation has a scenic 1.5-mile loop around the reservoir, as well as forested spots with benches and rocks for lounging. Note that it gets windy here, so layer up accordingly. Otherwise, we suggest bringing a book and taking a lap or two before settling down to read.
Rogers Park

90 Rogers Park Avenue
Located just a short walk from Chandler Pond, Rogers Park has something for everyone. There's a playground, a baseball diamond, and basketball and tennis courts. Plus, it has a massive lawn that functions, among other things, as a de facto dog park—it's not uncommon to spot a doggie meetup on any given day. Its proximity to Brighton Center also means you have plenty of options for takeout to enjoy on the park's grassy hill.
Brookline
Just a couple of blocks from the St. Mary's T stop, Amory Park has long been a destination for BU students looking to get some sun. It's right next to Hall's Pond Sanctuary (one of only two natural ponds left in Brookline) and Amory Woods, a mini nature preserve that rewards visitors with gorgeous views of the wetland. If you're looking to practice your drawing or photography skills, Hall's Pond makes a pretty good subject—just saying…
Another all-in-one park, Waldstein Park and Playground is a great daylong destination. Just a few blocks beyond Washington Square, Waldstein has a whopping eight tennis courts in addition to a giant lawn and a swing set. There are also basketball courts, a baseball field, picnic tables, and a dog park. In the summer, it's not unusual to see sunbathers sprawled out on the grass…but a picnic works for now.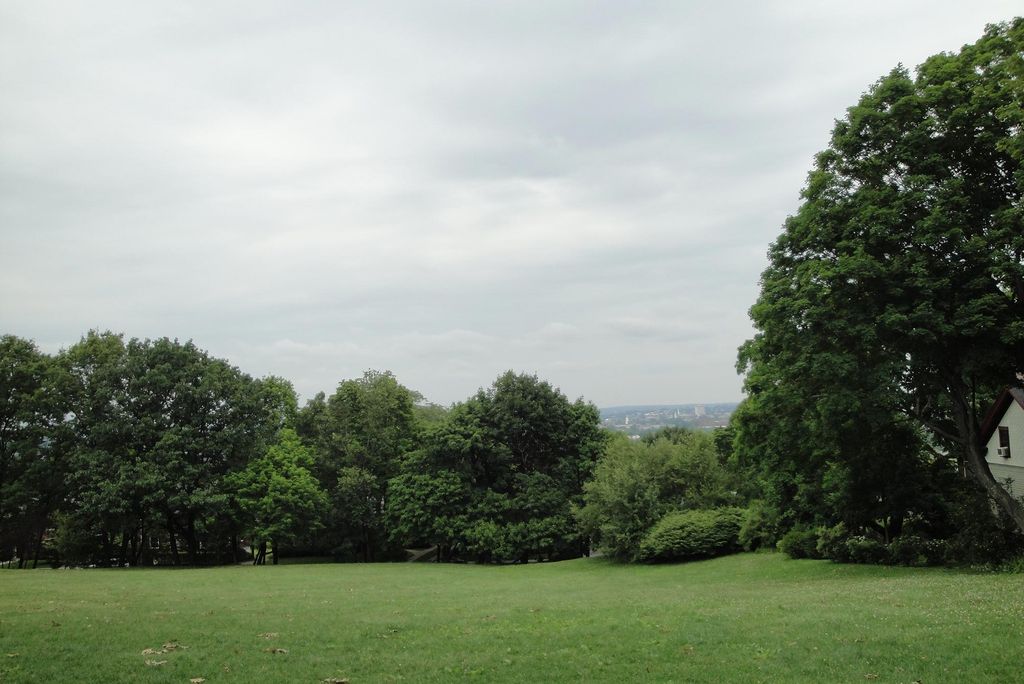 Corey Hill Park offers one of the best views in Greater Boston, hands down. Getting there is a workout in itself—there's a reason the street it's on is called Summit Avenue—but the city skyline views are worth the schlep up the hill. At the top, you'll find walkways, paths, benches (for catching your breath), a playground, and a dog park. Pro tip: It's pretty every time of day, but it's extra picturesque at sunset.
Fenway-Kenmore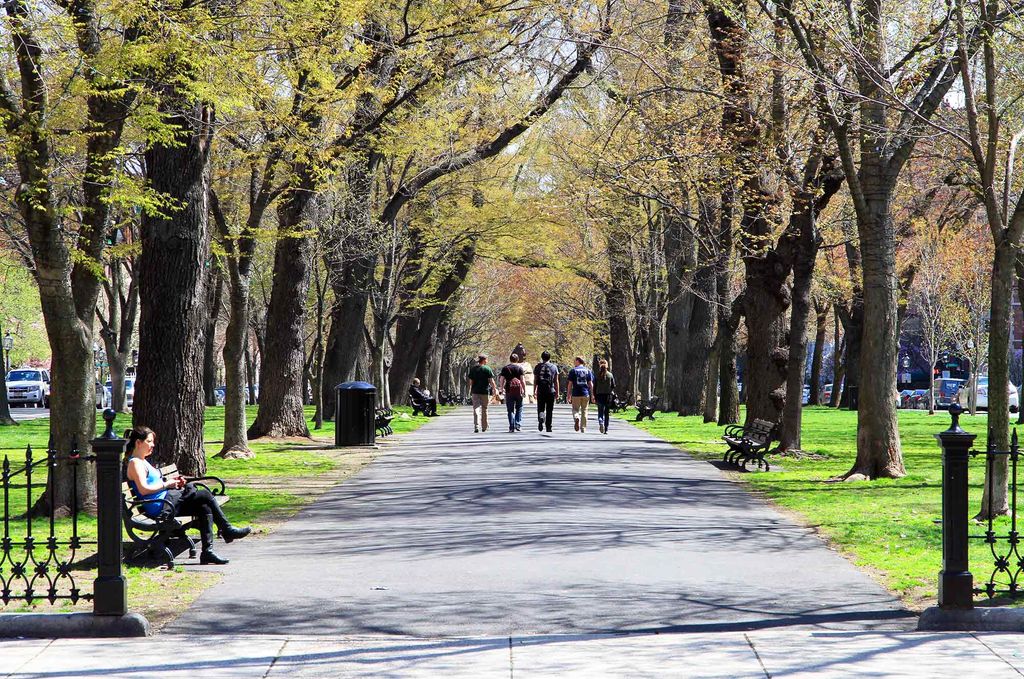 Commonwealth Avenue Mall

Commonwealth Avenue, from Kenmore Square to the Boston Public Garden
We love the Comm Ave Mall for one main reason: dogs. Pups and their owners stroll through here all day long, easily making the Mall one of the cutest viewing places in Boston. And even better—because the Mall stretches from Kenmore to the Public Garden, there are no shortage of spots for you to post up and pup-watch. Also, history nerds will enjoy the nine sculptures and memorials along the Mall: statues include Alexander Hamilton and the Boston Women's Memorial, featuring Abigail Adams, poet and former enslaved person Phillis Wheatley (whose poems were the first book published in America by an African writer), and abolitionist Lucy Stone.