BU Scientists Are Prepared to Detect Omicron—and Other Variants
BU's National Emerging Infectious Diseases Laboratories (NEIDL) has been monitoring COVID-19 variants from BU and Boston Medical Center tests since February
COVID ON CAMPUS
BU Scientists Are Prepared to Detect Omicron—and Other Variants
BU's National Emerging Infectious Diseases Laboratories (NEIDL) has been monitoring COVID-19 variants from BU and Boston Medical Center tests since February
When will the coronavirus variant known as Omicron arrive at BU? Although it's hard to predict, it seems like a foregone conclusion that it's only a matter of time given how quickly Omicron has spread around the world—already infecting people in more than 30 countries across 6 continents, and at least 16 US states. On December 4, the first known case of Omicron in Massachusetts was detected in a woman in her 20s who lives in Middlesex County.
One thing's for certain—if and when Omicron infects a member of BU's community, its presence will be quickly detected.
The University's testing program—which screens a pool of all students, faculty, and staff that come to BU's campuses—hinges upon its Clinical Testing Lab, which was rapidly outfitted with machinery and custom software to screen nasal swabs for coronavirus over the summer of 2020. Fully operational for the last year and a half, it has screened over two million swabs and is capable of processing up to 6,000 coronavirus tests per day.
And for every positive test result that diagnoses a new case of COVID-19, that swab is then couriered over to BU's National Emerging Infectious Diseases Laboratories (NEIDL), where scientists perform genomic sequencing to determine the strain of the virus—mostly the Delta variant, since July 2021—and to detect whether transmission occurred from sources outside of the BU community or from within. The NEIDL also performs variant sequencing for Boston Medical Center (BMC), BU's primary teaching hospital and the safety-net hospital for the city of Boston.
The NEIDL's variant sequencing efforts took off in February 2021, after NEIDL virologist John Connor teamed up with BMC infectious disease clinician Karen Jacobson and other clinical staff to propose a plan for sequencing anonymized positive test results from BU's Clinical Testing Lab, as well as patient samples from BMC's COVID Biorepository and samples from BMC clinicians and staff.
---

 The virus has mutated in ways that [make it] hard to put the genie back in the bottle.

---
Jacobson says the NEIDL's variant sequencing effort is a real example of science that would not be possible without a big team of collaborative scientists, including infectious disease specialist Tara Bouton of BMC and BU School of Medicine (MED), Cassandra Pierre of BMC and MED, and Harvard University epidemiologist William Hanage. "This is not something that just a few investigators could pull off," she says.
When Delta arrived on the scene at the end of June, "all of sudden, within the span of two weeks, there was a rapid shift," says Jackie Turcinovic, a third year PhD student and one of the primary NEIDL scientists who performs variant sequencing. Positive results started coming in for sequencing much more rapidly, and case reports indicated Delta was causing more symptomatic than asymptomatic cases. The amount of viral material in each positive sample was also typically much higher than the lab had seen with other coronavirus variants.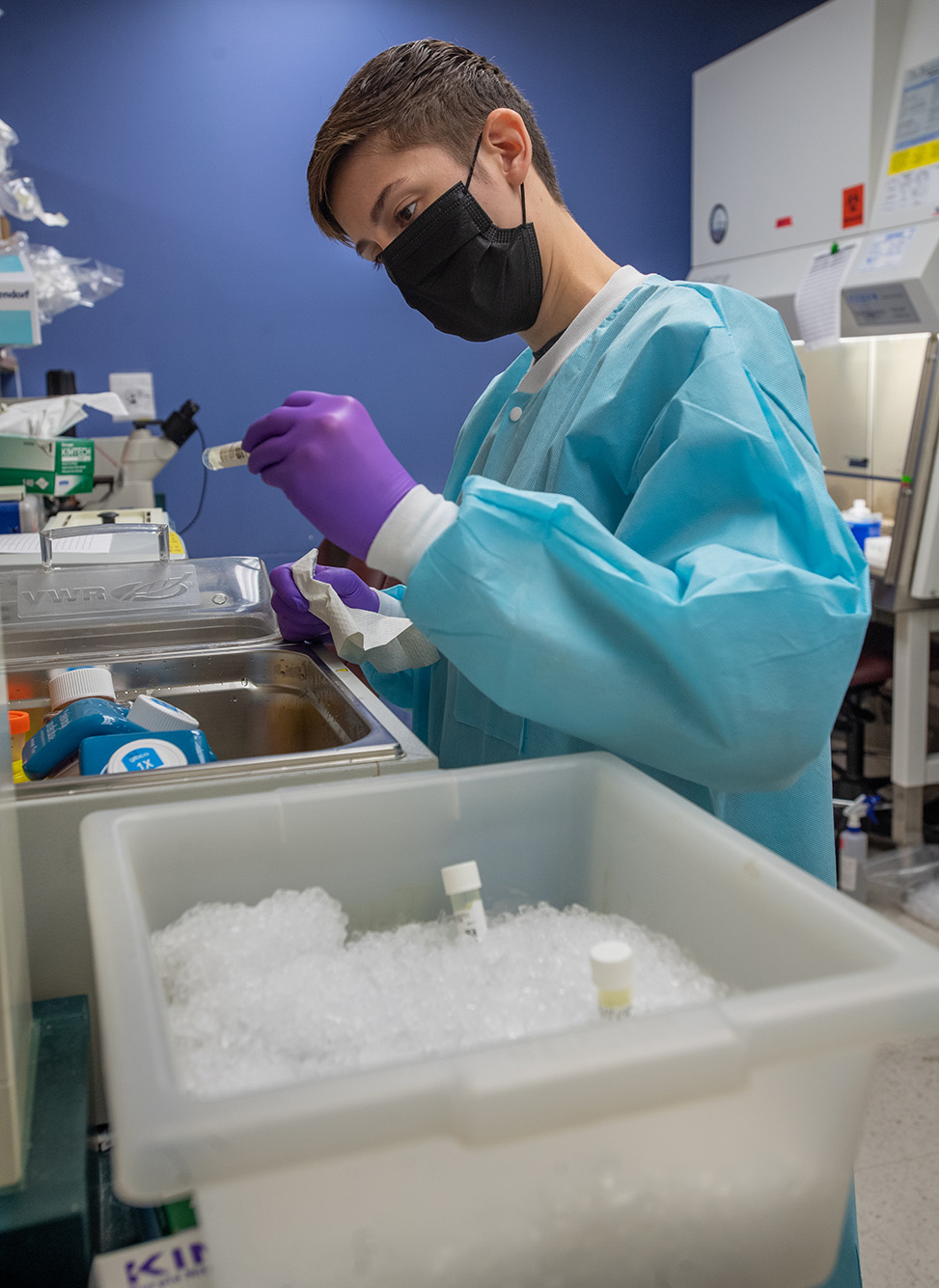 "There was this shift from trying to squeeze out [enough viral material from samples to allow for sequencing] to suddenly seeing samples with tons of virus—it was very odd, almost a little creepy," Turcinovic says. "The change in presentation and urgency seemed really different."
According to Judy Platt, BU's chief health officer and executive director of Student Health Services, viral materials from positive test results are analyzed by NEIDL scientists to reveal the unique genetic sequence of the virus, and to match those sequences up with databases cataloging all currently known COVID variants from around the world. There are several steps involved in being able to sequence the viral genome, a process which takes several days.
Variant sequencing is not considered a clinical diagnostic for individuals. Instead, it's used to study how COVID-19 is spreading and evolving at the population level. For regulatory reasons, BU is not permitted to tell individuals if they have a variant form of COVID-19—NEIDL scientists are not even aware of which person the sequenced samples came from; they just know the virus sample was collected from someone at BU.
"The most direct thing we've been able to do is see what the pattern of virus spread is," says Connor, a BU School of Medicine associate professor of microbiology. "From the genomes we can get a pretty good idea of whether positives at BU are coming from person-to-person spread versus transmission from cases outside of the BU system. If we see two virus genomes that are identical, we know two people were in the same room together."
That has helped the team understand where most cases at BU are coming from and corroborate the findings of BU Healthway's contact tracing team.
The contact tracing team is on call 12 hours a day, 7 days a week, addressing positive COVID-19 cases as soon as they come up. On a slow week, the contact tracing team might investigate between 50 and 60 cases, a number that can grow to more than 100 during periods after long weekends or holiday breaks, when more positive cases tend to surface. A contact tracer's day involves just what you would expect: a lot of phone calls and a lot of hard conversations.
To date, BU's contact tracing team has discovered that the majority of spread within BU's community actually occurred off campus, from external sources, rather than from in-class or in-office interactions. That's largely due to the power of vaccines­—more than 95 percent of BU faculty, students, and staff are fully vaccinated against COVID—and BU's community health protocols, which require people, regardless of vaccination status, to wear masks in common spaces shared with others.
---

If we see two virus genomes that are identical, we know two people were in the same room together.

---
It's those unmasked interactions—within households, at social gatherings, during travel, or in other settings—that are largely contributing to the vast majority of cases at BU.
"Most true breakthrough cases are linked to clubs, bars, and socializing in crowded, indoor spaces," says Hannah Emily Landsberg (Sargent'12, SPH'13), associate director of Student Health Services. "It does put in perspective your level of risk—if you go to a 10-person gathering, that's less risky than going to several bars or big parties."
"Unmasked, prolonged social events can lead to COVID—whether you're vaccinated or not," Platt says.
With Omicron spreading around the world, scientists have been racing to understand if the new variant, which has the most mutations ever seen on a coronavirus variant, will be able to evade immunity from vaccination. Preliminary indications are showing that Omicron may cause milder infections than earlier variants, although scientists caution that it's too soon to be sure. 
The emergence of the Delta and now Omicron variants likely foreshadows that the world will continue living amongst the SARS-CoV-2 virus for a long time.
"In Massachusetts, we've been very fortunate that we've had some of the highest rates of vaccine acceptance," says Jacobson, who in addition to treating patients at BMC is also a BU School of Medicine associate professor of medicine in the section of infectious diseases. "But the virus has mutated in ways that [make it] hard to put the genie back in the bottle—the virus is figuring out ways to [mutate] over time. A lot of arrows point toward SARS-CoV-2 becoming an endemic virus [like influenza], one that is much milder and comes around seasonally."