Robots, Nanobeads, and Data Modeling—The Science behind BU's Coronavirus Testing Plan
COVID Testing
Robots, Nanobeads, and Data Modeling—The Science behind BU's Coronavirus Testing Plan
How BU scientists have prepared to meet the "audacious goal" of testing 6,000 people per day
With less than two weeks until Boston University's Charles River Campus begins welcoming undergraduate and graduate students back to school, the University has laid the groundwork for how its elaborate coronavirus testing program will work.
A few key details:
Individuals will perform their own nostril swabs at designated sampling sites on campus.
Sampling sites will be open daily, altogether collecting up to 500 samples per hour.
It will take a person about three to six minutes to check in, do the nasal swab, and complete the sample collection.
Sampling will require a person to rub a swab around the inside edges of their nostrils for several seconds.
Observers at the sampling sites will be stationed behind plexiglass barriers; each station will be separated from adjacent stations by six feet of space and plexiglass barriers.
Students, faculty, and staff will be notified of upcoming testing appointments online.
Students, staff, and faculty will learn their results within 24 hours.
That plan—the development and build-out of a dedicated coronavirus testing lab, the BU Clinical Testing Lab, operated by, and located at, BU—has been spearheaded by Catherine Klapperich, director of BU's Precision Diagnostics Center. Since May, when it became clear that the coronavirus pandemic would linger throughout the summer and into the fall semester, Klapperich and collaborators from across BU have been working day and night to scale up a clinically validated testing process capable of surveilling BU's entire on-campus community for the presence of SARS-CoV-2, the virus responsible for COVID-19 infections.
"This is the most challenging thing I've done in my career, even though, scientifically, these are all things scientists can do, things that I've done routinely," says Klapperich, who is also vice chair of the BU College of Engineering department of biomedical engineering, and a professor of biomedical engineering, materials science engineering, and mechanical engineering. "However, we're doing this on a scale and within a time period that is unprecedented."

Ultimately, she says, the goal of the testing lab is simple: "It will hopefully help us keep the infection rate down on campus."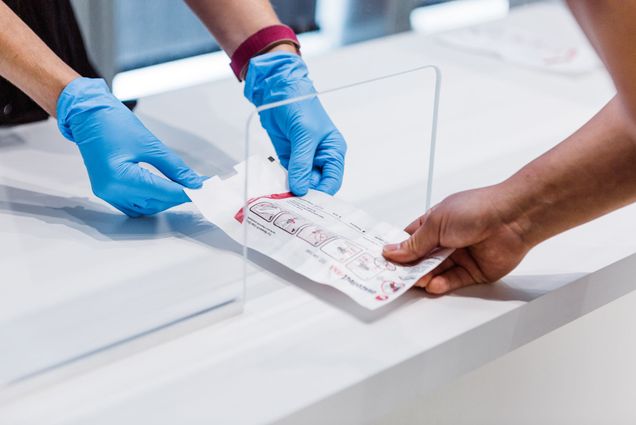 Inside the BU Clinical Testing Lab, which has rapidly been outfitted inside the Rajen Kilachand Center for Integrated Life Sciences & Engineering, eight robots—seven of which were rush-ordered—will eventually be capable of processing 6,000 coronavirus tests per day. The setup was built inside the lab of Douglas Densmore, an ENG associate professor of biomedical engineering and electrical and computer engineering, who stepped in to help from the start.

"Professor Densmore is an expert in the science and technology of high throughput biology and has generously lent his expertise, space, and human resources to getting the lab up and running," Klapperich says. Densmore's lab members specialize in how to turn experimental protocols into automated processes and formalize the design flows that accompany them.

Samples for testing will stream into the BU Clinical Testing Lab from collection sites across BU's Medical and Charles River Campuses, where members of the University's residential community and student-facing faculty and staff will regularly report for coronavirus screening. It's expected that it will take one person from start to finish about three to six minutes to arrive, check in, and complete the nasal swab.

As for the science behind BU's testing, Klapperich says, the lab will leverage the gold standard test for detecting the presence of coronavirus, known as RT-PCR testing, which stands for reverse transcription-polymerase chain reaction. The test works by turning RNA, unique sequences of genetic information found in humans but also in viruses, into DNA. The DNA can then quickly be multiplied using a process called polymerase chain reaction, or PCR.

That PCR process happens inside a lab machine—called a thermocycler—to amplify DNA into millions or billions of copies of genetic material. In this case, it multiplies the unique genetic code found in coronavirus to a high-enough quantity for the detection of SARS-CoV-2, even if the sampling swab originally captured only trace amounts of it.

Members of the BU community will perform their own swabs at designated testing sites on campus. BU's nostril test will be easier, and less invasive, than the deep nasal swabs (called nasopharyngeal swabs) that state labs, hospitals, and medical clinics have largely been using. The nostril swab will collect mucus from the nose to be screened for the coronavirus.

"I won't say we will never do the swab that goes all the way from your nose into the back of your throat, but primarily it will be nostril testing," Klapperich says. Although the deep nasal swabs are able to reach the place between the nasal passages and throat where the coronavirus first grabs onto and resides before you start feeling sick, research shows that coronavirus is mainly being spread by droplets containing virus exhaled from the mouth and nose—allowing the nostril tests to adequately detect infectious individuals.

"We know it's in our spit and in the mucus of our noses, that's how droplets are getting suspended in the air and infecting the next person, such as if you're talking to someone face to face [without a mask]," Klapperich says. "The theory is that people who are spreading the virus will have high viral load in their mouth and nostrils."

Students, faculty, and staff will be notified of upcoming testing appointments via an online portal. Before arriving at a sample collection site for their appointment, each person will fill out a form attesting that they don't have any symptoms of coronavirus and have not been exposed to anyone with coronavirus. People who do have symptoms, or who have been exposed to someone with coronavirus, will be tested at a separate sampling site from the sites designated for testing asymptomatic people.

After checking in and verifying the appointment time and identity of each person appearing for screening, the nostril tests will require individuals to swab around the inside edges of their nostrils for a few seconds. Observers will help make sure each person swabs correctly and for an adequate amount of time before placing their swab inside of a sterile test tube container filled with liquid saline.

Each person will complete their sample collection using a swab kit containing a test tube marked with a barcode associated with their unique student ID or other identification number. Sealed test tubes containing completed nostril swabs will then be placed in collection boxes, which will be packaged up and stored until they are taken to the BU Clinical Testing Lab. The entire process for one person should take only a few minutes.

The swabs are made from plastic foam, which has lots of surface area to grab onto cells from the inside of the nostrils. Klapperich says they are capable of capturing samples that, when screened using RT-PCR, can detect coronavirus with 80 to 90 percent accuracy.

Testing sites across BU will be open daily. The testing station on the Medical Campus, currently open and piloting BU's coronavirus testing program, is at 72 East Concord Street. Charles River Campus testing stations will be at the Kilachand Center for Integrated Life Sciences & Engineering, the 808 Gallery, the Agganis Arena lobby, and for those who report feeling symptoms of the coronavirus, 925 Commonwealth Avenue Rear, in the back of Agganis Arena. The sites, which are scheduled to begin operations on August 15, will be open for collection from 7 am to 8 pm or 8 am to 9 pm depending on the site, and will collect an average of about 500 tests per hour across all sites.
Although initially there will be the capacity to collect and screen thousands of tests per day, that number could be increased if necessary. Four times per day, medical couriers will arrive at testing sites to transport containers to the BU Clinical Testing Lab in the Kilachand Center.

BU's testing methodology—supported through intensive modeling efforts led by Eric Kolaczyk, director of the Rafik B. Hariri Institute for Computing and Computational Science & Engineering and a College of Arts & Sciences professor of mathematics and statistics—will make sure individuals are screened at frequent enough intervals to prevent infected people from going undetected. Kolaczyk and collaborators developed a simulation of how people interact with each other at BU to figure out which testing strategies would work best to contain any outbreaks.
"The structure of the model captures the way students, faculty, and staff interact through residences and classes," he says.
Student-facing faculty and staff employees in Categories 1 and 2 of BU's designated coronavirus testing tiers will be tested once per week. People in denser social situations—undergraduate students living in dorms—will be tested twice per week.
In BU's Clinical Testing Lab, laboratory technicians will load test tubes, delivered from testing sites by medical couriers, into the eight robots that will prep the samples and perform coronavirus screening.
Once the test tubes go into the robots, alcohol and magnetic beads are introduced to each test tube. These magnetic beads are coated in silica, which binds to genetic material—both viral and human—in the presence of alcohol, a dehydrating liquid. In contrast, the beads do not bind to other molecules—like fats and proteins—that make up human cells.
The beads are then drawn to one side of the test tube with a magnet, and the extra alcohol, fats, and proteins are drained away. Water is added, rehydrating the beads and causing the genetic material—RNA and DNA—to unbind from the beads' silica surface. The RNA and DNA is then extracted, creating a sample of genetic material that is then amplified using RT-PCR.
Like all coronavirus tests, the RT-PCR test does have the potential to miss detecting a person with coronavirus if the virus wasn't present in the nostrils, or if an adequate sample wasn't collected. In addition to screening for coronavirus, each RT-PCR test will also screen for ribonuclease P, or RNase P, an enzyme found inside human cells. Its presence indicates that the nasal swab successfully captured enough human cells for a valid test.
In each sample, the robots look for the presence of RNase P and the SARS-CoV-2 virus. Fluorescent dyes are added to the sample, which bind to two different fragments of the virus. Another dye binds to RNase P. The dyes give off glowing colors if the virus or RNase P is present, allowing a computer program to return a positive, negative, or inconclusive test result based on what colors appear in a sample.
"At the end of the sample run, the computer tells you how fast the colors changed in a sample, and it uses mathematical logic to decide if that means positive, negative, or inconclusive," Klapperich says.
An analysis that detects the presence of RNase P, but not coronavirus, indicates a negative result, meaning enough cells were collected for valid screening and those cells were not infected with SARS-CoV-2, Klapperich says.
If the analysis does not detect RNase P, but does detect SARS-CoV-2, it is considered a positive result, because it indicates the virus may have been present inside a person's nose even if the swab did not capture enough human cells. Klapperich says a test that fails to detect either would indicate an inconclusive result—meaning not enough human cells were captured to be sure that a person isn't infected. Inconclusive results will require repeat testing to confirm results.
Once tested, students, staff, and faculty can expect to find out their results within 24 hours, via an online portal, or in the case of a positive result, by phone. Kolaczyk says that rapid testing turnaround time is critical. "It's fantastic that people will get notification of their results within 24 hours—that's a lot faster than the week turnaround time that many professional companies are currently promising," he says.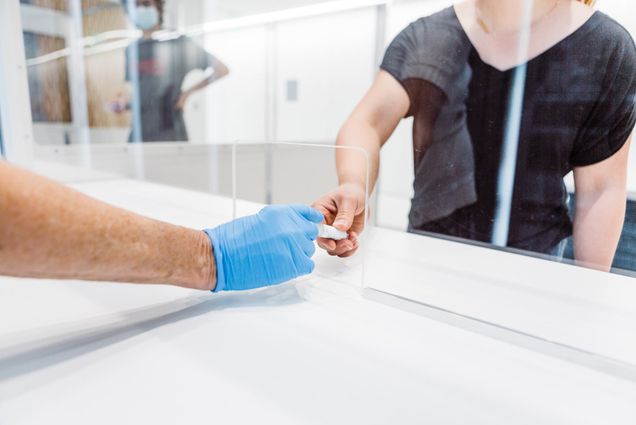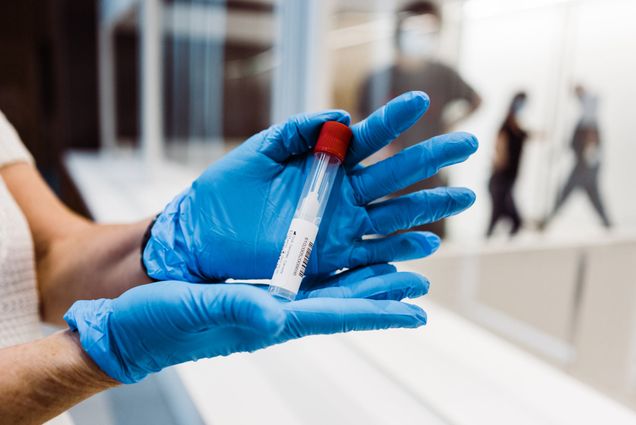 People who test positive will be retested in a separate location from general testing, and receive care if they are beginning to experience symptoms. People who get inconclusive test results will return to one of the general testing sites to complete another nasal swab.
Combined with contact tracing, Kolaczyk says, the testing process will create synergy in managing the spread of the coronavirus. "Contact tracing is going to be very important in the case of households. If you can trace an infection outward from a roommate, to a household, to a dormitory, to a classroom structure, you can intervene," he says.
The testing data will be collected in a digital dashboard, which will be made available to the BU community and be scrutinized by the BU administration in search of any indicators of community spread.
"If there are infections on a dorm or a floor? Everyone will be tested or quarantined," Klapperich says. The BU Clinical Testing Lab has left a buffer of bandwidth so that coronavirus screening efforts can rapidly home in on specific campus dorms and buildings that may contain infections. "We can surge into those environments to test everyone," she says.
The BU Clinical Testing Lab is the only one of its kind in Boston currently. Northeastern University will send samples from their community to their own Life Sciences Testing Center and a third-party testing facility. Harvard University, Massachusetts Institute of Technology, and Tufts University are outsourcing all of their testing to the Broad Institute.
"We're a bit ahead, by about a month, of other schools in terms of what we're implementing and doing, but we are far from the only people working on this problem," Klapperich says. She's started a Slack channel to answer questions about BU's testing lab and protocol—and inquiries are pouring in daily from universities around the United States.

Densmore, whose lab houses the BU Clinical Testing Lab, also says he and his team are ready to help disseminate BU's entire process to other organizations that wish to start up their own coronavirus testing efforts. The whole experience, he says, "helped remind me why we do research in the first place—to help society."

Last week, all of BU's planning turned into a reality when the sampling site on the Medical Campus opened its doors. Klapperich says the goal is to pressure-test the system to identify issues that arise before undergraduates begin arriving on campus in mid-August.

Klapperich says the last few months have been a whirlwind, and that many graduate students have pushed pause on their thesis work to help around the clock. "They've been working on this, marrying the software with the testing assays…they built this entire lab from nothing." She also says BU Facilities workers stepped in to help outfit the lab space in lightning speed, setting up the robots that BU Sourcing & Procurement worked at a breakneck pace to purchase and take delivery of.

"It's been really rewarding to work with everyone on this, to see everyone come at this problem with a positive, determined outlook," she says. "It's been an audacious goal and we are coming really close to making that goal, and it's all because of people who worked together on self-organizing teams to make it happen. There's been a lot of energy, a lot of people taking initiative, a lot of 'Holy crap, we need to get this done, let's do it.'"