Optical Pioneer Jerome Mertz Is BU's 2020 Innovator of the Year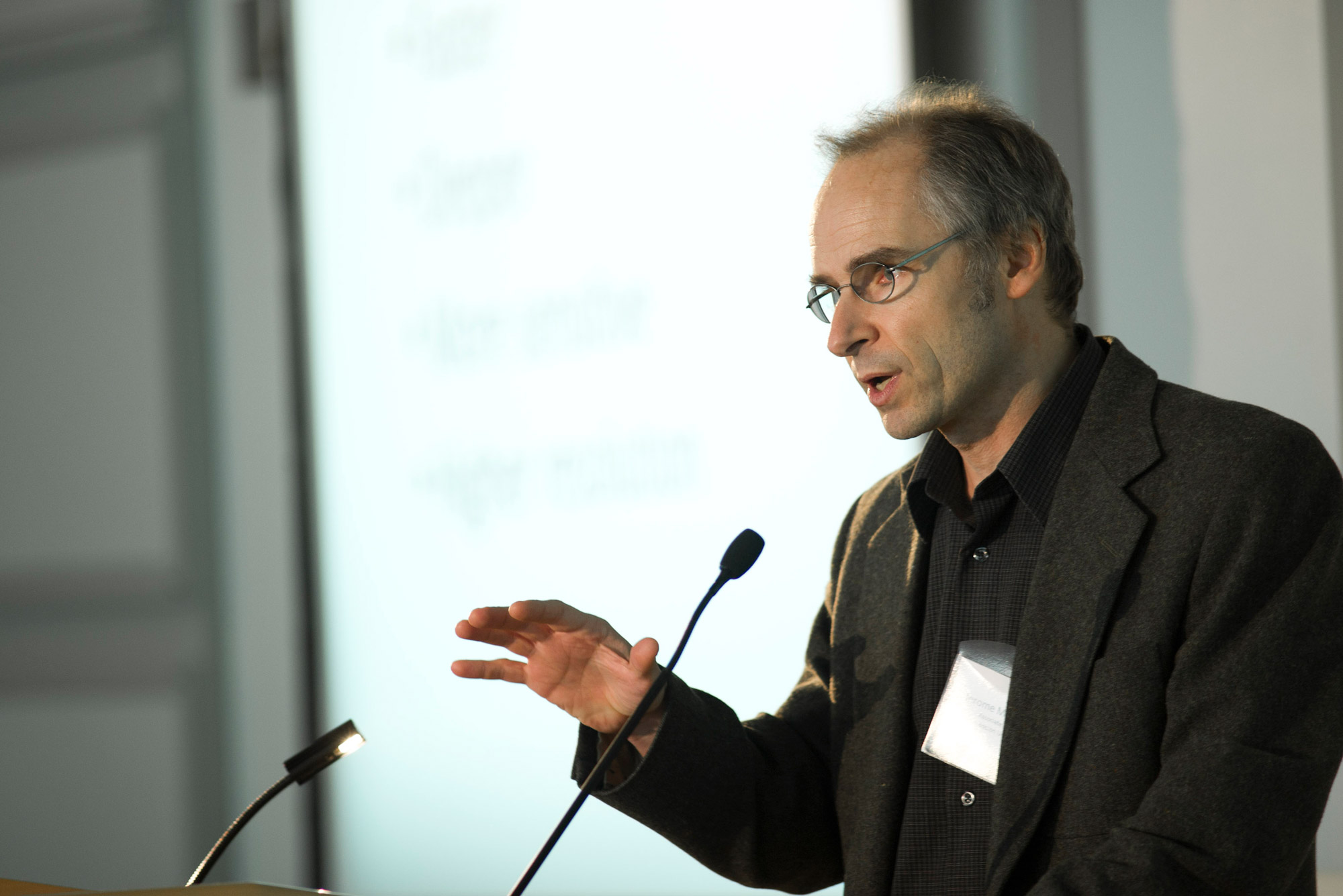 Research Accolades
Optical Pioneer Jerome Mertz Is BU's 2020 Innovator of the Year
ENG professor is a prolific inventor whose innovations have made leaps and bounds in microscopy
Jerome Mertz, a Boston University College of Engineering professor of biomedical engineering and of electrical and computer engineering and a BU College of Arts & Sciences professor of physics, holds six issued patents for technologies that have greatly advanced microscopic imaging quality and capabilities. Some of his inventions—he's disclosed 22 new ones during his time so far at BU—have made it easier and faster to get better images of thick breast, heart, and brain tissue, more clearly illuminating for clinicians what is happening inside the human body. Other technologies invented by Mertz have sped up microscopic imaging processes of tissues or other materials by up to 16 or 20 times faster. For his pioneering work, he's been named BU's 2020 Innovator of the Year, an honor bestowed annually by BU's Office of Technology Development. The Brink reached out to Mertz to learn more about his passion for microscopy and how he gets ideas for his inventions.
The Brink: How did you first get so interested in optics and microscopy? What drew you to the world of technology that allows humans to see what the naked eye cannot?
Mertz: Both my parents were trained in optics, and so there were optics books all over the house when I grew up. It was pretty inevitable. As for why microscopy in particular, my dad was an astronomer and liked to look at small things through a telescope. I just settled with looking at small things through a microscope.
Can you describe your innovation process? Where do you get inspiration for designing new optical technologies?
Honestly, it's pretty random. It usually comes from following up on something I don't understand, meaning there's a lot to follow up on.
Is there an invention that you're particularly proud of? If so, why? What problem did it solve and how did solving that problem improve our understanding of biology (or something else)?
I can't say I'm more proud of any one invention over another. In fact, the invention itself is usually a letdown, and I rarely think about it when it's over. It's the process of getting there that's interesting to me.

As for improving our understanding of biology, most of what I've worked on is the development of [better imaging] tools. For example, biologists no longer settle for simple 2D images of their samples. They want 3D volumetric images, in thick tissue and at high speeds. These are some of the tools my lab has been developing.
What challenges in optics or microscopy are you currently working on solving?
Right now, my favorite challenge is translating what I know in optics into ultrasound imaging, which I've never worked on before. It's great. I feel like a kid in a toy store. I have to thank Tom Bifano and the BU Photonics Center for that possibility.
For early career scientists with dreams of translating new technologies out of the lab, what advice do you have for them? What is the key to staying creative and identifying solutions that will attract commercial interest?
I could say something trite about following your dream, but I won't. The truth is much more prosaic. The key to being creative is to have a deep understanding of what you're working on to the point that it becomes intuitive. Without intuition, there can be no creativity. And unfortunately, at least for me, the intuition comes only after a lot of hard work. There's no cutting corners.
When you aren't in the lab, how do you enjoy spending your time? What are some of your favorite pastimes, hobbies, or interests?
Well, there's before and after COVID. Before COVID, it was the usual stuff—reading, hiking, swimming, rollerblading, etc. Since COVID, it's been a lot of working with my wife to keep the kids sane.