Make Way for Ducklings Musical Adaptation by Wheelock Family Theatre Streams over Zoom Saturday
Theatre
Make Way for Ducklings Musical Adaptation by Wheelock Family Theatre Streams over Zoom Saturday
Bringing Robert McCloskey's beloved children's book to life virtually creates challenges, opportunities
Since its debut in 1941, Robert McCloskey's Make Way for Ducklings—the enchanting story of two mallard ducks and their search for a safe home to raise their brood of eight ducklings—has become a staple of children's literature, selling well over 2.5 million copies. For those who haven't read the book (or had it read to them), Mr. and Mrs. Mallard fly over Boston landmarks (all lovingly depicted in McCloskey's sepia drawings), including the Charles River, the Massachusetts State House, and Beacon Hill's Louisburg Square, before settling on an island in the Public Garden as the perfect home for their family. Along the way, the newborn ducklings learn how to swim, dive, march in a line, and stay clear of bicycles and cars.
The book has been adapted as a musical for the stage and will be presented—in a nod to the COVID-19 pandemic—over Zoom in a virtual production staged by Wheelock Family Theatre (WFT) Saturday at 4 pm, with a cast and design crew of students from the BU College of Fine Arts. The event is free and open to the public.
"It's a perfect fit for WFT," says show director Emily Ranii (CFA'13), Wheelock's artistic director. "Make Way for Ducklings is rooted in Boston. This is our story, a story that has been uniting the Boston community for decades. And, it's about two young parents learning how to parent together."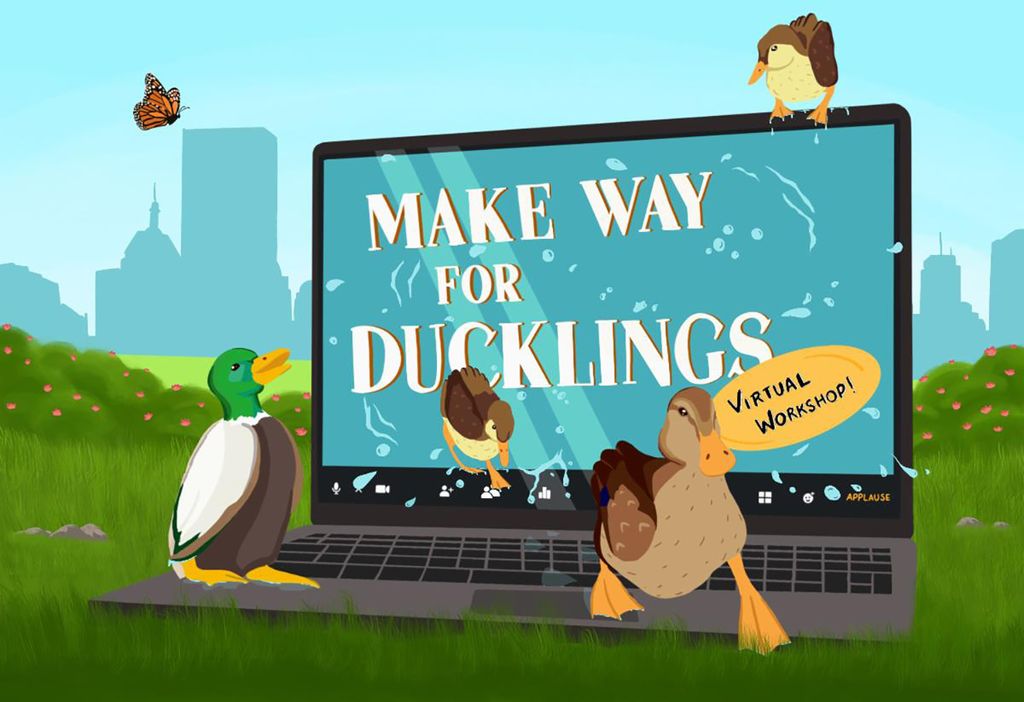 What Ranii couldn't have anticipated back in summer 2019 when one of the show's creators, Michael J. Bobbitt (then artistic director of Adventure Theatre MTC in Maryland) approached her about co-commissioning the work, was a pandemic that would make live theatrical productions impossible for the foreseeable future. But, says Ranii, COVID-19 has given the story an added resonance. "I couldn't imagine how central this story of a quest for where to lay their eggs would become as we find ourselves increasingly at home," she says.
Even before the pandemic, adapting a beloved children's book was daunting, says Bobbitt, who is now artistic director of the New Repertory Theatre. He and cowriters Sandra Eskin and William Yanesh (music and lyrics) had previously adapted another McCloskey classic, Blueberries for Sal, for the stage. But this book presented a number of unique challenges, Bobbitt says: "Singing ducks, paying homage to Boston without offending, finding a way to dramatize a book that was meant to be read and filling in the blanks suggested by the illustrations, updating dated parenting and gender roles without losing the essence of the story, figuring how to write an epic play with as small a cast as possible, defining who the characters are, especially each duckling."
Ranii says she had never imagined presenting the work virtually, over computer screens. But staging it over Zoom afforded an opportunity to safely serve Wheelock's audiences and to learn about the ebb and flow of the show's storytelling and music in advance of the live in-person production WFT plans to mount post-pandemic.
Presenting the show virtually has been a learning curve for everyone involved—cast, designers, and director.
"The Zoom screen is much smaller than the Wheelock Family Theatre stage, so the storytelling vocabulary is different," Ranii notes. "The difference between looking directly at the camera versus at your computer screen means something. These seem like small choices, but they have a big impact.
"Zoom theater involves everyone thinking three steps ahead and outside of their traditional roles. For example, the actors also participate in the design and stage management processes. They set up their green screens and microphones, set all their props, navigate quick changes alone and change virtual backgrounds in addition to all the usual actorly duties."
For costume designer Kevin Hutchins (CFA'21) and lighting designer Anna Brevetti (CFA'21), working on their first virtual theater experience has been challenging—but fun.
"I had to design costumes for the Zoom workshop presentation of the musical while simultaneously designing the costumes for the fully staged version once we are able to mount that production," Hutchins says. "For the Zoom workshop, I needed the costumes to be bold and simple since the actors are working in their personal spaces and against green screen backgrounds." Because the small cast plays multiple parts, Hutchins also had to create pieces that could come on and off easily.
Brevetti acknowledges that the rehearsal process has required "lots of trial, error, and patience," and a willingness to be open to experimentation. For this virtual production, rather than making big design choices, the focus was on simply creating "consistent visibility for all the actors," she says.
The actors, too, say that the virtual workshop has given them a chance to develop their craft in sometimes unexpected ways.
"This new reality really forces us to deconstruct some antiquated ideas of what we think theater can be and figure out new and innovative ways of storytelling which can hopefully be more accessible and engaging," says Arine Okwuosah (CFA'21), who plays Mr. Mallard.
"It feels difficult as an actor to connect with my fellow scene partners because that human connection is what makes acting so exciting and dynamic," says Jackie Romankow (CFA'21), the production's Mrs. Mallard. The cast and crew have been able to work around that, she says, discovering "really creative ways to block dance numbers and use fun sight gags to explore the kind of physical comedy that would come with a live performance."
Crew and cast had one opportunity—last month—to come together to rehearse in the Public Garden, alongside the Make Way for Ducklings bronze sculptures created by Nancy Schön (DGE'48) that have been a popular tourist destination since they were installed in 1987. The day offered a respite from the thrice-weekly Zoom rehearsals and even gave the cast, dressed in their duck attire, a chance to perform for an ad-hoc live audience.
"Many of the people around the park stopped to watch," Romankow says. "What I found most exciting was how many little kids seemed drawn to us—they loved the bright colors of our costumes and our dancing and singing. That made me feel really good, because this is supposed to be a children's show, and being able to physically see some children engaging with our work makes me feel optimistic that even though this show is being done virtually, it will hopefully still reach our audience."
Wheelock Family Theatre's virtual workshop production of the musical adaptation of Make Way for Ducklings is Saturday, December 5, at 4 pm. The event is free and will be streamed live. Find more information and reserve your free spot here.