Getting to Know Your Neighborhood: Brighton
A guide to eating, shopping, and sightseeing a short distance from BU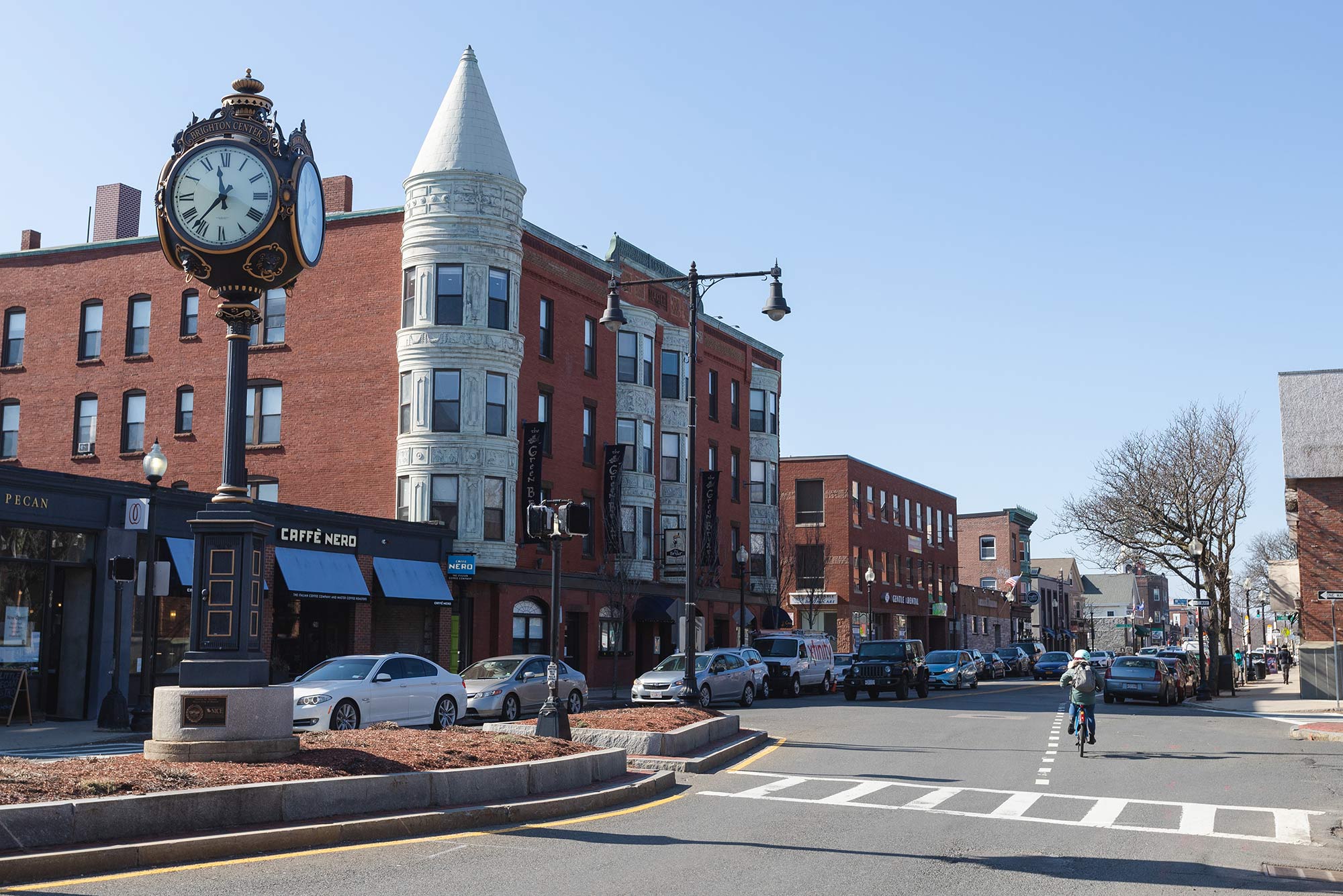 In the City
Getting to Know Your Neighborhood: Brighton
A guide to eating, shopping, and sightseeing a short distance from BU
Just beyond the bustling streets of Allston lies a more residential neighborhood—Brighton. Home to many Boston University and Boston College students, young professionals, and families, Brighton offers many pubs and ethnic restaurants providing affordable options for a leisurely afternoon or a night on the town.

First settled by Europeans in 1630, the area was originally part of Watertown. In 1634, the Massachusetts Bay Colony transferred the land to Newtowne (Cambridge today). The first permanent English settlement in what is now Brighton drew people from Cambridge, and the area became known as "Little Cambridge." The moniker lasted until residents voted to secede from Cambridge in 1807, when the area was renamed for the English coastal city of Brighton and Hove. In 1874, Brighton officially became a neighborhood of Boston.

Throughout its nearly 400-year history, Brighton has seen many important developments. The Brighton Cattle Market was created in 1776 to feed George Washington's Continental Army during the Revolutionary War, establishing the area as a major center for the cattle and slaughtering trades that lasted until the mid-20th century.
Today there are many restaurants, bakeries, art galleries, pubs, and small businesses lining Washington Street, the tree-lined artery that runs through Brighton Center to Oak Square. BU Today has compiled a list of some of the best places to explore when you're in the neighborhood.
Established in 2012, Unbound Visual Arts is an educational nonprofit whose goal is to enrich and enhance the community with provocative and inspiring exhibitions and art expos staged in and around Boston. It also sells original works of art by local artists at the gallery space and online.
Brighton Bodega
328 Washington St.
In the heart of Brighton Center in a space formerly occupied by legendary diner Mandy and Joe's, Brighton Bodega offers a contemporary take on street food from around the globe. Diners can feast on oysters from the raw bar, cheese and charcuterie plates, Maine mussels, and assorted steam buns. The eclectic, small plate–focused menu changes daily, driven largely by what's in season. This newcomer is quickly winning over locals with its nontraditional menu and cozy, modern dining space. It also features a wide array of craft beers on tap and a deep selection of seasonally focused house cocktails. The restaurant also offers a weekend brunch on Saturdays and Sundays. It's open until 1 am daily, making it an excellent late-night dining destination.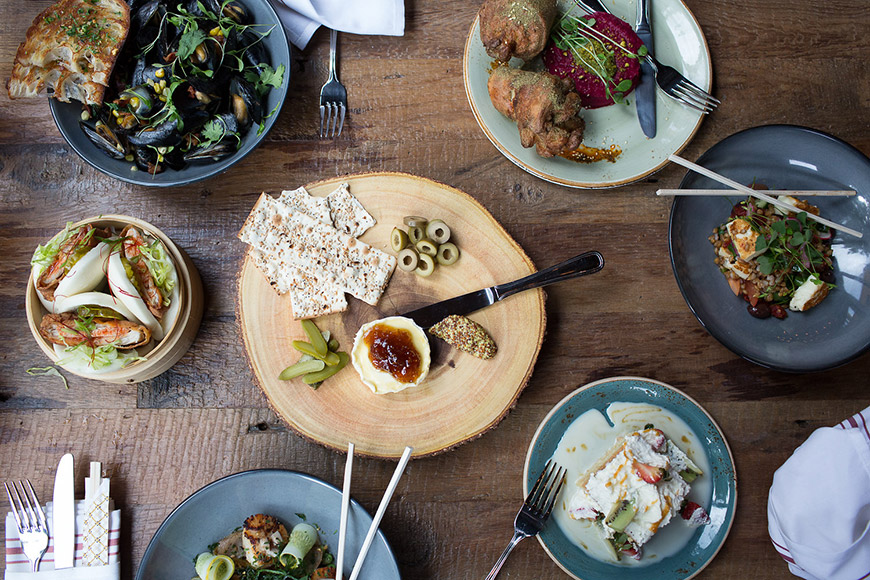 Whether you're dining inside or on the outdoor patio, the ambience at Devlin's is decidedly chic. Come for a romantic dinner at an elegantly set table, a casual meal at a booth or high-rise table, a leisurely outdoor brunch, or a quick drink at the bar. The wood-themed décor complements the brightly colored walls, curtains, and artwork to create a lively feel. The calendar of events has something special nearly every day of the week: there's live music by local musicians on Monday and Thursday nights and Sunday afternoons, as well as a weekly taco special on Tuesdays for just $5. The menu is straightforward, with a mix of pizzas, bowls, sandwiches, and burgers, along with a few more esoteric dishes like bourbon brown sugar steak tips and bison bolognese. On the extensive beer menu are American IPAs, ciders, ales, and a number of draft beers.
This Irish pub in the middle of Brighton Center, is as well-known for being a venue for up-and-coming local musicians and musicians touring New England as for its food, drinks, and dartboard competitions. The Drafters, Dennis McCarthy, and the Charlie River Band have performed here. Live music is offered every Friday and Saturday. More interested in sports? Watch games on one of the plasma TVs or play a friendly game of darts. The menu has a decidedly Gaelic influence: you'll find corned beef hash and a traditional Irish breakfast (a "sunny egg," Irish bacon, Irish sausage, black and white pudding, beans, mushrooms, and toast, available all day) on the weekend brunch menu, and dinner entrées include Irish chicken curry, Sam Adams–battered fish and chips, and cottage pie.
Cafénation has everything you could want in a café: lots of coffee and tea options, sweet dessert crepes (Nutella, strawberry and banana, and caramel apple crisp), inexpensive bagel and egg breakfast specialties, an array of lunch salads, and seasonal soups in the winter. Try an MEM loose-leaf tea served in a cast-iron teapot, paired with the hummer breakfast sandwich (hummus, alfalfa sprouts, tomato, lettuce, and red onion), a healthy and filling breakfast for under $10. Other popular menu items: the Otom breakfast sandwich (a BLT with eggs, cheddar cheese, and spicy aioli) and a hummus avocado sandwich. The walls show the work of local artists, available for purchase. Although great for a quick bite or cup of coffee (roasted by Square One Coffee in Lancaster, Pa.), it's small and seating can be hard to come by.
A menu brimming with appetizers, salads (more than two dozen), subs, gyros, calzones, wraps, Italian specialties, and more than 30 pizza combinations means Little Pizza King will satisfy your appetite. Be sure to come hungry—the place has low prices, large portions, and endless options. Their website promise: "We enjoy feeding you just as much as you enjoy eating our food." And it's true. Seating is limited; takeout and delivery ($2.50 on orders of $8 or more) are available.
This family-owned bakery has been a Brighton institution for more than 60 years. Founded by Daniel Handalian in 1959, it remained in his family for more than four decades before being sold to Wanda Silva, who runs it with her family. The cakes, pies, cookies, breads, pastries, and muffins are baked on the premises daily. It has a huge assortment of ethnic treats, ranging from Brazilian and Italian pastries to Jewish sweets. Consider a custom or photograph cake for your next big party or special event. Three window stools accommodate those who need their sugar rush before hitting the sidewalk.
A mainstay of Brighton for more than a decade, Athan's prides itself on having "brought a little bit of Europe to Boston." The Mediterranean-inspired menu offers great breakfast, lunch, and dinner options: pastries, eggs, salads, cold sandwiches, hot paninis, and several meat entrées. For something sweet, treat yourself to one of the specialty cakes, tarts, mousse tortes, gelato, handcrafted chocolate, cookies, or baklava (a Mediterranean pastry with layers of filo, nuts, and honey). Have a seat inside and enjoy the contemporary décor. The walls serve as a revolving gallery for local artists.
Rogers Park
90 Rogers Park Ave.
Just steps from Washington Street, Rogers Park is a great place to gather with friends to play sports or just get some sun. There are baseball fields, basketball courts, tennis courts, and a playground with a tot-lot. The area is dog-friendly as well, but beware: it's not completely fenced in and runaway dogs are a frequent occurrence.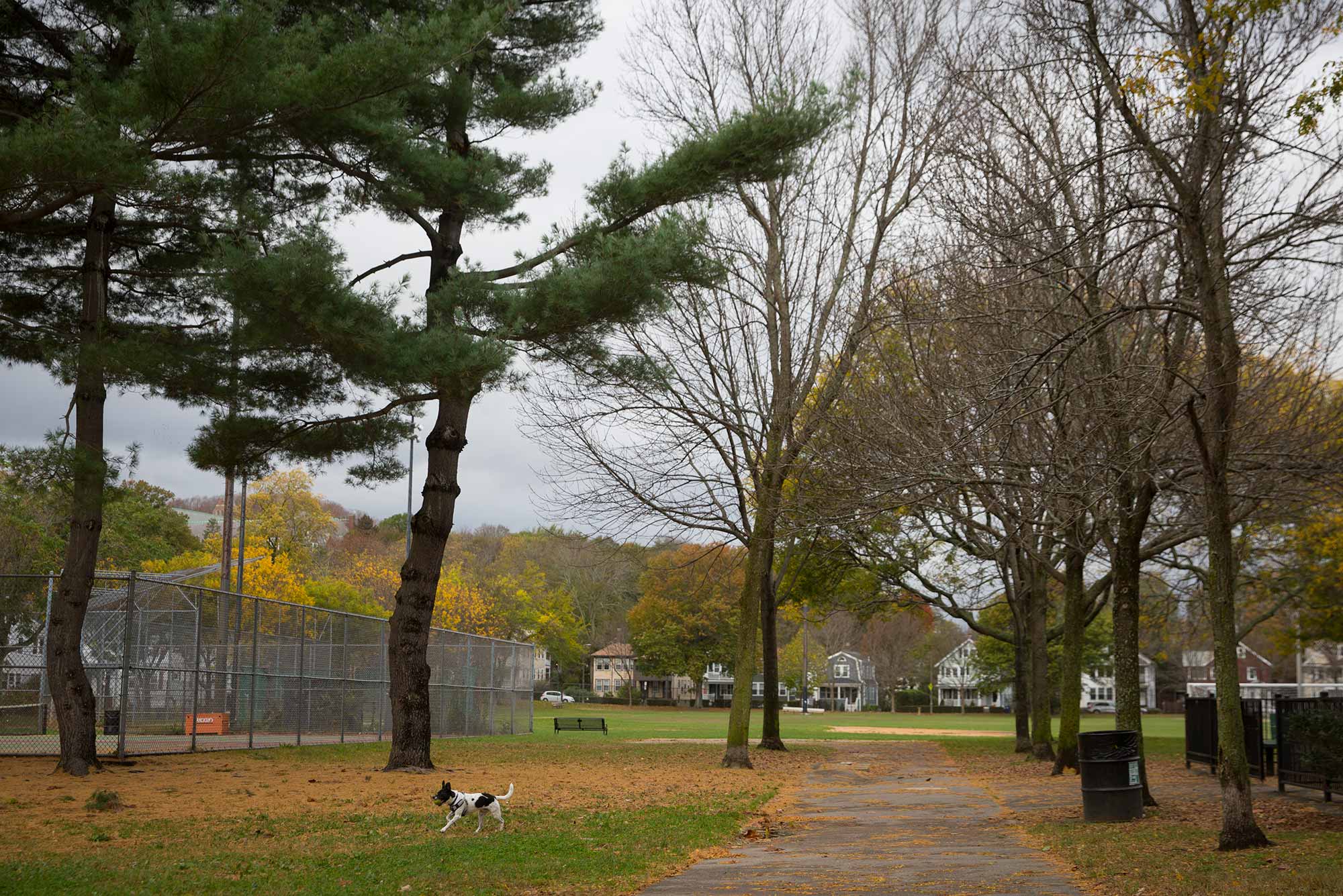 Open daily from 11 am to 10 pm, Fiorella's prides itself on delivering "fast, fresh, and delicious" Italian cuisine. This casual dining restaurant opened its first full-service location in Newton in 2001 (another opened in Concord in 2017) and has since expanded to include three "express" locations, including this one, that offer an array of quick-fix appetizers, salads, nearly a dozen pasta dishes (eggplant parmigiana, linguine with meatballs, fettuccine alfredo), seafood, pizza and calzones, and sandwiches and wraps. You can eat in (the restaurant has six tables) or order online for pickup or delivery. Be sure to sign up for Fiorella's customer rewards program to take advantage of special offers.
As its name implies, this 200-seat steakhouse is a carnivore's delight. Stockyard has been serving up hearty meals for hungry patrons for more than four decades. With six cuts of steak on the menu, along with pork chops, steak tips, beef tenderloins, and hickory-smoked back baby ribs, Stockyard is in some ways a throwback to the steakhouses of yore. But non–meat eaters will also find plenty to choose from. The restaurant has an impressive raw bar, a selection of New England seafood classics, like lobster pie and pan sautéed Atlantic cod, and several salads. One of the city's largest restaurants, Stockyard is anchored by an enormous horseshoe bar and is open daily. Reservations are accepted, and brunch is offered on Saturdays and Sundays.
Fans of Flatbread Company and Sacco's Bowl Haven in Somerville's Davis Square already know what an irresistible combination pizza and candlepin bowling are. But you don't have to cross the river to enjoy them. Flatbread's Brighton spot at Boston Landing offers the same trademark all-natural, wood-fired clay oven pizzas and candlepin bowling. At 12,500 square feet, it's significantly larger than the one in Davis Square. The top mezzanine level is an option for private events, with two lanes, a large bar, and a dining room. Downstairs, you'll find seven bowling lanes, and another bar and dining room. It's ideal for after-work gatherings and for families looking to host a child's birthday party. Among the standout pizzas are the Brighton Community Flatbread, featuring tomato sauce, organic caramelized onions and mushrooms, whole milk mozzarella, and homemade garlic oil, and Mopsy's Kalua Pork Pie, topped with free-range pork shoulder or chicken, mango barbecue sauce, organic red onions, pineapple, goat cheese, mozzarella, and parmesan. There's also a dairy-free vegan option, organic salads, an extensive beer list, and a selection of mouthwatering desserts.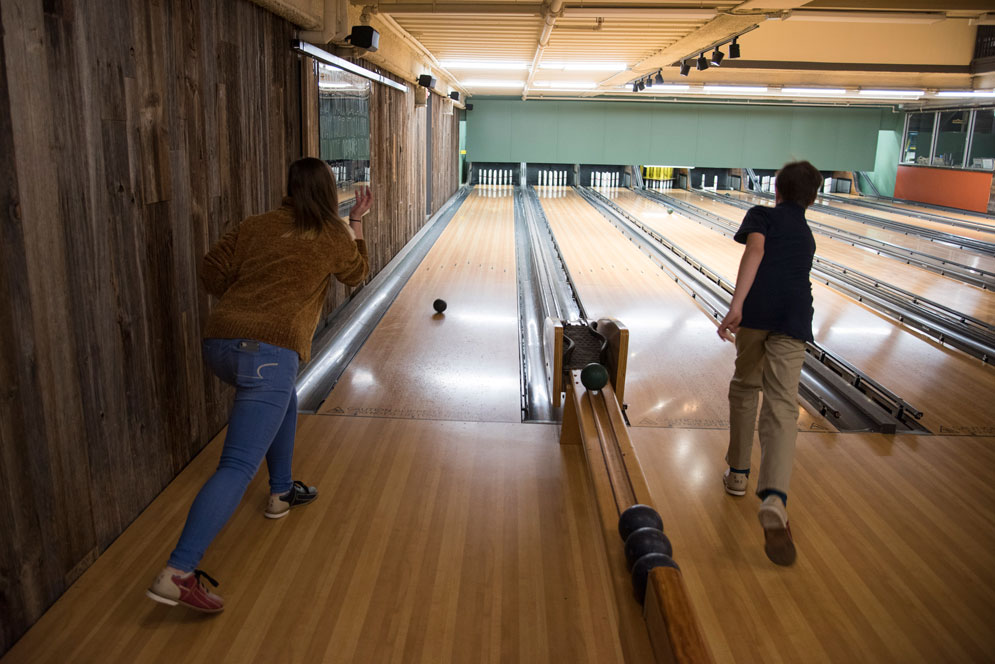 When Article 24 opened in June 2016, restaurant bible Zagat named it "one of Boston's 11 most anticipated restaurants for spring." Since then, the restaurant has attracted a steady crowd, drawn to its food (the paella, steak frites, and truffle fries are big hits), its tequila and taco lounge, and its live DJs and local bands. The restaurant's popular brunch menu includes such novelties as a falafel cake with poached eggs, tomato, spicy mayo, and sour cream, and the lobster Macmuffin—three eggs scrambled with lobster, served on an English muffin with cheese and bacon. Be sure to make a reservation, as the eatery tends to get crowded, despite plenty of seating.
Established in 2007, the Brighton-Allston Heritage Museum provides a glimpse of the neighborhood's history, heritage, and culture. The museum, in the Veronica Smith Senior Center, features old photographs and articles chronicling Brighton's development, some dating as far back as the 1600s, in the main room. A separate gallery has rotating exhibitions, often showcasing the work of Brighton artists. The museum is open Thursdays and Fridays from 11 am to 3 pm. Admission is free.
Moogy's
154 Chestnut Hill Ave.
Between Cleveland Circle and Brighton Center, this Philadelphia-inspired sandwich shop is known for its inventive hoagies (better known as subs here in New England), casual atmosphere, all-day breakfast, and daily specials. Some of the standout subs: the Full Monty (steak, bacon, provolone, and barbecue), the BC (cheese steak, extra steak, provolone, and American cheese), and the Jolly Green Giant (chicken, broccoli, Swiss cheese, and honey mustard). Moogy's also offers $1 PBR drafts and old-school board games and boasts 10 types of french fries.
If visiting Brighton's restaurants and pubs leaves you anxious to burn off some calories, you can take a spin on the water. Whether you're a novice or an experienced rower, Community Rowing has a class and an instructor to fit your needs. You can sign up online or on location. The nonprofit was established in 1985 on the premise that access to rowing changes lives and communities. One-person shells and sweep rowing for groups of eight are available. All rowers are required to have a swim test on file before using the club's boats. You can complete this test with any certified lifeguard or at the local YMCA. Class prices vary, so check the website for more information.
This space is a must for anyone interested in arts and crafts. The Corner Art Room offers a range of programs, including painting, knitting, and quilting workshops and classes, arts and crafts classes for children, and family art drop-in sessions. Check out the calendar for a full list of programs. It's open Thursday through Sunday.
The BPL's Brighton branch is one of the most tranquil places in Boston to relax and catch up on reading. Curl up on the lounge area's beautiful red couch overlooking the library's serenity garden, or enjoy one of the bean-shaped chairs in the story nook or a high-rise table in the teen café area. The branch offers a wide selection of readings, lectures, and concerts and has a collection of books on Brighton-Allston history, as well as photographs from the Brighton-Allston Historical Society's archives. The library also offers a wide selection of reading materials in Spanish and Russian, as well as book discussions, children's programming, ESL classes, and homework help for young students. Find a calendar of events here.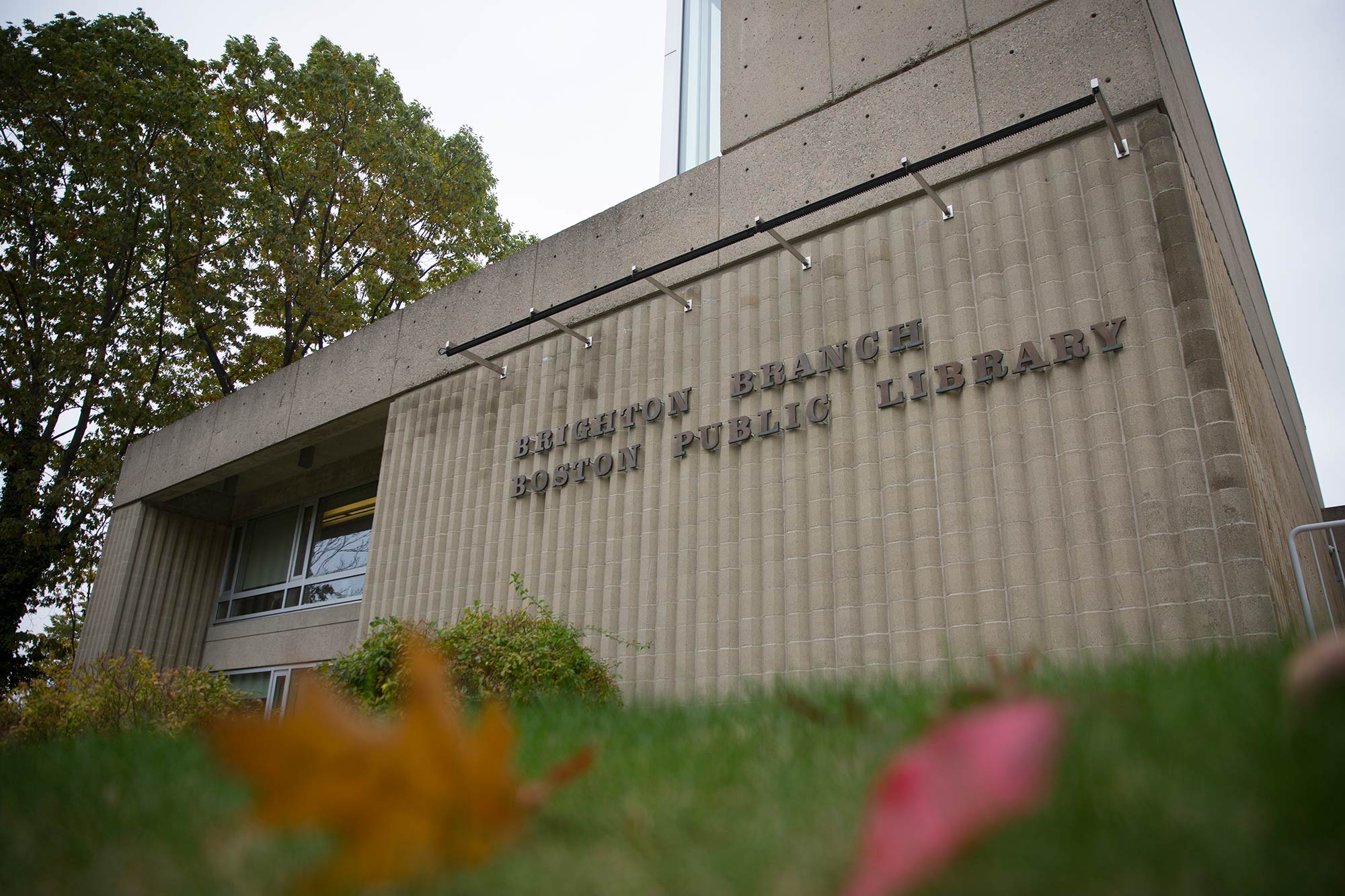 Although most of the Boston College campus is in nearby Chestnut Hill, in 2004 the school extended its reach into Brighton with the purchase of 43 acres of land from the Archdiocese of Boston, including what was formerly the archbishop's residence. Subsequent purchases from the archdiocese increased the size of BC's Brighton campus to 65 acres.
Founded in 1863, this Jesuit institution began life in Boston's South End and moved to Chestnut Hill in 1909. With its superb Gothic architecture, the park-like campus is a wonderful place to stroll. The college has a small but excellent museum as well, the McMullen Museum of Art, in the former archbishop's residence on the Brighton campus. It includes works by American artists John La Farge, William Trost Richards, Frank Stella, and Jackson Pollock, in addition to classical and Christian Flemish tapestries, Italian paintings depicting sacred scenes, and American landscapes and portraits dating from 1840 to 1940. The museum has had special exhibitions of work by artists such as Edvard Munch, Roberto Matta, Paul Klee, and Carrie Mae Weems. Museum admission is free and open to the public, but the museum closes between exhibitions and is typically closed summers, reopening in September. Hours during exhibitions are Monday, Tuesday, Wednesday, and Friday, 10 am to 5 pm; Thursday, 10 am to 8 pm; and Saturday and Sunday, noon to 5 pm. Find more about dates and hours of operation here.
Getting there: Take the MBTA #57 bus along Commonwealth Avenue and get off at Washington Street in Brighton or an MBTA Green Line trolley to the Boston College stop.
T
This Series
Also in
March 4, 2020

February 26, 2020

November 15, 2019