BUTV10 Scores Four 2020 National Academy of Television Arts & Sciences Awards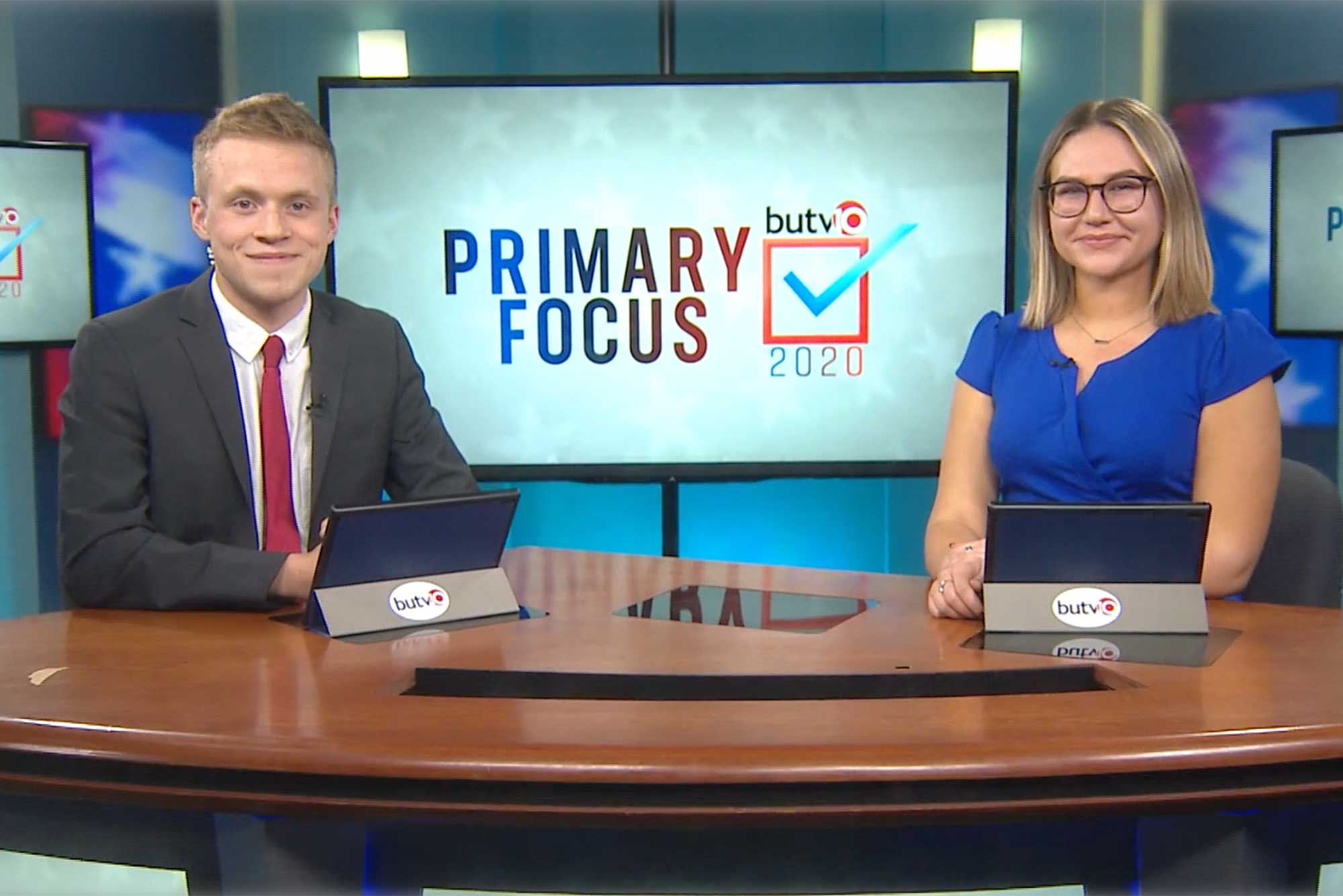 BUTV10
BUTV10 Scores Four 2020 National Academy of Television Arts & Sciences Awards
Political coverage, basketball broadcasts, a bilingual magazine show, and a report on deepfakes recognized
The National Academy of Television Arts & Sciences Boston/New England chapter recently honored the College of Communication student-run television station BUTV10 with four National Student Production awards. The awards show was originally slated for June 13, but NATAS was forced to cancel it because of the COVID-19 pandemic, and instead opted to announce the winners on its website.
NATAS, which governs the Emmy Awards and is a leading professional organization in the television and media industry, named Primary Focus, BUTV10's coverage of the 2020 Democratic primaries, the best newscast and the station's live broadcasts of BU basketball the best live sports event. The station also took home honorable mentions in the long-form nonfiction category for work on the deepfakes episode of On That Point and in the magazine program category for Amber, the station's bilingual show showing what it's like to live in both China and the United States.
This year's Primary Focus award gives BUTV10 a repeat win: last year the station's Midterm Mandate (the midterm election equivalent to Primary Focus) also took home the top award in the newscast category. BU basketball coverage repeated in the sports-live event category, this when four of the five students listed for the 2019 award had graduated. Amber racked up its second straight honorable mention.

BUTV10 general manager Malaika Moyer (COM'21) says it's an honor to be recognized and it "reflects our talented membership striving to produce quality content every day."

Nicholas McCool (COM'20) wears three hats at the station: he's a producer and play-by-play commentator for BU basketball, a reporter for the Super Tuesday edition of Primary Focus, and a producer and anchor for On That Point.

In the Super Tuesday episode, hosts interviewed John Carroll, a COM assistant professor of mass communication and a WBUR media analyst, about Democratic presidential candidate Joe Biden's wins that day.
"A lot of what was said on the broadcast that night was improvised and was spontaneously reacting to what was going on, and that was really special," McCool says. "I was just doing my best to hold down the fort on my side of the set and make sure that when they threw to me, I was able to fill the amount of time they needed me to fill and get the content out of Professor Carroll that we needed."

With so many moving parts in the live coverage, anchor Natalie Bennett (CAS'20) drew on her experience as a field reporter in El Paso, Tex., during BUTV10's 2018 Midterm Mandate broadcast to anticipate how they might have to deviate from their broadcast plan. When the video feed from a remote broadcast cut out during the live coverage, the crew adjusted to a phone call format seen on many national news stations.

"I think it was great to have field experience and anchoring experience," Bennett says, "because being on both sides of that, you run into different challenges, and you know that things are going to go wrong, guaranteed. Being resilient to those challenges is so important."

Primary Focus stage manager Maya Malekian (COM'20) says she benefited from working with many of the crew members on other shows, including Good Morning BU. Some of the transitions "took 10 to 15 times to practice before we went live, and when we go live, you have maybe three seconds to make a call," she says. "The way it worked so smoothly was that our team was always communicating with each other and we all trusted each other."

Joining McCool on the BU basketball broadcasts were color commentator Jacob Lintner (COM'21) and sideline reporter Allie Rock (COM'20). The trio put in at least three hours of preparation before a game, and that sometimes stretched to eight hours in games where BU faced an unfamiliar opponent.

"To win [the award] in back-to-back years is something I didn't expect to do in college," Lintner says. "It shows how much work we put into it, how much work the whole crew does, that we were able to keep a really consistent product, even though we had a ton of people graduate last year."

Riley Villiers (COM'21), director of the On That Point deepfakes episode, pushed to do a show on the topic for a year and a half, she says, and after a congressional hearing on the topic in summer 2019, while McCool was interning in Washington, D.C., he jumped on board. 

Amber, the current events show about Chinese and English cultures, is produced by Jingjing Zou (COM'20) and Phoebe Han (COM'20). Zou says they are very proud of the team's work on the show and their attention to detail.

Malekian says that while the four awards confirm that BUTV10 is doing good work, the accolades aren't the reason any of them join the student-run station.
"You do it because you care and because it's something you love," she says. Awards are "a cherry on top, an extra affirmation that what you do matters and that people notice it. NATAS notices hard work, they notice dedication and passion, and that encourages you even more. But at the same time, it's so clear that everyone on this team doesn't do this for recognition or awards."