The BU Class of 2023: The Numbers Tell the Story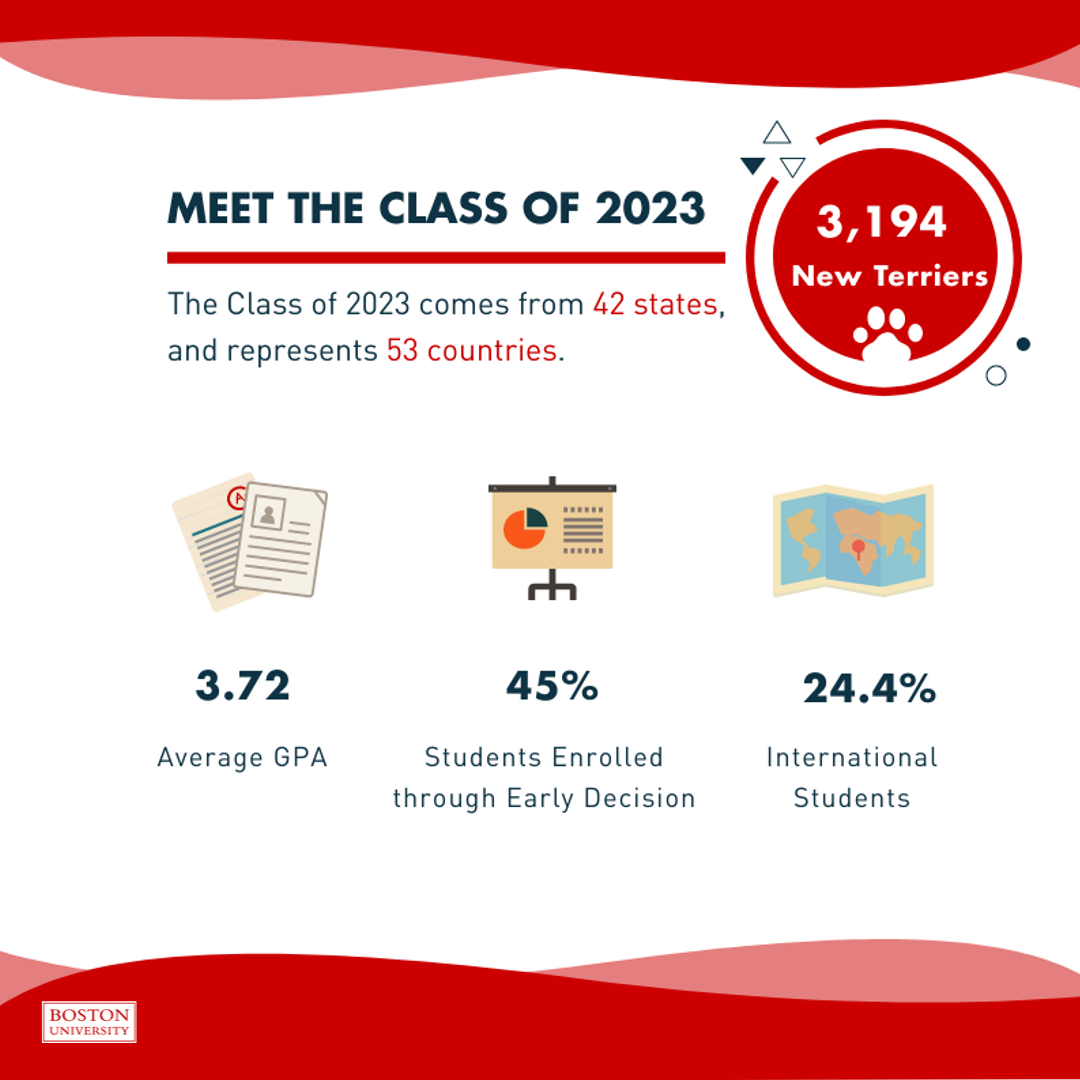 Student Life
The BU Class of 2023: The Numbers Tell the Story 
It's now two weeks into the fall semester, and BU's freshman class has started to settle into a routine: figuring out how long it takes to get from their dorm to that early morning class, where to go for a late night snack, and how to live with a roommate. As the new students adjust to college life, we decided it was time to share a snapshot of the Class of 2023. 
Right out of the gate, they made it clear that they really want to be here. Almost half the class (45 percent) enrolled through Early Decision, a trend other top colleges around the country have noted as well. Last year, 35 percent of the class were Early Decision-ers, says Kelly Walter (Wheelock'81), associate vice president for enrollment and dean of admissions.

Last winter, Walter's admissions team faced the daunting task of weeding through 62,224 applications, accepting 18.9 percent. The final number of students in the Class of 2023 is 3,194—100 spots larger than planned, she says.

Some interesting aspects of this year's class:

1. They have already done some pretty cool things
The week before school started, 475 freshmen and transfer students participated in the First Year Student Outreach Project (FYSOP), donating thousands of volunteer community service hours to nonprofits around the city. Other notable achievements? Kellyann Reidy (CAS'23) played the violin at Carnegie Hall and Sony Recording Studios, and Colette Cross (CAS'23) holds the world record (along with four of her friends) for the fastest time on an erg machine. Read more individual profiles here.

2. They're accomplished academically and excel on standardized tests
The average high school GPA for the Class of 2023 is 3.72, the average SAT score is 1415 (of a possible 1600), and the average ACT score is 32 (of a possible 36).

3. A quarter of the class went through customs when their plane landed
International students make up 24.4 percent of the class, and they come from 53 nations. The top five countries and regions outside the United States sending students to BU are China, India, South Korea, Taiwan, and Canada (the same has held true for the Classes of 2022 and 2021).

4. There's sure to be a Red Sox-Yankees rivalry
The states sending the most freshman to BU are Massachusetts, New York, California, New Jersey, and Texas; students come from 42 states. Closer to home, 76 first-years are grads of the Boston Public Schools. 

5. They're racially diverse
When asked, 31 percent of freshmen identified as white, 20.7 identified as Asian American, 10.8 as Hispanic, and 7.9 percent as African American. The percentage of underrepresented minority students is 19.6 percent, a 2 percent jump from the Class of 2022.

6. BU is oftentimes helping foot the bill for their education
As it has in previous years, the University provides financial aid awards that meet students' full financial need through its Richard D. Cohen Scholars/Pell Grant recipients program. Walter says this year's class has enrolled 471 Cohen Scholars; 17 percent of the class is Pell-eligible. This program is made possible in part by a gift from BU trustee Richard D. Cohen (CGS'67, Questrom'69). Julie Wickstrom, executive director of enrollment, says 46.6 percent of the class received some sort of financial aid.
The data in this article are accurate as of today.