The 2019 Beanpot Tournament Is Here
Men face Northeastern Monday, women take on Huskies Tuesday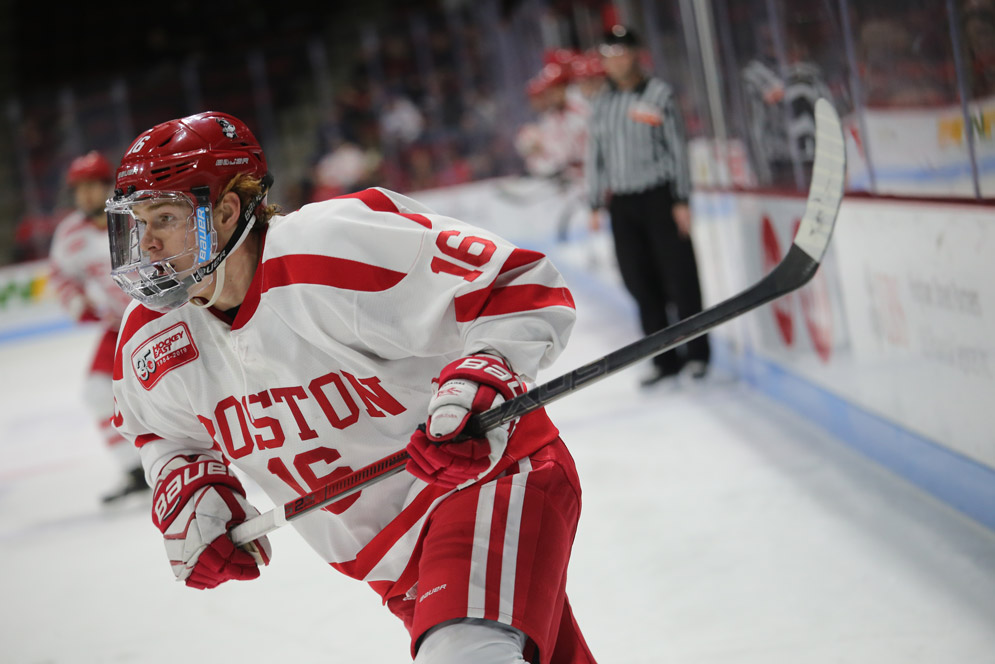 Few of Boston's most anticipated annual athletic events can rival the Beanpot, the storied hockey tournament pitting BU, Boston College, Harvard, and Northeastern against one another in a battle to be anointed the Hub's best college hockey team. The 67th Men's Beanpot Tournament kicks off Monday night at TD Garden, with BC facing off against Harvard at 5 pm, then BU going head-to-head with reigning champion Northeastern at 8 pm. The Women's Beanpot Tournament, now in its 41st year, begins Tuesday, with BU taking on Northeastern at 5 pm and last year's champion, BC, playing Harvard at 8 pm. The winners of each game will compete in the championship games the next week, Monday, February 11 (men), and Tuesday, February 12 (women).
Men's ice hockey
In round one of the tournament, the Terriers will be looking to avenge their 5-2 loss to Northeastern in last year's championship game. The Huskies pulled off their first Beanpot win in 30 years in that 2018 game.
"There's nothing else like it, where the same teams compete for it year after year," says forward Max Willman (Metropolitan College'19). "A lot goes into it, and a lot of players have competed for it, and it's just a cool tournament to be a part of."
Willman says he's eager to play in his first Beanpot. The Cape Cod native followed the tournament growing up, and after playing on Brown's hockey team as an undergrad, is finally getting a chance to compete in the local tradition.
"It's a special tournament with a lot of history behind it," he says. "Now having the opportunity to come here for a year and be able to play in it, I'm very excited."
While the Beanpot may be a new experience for some Terriers, this year's tournament is the seniors' last chance at a trophy after a three-year drought (BU's last Beanpot win was in 2015). They've reached the championship game each of those years, only to lose each time.
"Losing the second game all three years is obviously tough," says forward Ryan Cloonan (College of General Studies'18, College of Communication'20). "This is our last go-around at it, so we're excited."
It's been an up-and-down season for the Terriers, who began as the eighth-ranked team in the country, but slipped out of the polls after dropping three of their first four games. But the team has had a string of recent wins, racking up an impressive 6-3-1 record since December 8.
"We're just maturing as a team," says first-year head coach Albie O'Connell (College of Arts & Sciences'99). "I think guys individually are playing better, and…playing better as a group, a little bit more organized."
Entering Monday's Beanpot semifinal, the Terriers hold the series lead against the Huskies so far this season. The two teams tied, 5-5, on November 1, then BU defeated their crosstown rival, 4-2, two days later.
"Hopefully we can bring it home," Willman says.
Women's ice hockey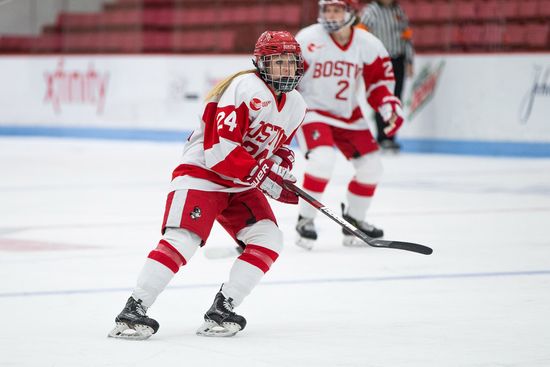 For the BU women's ice hockey program, a Beanpot win would end a long losing streak. The Terriers have claimed just one tournament title—back in 1981, when it was still a club team.
"It's our kryptonite," says head coach Brian Durocher (Wheelock'78).
Of the 14 Beanpot Tournaments the Terriers have played in since reaching varsity status, they've advanced to the championship game just four times. Last year, they came tantalizingly close to winning the trophy, but a 4-3 overtime loss to Boston College earned the Eagles their third consecutive title.
"Coming back, battling in overtime, and falling short again," says forward Mary Grace Kelley (College of Arts & Sciences'19), "that was heartbreaking."
This year's tournament is expected to be especially competitive: the eighth-ranked Terriers currently boast a 15-6-6 record, but are facing a formidable foe in third-ranked Northeastern. And BC is currently ranked seventh.
BU has held its own against BC this season, winning the last two matchups after narrowly losing the first, 4-3, in November. The Terriers' record with first-round Beanpot opponent Northeastern has been a different story: the Huskies pounded the Terriers, 5-0, in the season opener, tied in their second matchup, 3-3, and took the most recent meeting, on October 28, 2-1.
But the Terriers have made drastic improvements since, with a 14-3-3 record since November.
Durocher attributes much of that success to the players' determination and work ethic. "For whatever reason, our physical compete wasn't at the highest the last couple of years," Durocher says. "We had plenty of talent. We had plenty of wins. But this year the team is really strong and physical. Nobody backs down and nobody complains we're playing too hard in practice. It's been amazing how they compete every day."
The Terriers hope those qualities work to their advantage when they take on Northeastern in Tuesday's semifinal game.
"We've been waiting to play them again because we played them pretty early in the season," Kelley says. "Now we've established ourselves as a team, and we kind of want one more shot to prove ourselves against them."
The 67th Annual Men's Beanpot Tournament: BU plays Northeastern in the second game of the semifinals Monday at 8 pm, preceded by the semifinal between Boston College and Harvard at 5 pm. Beanpot second round: the consolation game is at 4:30 pm Monday, February 11, followed by the championship game at 7:30 pm. Tickets are available at Ticketmaster. All men's Beanpot games are at TD Garden, 100 Legends Way, Boston, and will be broadcast live on NESN, on WTBU Radio (640 AM and 89.3 FM), and on the web.
The 41st Annual Women's Beanpot Tournament: BU plays Northeastern in the first semifinal game Tuesday, February 6, at 5 pm, and BC takes on Harvard in the second at 8 pm. Beanpot second round: Tuesday, February 12, with the consolation game at 5 pm and the championship at 8 pm. All games are at Harvard's Bright Landry Hockey Center, 65 North Harvard St., Boston. Purchase tickets online here. Games will be broadcast on ESPN+ and on WTBU.
Jonathan Chang can be reached at jchang19@bu.edu; follow him on Twitter @jonathanychang.