Sixth Annual BU Giving Day Breaks Records
More than $3.25 million raised by 11,800 community members to support BU programs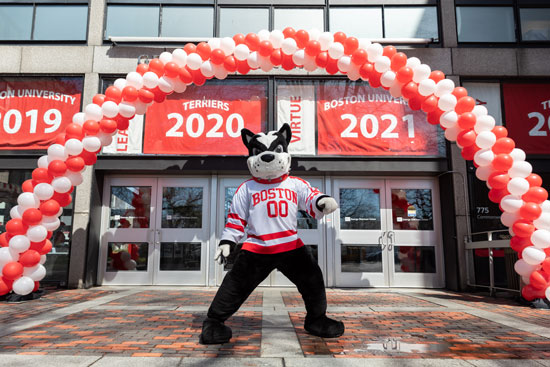 On Wednesday, April 3, the University celebrated its sixth annual Giving Day—a 24-hour fundraising drive that saw more than 11,800 alumni, students, faculty and staff, and friends raise over $3.25 million for the BU causes they care about.
Donors from 48 states and 50 countries came together to support research, student life, and athletics at the 17 schools and colleges across BU's Charles River, Fenway, and Medical campuses.
"As an alumna and volunteer, I'm fortunate to see firsthand the impact that philanthropy has on the BU community," says Denise M. Schier (ENG'81), chair of the BU Alumni Council development committee. "BU Giving Day is a truly special celebration of that impact. It's incredible to see thousands of people from around the world rally together to give back and support the BU causes that matter to us."
With $1M in challenge money, everyone wins
A number of special challenges—with a total of more than $1 million in prize money available—played out throughout the day. By giving to their favorite school or college, athletics team, club sport, student activity group, or program, donors helped these programs in their quest to earn bonus money.
Special challenges, sponsored by generous alumni and parents, were tracked in real time via the Giving Day leaderboards. Among the special highlights this year:
The student clubs and organizations with the most donors earned a share of $5,000—prize money sponsored by members of the newly formed Boston University Young Alumni Council. Among the 15 clubs sharing the bonus money, Sabor Latino took home the top prize of $1,000.
College of Communication student programs vied for a share of $10,000 in a COM-petition new in 2019. The top three COM programs with the most donors were WTBU Radio ($5,000), BUTV10 ($3,000), and the COMmunicator ($2,000).
The School of Public Health's 2019 Giving Day goal was 400 gifts. By midnight, the school had received 488 gifts, a 50 percent growth over 2018.
College of Arts & Sciences departments and programs competed for the most donors, most improvement over 2018, and most revenue, with top prizes going to the Core Curriculum and the physics department. Notably, every participating CAS department or program received at least one gift.
BU varsity athletics broke the $1 million mark for the third year in a row, closing the day with more than $1.3 million in gifts. Teams took on a three-part challenge for Giving Day, vying for the most donors, most money raised in head-to-head challenges, and most improvement over 2018. Men's rowing and women's lightweight rowing took the top spots for most donors, while men's tennis and women's lacrosse were most improved. Find the amount raised by each team here.
"Giving Day is such an important day because every person can make a difference for the cause at BU that matters most to them. It's been so rewarding to be part of the effort and see our collective impact," says Class Gift cochair senior Polen Ural (Sargent).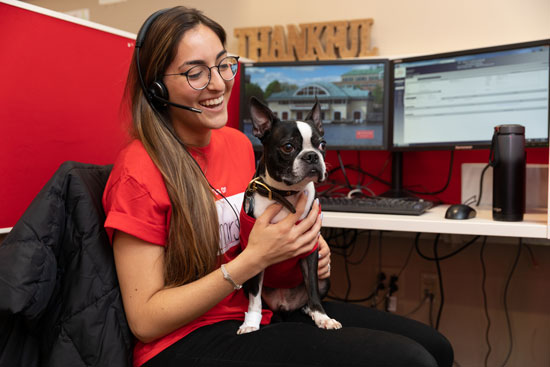 A day for celebrating on social media
On Giving day, participants from all over the world also joined together—as one BU community—on social media to share their favorite BU memories, favorite programs, and photos of their babies and/or pets in BU gear. It was a day for celebrating BU and an opportunity to drive extra financial support to BU programs.
#BUGivingDay is coming to a close and thanks to your help our men's team has raised $22,400 and our women's team to $9,500. There is still time to help us reach our goal. Visit https://t.co/loRuMUSoSn to see where we sit on the leaderboard. pic.twitter.com/6r4iIV9m7R

— BU Track and Field (@TerrierTFXC) April 4, 2019
Find more information on the Giving Day website. Leaderboards and challenges have been updated to reflect winners of the daylong and hourly challenges. You can review photos and videos from the day by searching #BUGivingDay on social media platforms or by visiting the BU Alumni Association on Facebook, Twitter, or Instagram. To relive some of the excitement of BU Giving Day 2019, you can use the hashtag #BUGivingDay in Facebook, Instagram, and Twitter.
Stephanie Quinn (COM'09, CAS'09, Wheelock'17), BU director of annual giving, can be reached at slquinn@bu.edu. Becky McCarthy (MET'14), BU associate director of annual giving, can be reached at bmccarth@bu.edu.